Free speech under siege as government launches new unit to tackle 'misinformation'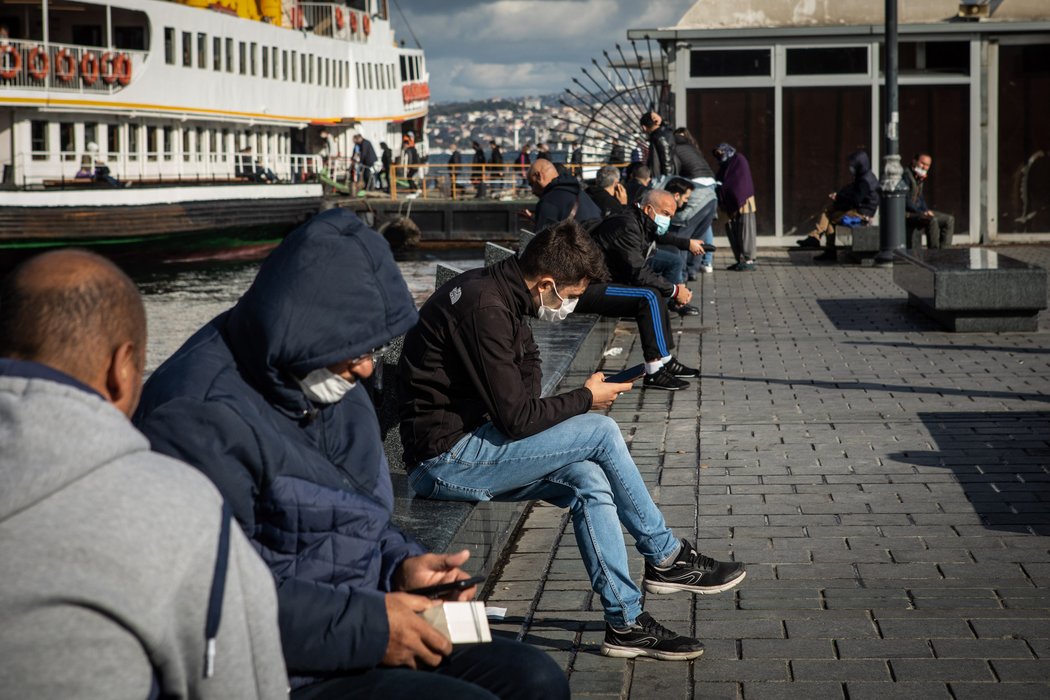 Association
According to a report by Amnesty International titled: "Daring to Stand up for Human Rights in a Pandemic", the Turkish government fear critics more than the COVID-19 pandemic. This is in relation to the fact that during the COVID-19 pandemic there were more attacks on human rights defenders as, while the government released prisoners in response to COVID-19 outbreaks, it excluded human rights defenders from these measures and continued to arrest activists, journalists and critics.
"COVID-19 has been an added punishment for human rights defenders who are unjustly imprisoned and has also been used as a pretext for further harassment, prosecution and even killings," - Lisa Maracani, Amnesty International's researcher on Human Rights Defenders.
Peaceful Assembly
During this reporting period, several protests were held.
Doctors in the vacation destination Antalya staged a protest in August 2020 in reaction to the re-opening of the country after the first wave of the COVID-19 pandemic. The protest was organised following the death of five doctors in a single week due to COVID-19.

In late August 2020, six people were arrested during a protest in Yüksel Street in Ankara over demands to get their jobs back. The court's reason for the arrest was that "they continued protesting intensively despite previous judicial control measures." This response raises concerns over the possible limitations on peaceful assembly.
Lawyer dies after hunger strike
On 27th August 2020, lawyer Ebru Timtik died after she had been on a death fast for the right to a fair trial for 238 days. Timtik had been in detention for three years, after she and other lawyers from the People's Law Bureau were arrested in September 2017 and sentenced to 13 years and six months in prison for membership of a terrorist organisation.
Bu gülüşü soldurdunuz😢 #EbruTimtik pic.twitter.com/wbDgrAhxtE

— Hamide Rencüzoğulları (@HamideRencuz) August 27, 2020
In a statement, the United Nations Human Rights Office of the High Commissioner said that the death was preventable and called for an urgent investigation into Timtik's death. The statement said:
"No one should have to die in pursuit of a fair trial; it is a fundamental human right. This is an utter waste of a human life, and we are greatly dismayed at the death of this courageous woman human rights defender, as well as the circumstances that led to her death."
"We call on the authorities to establish an accountability process for the victim and to uphold fair trial principles by reopening the cases of arrested human rights lawyers. The Government of Turkey must also take immediate action to release individuals detained and sentenced contrary to international law."
Mourners gathered at the Alevi cultural centre in Istanbul to pay their respects to the late lawyer. However, police used pepper spray and fired rubber bullets at crowds who were making their way to the city's Gazi cemetery, where the lawyer was being laid to rest.
Ebru Timtik'in cenaze töreninde polis, biber gazı ve plastik mermi ile yürüyüşü engelledi

📹 Evrenselhttps://t.co/R18G2AUA9C pic.twitter.com/KA7Lrd2BQy

— Evrensel Gazetesi (@evrenselgzt) August 28, 2020
In a positive development, the Ankara 7th Administrative Court has overturned the ban imposed by the Middle East Technical University (METU) Presidency on the 9th METU LGBTI Pride Parade held on the campus in 2019. The court has concluded that the decision of the METU Presidency, which banned the parade by claiming that the indefinite ban on LGBTI events imposed by the Ankara Governor's Office based on the State of Emergency Law in November 2017 was still in effect, was unlawful.
Expression
The April to June 2020 BİA Media Monitoring Report signals that press freedom in Turkey is subjected to serious pressures. It noted that in the second quarter of 2020, at least two journalists were arrested, two journalists were physically assaulted and seven journalists were threatened. In addition, the Television and Radio Supreme Council (RTÜK), a media regulator in Turkey, fined TV channels over 5,9 million lira (approximately 692, 488 USD), while radio stations were fined 25,035 lira (approximately 2,938 USD) in total.
The Press in Arrest August 2020 Press Freedom report showcases violations of the freedom of expression in Turkey. It found:
In August 2020 at least 15 journalists were subjected to psychological and physical violence and at least eight journalists were detained or summoned to testify, faced lawsuits, investigations and/or criminal complaints.

In September 2020 at least 64 journalists (20 of whom are women) appeared in court in 38 press trials in seven provinces. During the trials, the prosecutors demanded seven counts of aggravated life sentences, and prison sentences of at least 376 years 11 months to 970 years 10 months against journalists.
These numbers are a cause for concern. In August 2020, the Committee to Protect Journalists (CPJ) issued a news alert calling on Turkish authorities to "cease filing bogus terrorism charges against the press." In September 2020, the European Centre for Press and Media Freedom (ECPMF) and partner organisations also called on Turkish authorities to amend laws that have led to arrests of many journalists.
"Journalists, human rights defenders and politicians jailed under terrorism charges simply for doing their jobs, were excluded from a prison release programme, initiated after the outbreak of COVID-19. We call on Turkey to immediately amend counter-terrorism laws in line with international standards, ensuring "terrorist acts" are defined in a precise and narrow manner."
Freedom of speech in general in Turkey is constantly under threat. In 2019 more than 36,000 people faced criminal investigation for insulting President Erdoğan. In total 9,554 people have been sentenced to prison terms for insulting the president. Furthermore, the Turkish police investigated 14,186 social media accounts in the first seven months of 2020, taking legal action against 6,743 of them for spreading terrorist propaganda, inciting the public to hatred and enmity, instilling fear in and causing panic among the public or containing provocative content.
This raises concerns about censorship. In the latest case in September 2020, a Turkish court sentenced former co-chair of the Democratic Regions Party (DBP) Sebahat Tuncel to 11 months in prison on charges of "insulting" the president for her remarks that Erdoğan was a "misogynist" and "an enemy of women and Kurds."
Jailed Kurdish politician handed another year for insulting Turkey's #Erdogan#SebahatTuncel was sentenced last week to 11 months and 20 days for calling Erdogan an enemy of Kurds and women in a speech in 2016 https://t.co/SBVW4MNmb7

— Randa HABIB (@RandaHabib) September 22, 2020
The press has also been censored by Turkey's media regulatory body, the Radio and Television Supreme Council (RTÜK), which in August fined TLC TV over a program featuring LGBTI+ parents. The authority stated that "depicting two women as parents were against society's spiritual values". On the other hand, a court has blocked access to news reports about national team wrestler Recep Çakır, who was found guilty of raping a 23-year-old woman. This showcases double standards when deciding on what news should be delivered to the public and is a breach of freedom of access to information.
Furthermore, the broadcaster TELE 1 was fined by RTÜK over criticism of Ottoman Sultan Abdülhamid II. The broadcaster TELE 1 faced a black out for five days and is at further risk as if it receives another fine from the council its license will be completely cancelled. Media watchdog organisations denounced the five-day blackout imposed on the broadcaster, stating that:
"In our eyes, RTÜK is a political structure that has cut its ties with the institutionalisation of a democratic society. There is no other solution than advising our colleagues to be careful."
There is another negative trend, where local journalists who defend the people's right to information by performing their journalistic duty are often targeted in attacks, as stated by the Contemporary Journalists' Association (ÇGD). Many local journalists are faced with increasing economic pressure and attacks from interest groups. In one case a local journalist from Antalya faced an attack at his home and a vehicle of the Nevşehir Journalists' Association was set on fire in an arson attack.
"Local press is of indispensable importance for the existence and empowerment of democracy in the country. One of the democratic mechanisms that allows those who live in cities to have an influence on the city government is local press," it said.
Adding to this hostile environment for journalist as described above, is the suspicious death of an American journalist in Istanbul. Andre Vltchek, an American documentarist and investigative journalist was found dead in a rental vehicle in Istanbul and his death was ruled as "suspicious".
American documentarist and investigative journalist #AndreVltchek was found dead in a rental vehicle in Istanbul. #Turkey https://t.co/pKfZBJAT7Q

— Duvar English (@DuvarEnglish) September 22, 2020
Despite all these negative trends, the Turkish Parliament has approved the controversial social media regulation and the amendment to the law on Internet crimes. According to critics and human rights defenders, this legislation aims to put social media platforms under the thumb of the authorities, as it sets forth progressive sanctions forcing social media platforms with more than one million connections a day to appoint a representative in Turkey with whom the Turkish authorities can resolve problems arising from cases of insult, intimidation and violation of privacy. There is a fear that this will further stifle free speech through social media, which was the only remaining refuge for critical journalists, human rights defenders and activists.
The International Press Institute (IPI), a global network of editors, media executives and leading journalists for press freedom, called on Turkish authorities to withdraw the sweeping new draft bill regulating social media. However, the legislation was put into effect in late July 2020. In September 2020, Turkey's president launched a new unit to wage information warfare. The purpose of the new unit was described as "taking under control any kind of manipulation and disinformation against Turkey."
The #Prez now wants to be #BigBrother for real, as the #AKP Minister Soylu (@suleymansoylu) says that the complete camera network of the #NewTurkey will be connected to the office of the presidency . . . https://t.co/cbIYLZcNhJ

— Dr Can Erimtan (@TheErimtanAngle) September 17, 2020