Continued persecution of activists and journalists in Cuba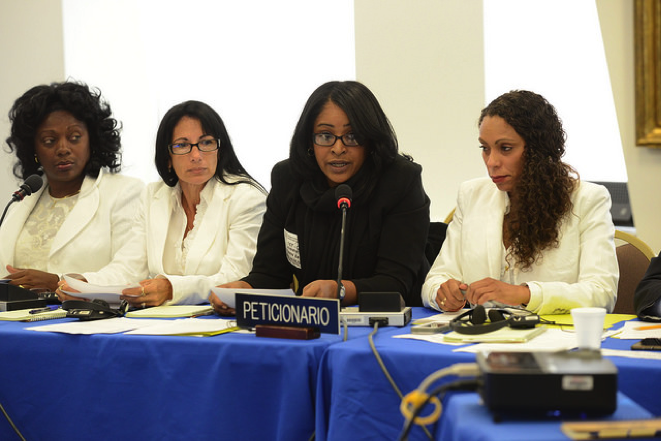 Comparto el discurso que tenía preparado para recibir ayer en #Cuba el premio #OswaldoPayá https://t.co/nZ0HBW4MKp@RosaMariaPaya pic.twitter.com/wiCT5COxpq

— Luis Almagro (@Almagro_OEA2015) February 23, 2017
A ceremony to honour the late Cuban dissident, Oswaldo Payá, continued through late February 2017, despite the government barring several foreign activists and politicians from entering the country. The award recipient - Luis Almagro, Secretary-General of the Organization of American States (OAS) - was banned by Cuban authorities from traveling to Havana to receive the award. Former Mexican President, Felipe Calderón, and former Chilean Education Minister, Mariana Aylwin, as well as two coordinators for Cuba Decide, were also denied entry to attend the event.
Approximately 50 people attended the award ceremony, including opposition activists, journalists and diplomats. It took place in the home of 28-year-old Rosa María Payá, Oswaldo Payá's daughter, who heads the Latin American Network of Youths for Democracy.
In mid-February 2017, the Ladies in White (Damas de Blanco), an organisation of female relatives of jailed dissidents, met with the Archbishop of Havana, who promised to support the organisation. For almost a year, the women have been prohibited from attending church, as they typically march through the streets of Havana on Sunday mornings on their way to and from church. On several occasions, the women have been assaulted, harassed and detained by government agents as they gathered and silently marched along the capital's streets. The women asked the Archbishop to issue a public statement of support in the name of the Catholic Church and to advocate for an end to repression against activists. After receiving documentation about the harassment, the Archbishop reportedly asked for the names of the state security officers responsible for the persecution of the Ladies in White.
Arzobispo de La Habana pidió al Gobierno "que se siente a hablar con la oposición", según líder de Damas de Blanco https://t.co/njCKLpk2uy

— Juan Agustin Perez (@juanperez2428) February 17, 2017
Also in February 2017, private taxi drivers in Havana protested against new regulations that lower the prices they are permitted to charge for their services. The sporadic strikes, which the government declared illegal, took place across the city, causing widespread disruption for those who rely on private taxi services. A Cuban journalist reported that the Castro regime had threatened to revoke drivers' licenses, impose fines and confiscate the vehicles of drivers participating in the strike. There were also reports of state security officers intimidating the drivers to force them back to work.
Una convocatoria anónima a una huelga de taxis provoca un inusitado despliegue policial en La Habana https://t.co/UxC5Gp46qn pic.twitter.com/AIYdFbnUq4

— 14ymedio (@14ymedio) February 27, 2017
Expression
Two journalists, Henry Constantín Ferreiro and Sol García Basulto, were arrested on 20th February 2017 in Camagüey, where they were preparing board a flight to Havana to report on the ceremony honouring the late Cuban dissident, Oswaldo Payá. Basulto was released without charges, but Ferreiro remained in detention, accused of spreading "enemy propaganda." He was kept incommunicado for two days and eventually released with a summons for a hearing on 27th February 2017, in which he was cleared of all charges. In addition to his role as editor of a magazine, Ferreiro is a member of the Inter-American Press Association's Committee on Freedom of the Press and Information.
El periodista cubano Henry Constantín Ferreiro fue acusado del delito de propaganda enemiga https://t.co/ZCXiq74CtU pic.twitter.com/OlNoWXu2gd

— Centro Knight UT (@centroknightut) February 25, 2017
Association
On 2nd February 2017, two activists were arrested after refusing to show plainclothes police officers their IDs. They were both convicted on assault charges and sent to Melena II prison, which is notorious for its deplorable conditions. Ubaldo Herrera Hernandez, a human rights activist and member of the Cuba Mises Institute, and Manuel Velázquez Visea, a libertarian advocate, denied the charges against them. According to the Libertarian Party of New Mexico's statement, the two men were specifically targeted for their "peaceful promotion of limited government and free markets." 
On 24th February 2017, political prisoner Hamell Santiago Más Hernández was found dead in a Havana prison. Authorities claim he had a heart attack, but his family says Más Hernández, a member of the Patriotic Union of Cuba (UNPACU), a pro-democracy group, was in good health when he was arrested in June 2016. According to UNPACU, he was one of the 55 members of the organisation currently being held as political prisoners in the five provinces of Camagüey, Havana, Mayabeque And Artemisa and Pinar del Rio. According to his wife, Más Hernández was serving four years for "disrespecting authority" and had been sentenced without a fair trial. He was kept imprisoned in unsanitary conditions and did not receive proper medical care and attention.