#FixTheCountry protests; two people killed in protest against the killing of a social activist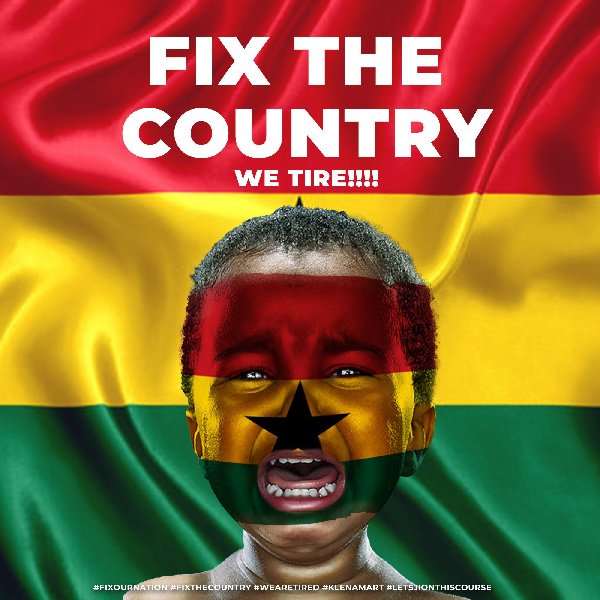 #FixTheCountry: protests banned, protesters arrested
Authorities refused to grant a permit for a #FixTheCountry protest scheduled for 9th May 2021 in Accra, using the grounds of limiting the spread of the COVID-19 pandemic. #FixTheCountry started out as a social media campaign in which mainly Ghanaian youth called for better socio-economic conditions in the country, ranging from employment opportunities, fixing the roads, lower taxes and better service delivery, and became a movement demanding better living conditions.
On 6th May 2021, the Accra High Court granted an injunction, lasting until the ban on public gatherings is lifted, preventing the 9th May 2021 protest and obliging protesters to take their protest actions online. The High Court ruling was nullified by the Supreme Court on 8th June 2021 on grounds that the High Court had exceeded its jurisdiction by making the injunction indefinite.
On 25th June 2021, at least 11 members of the #FixTheCountry campaign, who were protesting in front of the Accra High Court where a new application for an injunction of the protests was heard and dismissed, were arrested. They were reportedly released on bail.
#FixTheCountry protests will finally take place on 4th August 2021, after police and conveners agreed on the route and the modalities of the protest.
Two people killed and close to a dozen injured during protests after the burial of vocal social activist Ibrahim Anyass Muhammed - Kaaka in Ejura, Ghana: https://t.co/fSgkNZtSsF @cspspgh @WANEP_Regional @CHRIAfrica2

— IFEX (@IFEX) July 1, 2021
Protest against murder of social activist in Ejura: two killed, several injured
On 26th June 2021, #FixTheCountry supporter and social activist Ibrahim "Kaaka" Muhammed was bludgeoned by unidentified perpetrators in Ejura, Ashanti Region, and died in hospital from his injuries on 28th June 2021. Muhammed, who was also a member of the Economic Fighters League (EFL), was known to have been vocal on the social ills in society and governance. According to the EFL, Muhammed was subjected to threats because of his activism and reportedly received a police warning alleging disturbance of public peace earlier in June 2021.
On 29th June 2021, protests against the killing of Muhammed erupted in Ejura after the activist's burial. Police and military officers were deployed and clashes occurred with protesters. Two people were killed and at least four injured, reportedly after military officers shot into the advancing crowd using live ammunition. An investigation was launched into the killing of the two protesters. Additionally, following a directive by President Nana Akufo Addo, a three-member committee was set up by the Minister of Interior to conduct a public inquiry into the killing of Muhammed and the two protesters in Ejura.
A joint statement by the CSO Coalition Working Towards the Promotion of Good Governance, Human Rights and Public Accountability in Ghana condemned the use of excessive force by security forces on the protesters and commented:
"This unfortunate incident and many others in the recent past point to a long standing, systemic and recurring problem in how State security agencies handle protests in this country. The undemocratic exercise of police powers and the unwarranted brutal use of force by the police and the military, who are too eager to display machismo, often result in needless fatalities and injuries; the Ejura Sekyedumase matter being a case in point."
They further called on the Commission on Human Rights and Administrative Justice (CHRAJ) to investigate the incident, rather than agencies working under the authority of the Ministry of Interior.
Opposition protest
On 4th July 2021, hundreds of opposition protesters gathered and marched through Accra, at the call of the youth wing of the opposition National Democratic Congress (NDC), against what they call rising insecurity and lawlessness and police violence. The protesters, with signs such as "You tweeted for George Floyd…Ghanaians have died, speak up", delivered a petition to the offices of the President and the Speaker of Parliament.
Ghana: Drop Charges Against LGBT Rights Defenders https://t.co/EFyKaM2G9g

— Human Rights Watch (@hrw) June 17, 2021
Association
21 LGBT HRDs detained, prosecuted
On 20th May 2021, police officers arrested 21 people – 16 men and five women – at a hotel in Ho, in southern Ghana, where they were attending a paralegal training session organised by Rightify Ghana on how to document and report violations against LGBT people. They were charged with "unlawful assembly" under section 201 of the Criminal Code, defining unlawful assembly as a gathering of at least three people with the intention to commit an offence. Bail for the HRDs was denied on three occasions until granted by the High Court on 11th June 2021. According to news sources, many of the defendants live in safe houses out of fear for their safety and some have lost their jobs or have been disowned by their families.
Section 104(1)(b) of the Criminal Code criminalises "unnatural carnal knowledge". As reported previously on the Monitor, the first LGBT centre in Ghana was forced to shut its doors in February 2021, and LGBT people face discrimination and violence in Ghana.
Ghana: anti-gay bill proposing 10-year prison sentences sparks outrage

Bill could mean 10 years in prison for LGBTQ+ people and those who support their rights#KillTheBill #QueerGhanaianLivesMatterhttps://t.co/nCqOQ9Hfzl

— Silent Majority Ghana (@smajoritygh) July 26, 2021
Draconian draft anti-LGBT law
A draconian draft anti-LGBTIQ+ law, "The Promotion of Proper Human Sexual Rights and Ghanaian Family Values Bill 2021", was introduced in Parliament on 29th June 2021 by eight Members of Parliament. The draft law, which was leaked, would set high prison sentences for LGBTIQ+ people and those supporting or advocating for LGBT rights – punishable with prison sentences of up to ten years.
"Ghanaian authorities should swiftly and strongly condemn Kennedy Agyapong for threatening journalist Erastus Asare Donkor, and hold him accountable for those threats," @angelaquintal said. https://t.co/lVrDWlG8kW

— CPJ Africa (@CPJAfrica) July 23, 2021
Expression
Right to Information ruling
In its first decision on 19th July 2021, the Ghana Right to Information Commission (GRTIC) ordered the Minerals Commission to comply with a request for information by journalist Aziamor-Mensah, an investigative journalist for the Fourth Estate, an investigate journalism project of the Media Foundation for West Africa (MFWA). The Mineral Commission demanded 1,000 USD for the requested information, which the GRTIC lowered to the equivalent of 0.33 USD.
The GRTIC was established in October 2020 following the adoption of the Right to Information Law in May 2019.
Member of Parliament calls for violence against journalist
During an interview on Net2TV on 9th July 2021, Member of Parliament Kennedy Agyapong, whose family owns the TV channel, accused the reporting of the death of community activist Ibrahim "Kaaka" Muhammed and the subsequent lethal protests in Ejura (see above) by journalist Erastus Asare Donkor of Joy FM of being "falsehoods" and called for the beating of the journalist. Agyapong said:
"That boy should be beaten seriously. He is so annoying. For the foolish submissions he made before the Committee, we have to beat the hell out of him. If I were the President, I would have ordered this boy to be whipped."
Following the statement of the MP, Donkor went into hiding out of fear of being attacked. As reported previously on the Monitor, MP Agyapong made similar verbal threats towards investigative journalist Ahmad Hussein-Suale for his participation in a documentary on alleged corruption in the soccer world, including showing a picture of the journalist, months prior to his killing by unidentified perpetrators. Assane Diagne of Reporters without Borders (RSF) commented:
"The last journalist to have been threatened by Kennedy Ohene Agyapong met a tragic end. Everything must be done to ensure that this journalist does not suffer the same fate. We ask the authorities to prosecute the MP without delay, and to pay close attention to the reporter's safety."
Citi FM journalists detained
On 11th May 2021, police officers arrested CitiFM journalist Caleb Kudah in front of the offices of the Ministry of National Security, a restricted security zone, on accusations of photographing government vehicles allegedly bought at inflated prices. Kudah was taken to a local police station, where he was reportedly beaten by police officers, while the pictures on his phone were erased.
Armed security officers then proceeded to the offices of CitiFM in an attempt to arrest journalist Zoe Abu-Baidoo, who reportedly received files from Kudah. Both journalists were released, with Caleb Kudah having been subjected to interrogation.
The incident was widely condemned by civil society and professional media bodies. Management of CityFM and CityTV petitioned the National Media Commission (NMC) and a statement by the Minister of National Security Albert Kan-Dapaah on 20th May 2021 said that the arrest of Kudah was "inappropriate" and "contravened the Ministry's standard operating procedures" while adding that the journalist's entry into the premises of the Ministry was unlawful.
Journalist physically, verbally assaulted in Assankragua
Alleged National Security officers assaulted journalist Peter Tabiri on 7th May 2021 in Assankragua, according to the Media Foundation for West Africa (MFWA). The Western North and Western Regions correspondent for Pent TV told MFWA that he was slapped and kicked several times and water was poured on him amid verbal insults.
That day, the journalist was covering a violent security operation by plainclothes security operatives at a casino in Assankragua. He was assaulted after he called the Amenfi Divisional Commander when he suspected that the operation was not authorised, seeing that security officers started to destroy CCTV cameras. The journalist was released after intervention by the police chief.