Filmmakers documenting illegal logging brutally beaten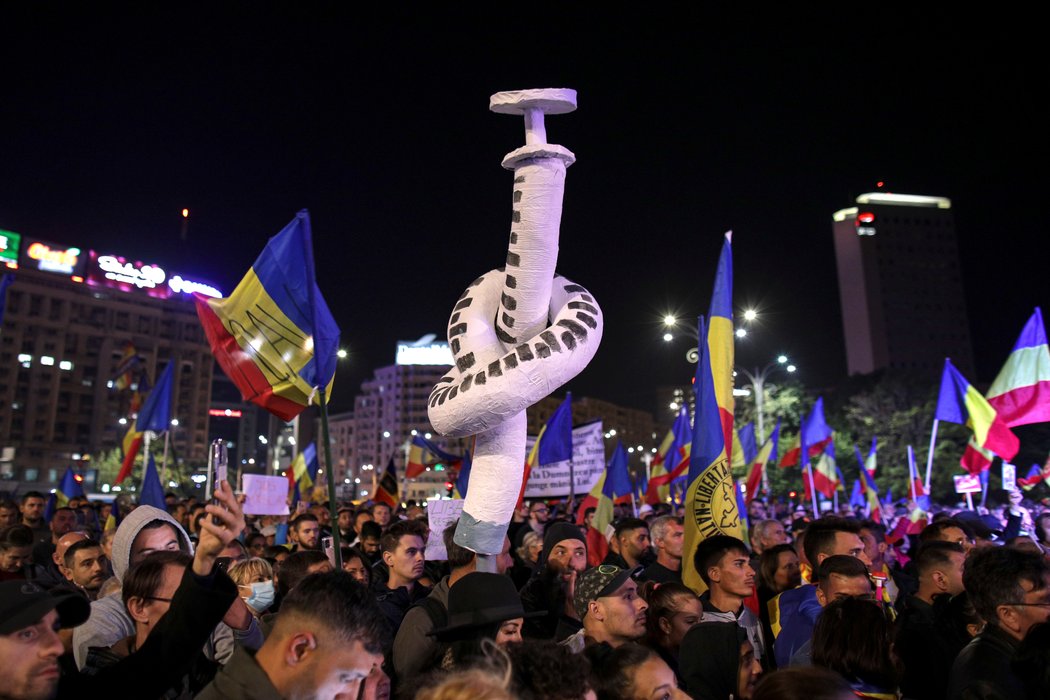 Background
On 11th October 2021, after holding consultations with all parties in parliament, President Klaus Iohannis proposed the leader of the centre-right Save Romania Union (USR, formerly USR Plus), Dacian Ciolos, as a candidate to form a new government. This comes after Prime Minister Florin Citu lost a vote of no-confidence in the Romanian Parliament on 5th October 2021.
After PM Citu dismissed his justice minister at the beginning of September after a row over a proposal to provide local mayors with over ten billion euros for infrastructure, the junior coalition party USR-Plus decided to withdraw from the government. This eventually set up the no-confidence vote, which received a majority vote in parliament.
Meanwhile, COVID-19 cases have hit a record high, with ICU beds reaching near-capacity. In response to this, the Romanian government has re-introduced stricter measures. Mask wearing is mandatory for indoor and outdoor public spaces in areas with more than six cases per 1,000 people. Indoor spaces such as restaurants, cinemas and gyms will only be allowed to be open at half capacity and only for those fully vaccinated or those recovered from COVID-19. Non-vaccinated people must also adhere to curfews on weekends.
Peaceful Assembly
On 2nd October 2021, around 15,000 protesters gathered in Bucharest to demonstrate against the recently enacted COVID-19 restrictions. Most protesters did not wear masks and chanted "Freedom, Freedom without certificates". Gatherings in other Romanian cities were reported as well. There were no reports of violence or confrontations.
On 14th August 2021, 8,000 people marched in support of LGBTQI+ rights. The march was planned partially in response to two parties proposing laws that would ban so-called gay propaganda in schools. The organisers were fined by authorities due to the limits on people allowed at civic protests. According to reports, they plan to appeal.
Expression
On 16th September 2021, three filmmakers were brutally beaten in the northeast of Romania while filming a documentary related to illegal logging. Mihai Dragolea, Radu Constantin Mocanu and Tiberiu Bosutar were confronted by 20 men who were armed with sticks and axes. All their equipment was destroyed and footage was deleted. The three men were transported to hospital with non-life-threatening injuries. The attack has sparked many statements of condemnation from advocacy organisations and the Romanian government itself.
Minister of Environment Tanczos Barnastated: "I condemn any such aggression and I want all perpetrators to bear the maximum legal consequences."
#Romania: #MFRR partners are concerned about the appalling attack on journalists shooting a documentary on illegal logging. We call on Romanian authorities to ensure swift investigation of the incident.

Read out joint statement👇https://t.co/nzWnxVTgjk

— Media Freedom Rapid Response (MFRR) (@MediaFreedomEU) September 21, 2021
The International Press Institute released a statement:
"The Romanian authorities must also uphold international commitments regarding the safety of journalists and media workers, especially those courageously working to shed light on this environmental destruction. The MFRR stands in solidarity with those attacked and is ready to provide funding for the replacement of their recording equipment and support the pursuit of legal action against the aggressors."
Greenpeace Romania also reacted to the incident:
"This incident is not an isolated case, but joins a long series of serious events, which endanger the civic space, the freedom of the press and which lead to the encouragement of the phenomenon of illegal logging "- Ciprian Galușcă, Forest and Wildlife campaign coordinator for Greenpeace Romania.
The head of the Representation of the European Commission in Romania, Ramona Chiriac, said:
"It is inadmissible to be attacked while doing your job. Information is a public good. We need to protect journalists because they are the ones who ensure transparency. National authorities must take all necessary measures to protect freedom of the press, in accordance with the values underlying the European Union and enshrined in the European Charter of Fundamental Rights. As European Commission President Ursula von der Leyen announced, the Commission is working on a law to guarantee the independence of the press. If we defend our press, we defend our democracy at the same time!"
Police have questioned and identified 12 people who were allegedly involved in the attack. Four of the men will be brought before court.
According to RomaniaJournal.ro, the "attacks against forest activists and foresters have intensified in Romania in the past years amid increasing illegal logging cases". As Romania has failed to do enough to protect some of Europe's unspoiled forests and tackle illegal logging, in 2020 the European Union started a sanction procedure against the country.
LGBTQI+ Rights
A resolution passed in the European Parliament condemned certain countries, in particular Romania, for not allowing free movement for LGBTQIA+ persons. The right to free movement should be allowed to be fully exercised, says the resolution. This stems from a landmark ruling in 2018, where the Court of Justice of the European Union (CJEU) ruled that EU countries must recognise the immigration rights of same-sex spouses. The case involved a Romanian man and his American husband. Three years later the ruling has apparently not been enforced in Romania, as the country has failed to grant the American spouse of the Romanian man a residence permit.