Fiji: Protests against discharge of nuclear wastewater, renewal of mining licence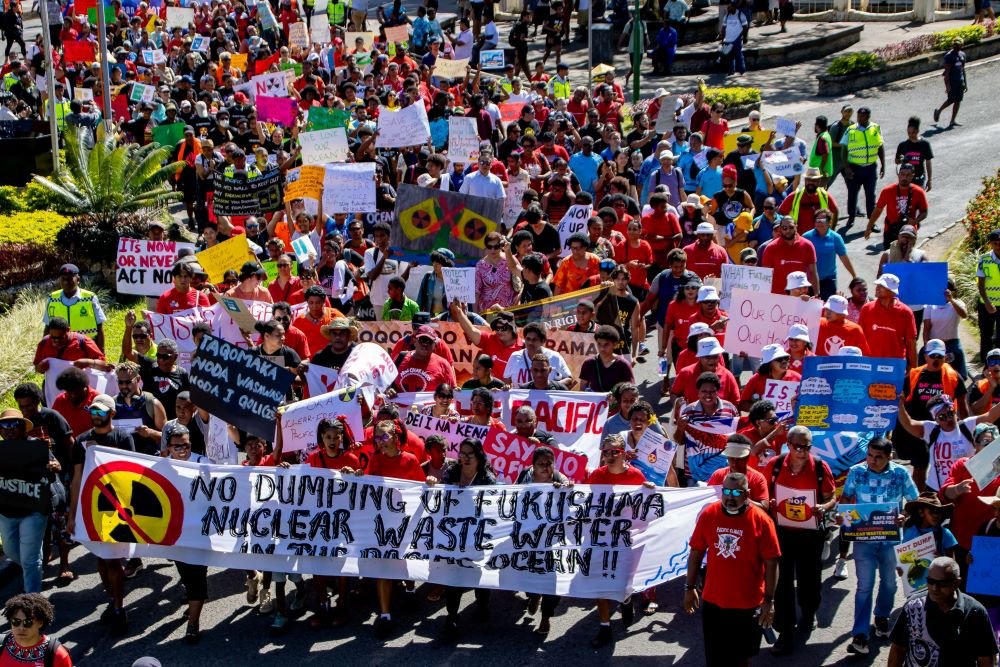 The state of civic space in Fiji is rated as 'obstructed' by the CIVICUS Monitor. In previous years there have been civic space concerns including restrictions on the media, the blocking of protests and the use of restrictive laws to silence critics.
However, following the change of government in December 2022, the new administration has committed to respecting and protecting the Bill of Rights in the Constitution and to review and repeal the laws that suppress human rights. It has since repealed a restrictive media law and reversed travel bans. However, the Public Order (Amendment) Act, which has been used to restrict peaceful assembly and expression, remains.
In July 2023, Fiji's former prime minister Frank Bainimarama and the suspended police commissioner Sitiveni Qiliho were in court for the start of their corruption trial. The charge being brought against Bainimarama is attempting to pervert the course of justice and Qiliho is facing one count of abuse of office. Both men have pleaded not guilty to the offences.
In recent months, a protest was held by civil society against the discharge of nuclear wastewater into the Pacific Ocean. A number of politicians were blocked by authorities from participating in the march. Landowners held a protest to oppose the renewal of a mining licence in Namosi. The courts dismissed a lawyer's guilty conviction for 'scandalising court' while the media was threatened by the former prime minister.
Peaceful Assembly
Protest against discharge of Fukushima nuclear wastewater into the Pacific Ocean
Fukushima nuclear wastewater protest | August 25, 2023

📸 JONACANI LALAKOBAU#TimesNews #FijiNews #FukushimaNuclearPlant pic.twitter.com/CWw88PlL21

— The Fiji Times (@fijitimes) August 28, 2023
On 25th August 2023, around 400 people took to the streets of Suva to protest Japan's move to discharge nuclear wastewater into the Pacific Ocean. The protest march organised by the Fiji NGO Coalition on Human Rights sought to galvanise parliamentary leaders into taking a resolute stance against Japan's impending wastewater disposal. The protesters called on parliamentarians to wield their influence and put a halt to Japan's plans, chanting "Protect our ocean and our future generations". The march started at Suva's flea market and ended at Albert Park by midday.
Japan began releasing treated radioactive water from its damaged Fukushima power plant into the Pacific Ocean in August 2023 - 12 years after a nuclear meltdown. It received a green light from the International Atomic Energy Agency (IAEA). The first release is one of four, scheduled between now and the end of March 2024. The entire process will take at least 30 years.
In a video statement on 4th August, Fiji Prime Minister Sitiveni Rabuka said he had read the IAEA report and announced he was "satisfied" with Japan's efforts to demonstrate that the release will be safe and he "trusts their expert judgement and monitoring process".
However, Pacific anti-nuclear advocacy groups and campaigners Alliance for Future Generation (AFG) Fiji condemned the move, calling on NGOs around the world to stand in solidarity and demand Japan seek an alternative solution.
AFG Fiji said releasing treated nuclear wastewater into the Pacific Ocean would have "far-reaching consequences for the entire Pacific region and beyond".
They added: "We urge the Fiji Prime Minister and by extension, his government, to reconsider its stance and take a stronger position in advocating for the implementation of alternative, safe, and sustainable solutions for the Fukushima nuclear wastewater. We also urge Pacific leaders to trust the independent panel of scientific experts appointed by the Pacific Islands Forum to review the data and information provided by Japan."
Politicians stopped from participating in protest march
🛑 Politicians stopped from participating in the anti Fukushima protest march

🤷🏿 It is a bit baffling – Aiyaz Sayed-Khaiyum#FijiNews📰 #TeamFiji🌴#fijivillagehttps://t.co/MjD051FldC via @fijivillage

— fijivillage (@fijivillage) August 24, 2023
A number of politicians were blocked from participating in the protest march against Japan's move to discharge nuclear wastewater into the Pacific Ocean.
FijiFirst Party Leader Voreqe Bainimarama, FFP General Secretary Aiyaz Sayed-Khaiyum, FFP MPs Ketan Lal, Virendra Lal and Faiyaz Koya were stopped by police from participating in the march held on 25th August 2023 in Suva.
Acting Commissioner of Police, Juki Fong Chew, stated that one of the permit conditions included no political party representation or groups, which was discussed and accepted by the permit holders and NGO representatives.
The former Attorney General, Sayed-Khaiyum, expressed confusion upon learning that they were not allowed to march. He said: "We understand that the permit allowed people to march. Yet, at Albert Park we were told we couldn't stay because supposedly the permit was only for specific NGOs".
In previous years, the right to peaceful assembly has been arbitrarily restricted with the use of the Public Order (Amendment) Act 2014, particularly for trade unions
Landowners oppose renewal of mining licence
'Left behind by govt': Indigenous landowners oppose mining in Namosi #Fiji https://t.co/aLlocZmrbO pic.twitter.com/S9UVsP3nty

— Raet Lomi (@raetlomi) August 9, 2023
On 14th August 2023, it was reported that landowners of Namosi and Nawaidina in Naitasiri are opposing the renewal of the license for Namosi Joint Venture (NJV) to mine in the area. The landowners held a demonstration with placards in front of the Prime Minister's Office in Suva.
Exploration has been going on in the area for more than 50 years but Australian based multi-national Newcrest, through NJV, is seeking to have its exploration licence for its Waisoi site renewed.
Namosi landowners' committee "Lomani Au, Maroroi Au" (LAMA) chairman Sipiriano Nariva said the landowners have been consistently objecting to the previous renewals of the Special Prospecting Licence (SPL) 1420 since 2009. However, their concerns for the protection of the environment and the people have been ignored. The LAMA group handed its objection to MPs at parliament on 9th August.
Nariva said: "Previous governments and prospecting licence holders have never consulted, empowered and enlightened the people of the negative impacts of these projects for the last four decades of prospecting works". He claimed there has been no Environment Impact Assessment (EIA) report on the project even though NJV had been operating on Namosi lands for over a decade.
Expression
Judge dismisses lawyer's guilty conviction for 'scandalising court'
Richard Naidu's conviction not to be recorded and charge of contempt dismissed#FijiNews📰#Court👨‍⚖️ https://t.co/AL6s6cJVCD via @fijivillage

— fijivillage (@fijivillage) July 17, 2023
On 18th July 2023, High Court judge Justice Daniel Gounder ruled that the charge of contempt for scandalising the court against lawyer Richard Naidu be dismissed.
As previously documented, in November 2022, Naidu was found guilty for highlighting on social media an error in a court judgment where the word 'injection' was used instead of 'injunction'. While the Attorney General acknowledged that the error pointed out by Richard Naidu was indeed a spelling mistake, he went on to claim that Richard Naidu's post was malicious and invited others to mock the judiciary, referencing the comments and responses from others on social media. Human rights groups believed the charges to be excessive and politically motivated.
While delivering his judgment, Justice Gounder said while mitigation and sentencing were pending, a new government had come into power and a new Attorney-General had been appointed. Justice Gounder said the new Attorney-General, Siromi Turaga, had taken a different position regarding the proceedings, which he had expressed in an affidavit filed in support of the summons to dismiss the proceedings. Turaga stated that his view was that the proceedings should never have been instituted against Naidu in the first place.
Media condemn threats by former prime minister
The Fijian Media Association (FMA) said that comments made by former prime minister Voreqe Bainimarama to media workers outside the Suva courthouse were "distasteful, unbecoming, and unacceptable".
It was reported on 21st July 2023 that Bainimarama told the Mai TV cameraman in the iTaukei language: "Qarauna de dua tacaqe, au na qai caqeta yani na muna." ("Be careful no one stumbles, for I will then kick your backside."). The former prime minister also told the Fijivillage cameraperson "Watch out, you slip, and then I will kick your backside". Bainimarama also told a Fiji Sun press photographer "kwan kwan", a derogatory term commonly used to chase away dogs or animals.
The FMA said they found these comments "highly offensive" and that it "continues to reiterate that journalists, photographers and videographers are doing an important work of informing the public, and threats of violence against them are unacceptable."
During Bainimarama's administration that ended in December 2022, journalists faced severe restrictions and judicial harassment for undertaking their work. The new government has committed to press freedom and repealed a restrictive media law.