Feminist occupation of National Human Rights Commission in Mexico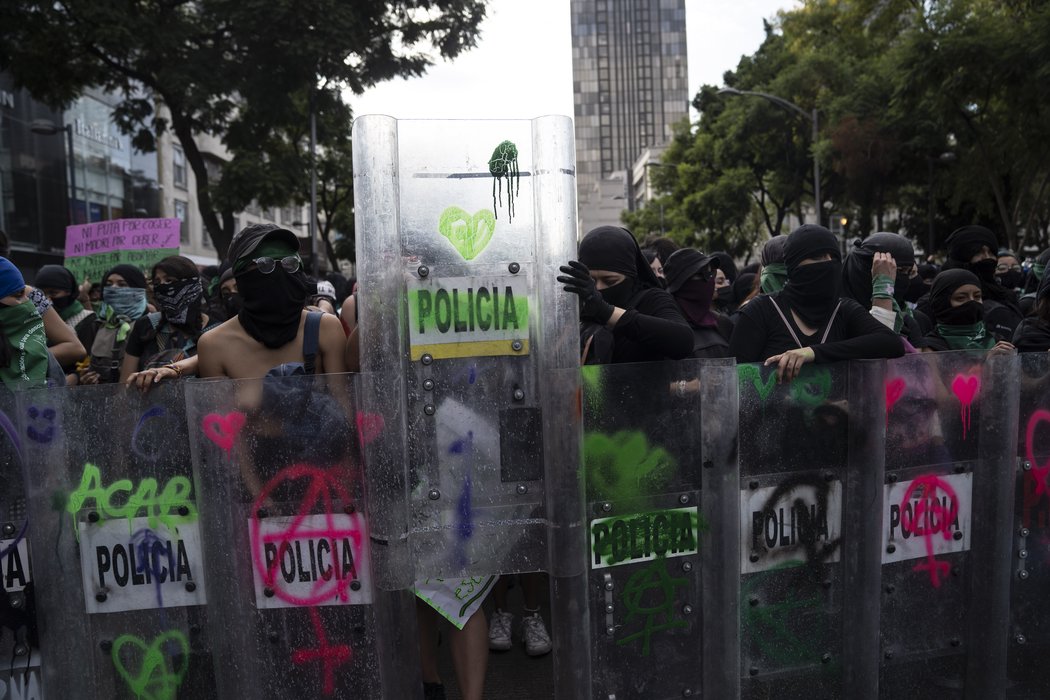 Peaceful Assembly
Protests against gender-based violence
La okupa, casa refugio. Cumple hoy un mes. Familiares de víctimas de desaparición forzada tomaron una oficina de la antes CNDH como protesta por el hartazgo de seguimiento en sus casos. (+) https://t.co/FoZ1hj7UTl pic.twitter.com/m9RxHFae95

— Andrea Murcia (@Usagii_ko) October 5, 2020
On 16th August 2020, demonstrations were held in Mexico City to protest violence against women and girls across the country. According to news outlets, police forces outnumbered demonstrators but the march was mostly peaceful, with one reported clash between protesters and police. A few days before, authorities in Quintana Roo arrested 12 people on sex trafficking charges and students and activists protested on behalf of victims outside courthouses in Cancún and Playa del Carmen saying, "We want justice!" and "No more impunity!"
In early September 2020, the killings of two transgender women in separate incidents brought about protests in Ciudad Juarez. On 13th September 2020, a suspect was arrested in connection with the killing of activist Mireya Rodriguez Lemus, who was a member of the Union of Trans Women of Chihuahua and an advocate for HIV prevention. The suspected killer was charged with aggravated murder with gender motive.
Also in early September, feminist groups occupied the National Human Rights Commission building in Mexico City. The activists said they would convert the building into a shelter for victims until the government takes decisive action to address violence against women. "We're here so that the whole world will know that in Mexico they kill women and nobody does anything about it," said Yesenia Zamudio, who is still seeking justice for the killing of her daughter. Protests also took place at local human rights commissions in cities around the country including Puebla, San Cristóbal, Villahermosa and Tampico. In Mexico City, the takeover which began on 5th September 2020 continued after one month.
On 28th September 2020, police in Mexico City used excessive force against protesters from the feminist group Atenas who were demonstrating for the legalisation of abortion. Human rights organisation Amnesty International said the police resorted to excessive force and arbitrary detention by using tear gas and preventing protesters from leaving for several hours. According to news reports, the officers encircled protesters and used less-lethal weapons against demonstrators trying to continue or evacuate from the march.
Woman killed after participating in protest
Una pareja de agricultores que regresaba a su ciudad después de participar en la toma de la presa La Boquilla sufrió un ataque armado. La mujer falleció y su acompañante resultó herido. https://t.co/tRxm35MUJq

— Proceso (@proceso) September 9, 2020
Farmers and other residents in the northern border state of Chihuahua blocked railway tracks and burned government vehicles to protest water payments to the United States, arguing there is not enough water for their crops. As previously reported by the CIVICUS Monitor, protesters have mobilised since the beginning of 2020 against the payments. Under a 1944 treaty managing cross-border water sharing, Mexico still owes the U.S. about 380 million cubic meters of water to meet its five-year quota.
A protester, Yessica Silva, was shot and killed by police in Chihuahua after protests allegedly became violent on 8th September 2020 and the farmers seized control of the La Boquilla dam. While the National Guard stated that armed civilians had attacked a police contingent with protesters detained, resulting in a shooting, Silva's husband said members of the Guard had attacked him and his wife when they were returning home after the protest. 
Unrest in the region continued throughout September 2020, with the local population also protesting to demand justice for Yessica.
More protests across Mexico
🗣 Hoy en el día Internacional de las Víctimas de Desapariciones Forzadas y las más de 73 mil desapariciones en México, la búsqueda de las personas desaparecidas y las investigaciones deben continuar, para que las familias tengan verdad, justicia y reparación. #HastaEncontrarles pic.twitter.com/yutcS7orZD

— IMDHD (@IMDHyD) August 30, 2020
Marking the International Day for Victims of Forced Disappearances, on 31st August 2020 demonstrations were held in at least 14 cities to protest the government's failure to address the countrywide problem of forced disappearances. Families of kidnapping victims and their allies gathered in front of local government buildings, cathedrals, cemeteries and plazas to demand justice for the thousands of missing persons in Mexico. In Irapuato, Guanajuato, for example, activists created 100 placards with the names of missing persons and the words, "We are still looking for you".
In a related story, teachers and students continue to protest the disappearance of 43 students from the Ayotzinapa teacher training college in Iguala, Guerrero. On 26th September 2020, hundreds of protesters marched in Mexico City to mark six years since the students disappeared. Clashes were reported between protesters and police officers near federal buildings. Earlier in the week, protests in Guerrero turned violent as demonstrators threw stones at the windows and set fire to offices of the state's justice system. In a press conference, Mexican President López Obrador said warrants for the arrest of 25 members of law enforcement forces had been issued in connection with the students' disappearance.
In separate protests in late July 2020, thousands of demonstrators gathered in Mexico City and in other cities to demand the resignation of President López Obrador, blaming him for corruption, the economic crisis and shortage of medicines and protective gear in response to the pandemic. Organised by FRENA, a national group that opposes the president's policies, many of the protests took the form of vehicle caravans, as protesters waved Mexican flags from inside their cars. Demonstrations were held in Baja California, Guanajuato, Hidalgo, Jalisco, Michoacán, Oaxaca, Puebla, Querétaro, Quintana Roo, Sonora and Yucatan. As reported on the Monitor, similar protests also took place in May and June 2020.
In June 2020, the arrest of a doctor treating COVID-19 patients for allegedly requesting payment for medical care at a public hospital in Chiapas triggered multiple protests for his release. According to news reports, the daughter of a deceased patient accused Dr Grajales Yuca of abusing authority and asking the family to purchase medication and equipment in exchange for treatment. Dozens of people, including the family of the detained doctor and medical workers, protested outside the courthouse during a hearing and claimed he was falsely accused. Widespread shortages of medicine and protective gear have been reported in many of Mexico's medical facilities, including shortages of a cancer drug that prompted parents of hospitalised children to block the Circuito Interior freeway outside the National Medical Centre La Raza in Mexico City on 3rd September 2020.
Association
#Comunicado 📢

🆘 Rechazamos cualquier decisión que ponga en peligro la vida e integridad de víctimas, personas defensoras y periodistas.#SOSFideicomisosDDHH #SOSFideicomisosDDHH https://t.co/j25GEPaX0O pic.twitter.com/gTA0GK1Tly

— Espacio OSC (@EspacioOsc) October 1, 2020
On 1st October 2020, civil society organisations of the collective Espacio OSC launched a campaign against a legislative proposal that would abolish a trust fund used to finance Mexico's Federal Mechanism for the Protection of Human Rights Defenders and Journalists. This proposal is part of an initiative by the country's governing party to abolish over a hundred federal trust funds as a way to free up government funds for pandemic-related programmes. The country's National Human Rights Commission also spoke up against the abolition of the fund, calling on the National Congress to reject the legislative proposal.
Press advocates also condemned the initiative, highlighting that Mexico has been considered the most dangerous country for journalists outside war zones. International Press Institute Deputy Director Scott Griffen said:
"This decision sends a very wrong signal and is another indication that the administration of President Andrés Manuel López Obrador is not serious about ending a journalist safety crisis that has lasted now for nearly 15 years. Lawmakers must either withdraw this decision or find an alternative way of properly funding the mechanism."
Expression
Two journalists killed
MÉXICO | Aparece decapitado el periodista Julio Valdivia Rodríguez en Veracruz https://t.co/xNF0HhD8WB

▶️Cubría sucesos en Tezonapa, donde ha crecido la violencia
▶️Ya son 5 los periodistas mexicanos asesinados en 2020

👉RSF condena el brutal asesinato y pide más protección pic.twitter.com/XFcG0LBxli

— RSF España (@RSF_ES) September 11, 2020
On 10th September 2020, journalist Julio Valdivia Rodríguez was found dead near Tezonapa, Veracruz state. Valdivia, who was a regional correspondent with newspaper El Mundo, reported on a wide range of issues including crime and security. As reported by the Committee to Protect Journalists (CPJ), the journalist had told a colleague the day before that he was leaving his residence to report on a story in Tezonapa. Valdivia's body, which had been beheaded, was found near train tracks in the town of Motzorongo. Local news outlets reported that police had ruled out the possibility of an accident.
In a separate case, on 2nd August 2020, the editor of news website PM Noticias and his police bodyguard were shot and killed while eating at a restaurant in Iguala, Guerrero state. Pablo Morrugares, who had recently reported about local criminal groups, had been under federal protection since he and his wife had survived an attack in 2016. "Authorities must do everything in their power to curb this impunity in attacks on the press, bring the culprits in Pablo Morrugares' murder to justice, and guarantee the safety of reporters it has committed to protect," said Jan-Albert Hootsen, CPJ's Mexico representative.
Two days later, armed attackers fired several rounds at the offices of a newspaper in Iguala, the same town where Morrugares was killed. However, no one was injured in the attack against Diario de Iguala because staff was working elsewhere due to the coronavirus.
Journalists detained
On 7th August 2020, Article 19 reported that a journalist with E-Consulta was arbitrarily detained by Acatlan police and members of the National Guard for allegedly being intoxicated in public. César Carbajal, who has in the past been harassed by local prosecutors to reveal his confidential sources regarding a homicide, managed to broadcast his arrest live on social media and a journalist watchdog group assisted in his release.
On 16th July 2020, a journalist with El Sol de Puebla was detained and allegedly assaulted by police in San Martin Texmeculan while broadcasting live from a public street. Pedro Alonso said he was filming police interacting with local street vendors when officers surrounded and assaulted him. According to Article 19, an officer recognised the journalist, but he was still detained and taken to a police station. He was reportedly let go with a warning from police to tell his "mates to stop messing around".
Restrictive copyright law
On 1st July 2020, Mexico's Congress passed updated copyright laws as part of a package of legal reforms for meeting its obligations under the United States-Mexico-Canada Agreement (USMCA). The law established a private internet censorship mechanism, known as "notification and withdrawal," which requires online service providers to remove content if they receive allegations of copyright violations. Free speech advocates rejected the new legislation, saying it does not require evidence of the violation or legal oversight to guarantee due process. Critics also said the reforms were hastily passed without debate and placed "undue burdens on Mexican firms and the Mexican people, conferring a permanent trade advantage on the richer, more developed nations of the USA and Canada, while undermining the fundamental rights of Mexicans guaranteed by the Mexican Constitution."
A civil society coalition reacted with campaign Ni Censura Ni Candados ("Neither Censorship Nor Locks"), calling on the National Human Rights Commission to challenge these reforms' constitutionality. In a positive development, on 3rd August 2020, the Commission presented an "unconstitutionality action" before the Supreme Court.