Facebook blocked amid ethnic clashes, HRD nominated for award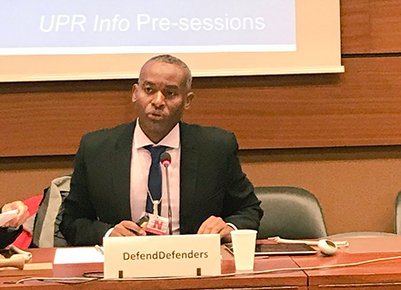 General information
On 10th April 2021, officials announced that incumbent President Ismael Guelleh had won the election with over 98% of the votes, with his opponent Zakaria Farah garnering about 2% of the vote. The opposition criticised the election for being unfair, as Farah claimed that his delegates were prevented from entering polling stations. The officials observing from the African Union (AU) stated that everything was going "well and calmly" despite the absence of the opposition delegates. The observation mission did not investigate the electoral context and the civic and democratic space environment; it contented itself with observing electoral operations on the day of the poll.
#Djibouti reports internet down in capital Djibouti following fighting between Afar and Somali communities as #Ethiopia's ongoing ethnic clashes spill over borders - Road and Rail links between the vital port of Djibouti and Ethiopia capital Addis Ababa blocked for almost a week

— Evelyn Tremble (@DrumChronicles) August 1, 2021
Expression
On 2nd August 2021, intercommunal violence broke out in several parts of Djibouti's capital city between members of the Afar group (the ethnic group surrounding Ethiopia's and Eritrea's borders) and members of the Issa (Somali) group (Djibouti's main ethnic group). The violence reportedly started in Warabaley district, where homes were torched. Three people died during the clashes. The government blocked Facebook temporarily following the clashes and the internet connection was reportedly irregular.
#FreedomOfExpression Awards: Our third journalism nominee is Kadar Abdi Ibrahim @Kadar_Abdi_, journalist and human rights activist.

He is co-director and chief editor of L'Aurore, Djibouti's only privately-owned media outlet. #IndexAwards pic.twitter.com/Yu6dfaqj9Y

— Index on Censorship (@IndexCensorship) August 30, 2021
In positive developments, on 30th August 2021, the Index on Censorship nominated Kadar Abdi Ibrahim, the former co-director and chief editor of L'Aurore, Djibouti's only privately-owned media outlet, for its annual freedom of expression awards. The outlet had previously faced a ban from the government after they reported about a massacre of 29 people in the country which implicated state forces. Ibrahim is currently unable to leave the country after his passport was confiscated by authorities in a 2018 house raid, just shortly after arriving back in the country from Geneva.