Excessive force used during protests against COVID-19 measures; journalists attacked by churchgoers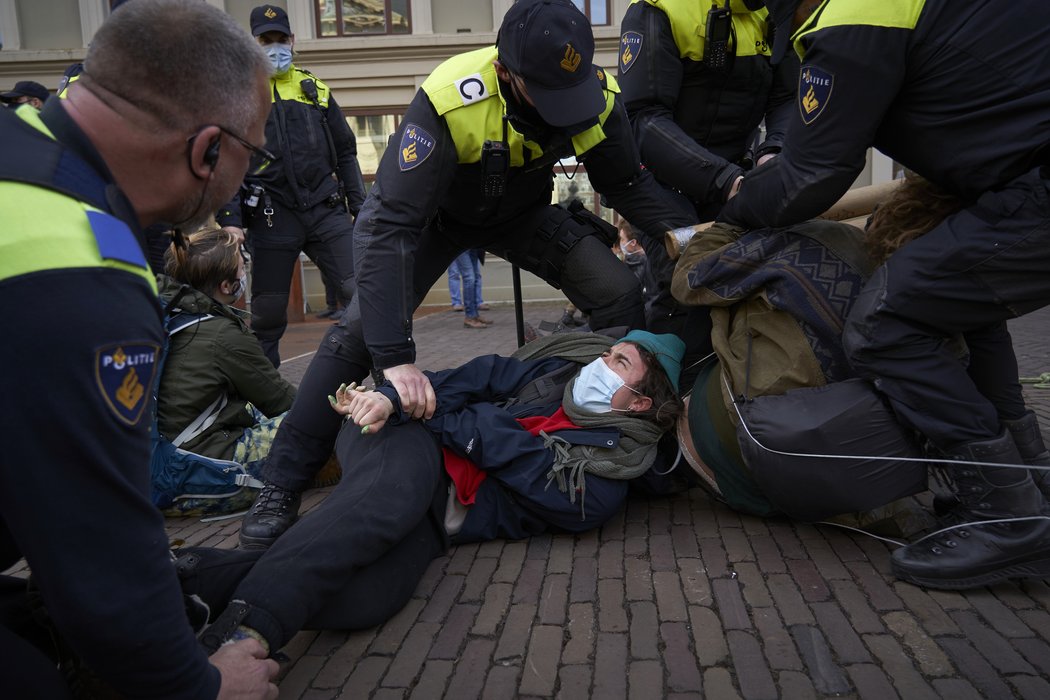 Association
Political party BIJ1 target of hate speech and threats
On 15th March 2021 Sylvana Simons, the leader of the political party BIJ1, reported to the Amsterdam Police Discrimination Unit 52 messages containing insults and threats. BIJ1 denounces that this hatred is as a result of sexism and racism being left unpunished, as well as the lack of adequate legislation and legal consensus on how to deal with the issue.
Euronews reported that according to a report by Utrecht Data School and magazine De Groene Amsterdammer, 20 per cent of all tweets Sylvana Simons received between 1st October 2020 and 26th February 2021 were hateful and/or aggressive. The percentage increased to 30 per cent for Kaouthar Bouchallikth from Groenlinks, who is originally from Morocco and wears a headscarf.
Peaceful Assembly
Anti-COVID-19 protests escalate in Amsterdam and The Hague
Riot police intervened to stop a demonstration against COVID-19 measures, which involved more than 1,000 people, in Museumplein in Amsterdam on 20th March 2021. The area of Museumplein had previously been identified as a safety risk area after rumours that protesters planned to go to the demonstration with weapons. Water cannon were employed in order to break up the crowd which was ordered to leave as they were breaking anti-COVID-19 measures. After leaving Museumplein, hundreds of protesters gathered in Leidsekade. Police arrested 58 people and 1,400 were "administratively relocated". The municipality specified that these last were not arrested.
Demonstrations further escalated in The Hague on 14th March 2021. The police deployed dogs, officers on horseback, tactical units, water cannon and fired a warning shot at a protest against COVID-19 social restrictions in the Malieveld area. Batons were used against at least one person and another was hit by a police van. Police reported that violence was used against officers. Train services were suspended for some time to prevent more people from joining the protests.
Zie hier een weerloze en vreedzame man, hij wordt keihard in zijn gezicht geslagen met een lange harde knuppel, meerdere malen. Hij krijgt nog een harde klap op zijn achterhoofd als hij wegloopt. Zie tweet twee voor vervolg. pic.twitter.com/Vj9efLZfKt

— Redacteur des Vaderlands 🇵🇱🇳🇱 (@DeRedacteur1984) March 14, 2021
Amnesty International raised concerns regarding the use of excessive force by the police during these protests and called on the Public Prosecution Service (OM) and mayor Jan van Zanen of The Hague to open an investigation into the police's response. On 17th March 2021, six charges and 120 complaints of police violence were filed. Authorities said that some police officers would file charges against protesters as well.
Climate protesters detained
On 9th April 2021, Extinction Rebellion Netherlands staged a protest, blocking the Binnnerhof entrance at The Hague. The group is calling on the new cabinet to stop the loss of biodiversity and reduce greenhouse gas emissions to 'net zero' by 2025. The protest was banned by the Mayor of The Hague and police asked protesters to leave the area, warning that they would be arrested if they refused. More than a hundred XR protesters were arrested, with some carried away by police.
Actievoerders van @NLRebellion Rebellion protesteren momenteel bij de ingang van het #Binnenhof in Den Haag. De ingang naar het Binnenhof is afgesloten en de politie is in grote aantallen aanwezig. pic.twitter.com/Cki5K1IAm4

— Redactie District8.net (@RedactieD8) April 9, 2021
Politie start met aanhouden demonstranten Extinction Rebellion pic.twitter.com/73g0Nyz95v

— MvGruijthuijsen (@GruijthuijsenMv) April 9, 2021
Earlier, in late February 2021, about 100 climate activists were arrested in Utrecht during protests staged in six different parts of the city. According to police: "Attempts were made to block the road in various places, which is prohibited. Some of the people who had glued themselves to the road surface were loosened and arrested. In total, around 100 people were arrested for ignoring a command from the police to leave."
Expression
Journalists attacked while reporting on re-opening of churches
On 28th March 2021, journalists were attacked by churchgoers while reporting on the re-opening of churches to hundreds of people in several locations. The re-opening was decided unilaterally by church officials despite COVID-19 measures which limit the number of worshippers to 30 and forbid singing. In the Protestant village of Urk a journalist from PowNed was hit by a car. A 35-year-old was arrested for this aggression after the ceremony. Tensions between journalists and churchgoers were also raised in Krimpen aan de IJssel, in Zuid-Holland region, where a man physically assaulted a reporter from RTV Rijnmond, by kicking him. The aggressor was also arrested.
Vanochtend is onze verslaggever @jaccovangiessen door een kerkganger mishandeld. Dit is volkomen onacceptabel. Journalisten moeten overal en altijd veilig hun werk kunnen doen. Met Jacco gaat het gelukkig naar omstandigheden redelijk. #persveilig https://t.co/iyFthMF4Om

— Alex Beishuizen (@alexbeishuizen) March 28, 2021
Some MEPs and the National Union of Journalists condemned the attacks. Police were criticised for failing to intervene and for pushing reporters away, while letting worshippers stay. People who were interviewed in Krimpen aan de IJssel said that this situation is unacceptable and that all churches should respect the law.
In a separate development, Dutch public broadcaster NOS was accused of spreading fake news via an Instagram video posted on 23rd February 2021. The author of the video identified himself as "the boy who invaded the NOS six years ago". In the video the man states that he wants to warn everyone" that "nothing has changed" at the NOS and that "You are still being fooled. And that's why I'm back." Police have confirmed the identity of Tarik Z, known for entering the NOS building with a gas pistol in 2015 and demanding airtime to warn people against fake news.
Far-right group intimidates left-wing
A group of far-right activists who call themselves "Vizier op Links" (target/sight on the left) intimidated some prominent left-wing figures by applying stickers to their front doors. The stickers signal that their houses are "under observation". Nadia Bouras, historian at Leiden University, and GroenLinks campaigner Huub Bellemakers are among the targets of this intimidation campaign. Nadia Bouras filed a formal complaint with the police. Huub Bellemakers, writer Aafke Romeijn and political advisor Paul van den Berg pressed charges against the far-right group as well.
Ik kom net thuis en vind dit op mijn deurpost. Dit is niet normaal. pic.twitter.com/pE428Wgk7Y

— Nadia Bouras (@NadiaBouras) March 21, 2021
In reaction to the event, Socialist MPs have questioned the Ministry of Home Affairs and Justice about ways to protect vocal critics of far-right groups. Vizier op Links commented that their stickers can be purchased and they cannot be held accountable for how the stickers are used. On their website the group declares that their mission is to stop the "left hegemony" and map "left-wing networks".