Excessive force used against protesters while journalists at risk in Nepal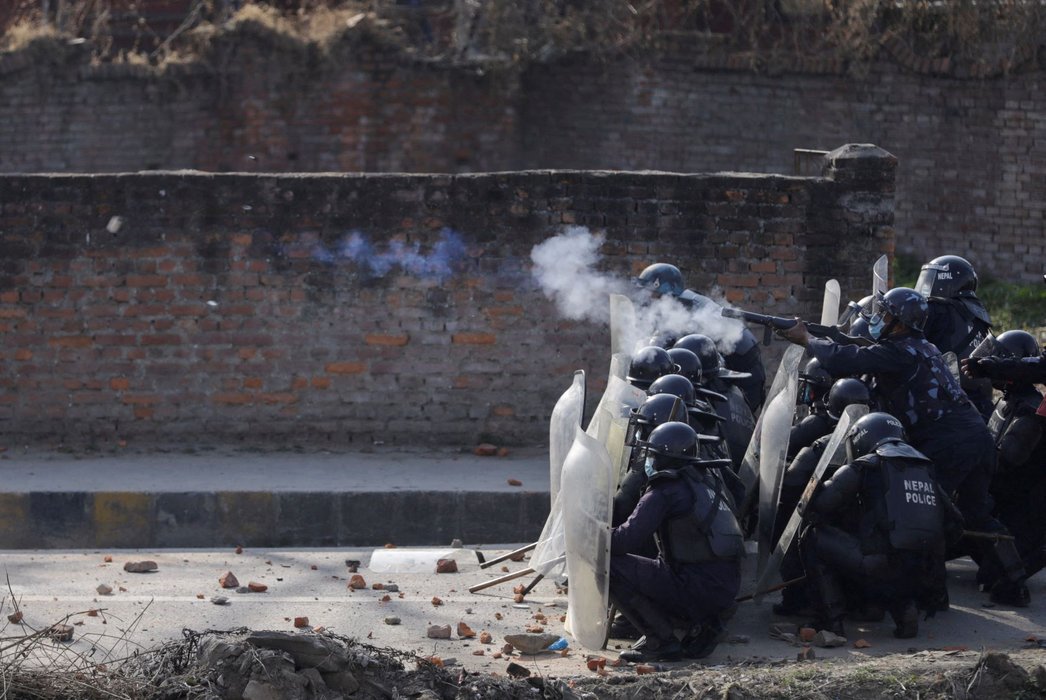 Nepal remains as 'obstructed' in ratings published by the CIVICUS Monitor in December 2021
In 2021 the CIVICUS Monitor documented arbitrary arrests and the use of excessive force during protests as well as the ongoing targeting of journalists. Human Rights Watch also documented a pervasive culture of impunity where ongoing human rights violations by the police and army, including cases of alleged extrajudicial killings and custodial deaths resulting from torture, are rarely investigated.
In November 2021, human rights groups raised concerns about the independence and integrity of the judiciary in Nepal when, in an unprecedented move, 18 out of 19 justices refused to sit on Supreme Court benches unless Chief Justice Cholendra Shumsher Rana steps down. The judges pointed specifically to allegations of a relationship between Rana and the executive branch. In February 2022 an impeachment motion was filed against the Chief Justice who was then suspended.
In recent months there have been concerns about the use of excessive force by the police against protesters demonstrating against an aid grant. There have been ongoing reports of obstruction, harassment and attacks against journalists. A woman human rights defender ended her hunger strike protest after the authorities agreed to some of the demands.
Peaceful Assembly
Excessive use of force and firearms against protesters of aid grant
Different political party's cadres clash with police during the protest against Millennium Challenge Corporation (MCC) grants by US government for Nepal, which is table to Legislative assembly for the ratification, on Sunday Feb.20. pic.twitter.com/PXZSZt1C6E

— Angad Dhakal (@AngadDhakal) February 20, 2022
In February 2022, hundreds of protesters came out on the streets to demonstrate against a contentious USD 500 million aid grant from the United States that was before parliament for approval.
According to reports, on 20th February 2022, protesters chanted slogans, pelted police with stones and pushed through police barricades. Riot police responded by firing tear gas and water cannon and beating protesters with bamboo batons. There were also reports that police had fired rubber bullets. Several people were injured on both sides and police detained dozens of protesters.
On 25th February, civil society groups said they were "gravely alarmed" by the police's disproportionate use of force against the protestors and the police's "increasing proclivity" to arrest protestors in a blatant disregard for their constitutional freedoms. They called on the police "to exercise utmost restraint while engaging with protestors".
Nepal signed the Millennium Challenge Corporation (MCC) pact to fund infrastructure projects in 2017 and it has been a bone of contention between the US and China. Some of Prime Minister Sher Bahadur Deuba's coalition partners - mainly from two of Nepal's Communist parties - seen as traditionally close to China, have questioned the deal. They claim the conditions in the grant agreement will prevail over Nepal's laws and threaten the country's sovereignty.
On 27th February 2022, Nepal's parliament ratified the MCC Compact after weeks of haggling among the political parties.
Expression
Obstructions, harassment and attacks against journalists
Human rights violations against the media remain a major concern among civil society and press freedom groups.
In 2021, Freedom Forum recorded a total of 59 press freedom violation incidents directly affecting 83 media persons. Among the violations documented are attack, threats, being obstructed, and arrests.
Some of the cases documented in recent months include the following:
More than two dozen journalists were obstructed from reporting on the ongoing election at the Province 2 Assembly in Dhanusha on 17th January 2022. The photojournalists present also had to put their cameras down. One of the duty officers said the reason for this was due to COVID-19.
On 26th January 2022, reporter Shibendra Rohita with the todaykhoj.com news portal was attacked by police while covering a protest in Janakpur. According to Freedom Forum, Rohita was taking pictures of the protest by a political party when police started a baton charge on the protestors and the reporter. Rohita sustained minor injuries, while his mobile phone was also broken.
Jagatdal Janala BK, a Surkhet based reporter at www.ukeraa.com, faced death threats for reporting about a newly appointed minister in Karnali Province on 7th February 2022. He told Freedom Forum that he had published news about the appointment of a non-parliamentarian Chhiring Damdul Lama as a minister in the Karnali Province government on 4th February. Following this, Lama's supporters started to threaten the reporter through calls and messages on his mobile phone, warning him not to publish such news or he would face reprisals. A few supporters of the minister also wrote abusive messages on his social media page.
On 16th February 2022, photojournalist Saroj Basnet from www.makalukhabar.com was injured while reporting a protest in Kathmandu. According to Freedom Forum, Basnet was injured on the head while taking pictures of protestors throwing stones at the police outside the Federal Parliament Building at New Baneshwor, Kathmandu. The protest was related to the Millennium Challenge Corporation compact in parliament.
On 22nd February 2022, Umesh Shrestha, editor of Nepal Fact Check, was summoned and harassed by officers from Nepal Police's Cyber Bureau after publishing a report on the dissemination of 'fake news' regarding the Millennium Challenge Corporation (MCC) Nepal Compact fund. Shrestha, who is also the founder of independent blog MySansar alleged that the police threatened him with arrest.
Prominent journalist and activist Babita Basnet faced online harassment following an article she published on 2nd March 2022 stressing the need to review the law on rape. It was published on www.ghatanarabichar.com. Following this, a coordinated campaign on social media (Facebook and Twitter) was unleashed against her, with a hashtag #BoycottBabitaBasnet.
Activist ends hunger strike after government agrees to take action
THT: Ruby Khan breaks hunger strike, seals deal with govt - https://t.co/iielfjPmTL

— Nepal News English (@Nepal_News_En) January 6, 2022
On 4th January 2022, Ruby Khan, a woman human rights defender who had been leading a protest, ended her hunger strike after reaching an agreement with the Ministry of Home Affairs.
As previously documented, along with other protesters, in September 2021, Ruby Khan had walked 500 kilometers to the capital, Kathmandu, from Nepalgunj in southwest Nepal, to protest police inaction in the alleged murder of two women from Nepalgunj: Nirmala Kurmi, who has been missing since 2010, and Nakunni Dhobi, who died in July 2021. The activist alleged that both cases relate to attempts to forcibly acquire the victims' land. Police also used trumped up charges of "polygamy" to detain Khan, but she was subsequently released.
Among the key points of the agreement was that the home ministry has given orders to the police headquarters to send the CIB team to further investigate the incident of Nirmala Kurmi and Nakunni Dhobi. The agreement also ensured the protection of the protestors from any threats that they might face because of their protest. Further, it declared that the authorities must do their part in implementing the necessary actions based on the findings of the investigation.