Black Lives Matter protests continue despite escalating tensions as federal troops deployed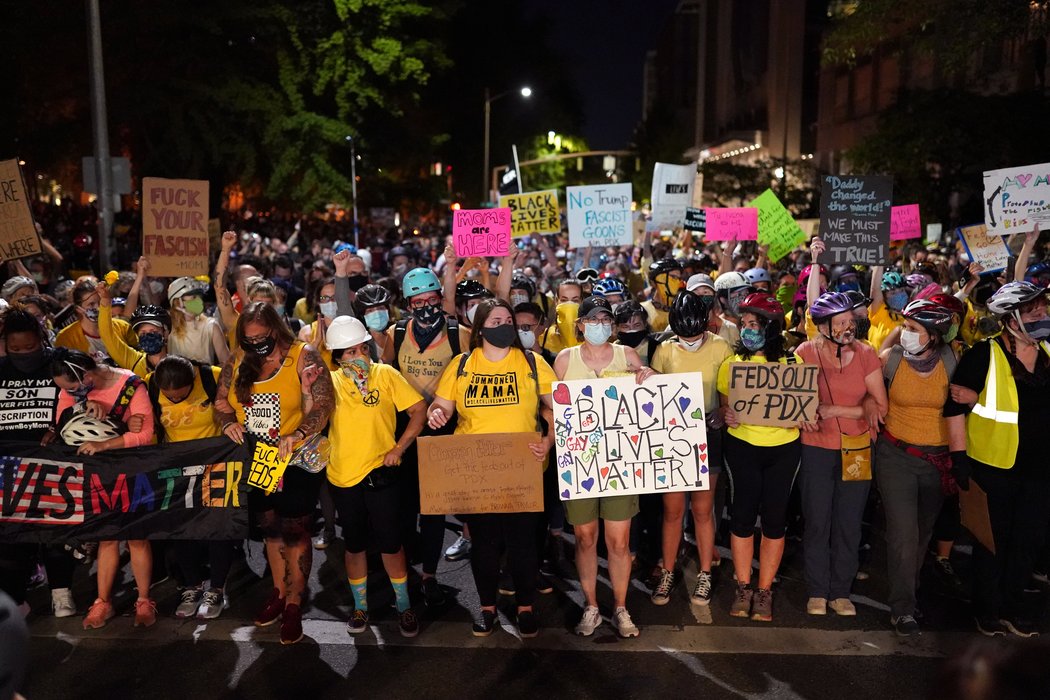 Peaceful Assembly
3 months of protests against racism and police brutality
In July and August 2020, protests against police brutality and systemic racism that began after the police killing of George Floyd in Minneapolis continued across the country, often with violent clashes between militarised police and protesters.
In July, the White House deployed federal troops to some U.S. cities, including Portland, Chicago, Seattle, Kansas City and Albuquerque, with mandates to protect federal buildings vandalised by protesters and "combat violent crime". In Portland, the presence of federal agents stirred tensions as officers were documented using excessive force against protesters outside a federal courthouse, including tear gassing the city's mayor and breaking the hand of a Navy veteran. On 11th July 2020, a U.S. Marshal shot a protester in the head with impact munition, fracturing the person's skull. There were reports of journalists and legal observers also injured by rubber bullets and pepper balls fired by federal officers. Hundreds of people were reportedly detained and several face federal charges, including assaulting federal officers and failing to comply with a lawful order. Local prosecutors said they would not act on non-violent misdemeanour charges.
Videos of masked federal agents dressed in camouflage taking Portland protesters away in unmarked vans without explanation prompted more protests in the city. One of Oregon's senators said on social media, "Authoritarian governments, not democratic republics, send unmarked authorities after protesters. These Trump/Barr tactics designed to eliminate any accountability are absolutely unacceptable in America." A similar situation occurred in New York City where a protester was arrested by plainclothes officers driving an unmarked vehicle.
On 23rd July 2020, a federal court issued a restraining order on federal agents using force against legal observers and journalists in Portland in response to a lawsuit filed by the American Civil Liberties Union (ACLU) of Oregon. Vera Eidelman, a staff attorney with the ACLU, commented:
"The Trump administration is deploying federal agents around the country in a senseless and brutal attempt to silence dissent. We are working to make sure that this unconstitutional nightmare ends in Portland, and is not replicated anywhere else."
In Seattle, police declared a large demonstration to be a riot on 25th July 2020 and used flash bangs and tear gas against protesters who gathered downtown in solidarity with Portland protesters. Police arrested about 45 people on charges including failure to disperse and obstruction. Two weeks earlier, a protester was killed and another was seriously injured after a car drove through a demonstration on a Seattle-area freeway.
Also on 25th July 2020, one person was killed at a Black Lives Matter protest in Austin, Texas, after a person opened fire on the protesters. On the same day, a car drove through a crowd of protesters and one person was shot in Colorado during a demonstration to draw attention to the death of Elijah McClain, a teenager who suspiciously died while in police custody in 2019.
In Louisville, for more than 70 days protesters have continued to demand justice for Breonna Taylor, and police have responded by attempting to limit where and how people can protest in the city. On 9th August 2020, the city's Metro Police Department announced the department would no longer allow protests in public streets, only on sidewalks. Protesters vowed they would not stop protesting until the three officers involved in Taylor's death face criminal charges. Civil society groups have also challenged the LMPD in court.
DC Fire EMT's are bringing a stretcher into the area where DC Police have a large group of protestors corralled. DC Police on scene not answering if someone is injured @nbcwashington @cmartinez400 @afruin pic.twitter.com/byj0rADvaJ

— Tom Lynch (@TomLynch_) August 14, 2020
In Washington, DC, protests continued near the White House and other parts of the city. On 13th August 2020, several dozen protesters were trapped by police for hours before being taken away in police vans. 41 protesters were detained for offences related to felony rioting and at least one person required medical attention. On 28th July 2020, a National Guard whistleblower testified before Congress that excessive force was used against peaceful protesters to clear a public square so that President Trump could take a picture on 1st June 2020.
In Richmond, police declared an "unlawful assembly" and used tear gas to disperse a demonstration after projectiles were fired at police officers on 25th July 2020. Earlier, protesters had reportedly set fires and broken windows. Six people were arrested. For weeks, different groups staged events in the city, with some causing damage to storefronts and other buildings.
In Utah, two people face potential life sentences for allegedly splashing paint on a prosecutor's office building during a Black Lives Matter protest. The two were charged under a special statute that permits prosecutors to increase penalties for "offences committed in concert with two or more person or in relation to a criminal street gang".
In Tennessee, lawmakers passed a bill that bans protest near the Capitol grounds and surrounding areas. The legislation, enacted on 18th August 2020, also increases penalties for protesters blocking highways, camping on public grounds or charged with rioting, assaulting a police officer or vandalising state property. Multiple groups have been staging protests on Capitol grounds for over two months and several people have been arrested on trespassing and other charges.
On 12th August 2020, 3 people participating in a 750-mile group walk from Milwaukee to Washington DC to commemorate the anniversary of Dr Martin Luther King's "I have a Dream" Speech were arrested in Indiana for allegedly blocking traffic.
On 23rd July 2020, the Senate passed the National Defence Authorisation Act for Fiscal Year 2021, joining their House colleagues who passed their version of the bill two days earlier. Language in the bill includes Section 1044 that says, "Amounts authorised to be appropriated by this Act shall not be used for any program, project, or activity, or any use of personnel, to conduct actions against United States citizens that infringe upon their rights under the First Amendment to the Constitution peaceably to assemble and/or to petition the Government for a redress of grievances."
In this period there were also cases of officers charged for using excessive force against demonstrators. A police inspector in Philadelphia faces multiple charges for striking a Temple University student in the head with a metal baton at a protest against police brutality in early June 2020. In New York, a police officer caught on camera shoving a woman at a protest to the ground was charged with assault.
In a separate development, an alleged Ku Klux Klan (KKK) member who drove through a Black Lives Matter protest in Virginia in June was sentenced to six years in prison on 10th August 2020 and still faces felony charges related to the incident.
Other protests
In Minneapolis, as many as 60 people could face charges of impeding traffic for their alleged involvement in a protest that blocked traffic on a major highway on 13th August 2020. News outlet Star Tribune reported that the protest was organised by the Oromo Liberation Front, an Ethiopian advocacy group calling for human rights and democracy in the country.
On 3rd August 2020, teachers and their supporters in multiple cities staged protests against reopening schools due to the risk of coronavirus in their states. In Los Angeles, Chicago and Philadelphia, teachers protested from their cars, holding signs and honking their car horns. In Milwaukee, a teachers' union posted images with messages like, "RIP Grandma caught COVID helping grand kids with homework". Teachers across the country have demanded in-person classes be postponed until safety protocols such as smaller class sizes and virus testing are established.
Expression
While aggressions against the press during national #BlackLivesMatter protests have been reported in more than 70 cities, many press freedom violations are concentrated in just a few places. https://t.co/D1HR4h48U9 pic.twitter.com/9Qt4SRkqeS

— Freedom of the Press (@FreedomofPress) August 27, 2020
On 21st July 2020, a Detroit police officer was charged with three counts of assault for allegedly shooting rubber pellets at three photojournalists covering a protest on 31st May 2020. All three photographers, who were wearing press credentials and identified themselves as members of the press, were injured by the pellets, including one who sustained injuries to her face, neck, arms and legs. The country prosecutor said the reporters were leaving the area and there was no reason for the officer's actions.
In a separate development, an Ohio prosecutor's office subpoenaed two local news media to turn over all of their recordings and photographs that depict any "potential criminal activity" from protests that took place on 30th May 2020. The Cleveland Plain Dealer said it plans on providing all previously published materials but is speaking with its attorneys before releasing anything else. "I'm always troubled when prosecutors seek to use the work of journalists as evidence in criminal cases because it sends a terrible message to criminals that journalists should be considered part of the criminal justice process," the paper's editor Chris Quinn said.
Journalists cited in intelligence reports
The US Department of Homeland Security (DHS) has been monitoring and collecting "intelligence" about journalists reporting on protests in Portland, according to a Washington Post report published on 31st July 2020. The department shared reports with other federal agencies describing online activity of two journalists, the New York Times' Mike Baker and Lawfare's Benjamin Wittes, both of whom covered the White House's deployment of federal agents against protesters in Portland.
The Post's story triggered an immediate response from free press advocates who called it disturbing and an assault on First Amendment rights. Following the article, the Acting Homeland Security Secretary ordered the office to cease all collection of information on journalists and announced an investigation into the reports. The acting undersecretary for intelligence and analysis, Brain Murphy, was also reassigned days later. According to a DHS memo leaked to The Nation, the department also recently instructed its officers on how to arrest and tear gas journalists at protests without facing legal liability.
Ben Wittes, one of the journalists surveilled by the DHS wrote on Twitter:
"What is troubling about this story is that Intelligence & Analysis shared my tweets as intelligence reporting, that is, an intelligence arm of the government filed a report on a citizen for activity at the heart of journalism: revealing newsworthy information about government to the public."
Enabling legislation
On 24th July 2020, federal legislation was introduced to discourage abusive lawsuits designed to limit free expression. Introduced by Rep. Steve Cohen, The Citizen Participation Act (HR 7771) aims to limit the impact of strategic lawsuits against public participation (SLAPPs), that deliberately misuse the legal system to prevent activists and other groups from speaking out against a particular organisation or issue. In a press release Cohen stated, "The court system must not be a tool wielded by the powerful against the free speech of individuals. Freedom of Speech is a core principle of our democracy, and we must protect it." A similar bill was recently introduced in New York's state Assembly.