Escalating attacks on women journalists, the new bill criminalises misinformation further stifling free speech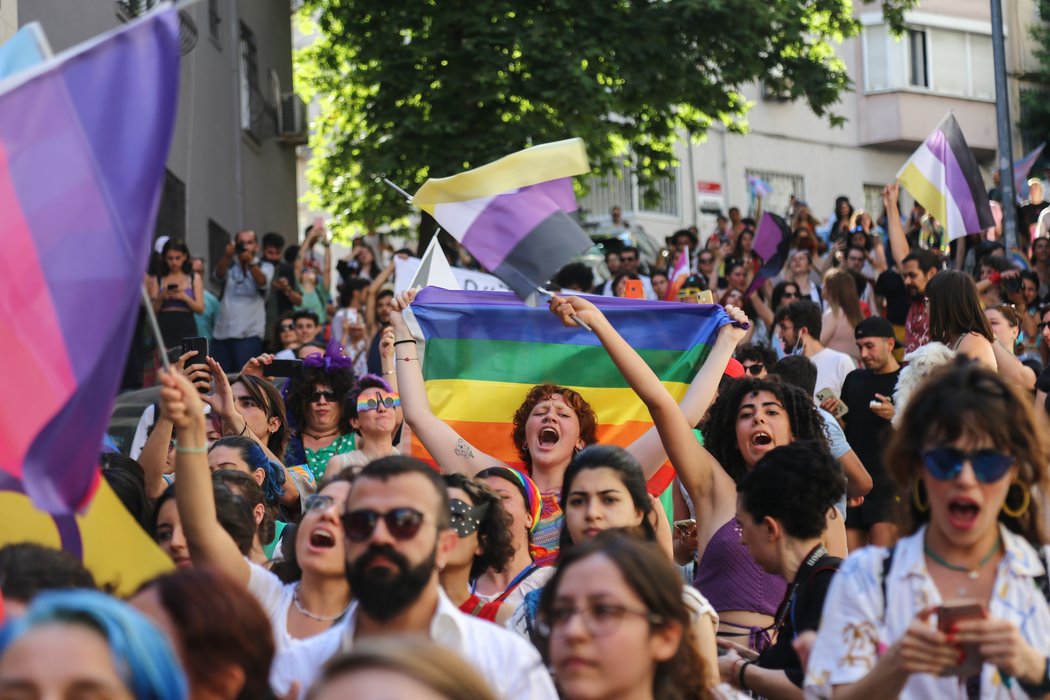 Association
According to a Freedom House report "Defending Democracy in Exile: Understanding and Responding to Transnational Repression" published in June 2022, while Turkey hosts many victims of transnational repression, it is also one of the worst perpetrators of such repression globally. The report notes that
"When the origin state using transnational repression is an adversary, Turkey protects the targeted and punishes the perpetrators. When the origin state is a friendly nation, Turkey silences activism and endangers the already vulnerable".
According to the report "Keep the Volume Up: Intimidation Policies Against Rights Defenders 2015-2021", published by the Truth Justice Memory Center in June 2022, the Turkish judicial mechanism has played a central role in interventions against rights defenders. The judiciary, it is argued, has been instrumentalised for political aims. Similar findings were made by the report "Drowned in Procedure, Sentenced to Fail: Administrative Harassment Against Civil Society in Turkey", published by the International Federation for Human Rights (FIDH) in June 2022, which argued that administrative harassment is used as a weapon to intimidate civil society.
The International Trade Union Confederation's (ITUC) ninth annual Global Rights Index, published in June 2022 ranked Turkey among the 10 worst countries for workers because of the suppression of strikes, arrests of unionists and the systematic prevention of union activities.
Developments related to HRDs
On 31st May 2022, the European Court of Human Rights (ECtHR) ruled that Turkey violated the European Convention on Human Rights when it arrested the former chairperson of Amnesty International's Turkish branch, Taner Kilic. The human rights defender was arrested in June 2017 on suspicion of belonging to the organisation described by the Turkish authorities as the 'Fethullahist Terror Organisation' or 'FETO', led by Turkish cleric Fethullah Gulen, accused of organising the failed coup attempt in 2016. In July 2020, he was sentenced to six years and three months in prison, with the verdict still pending at the Court of Cassation. Following the ECtHR ruling, Amnesty International called on the Turkish authorities to overturn his conviction.
On 3rd June 2022, the building of the Migration Monitoring Association in Istanbul and the homes of the association executives were raided by the police and various materials in the association office were confiscated. Afterwards, 16 members of the association were arrested. The charges against the members are unknown, however, according to their lawyers it is believed that they are accused of "membership in an armed organisation". The association has faced previous judicial and administrative harassment due to their work on forced migration. FIDH condemned the arrests.
On 22nd June 2022, human rights defender Pinar Selek was sentenced by the Turkish Supreme Court to life in prison. She was arrested in 1998 and accused of allegedly supporting the Kurdistan Workers' Party (PKK) and then of setting off a bomb in Istanbul's Egyptian bazaar in July of the same year. She now lives as a refugee in France.
On 17th June 2022 Amnesty International named the human rights activist Osman Kavala and Gezi Park defendants as prisoners of conscience.
"Naming these seven people as prisoners of conscience is a recognition of the chronicle of injustice they have suffered beginning with arbitrary detention and politically-motivated prosecutions and ending in a show trial and convictions. The injustice that these seven have been subjected to is emblematic of that suffered by so many in Turkey's draconian crackdown on human rights," said Agnès Callamard, Amnesty International's Secretary General.
On 11th July 2022, the ECtHR Grand Chamber ruled that Turkey had failed to fulfil its obligation based on the judgment delivered in December 2019 to release Kavala. After the ruling, Amnesty International called for his immediate release. Kavala has been held in pre-trial detention for more than four years and in April 2022 he was sentenced by a Turkish court to life in prison for allegedly attempting to overthrow the government by financing the 2013 Gezi Park protests (see previous update).
Separately, on 28th June 2022, Turkey, Finland and Sweden signed a memorandum which, among the others, contains a pledge from the two Scandinavian countries not to support "terrorist" groups and to extradite fugitives wanted by Ankara. The memorandum states that Finland and Sweden will not provide support to the People's Protection Units (YPG/PYD) and to what the Turkish government calls FETO. It also added that the two countries will investigate and interdict any financing and recruitment activities of the Kurdistan Workers' Party (PKK). Turkish President Recep Tayyip Erdogan afterwards stated that Sweden promised to extradite 73 "terrorists" to Turkey.
Peaceful Assembly
In May, many concerts, festivals and other cultural events were banned across Turkey, often without giving any specific reasons. A joint statement of 57 bar associations condemned the bans.

On 31st May 2022, around 170 people, including journalists, were detained in Istanbul after Turkish police violently prevented people from entering Gezi Park and Taksim Square for the ninth anniversary of the protests in Istanbul. It is reported that police used excessive force to stop protesters, including batons, tear gas and barricades.

On 15th June 2022, thousands of Turkish medical workers staged strikes across the country for one day after a call to do so from medical unions and organisations, demanding better rights, protection from violence against them and pay. Medical workers went on strike again on 7th and 8th July 2022 after cardiologist Ekrem Karakaya and his secretary were murdered in Konya by a man who was reportedly angry with the doctor's treatment of a family member. The man lost his life following an armed clash between him and security officers. The Turkish Medical Association called for the resignation of Fahrettin Koca, the Minister for Health, due to his failure to stop violence against medical workers.

On 21st June 2022, following police inspections of venues for the 30th annual Pride Week, Istanbul city authorities decided to prohibit the march on the grounds of preventing crime and maintaining peace and security. The decision was condemned by the organisers and NGOs, which accused police of pressurising Pride venues by asking for tax documents. Nevertheless, thousands of activists decided to take to the streets of Istanbul and march regardless of the ban. On 26th June 2022, 373 people, including activists, LGBT community members and journalists, were detained overnight in Istanbul by police for taking part in the banned Pride parade. Excessive force by police was also used against a student-organised Pride march at the Middle East Technical University (METU) campus in Ankara.
Today, Istanbul Pride was violently repressed by police who have arrested more than 200 people so far, and attacked journalists. We call for the immediate release of all those detained & investigation into use of excesssive force by police. https://t.co/PxynUw5vCI

— ILGA-Europe (@ILGAEurope) June 26, 2022
On 25th June 2022, Turkish riot police obstructed the weekly vigil of members of the Saturday Mothers group in Istanbul and arrested 16 of them. These peaceful vigils have been held in Galatasaray Square since 1995 to demand information on those who disappeared while in state custody during the 1980s and 1990s. Several women journalists were also obstructed and faced physical attacks while covering the vigil. Organisations such as Freedom House and Amnesty International condemned the police's actions.

On 3rd July 2022, four members of the pro-Kurdish People's Democratic Party (HDP) were detained in Ankara for alleged "terrorist propaganda" during the HDP's general party congress.
Expression
New bill criminalises misinformation
On 27th May 2022, Turkish lawmakers proposed draft legislation amending the Criminal Code and press and internet laws, titled "The Law on the Amendment of the Press Law and Some Issues". If passed, the bill would criminalise persons publicly disseminating "misleading information" who could face between one to three years in prison and would increase the penalty for offenders who hide their identity or act on behalf of a criminal group. The bill does not define what constitutes "misleading information" or who will categorise this. Moreover, as a further extension to its restrictive social media law which requires representatives of social media platforms with over a million users to reside in Turkey, the bill furthers the existing obligations of social media companies and makes it easier for the Turkish authorities to remove content from the internet.
In a joint statement, local press freedom groups called for the bill's withdrawal, saying the proposed changes could bring about "one of the heaviest censorship and self-censorship mechanisms" in Turkey's history. On 21st June 2022, thousands of protesters from journalists' unions and NGOs gathered in Istanbul and other cities to call on the government to drop the proposed law. In the statement, the Journalists' Union of Turkey, the Turkish Journalists' Association and the Press Council said:
"It is called the 'Press Law', but it has been prepared without being asked for by professional media organisations. There is no article in it to protect journalists or protect the news. On the contrary, prison sentences, closures, censorship and heavy controls over internet media are coming."
In a related development, on 6th July 2022, the directive "Press Morality Principles" issued by the Press Advertisement Agency (PAA) on 27th May 2022, came into effect. Eleven local journalism organisations in Turkey issued a joint statement against the directive which gives self-authorisation to PAA to censor content based on vague decisions and not precise statements. Pro-government media promotes the directive as an attempt to combat disinformation.
RTÜK continues to censor media
On 30th May 2022, the Turkish Radio and Television Supreme Council (RTÜK) fined four Turkish TV channels for airing a speech by the main opposition Republican People's Party (CHP) leader Kemal Kılıçdaroğlu, in which he claimed that President Erdoğan had plans to flee the country if he lost the general elections in 2023.
On 29th June 2022, RTÜK fined four broadcasters and one radio channel after a complaint by the Minister of the Interior, Süleyman Soylu, over talk shows discussing new allegations against government officials by the exiled Turkish mafia boss Sedat Peker. On the same day, correspondents of four broadcasters were refused entry to the Ministry of Labour and Social Security where the Minimum Wage Determination Commission had convened for a meeting because the correspondents allegedly did not have press cards.
On 30th June 2022 an Ankara court ruled to restrict access to Deutsche Welle (DW) and Voice of America (VOA) webpages in Turkey, following a request by RTÜK to do so due to failure to apply for a licence. DW Director General Peter Limbourg said the licensing requirements would mandate that DW "delete online content that RTUK interprets as inappropriate", which he called "simply unacceptable for an independent broadcaster". Limbourg said the broadcaster would take legal action against the block.
Attacks against journalists
Given the ongoing attacks on journalists, on 29th June 2022, Reporters Without Borders (RSF) issued a statement denouncing police violence against and detentions of journalists in Turkey.
Additionally, according to the Coalition For Women In Journalism (CFWIJ) 2021 Annual Press Freedom Report published in June 2022, in 2021 the Turkish government failed to guarantee press freedom. Of the 291 cases of violations against women journalists registered in the Middle East and North Africa, Turkey recorded 238 cases. The country is rated first for violence, harassment and violations, with an increase of 249,99 per cent in the number of incidents compared to the previous report. It is also reported that the state has routinely weaponised its institutions in attempts to intimidate and silence women journalists reporting on state violence and official overreach.
Separately, the picture for Turkey's online freedoms is just as concerning. According to the "Free Web Turkey 2021 Annual Report" published by the Media and Law Studies Association in June 2022, internet freedoms declined again in 2021 due to increasing censorship and surveillance. Throughout the year, at least 11,050 URLs were blocked, with a total of 49 news websites being banned during the monitoring period. 53 per cent of the blocked news articles were directly related to Turkish President Erdogan, his family, and mayors or officials of the AKP.
According to the "Monitoring media pluralism in the digital era: application of the Media Pluralism Monitor in the European Union, Albania, Montenegro, the Republic of North Macedonia, Serbia and Turkey in the year 2021. Country report: Turkey" report, published by the European University Institute (EUI) Centre for Media Pluralism and Media Freedom on 30th June 2022, in 2021 Turkey's media pluralism risk ranged high in all four areas of the Media Pluralism Monitor: fundamental protection; social inclusiveness; political independence; and market plurality.
Civic Space Developments
Tags
protest,
internet restriction,
youth,
office raid,
intimidation,
restrictive law,
harassment,
HRD detained,
excessive force,
prevention of protest,
journalist detained,
censorship,
positive court ruling,
protestor(s) detained,
LGBTI,
women,
refugees and migrants,
attack on journalist,
labour rights,
HRD prosecuted,
Back to civic space developments