#EndSARS protests: several protesters killed, journalists assaulted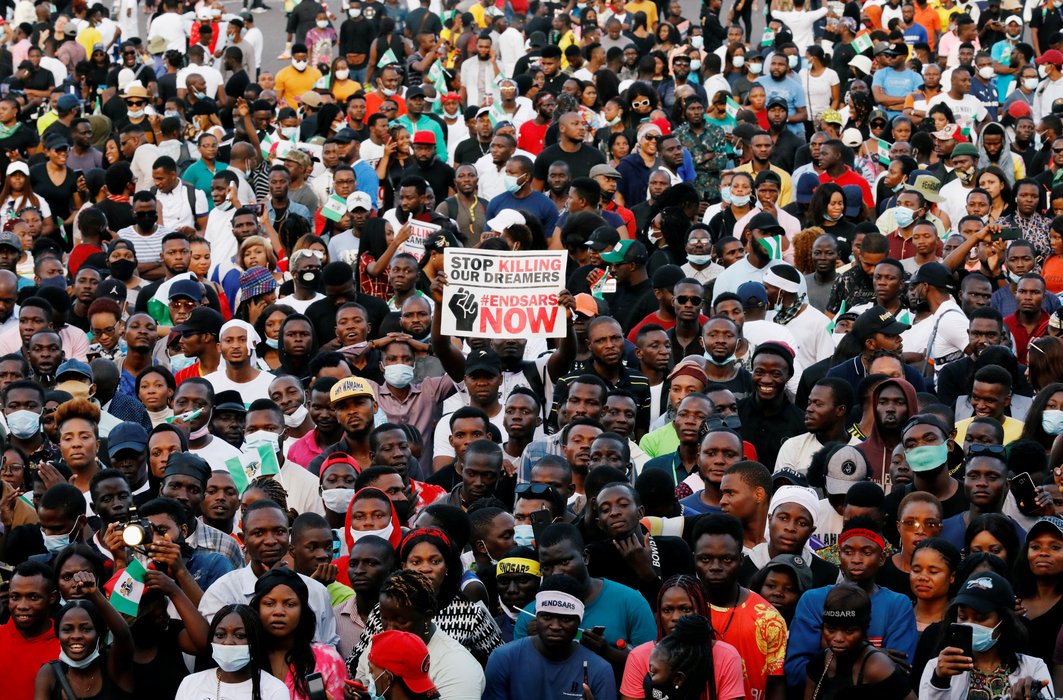 —Four weeks ago, Nigerians peacefully protesting years of police brutality at Lekki Toll Gate Lagos were met with excessive use of force by the army and police forces.
—Here is a timeline of the deadly incident in the night of 20 October; #EndSARS https://t.co/Ela5Awe88l

— Amnesty International Nigeria (@AmnestyNigeria) November 18, 2020
Peaceful Assembly
#EndSARS protests: at least 12 killed by live ammunition in Lagos says human rights group
Since 8th October 2020, Nigerian youth have been protesting against police brutality across the country, in particular by the Special Anti-Robbery Squad (SARS) unit of the Nigerian police. The protests, emboldened by the use of social media, came to embrace wider grievances of bad governance and a lack of accountability in the country. Security forces have used tear gas, water cannons and live ammunition against #EndSARS protesters, while armed thugs have reportedly attacked protesters and disrupted protests. Violence and clashes, including attacks on media outlets, destruction of police stations and buildings, were also reported. 
On 20th October 2020, military officers and police opened fire on protesters in Lagos - in Lekki and Alausa - killing at least 12 people according to Amnesty International. Prior to the shooting at the Lekki toll gate, where protesters had been gathering for two weeks, CCTV camera's were reportedly removed and electricity cut. Osai Ojigho of Amnesty International Nigeria said: 
"Opening fire on peaceful protesters is a blatant violation of people's rights to life, dignity, freedom of expression and peaceful assembly. Soldiers clearly had one intention - to kill without consequences."
Authorities and the Nigerian army initially denied they were present at the site and later said that they only fired blank rounds. 
In past years there have been several calls to reform or disband the SARS unit, which is accused by human rights groups of torture, ill-treatment, extra-judicial killings and extortion. The announcement made by the Inspector General of Police on 11th October 2020 to dissolve SARS and to set up a Special Weapons and Tactics (SWAT) team to 'fill the gaps' created by the dissolution of SARS, was met with scepticism over previous failed promises to reform the SARS unit and protests continued. The New York Times said that the government has adopted a two-pronged approach to the protests: disbanding SARS and installing commissions of inquiry to convince people that it has heard the protesters while targeting and intimidating #EndSARS activists. Two youth activists boycotted the hearings of the panel of inquiry in Lagos after the bank account of one was blocked on accusations of links to terrorism. Some high-profile activists have reportedly gone into hiding while the passport of lawyer Modupe Odele, who has been assisting protesters, was confiscated at the airport. 
On 21st October 2020, Amnesty International Nigeria said that at least 56 people had died during the protests, including protesters and thugs allegedly hired to disrupt the protests. Inspector General of Police Mohamed Adamu said on 3rd November 2020 that over 1,500 people had been arrested across the country in relation to the protests. On 6th November 2020, four activists were reportedly arrested during a protest in front of the National Assembly in Abuja. 
Freezing of bank accounts and fines for broadcasters
The Central Bank of Nigeria has proceeded with instructing banks to freeze bank accounts of supporters, individuals and organisations, of the #EndSARS movement, who are accused of 'financing terrorism'. One of those affected has been Gatefield, a public strategy and communication firm that disburses funds to independent journalists and citizens to report on the protests through its project Gatefield Impact. According to Human Rights Watch (HRW), Gatefield was unable to make transactions on its Impact account from 15th October 2020, while its other two accounts were blocked as of 16th October. The Central Bank only obtained court orders on 5th November 2020 for the freezing of 20 accounts via five banks for three months in 'what appears to be an attempt to belatedly justify its actions' according to HRW. The national broadcast regulator, the National Broadcasting Commission (NBC), slapped three independent broadcasters on 26th October 2020 with fines from two million naira (approximately 5,200 USD) to three million naira (approximately 7,800 USD) for 'footages obtained from unverifiable and unauthenticated social media sources' in violation of the Broadcasting Code.
🇳🇬 #Nigeria must set up a credible, independent inquiry into the recent illegal killings of at least 12 peaceful protestors by soldiers – UN experts: "Governments come and go, but #PoliceBrutality is as intractable as ever. Nigerians need justice."
👉 https://t.co/KQXGj6c2to pic.twitter.com/YtKm25y40y

— UN Special Procedures (@UN_SPExperts) November 3, 2020
Eight UN Special Rapporteurs have called on Nigerian authorities to set up an independent inquiry into the killing of protesters in Lagos and clarify why the military was deployed. They said that the Lekki toll gate was 'especially disturbing because demonstrators were precisely calling for accountability for previous police brutality'. 
Expression
Freedom of expression violations during protests: media outlets vandalised, journalists assaulted
According to the Committee to Protect Journalists (CPJ), at least 12 journalists were attacked during the #EndSARS protests by security forces and unidentified perpetrators. Some of the cases documented by CPJ and the Media Foundation for West Africa (MFWA) are:
Premium Times journalist Ebuka Onyeji was chased and beaten by police officers, along with protesters, in Abuja on 11th October 2020, despite Onyeji identifying himself to the officers as a journalist. 

On the same day in Abuja, Daily Trust columnist Gimba Kakanda was told by police officers 'We are actually looking for your kind' in pidgin after he showed his press card, and was beaten by the officer before being taken to a nearby police station. 

On 12th October 2020, Theophilus Elamah of Television Continental was hit by protesters in Bagada, Lagos State, before he and his camera operator were forced to leave the protest site. 

Oluwatoyin Yusuf of the Osun State Broadcasting Corporation (OSBC) was attacked by unidentified perpetrators in Ashogbo while he was covering the protests on 17th October 2020. 

Journalists Segun Odunayo and Femi Dawodu for Punch Newspaper were assaulted by about 20 police officers for an extended period for having broadcast live videos of police officers attacking protesters in Lagos on 21st October 2020, according to the Media Foundation for West Africa (MFWA). 

Vanguard newspaper journalist Akpokona Omafuaire was assaulted by police officers in Ekete, Delta State, on 23rd October 2020. 
Additionally, several media outlets were attacked and vandalised during the protest. The offices of Television Continental in Lagos were attacked on 21st October 2020. Two other media houses were attacked in Lagos the same day: the Nation newspaper and Television Channel. In Osun State, unidentified assailants reportedly broke down the gate of the offices of the Osun State Broadcasting Corporation (OSBC) and reportedly started a bonfire in front of the premises.
Journalist detained following defamation complaint
On 13th October 2020, police officers arrested Tom Oga Uhia, publisher for the monthly magazine Power Steering, in Abuja following a defamation complaint by Minister of State for Power Jeddy Agba. According to CPJ, the complaint relates to an article in the July edition of the magazine claiming the Minister's involvement in corruption, theft and fraud. Officers reportedly also confiscated the journalist's camera and personal assets. Police initially disregarded a court order for the journalist's release on bail, and Oga Uhia was finally released on 10th November 2020 after having spent 30 days in detention. 
Association
Civil society groups and religious organisations protest the Companies and Allied Matters Act 2020 (CAMA 2020)
Some civil society groups and religious organisations have protested the CAMA 2020, signed into law in August 2020. In an open letter addressed to president Buhari on 22nd August 2020, the CSO Socio-Economic Rights and Accountability Project (SERAP) expressed its concerns with certain restrictive provisions of the law - in particular articles 839, 842, 843, 844 and 850 contained in Part F - saying 'The government now has overly broad and discretionary powers to arbitrarily withdraw, cancel or revoke the certificate of any association, suspend and remove trustees, take control of finances of any association, and to merge two associations without their consent and approval of their members.' In a similar vein, the Action Group on Free Civic Space -  a loose network of over 85 organisations, student groups and social movements - issued a statement with similar concerns on the law, which has 'enormous potential to restrict the civic space and limit constitutionally-protected freedoms'. Christian organisations, such as the Christian Association of Nigeria (CAN), also voiced their concerns.