Emergencies Act used to clear truck drivers' convoy protests in Canada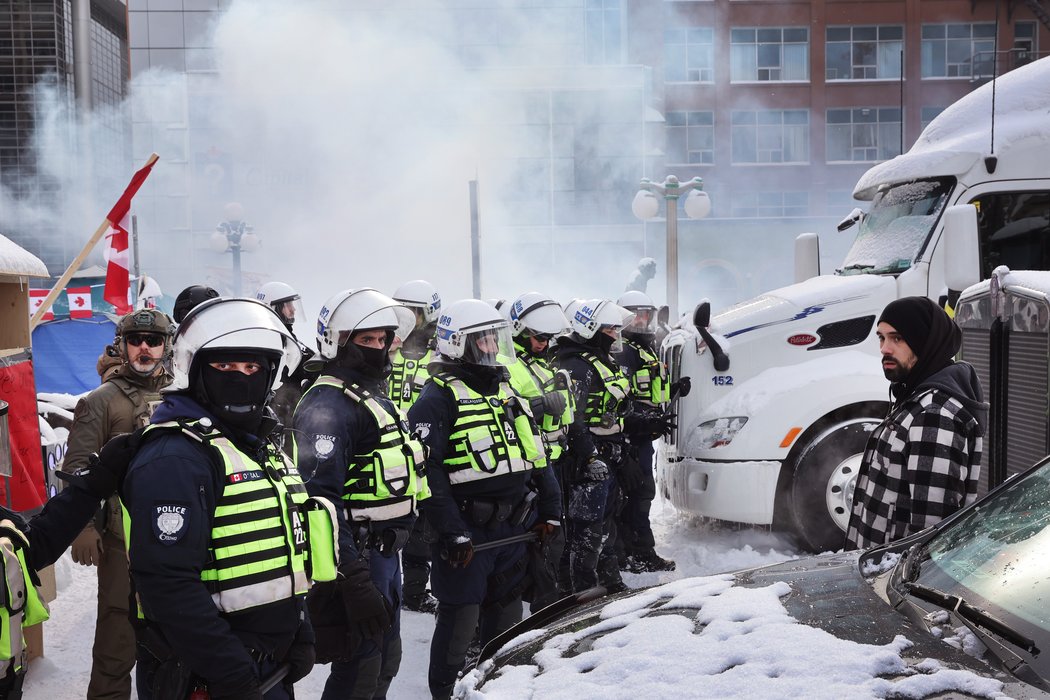 Peaceful Assembly
Truck drivers demanding an end to COVID-19 vaccine mandates have disrupted major Canadian cities and clogged key U.S.-Canada border crossings. Now, copycat protests are spreading around the world. How did this all start and spread? https://t.co/cpUEBPv4OH pic.twitter.com/jnlMnvnQpx

— Reuters (@Reuters) February 10, 2022
Protests against COVID-19 restrictions continued in February 2022, with truck drivers in Ottawa bringing the city to a standstill for several weeks. Truckers and their supporters blocked key border crossings and other routes, including the Ambassador bridge which connects Windsor to the U.S. city of Detroit. While the demonstration took place, Ottawa residents complained of being harassed and intimidated by the truckers and obtained a court injunction to stop their incessant honking.
The Ottawa mayor declared a state of emergency on 6th February 2022 after drivers occupied streets of the capital for several days. Labour union Teamsters Canada, which represents over 15,000 truck drivers, said in a statement on 7th February 2022 that the convoy did not represent the views of the vast majority of their members.
On 13th February 2021, police moved in to clear and arrest the remaining protesters near the U.S.-Canadian border crossing in Windsor, towing multiple vehicles. On 14th February 2022, President Justin Trudeau declared a national public order emergency, which allowed the government to take a variety of steps, including freezing bank accounts of protesters and clearing truckers' blockades by towing trucks and suspending drivers' licences. It had been half a century since emergency powers were last invoked at a national level in Canada.
On 17th February 2022, police began making arrests to disperse the protesters in Ottawa and detained some protest organisers. At least 170 people participating in the convoy were arrested over the next two days, mostly on mischief charges. There were several reports of officers, some in riot gear and others on horseback, using force against protesters and using pepper spray to push the crowds back. On 22nd February 2022, the government began lifting a freeze on bank accounts linked to the protests in Ottawa and elsewhere. As many as 210 accounts holding nearly CAD 8 million collectively were frozen under the Emergencies Act.
On 23rd February 2022, President Trudeau announced the government would revoke the Emergencies Act. However, the Canadian Civil Liberties Association (CCLA) stated that there was an insufficient legal basis for resorting to the legislation, and that the orders passed using the Act were unconstitutional. "Even though the orders are no longer in force, Canadians are left with the precedent that the government's actions have set," the group said in a press release. In the communication, the CCLA said it was studying next steps in terms of litigation around the matter.
Protests on students' rights and climate
Indian students in Montreal have been protesting since their colleges shut down.

The means they can't legally work in Canada anymore. If the issue isn't resolve within 150 days of the closure, they'll have to go back to India. They've paid thousands of dollars in tuition fees. pic.twitter.com/4g6xbCASXa

— Uday Rana (@UdaySRana) March 2, 2022
In February 2022, university students in Montreal protested against three schools that closed without notice, leaving thousands of students in uncertainty. Students from the private institutes reported being made to pay tuition and other fees early, only to find that the colleges did not reopen in January 2022 after the winter break. The schools have filed bankruptcy proceedings, putting the students' tuition and class credits in jeopardy. Many of the students from these colleges are from India and are at risk of having to leave the country without receiving their degrees or compensation. Solidarity protests were also held in Brampton and other cities.
On 2nd February 2022, climate activists rallied outside Lululemon's flagship store in Vancouver to demand that the company transition to renewable energy powered factories. The company supplied uniforms for Canada's national team in the 2022 Winter Olympics. Organised by the environmental advocacy organisation Stand.earth, protesters delivered a 4ft wide "coal medal" to the store's employees, then gathered outside to pose in Team Canada outfits alongside a mock coal plant prop. Chanting and holding banners, and surrounded by speakers blaring the Olympics theme song, the activists called on Lululemon to go coal free in its supply chain by 2030.
Expression
The CAJ is concerned about police interference with journalists in Ottawa. We have repeatedly called on law enforcement agencies to respect journalists' right to report. We stand prepared to go to court to defend this right

Our letter to @OttawaPolice:https://t.co/GdE4RMAEn2 pic.twitter.com/fofWz5ZCeA

— Canadian Association of Journalists (@caj) February 21, 2022
Journalists covering demonstrations against COVID-19 restrictions in Ottawa were attacked and harassed by police and by protesters. On 19th February 2022, Rebel News reporter Alexa Lavoie was hit by police multiple times, including by an officer using a club and once by a tear gas cannister shot at close range. Pictures published by her colleagues on social media showed bruising where the reporter was struck. Journalists were also blocked by police from accessing areas where protests were taking place, despite wearing credentials and carrying other documentation required.
A camera operator covering the blockade in Surrey said his equipment was shoved off his shoulder and two men spat on him. There were also reports of journalists being followed and threatened. Glen McGregor of CTV News said protesters hurled obscenities at him while covering the demonstrations in Ottawa. But he said the situation worsened as the protest went on, with one person spitting in his direction during a live broadcast. "Every time we had to go on camera, there was a little bit of dread because we knew we were going to be facing this," said McGregor.
Journalist Evan Solomon, a reporter at national Canadian broadcaster CTV, told the Committee to Protect Journalists that news crews had to take additional steps to protect themselves while covering the demonstrations:
"Now, when [CTV] journalists are filming outside, we have to have a security person with us. We're all using DSLR cameras, which are small cameras, so we do not bring tripods, we do not bring lights. You make sure you're mobile in case things get out of hand. Our colleagues at CTV Edmonton have peeled off the stickers from their cars that identify them."