Election drives people to the streets in the US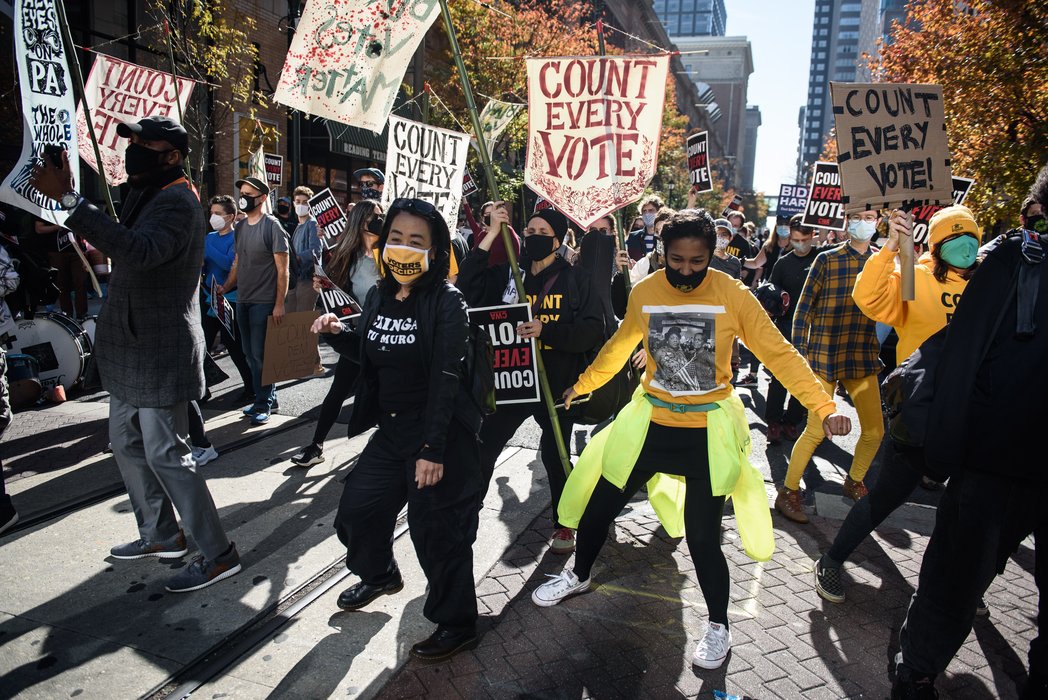 Protests swept across the United States as people waited for the results of the 3rd November 2020 election, which had the highest voter turnout in over a hundred years.The presidential race remained too close to call for several days, and during this time groups supporting Democrat Joe Biden marched calling for every vote to be counted while President Trump's supporters converged near tallying centres and made unsubstantiated allegations of fraud. Despite concerns that political polarisation could lead to violence over the election, the protests were largely peaceful.
On 7th November 2020, media groups called the election for Joe Biden after he won the battleground state of Pennsylvania. While President Trump's campaign sought to challenge results and delay their certification in key states, by the end of November most states had certified their election results.
Association
Election-related protests
Earlier today, I attended the "I Am Change" march in Graham, which was supposed to end at the polls. At least a dozen people were arrested, and the crowd was repeatedly pepper sprayed. #ncpol 1/ pic.twitter.com/4juq9EGdZj

— Carli Brosseau (@carlibrosseau) October 31, 2020
On 31st October 2020, police disrupted a Get Out the Vote event in Graham, North Carolina, and arrested at least 12 people. Several dozen people, including children and seniors, were pepper sprayed and at least one person was injured. About 200 people participated in the "I Am Change" event to encourage voting, including members of George Floyd's family. According to media reports, minutes after the group began a moment of silence in memory of Floyd, the Graham Police Department ordered protesters to disperse and began pepper spraying the crowd. Alamance News reporter Tomas Murawski was detained while covering the event, one journalist was shoved by an officer and other ten said they were affected by pepper spray. North Carolina Governor Roy Cooper condemned the police's response, saying "Peaceful demonstrators should be able to have their voices heard and voter intimidation in any form cannot be tolerated."
In a separate rally on 31st October 2020, hundreds of people gathered in Beverly Hills at an event called the "USA Freedom Rally" to express support for President Donald Trump. Many in the crowd waved U.S. flags and chanted "four more years" and "turn California red." Counter-protesters organised a small rally on the same day and there were reports of violence between the two groups, with at least one person injured. After the violence escalated, police declared the rally an unlawful assembly and ordered the crowd of counter-protesters to disperse. Photojournalist Jintak Han said he was assaulted by an officer, as detailed under the 'Expression' section of this update.
From 3rd November 2020, thousands of people across the U.S. took to the streets as they waited for election results. Protests calling for every vote to be counted were organised in several cities, including New York, Washington, D.C. and Minneapolis. In Washington D.C. hundreds of people gathered near the White House on election night to protest against President Trump and watch news coverage as ballots were tallied. At a protest against police brutality in Minneapolis on the evening of 3rd November 2020, at least 14 people were detained for allegedly blocking traffic, vandalising store fronts and firing fireworks at officers. In Seattle, eight people were arrested, including one accused of driving over a barricade and through a line of bike cops. There were no reports of injury.
The massive combined "count every vote" + Walter Wallace protest is on the move around Philadelphia City Hall, headed to Independence Hall.

"Whose streets? Our streets." pic.twitter.com/9LALlmdKLe

— Oona Goodin-Smith (@oonagoodinsmith) November 4, 2020
Over the following days, protests swept the country as the election continued to be too close to call. "Protect the Results" demonstrations took place in cities such as Philadelphia, Seattle, Detroit and Los Angeles. In New York City, thousands marched past boarded-up stores and protesters reported being kettled and beaten by police in Washington Square. In Portland, where protests have been ongoing since the police killing of George Floyd in May 2020, hundreds gathered on the waterfront to protest attempts to intervene in the vote count. At least 11 people were detained for alleged vandalism and the police declared all gatherings in the city unlawful assemblies. In Phoenix, pro-Trump protesters alleging election fraud rallied outside the Maricopa county election centre. A similar protest was staged in Detroit, with Trump supporters gathering outside a ballot-counting centre and chanting "stop the count".
On 15th November 2020, tens of thousands of people gathered in Washington D.C. to participate in a series of events in support of President Trump's unsubstantiated claims against Joe Biden's electoral victory. During the "Million MAGA March", attendees chanted "stop the steal" while marching to the Supreme Court Building. Near the White House, some attendees removed Black Lives Matter signs and replaced them with a "Trump law and order" banner while others expressed support for a teenager who allegedly shot and killed two people at a Wisconsin protest. Much of the march unfolded peacefully but there were some reports of clashes between Trump supporters and counter-protesters, including fights and at least one stabbing. According to NBC, at least 21 people were arrested, five on firearm charges and others on varying assault, disorderly conduct and property destruction charges.
Racial justice protests
At the end of October 2020, the police shot and killed Walter Wallace, Jr. in Philadelphia which led to several days of protest. Many of the protests were peaceful and converged on the city's Malcolm X park with speakers from groups such as the Black Philly Radical Collective, which fights for the abolition of traditional police and against police brutality. There were also incidents of looting, vandalism and unrest – with over 200 people detained over four days. Protests also took place in New York and other cities.
On 1st November 2020, police disrupted a protest against the death of a Black man, Karon Hylton-Brown, in an accident after police in Washington D.C. chased his electric scooter to stop him for not wearing a helmet, in an allegedly unlawful chase. According to news reports, officers used smoke and flashbangs to disperse protesters near a police station while some demonstrators threw eggs and glass bottles. Nine protesters, including Hylton-Brown's father and some of his cousins, were arrested in the protest.
Other developments
We worked with the cities of #Portland and #Oakland to file a lawsuit challenging the Trump Administration's deployment of federal forces to Portland in July. https://t.co/CwB2uwFQKe via @citylab 1/

— PublicRightsProject (@public_rights) October 16, 2020
In October 2020, the cities of Portland, Oregon, and Oakland, California, filed a lawsuit against the U.S. Department of Homeland Security and the Justice Department, alleging that the agencies overstepped constitutional limits in their use of federal law enforcement officers in response to local protests. As previously reported on the Monitor, the presence of federal agents in cities like Portland stirred tensions as officers were documented using excessive force against protesters. The lawsuit claims the U.S. Marshals Service unlawfully deputised dozens of local Portland police officers as federal agents, despite objections from city officials, as part of its response to widespread racial justice protests that have been ongoing since late May 2020.
On 6th October 2020, hundreds of members of Orthodox Jewish communities in Brooklyn neighbourhoods protested New York Governor Andrew Cuomo's COVID-19 restrictions for areas with high infection rates. Videos posted on social media show people in the crowd starting a fire in the middle of the street to burn masks while chanting, "Jewish lives matter." One journalist covering the protests was attacked by the protesters and an organiser of the protest was detained, as reported under the 'Expression' section of this update.
On 10th October 2020, a confrontation between a Trump supporter at a "Patriot rally" and a security guard for a local TV news station turned deadly outside a Denver art museum. Matthew Dolloff, a security guard for 9News, faces a charge of second-degree murder for shooting and killing a rally participant, Lee Keltner. News outlets reported that the two men got into an altercation and that the security guard shot as Keltner pepper sprayed him. Lawyers for Dolloff said he shot in self-defence.
On 11th October 2020, hundreds of people participated in a protest and prayer service in Nashville calling to end health restrictions imposed on places of worship to slow the spread of the pandemic. Local authorities said they would investigate the protest, as most attendees were not wearing masks and the organisers did not submit a safety plan. However, there were no reports of protesters detained or police disruption at the event. The "Let Us Worship" service was led by a group that travels the country and believes that their religious freedom is being undermined by the restrictions. The group held similar events in Atlanta and Charleston.
On 17th October 2020, thousands of people rallied in several cities to protest against the confirmation of President Trump's Supreme Court nominee Amy Coney Barrett. Some of the demonstrations were organised by women's groups, who said the conservative judge's appointment could lead to serious setbacks for abortion and LGBTQI+ rights in the country. 26 people were detained in a protest in Washington D.C. for obstructing the entrance to a Senate building and one person was charged with resisting arrest.
Expression
Orthodox community chases out Orthodox journo @jacobkornbluh at anti-lockdown protest in Borough Park, calling him Hitler and a nazi. The community is carrying Trump flags in reaction to Cuomo and @NYCMayor decision to close down businesses in their neighborhoods due to COVID. pic.twitter.com/ftzquU2PrR

— NYC Protest Updates 2020 (@protest_nyc) October 8, 2020
On 7th October 2020, a reporter with Jewish Insider was attacked by protesters in Brooklyn. Jacob Kornbluh said that he was "hit in the head and kicked" by members of an Orthodox Jewish community while he attempted to cover their protest against the governor's new COVID-19 restrictions on neighbourhoods with high infection rates. One of the anti-lockdown protest organisers, who allegedly incited the attack on the journalist, was arrested and charged with inciting a riot and unlawful imprisonment.
While covering the clashes between protest groups at a Beverly Hills rally for President Trump on 31st October 2020, photojournalist Jintak Han was assaulted by a police officer and had his equipment damaged. Video of the incident shows Han, who was wearing his press credentials, being shoved by an officer dressed in riot gear. The photojournalist said this caused him to fall on top of one of his cameras and sprain his wrist. According to the Committee to Protect Journalists (CPJ), when Han went to file a complaint with the Beverly Hills police, officers suggested that he might be arrested and charged with failure to disperse. The incident is under investigation.
At least four journalists, including a student journalist, were detained while covering election-related protests in Los Angeles on 4th November 2020. Vishal Singh, a videographer, and Sean Beckner-Carmitchel, another local photographer, were surrounded and arrested by police. "They very clearly just looked for the people with the cameras who are there the most and just grabbed me," Singh told the Los Angeles Times. "As I was livestreaming, I saw multiple officers pointing me out." Singh and Beckner-Carmitchel were charged with "failure to disperse".
Also on 4th November 2020 in New York, Brazilian photojournalist Gabriel Boaz Munhoz was arrested while documenting a protest to count every vote. He faces charges of failure to disperse and walking on the roadway. On the same day, police in Minneapolis detained several journalists, including St. Paul Pioneer Press photographer John Autey and Minneapolis Star Tribune photojournalists Leila Navidi and Rich Tsong-Taatarii while covering protesters as they marched on a prominent roadway.
Association
We are committed to fighting anti-Semitism and all forms of hate, and will continue to protect people wherever justice, freedom, truth, and dignity are denied. We contest any allegation of anti-Semitism, and look forward to addressing the State Department's attacks in full. https://t.co/ecvsuTu8sK

— Amnesty International USA (@amnestyusa) October 21, 2020
At the end of October 2020, news outlets reported that the Trump administration planned to declare the Boycott, Divestment and Sanctions (BDS) movement and organisations perceived to support it as anti-Semitic. This would bar such groups from receiving funding and was reported to include several international civil society organisations critical of Israel's settlement policies, including Amnesty International, Human Rights Watch and Oxfam. On 19th November 2020, Amnesty International published a statement saying that advocating for boycotts, divestment and sanctions is a form of non-violent advocacy and of free expression that must be protected. The organisation's Interim Executive Director, Bob Goodfellow, said:
"The Department of State's targeting of groups advocating for using peaceful means, such as boycotts, to end human rights violations against Palestinians as antisemitic violates freedom of expression and is a gift to those who seek to silence, harass, intimidate and oppress those standing up for human rights around the world."