El Salvador: five environmental defenders arrested on trumped-up charges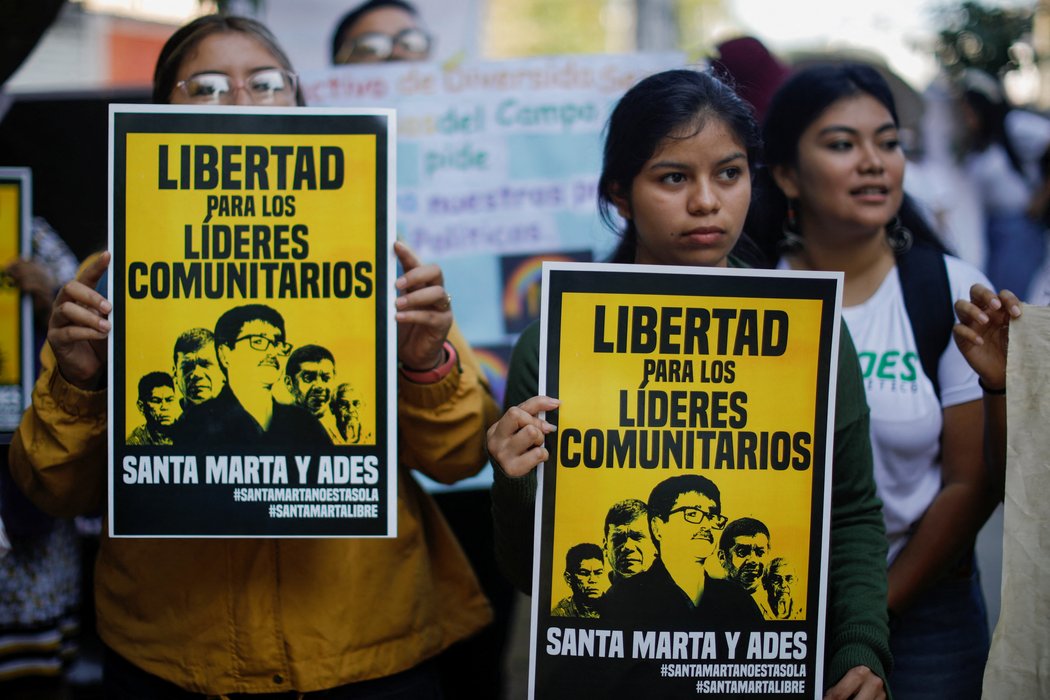 In February 2023, lawmakers in El Salvador extended the state of exception - meaning the country will go at least a full year with some fundamental rights suspended. As previously reported on the CIVICUS Monitor, exceptional measures were adopted at the end of March 2022 in the context of a crackdown on gang violence.
In January 2023, human rights organisations had published information from a database leak showing evidence of mass due process violations, severe prison overcrowding and deaths in custody under the state of exception. "This leaked database points to serious human rights violations committed during the state of emergency," said Tamara Taraciuk Broner, acting Americas director at Human Rights Watch.
Association
11 marzo: Dos meses sin nuestros líderes comunitarios
Desde hace dos meses, no están con nosotros y nosotras: no tenemos su presencia, sus palabras, su empeño decidido y su trabajo incansable. pic.twitter.com/DIhPkzfdhF

— ADES Santa Marta (@ades_sm) March 11, 2023
On 11th January 2023, authorities arrested five environmental defenders of Asociación ADES Santa Marta, the development association of the Santa Marta community, Victoria municipality, Cabañas. The Attorney General's Office accused the defenders of being tied to a homicide that occurred 30 years ago during El Salvador's armed conflict. Miguel Ángel Gámez, Alejandro Laínez García, Pedro Antonio Rivas Laínez, Antonio Pacheco and Saúl Agustín Rivas Ortega were arrested at the organisation's office in Guacotecti, and were also charged with illicit association.
ADES Santa Marta and these environmental defenders have played a significant role in resisting the expansion of mining activities and protecting water sources in El Salvador. On 20th January, 250 civil society organisations called on the government to drop charges against the defenders. They said that, instead of investigating human rights abuses perpetrated by the military during the civil war, the government has re-victimised the Santa Marta community – which was created by people displaced during the armed conflict. The organisations highlighted that the environmental defenders had adopted a critical stance toward the Bukele government, and that these arrests take place in the context of authorities' alleged efforts to reverse the country's landmark ban on metal mining.
Since these arrests, members of ADES Santa Marta and supporters have organised protests calling for the defenders' release.
Expression
El Salvador: FIP exige investigar #amenaza a la #radio #YSUCA | https://t.co/rjrMMyycjr

— Radioactividades (@ractividades) February 15, 2023
On 7th February 2023, Radio YSUCA received an anonymous phone call from individuals threatening to attack the radio station's facilities. The station said they had previously received threats and insulting messages, particularly through a smear campaign using false accounts on social media platforms. The International Federation of Journalists condemned the threats and called on authorities to urgently investigate these intimidatory acts.
Separately in February 2023, news outlets El Diario de Hoy, La Prensa Gráfica y Diario El Mundo published information on the Supreme Electoral Tribunal (TSE)'s estimated budget for overseas voting during the country's 2024 general elections. On 17th February 2023, Dora Martinez, the president of the TSE, publicly reprimanded the outlets that reported on this, accusing members of the press of disseminating biased information. On Twitter, Martinez also said authorities should investigate where the 'unofficial' information came from. The Association of Journalists of El Salvador (APES) reminded public officials that they do not have the right to investigate journalistic sources of information nor to exercise any censorship for the publishing of public interest information.
Report on freedom of expression
In February 2023, Article 19 published their quarterly report on freedom of expression in Central America and Cuba. According to the organisation, in El Salvador the president's personal style has generated a media and marketing 'caudillismo' – that is, the state's communication has been increasingly identified with its ruling leader – seeking to unify the powers of the state around Bukele's unipersonal power, inhibiting checks and balances and branding any critical voice as an ally of the internal enemy personified in the gangs.
Article 19 also highlighted APES' data showing 125 attacks against freedom of the press in 2022. Cyberattacks and online surveillance were among the most frequent violations, and 42% of the cases documented occurred on social media.