ECOWAS Court of Justice orders Nigeria to amend the restrictive Cybercrime Act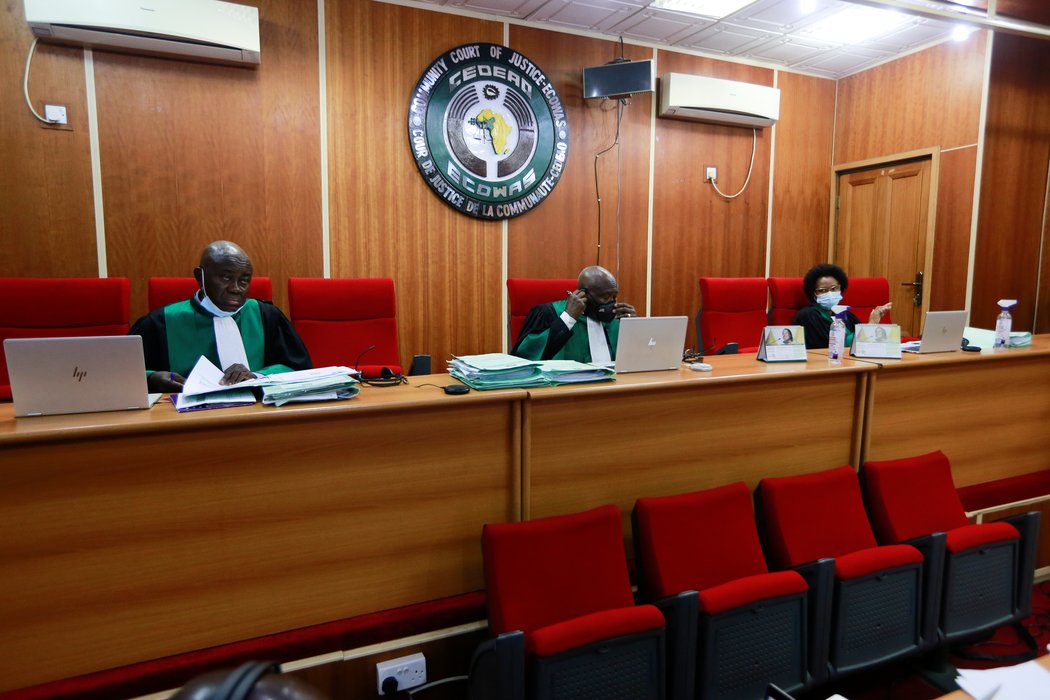 Expression
ECOWAS Court of Justice orders Nigeria to amend the restrictive Cybercrime Act
On 25th March 2022, the Court of Justice of the regional Economic Community of West African States (ECOWAS) issued a ruling ordering Nigeria to amend section 24 of its 2015 Cybercrime (Prohibition, Prevention, etc.) Act to conform to international human rights treaties it has ratified, in particular the African Charter on Human and People's Rights (ACHPR) and the International Covenant on Civil and Political Rights (ICCPR). Section 24 of the Act criminalises, among others, "offensive" messages or "with the purpose of causing annoyance" sent via computer systems. Human rights organisations, including Amnesty International, have documented the use of the Act, in particular section 24, to intimidate and prosecute journalists, bloggers and media activists since the Act's enactment.
The case against the Cybercrime Act was filed by the CSO Socio-Economic Rights and Accountability Project (SERAP). The ECOWAS Court, however, dismissed the additional claim by SERAP on 12 cases of alleged harassment, intimidation, unlawful arrest and prosecution.
YeleSowore RT @SaharaReporters: BREAKING: Court Dismisses Terrorism, Treasonable Felony Charges Against Nigerian Journalist, Agba Jalingo | Sahara Reporters https://t.co/Koe46DZJUb pic.twitter.com/Hnbsv9H98G

— YouthRising (@YouthRisingNG) March 21, 2022
Charges, including of terrorism, against journalist withdrawn
On 21st March 2022, the Federal High Court in Calabar dismissed all charges – terrorism, treasonable felony and cybercrime charges - against journalist Agba Jalingo, following the withdrawal of all charges by the government of the Cross River State. As reported previously on the Monitor, Jalingo, publisher of online news outlet CrossRiverWatch, was arrested on 19th August 2019 in relation to an article he wrote on the alleged involvement of the Governor of Rivers State in the diversion of funds allocated to the creation of a micro finance bank and his involvement in the #RevolutionNow movement. Jalingo was released on bail on 13th February 2021. In July 2021, the regional ECOWAS Court of Justice ordered the Federal Government of Nigeria to pay compensation to Jalingo for the inhumane treatment and torture the journalist was subjected to while in arbitrary detention in Cross River State.
For two weeks, Nigeria's State Secret Service has detained Olamilekan Hammed (aka Lahbash) for republishing a story about a Governor. He's been denied access to his family and lawyer. #FreeLahbash #JournalismIsNotACrimehttps://t.co/Yug7y6XqIv pic.twitter.com/sNKOZ1hPHt

— Media Foundation for West Africa (@TheMFWA) May 31, 2022
Journalist detained
On 13th May 2022, officers of the Department of State Security (DSS) reportedly arrested journalist Olamilekan Hammad, founder of the news website EaglesForeSight, after the outlet republished a report, originally published in the newspaper Peoples Gazette, alleging that the Governor of Ogun State, Dape Abiodun, had a criminal record in the United States. According to the Media Foundation for West Africa (MFWA), the journalist was arrested after having been summoned for questioning by DSS in Abeokuta and was transferred to police headquarters, where he was held without charge. At the time of writing, the journalist was still being held in detention.
Journalists threatened
Journalist for online media outlet EyewitnessMedia, Adewale Adetoyese, said that he had been receiving threats, including death threats, since early April 2022. The threats, via phone calls from unknown numbers, started after he published investigative reports on child trafficking in Osun State. Adetoyese told MFWA:
"I am working on an investigative report on gangs trafficking teenage girls from the Middle Belt of Nigeria down south for prostitution. But in early April, I started receiving calls from unknown numbers asking me to drop the report or I would face the consequences".
Meanwhile, according to MFWA, authorities in Taraba State provided security for Oloye Ayodele Samuel, the publisher of the newspaper Taraba Truth and Facts, following information about an alleged plot to kidnap and assassinate the journalist. The newspaper had published a statement in April 2022 on the alleged plot.
Nigerian humanist jailed for 24 years after pleading guilty to blasphemy https://t.co/12OitSX9Dv

— The Guardian (@guardian) April 5, 2022
Association
Humanist activist sentenced to 24 years in prison for blasphemy
On 5th April 2022, a high court in the northern state of Kano convicted humanist activist and president of the CSO Humanist Association of Nigeria, Mubarak Bala, on 18 counts of blasphemy and sentenced him to a 24 year prison sentence. He was arrested on 28th April 2020 in neighbouring Kaduna State, reportedly after a group of lawyers in Kano State petitioned the state's Commissioner of Police. He was accused of posting comments critical of Islam on his Facebook page. He was detained without charge for a year and did not have access to his lawyer or family for months. Previously, he was involuntarily committed to a psychiatric hospital by his family after he renounced Islam in 2014. In several northern states in Nigeria, Islamic law is practiced besides secular laws.
Peaceful Assembly
Public vilification of protest organiser
Activist Olowoyo Moyinoluwa, a former #EndSARS protest organiser in Ekiti State, accused the state's police command of character defamation in a statement the police reportedly released following a peaceful protest on 10th March 2022 in Ado Ekiti to demand the release of the president of the Fayose market, Babatunde Owa, who was arrested by the Rapid Response Squad (RRS), reportedly for complaining about police arresting customers of the market. In the statement, the activist was reportedly called "an unrepentant cultist" and "suspected criminal".