Deterioration of freedom of assembly for pro-human rights activists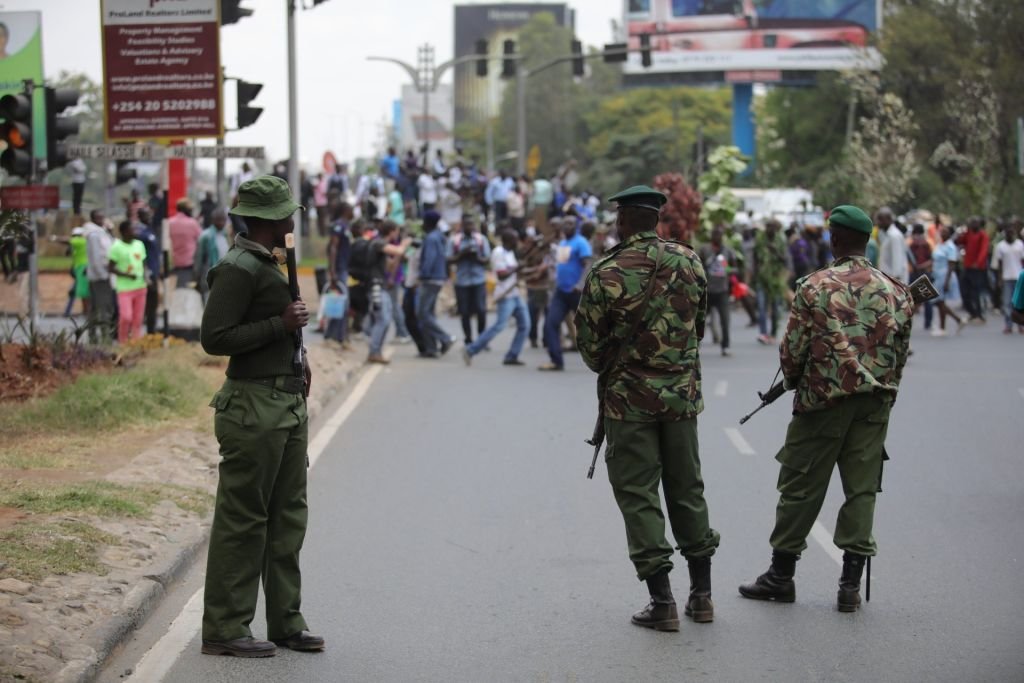 Peaceful Assembly
Increased pro-human rights protection protestors detained
On 1 May 2021, Kenyans took to the streets to protest police brutality during the lockdown. Protestors raised concerns about the misuse of lockdown regulations as a justification to repress citizens. During the protest, police used teargas on protestors and reporters, detained protestors, and forced a man into the police truck, after failing to take his protest sign. Several protests were held in Kenya in solidarity with Palestinians. On 13 May 2021, approximately 200 people, mostly Muslims demonstrated against the bombing of Palestine by Israel after Eid prayers in Nairobi. The police arrested several protestors and dispersed the peaceful protest with teargas.
Kin of 5 people arrested in Nairobi during protests over Israel-Palestine conflict condemn arrests pic.twitter.com/3MAOblxbvF

— Nation Africa (@NationAfrica) May 15, 2021
On 25 May 2021, students from Maasai Mara university blocked busy Narok roads to protest reckless driving by motorcycles also known as (boda bodas). The anti-riot police dispersed the protest using teargas and arrested five students. On 24 May 2021, a first-year student was allegedly killed because of the irresponsible driving of a boda boda.
Expression
Blogger, activist and media face clampdown
On 18 May 2021, Qatari officials arrested a Kenyan national, Malcolm Bidali without charges and held him in an undisclosed location. Bidali works as a security guard and blogs under the pseudonym Noah. He covers stories detailing labor rights violations, poor living conditions, wages, and migrant worker's conditions in Qatar. The arrest took place a few days after he spoke about his experience in Qatar to trade unions and civil service organisations. Police officers arrested an activist, Edwin Kiama for posting an infographic on Twitter joining the #IMFStopLoaningKenya discussion on 6 April 2021. Kiama was charged for violating Section 22 of the Computer Misuse and Cybercrimes Act of 2018, which stipulates that any person who intentionally publishes false, misleading or fictitious data shall be liable to a fine not exceeding five million shillings or to imprisonment for a term not exceeding two years, or to both. The courts barred Kiama from posting on social media and ordered for his accounts to be blocked. He was released on a cash bail of 500,000 Kenyan shillings. On 20 April 2021, the activist was unconditionally released as the prosecution failed to provide sufficient evidence.
🇰🇪Activist Edwin Mutemi Kiama released unconditionally.
He had been freed on Ksh. 500,000 cash bail pending conclusion of investigations into allegations of producing 'public notice' posters using images of President Uhuru Kenyatta and his VP William Rutohttps://t.co/BvkDtN1jKO

— Africa Updates (@africaupdates) April 20, 2021
On 20 April 2021, the Director of Criminal Investigations (DCI), George Kinoti threatened to summon a Citizen TV journalist and a few of the senior management members for questioning. Citizen TV published an investigative report exposing a network of brokers and police officers who allegedly rent police equipment including guns, uniforms, and handcuffs to criminals on 18 April 2021. The journalists obtained a pistol during the investigation and handed it over to the police once it was aired. Kinoti accused the media outlet of breaching ethical codes and violating Section 89 of Kenya's penal code which states that any person who, without reasonable excuse, carries or has in his possession or under his control any firearm or other offensive weapon is liable for a 15-year prison sentence.
Kenyan officials fired teargas canisters at Mariel Müller, Deutsche Welle East Africa journalist on 1 May 2021. One canister wounded her leg and the other grazed her. Müller was reporting on the demonstration against police brutality during the lockdown. On 24 May 2021, police officers arrested nine journalists for covering a story on evictions in Makima. Reportedly, the police confiscated the journalist's equipment and manhandled them. They were released without charges on 25 May 2021.