Despite sanctions, abuses against activists, journalists and protesters persist in Bangladesh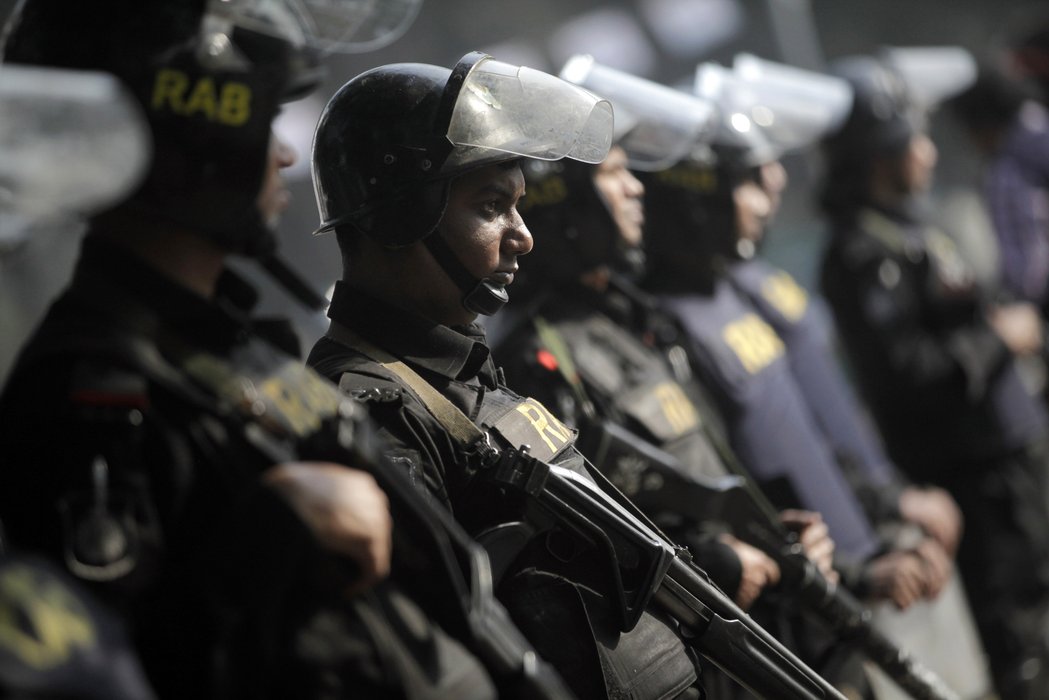 The state of civic space in Bangladesh remains rated as 'repressed' by the CIVICUS Monitor in its annual People Power Under Attack 2021 report published in December 2021.
In 2021, the CIVICUS Monitor documented cases of journalists being criminalised, attacked or facing smear campaigns for their reporting, including those in exile. The draconian Digital Security Act (DSA) – a law that contains overbroad and vague provisions granting the authorities extensive powers to police the online space – continued to be used against individuals simply for criticising powerful people on social media. There were allegations of torture and ill-treatment and enforced disappearances by the security forces including the Rapid Action Battalion (RAB), an elite anti-terrorism unit.
On 10th December 2021, the United States Treasury Department designated sanctions against the Rapid Action Battalion (RAB) and six former and current commanders for gross human rights violations including hundreds of disappearances and nearly 600 extrajudicial killings since 2018. The United States imposed visa restrictions against two RAB commanders - Benazir Ahmed, current Inspector General of the Bangladesh Police and former Director General of Bangladesh's Rapid Action Battalion (RAB), and Miftah Uddin Ahmed, Lieutenant Colonel and former commanding officer of RAB Unit 7.
Despite this, human rights abuses have continued to be reported including the judicial harassment of human rights defenders as well as the families of activists in exile. Families of the disappeared have been coerced to sign statements denying the violation took place. Journalists have also been targeted as well as media outlets critical of the state. The police have also disrupted and used excessive force against protesters. In some cases, ruling party supporters were also involved in attacks on protesters with impunity.
Association
Judicial harassment of human rights defenders from Odhikar
I've written to @BDPM_Geneva expressing concern about attacks, surveillance, smear campaigns & harassment against @odhikar_bd & lack of fair trial guarantees for @AdilurKhan & Nasiruddin Elan. No reply received yet.@omctorg @saadhammadi https://t.co/2l1x6uA5WN

— Mary Lawlor UN Special Rapporteur HRDs (@MaryLawlorhrds) February 18, 2022
Human rights defenders Adilur Rahman Khan and ASM Nasiruddin Elan, respectively the Secretary and Director of the human rights non-governmental organisation Odhikar, have continue to face judicial harassment.
In September 2021, the Cyber Tribunal of Dhaka resumed the trial of the two activists on charges under the notorious Section 57 of the Information and Communication Technology (ICT) Act, 2006 and in November resumed its examination of prosecution witnesses.
The case was filed against the two in relation to a fact-finding report issued by Odhikar documenting extrajudicial killings by security forces and law enforcement agencies during a protest in May 2013. Following Odhikar's 2013 report, Khan and Elan were arbitrarily detained for 62 and 25 days respectively until they were both released on bail.
Since 2013, attacks, unlawful surveillance, smear campaigns and harassment against Odhikar and its staff and management have been incessant. Odhikar is also facing serious difficulties in conducting its work due to violations of the right to freedom of association since its registration has not been renewed by the NGO Affairs Bureau of the Government of Bangladesh and has been pending since 2015. Moreover, all of its bank accounts have been frozen, and the organisation has been forbidden from receiving funding from foreign or international sources, impacting its operations considerably.
On 18th February 2022, the UN Special Rapporteur on Human Rights Defenders and other UN experts published a communication to the Bangladeshi government where they expressed concerns at the ongoing judicial harassment of two human rights defenders, for their legitimate activities in defence of human rights. They also raised fair trial concerns and the lack of transparency regarding the publicity of its decisions.
Harassment of human rights defenders and their families
There have also been reports of reprisals against human rights defenders and their families for speaking up on human rights and documenting violations.
On 17th January 2022, human rights defender Md. Abdul Kaium was charged in a court in Mymensingh District under the Digital Security Act for documenting cases of enforced disappearances, extrajudicial killings and other human rights violations.
The police have also launched investigations against exiled human rights activists. To investigate Mohammad Ashrafuzzaman, who has been working in exile at the Asian Human Rights Commission, a police officer from the Special Branch, the police's intelligence agency, visited the home of Ashrafuzzaman's family in the district town of Jashore on 28th November 2021. His relatives and friends confirmed that the police questioned them about his personal and professional information and collected information and addresses of other members of his extended family.
Human rights groups have also been subjected to police interrogations since the imposition of sanctions against the RAB. On 13th January 2022, two police officers of the Dhaka Metropolitan police's Counter Terrorism and Transnational Crime and Cyber Crime Department came to the offices of Ain O Salish Kendra (ASK), an organisation that documents gross human rights abuses in Bangladesh. The police officers, Md. Monirul Islam and Shahidul Islam, asked about their leadership and inquired about the data and sources used for their finding of 80 extrajudicial killings in 2021, which had recently been publicised in a media report.
Families of the disappeared are being coerced and intimidated
Bangladesh Police Accused of Hounding Families of Victims of Enforced Disappearanceshttps://t.co/d2NwywsCX7

— The Voice of America (@VOANews) January 30, 2022
Human rights activists have reported that police and RAB are coercing families of the victims of enforced disappearances to issue statements that they deliberately misled police by hiding information about how their relatives went missing. The security agencies themselves are writing the statements and asking the families to sign them to make them look like voluntary statements from the families.
Mohammad Ashrafuzzaman, liaison officer of the Asian Legal Resource Center in Hong Kong said: "According to the statements, the disappeared persons had gone into hiding on their own, and the families falsely reported them as cases of enforced disappearance. The police and RAB are coercing the victims' families into signing the so-called statements in an attempt to exculpate the perpetrators". The recent police pressure on the families of the victims of enforced disappearance was triggered by the US human rights-related sanctions on the RAB, Ashrafuzzaman added.
The UN Working Group on Enforced or Involuntary Disappearances (WGEID) says that it has received information that nearly 600 people have been forcibly disappeared in Bangladesh by security forces since 2009 — and that while the majority were either released or eventually formally produced in court as arrests, "dozens were found dead" with "86 documented cases in which the victims' fate and whereabouts remain unknown."
No accountability for killing of Rohingya activist
There has still been no accountability for the killing of veteran Rohingya activist Mohib Ullah, chair of the Arakan Rohingya Society for Peace and Human Rights (ARSPH), who was shot dead on 29th September 2021 by unknown assailants in the Kutupalong refugee camp in Cox's Bazar.
Ullah had methodically collected information about violations against the Rohingya in their home state of Rakhine, in northwestern Myanmar, and sought to galvanise international action. Ullah travelled to Geneva in March 2019 to address the UN Human Rights Council in person, explaining how the Rohingya had suffered discrimination for decades, such as being deprived of their basic rights, including nationality, land, health and education.
He had received several death threats in the past, especially following a gathering of more than 200,000 refugees in Cox's Bazar to observe the Rohingya Genocide Remembrance Day in August 2019.
Expression
There have been continued criminalisation and assault of journalists. According to Human Rights Watch at least 80 journalists were reportedly attacked, injured or killed while performing their jobs in 2021. Those who expose government corruption or express dissent are particularly at risk.
Sister of exiled journalist Kanak Sarwar detained on fabricated charges
#Bangladesh #AttorneyGeneral's Office postponed #NusratShahrinRaka's #BailHearing at High Court for the 5th time. Raka, a mom of 3 minor kids & sister of #ExiledJournalist @kanaksarwar, is #ArbitrarilyDetained since 5Oct21 for her brother's #FreeExpression @UN_SPExperts @UN_HRC pic.twitter.com/iiBRjYO4g7

— Ashraf Zaman (@ZamanAshraf) January 23, 2022
In the early hours of 5th October 2021, Rapid Action Battalion officers raided the home of Nusrat Shahrin Raka, a homemaker and sister of exiled Bangladeshi journalist Kanak Sarwar in Uttara and took her and her three sons, who are minors, to the battalion's headquarters.
Raka's three sons were released approximately 30 hours later, according to her family, who allege that officers then held and subjected Raka to extended interrogation, during which they questioned her repeatedly about Sarwar, asking why he opposed the Bangladesh government. Raka's family further alleges that RAB threatened to charge her with possession of methamphetamines unless she confessed to making Facebook posts critical of the government.
The RAB accused Raka of being an "active member of an anti-state propaganda and conspiracy circle" with Sarwar and referred to him as a "traitor", further suggesting that authorities detained Raka in retaliation for her relationship to the journalist.
The RAB also filed a first information report against Raka under the Digital Security Act, citing posts critical of Bangladesh government officials and agencies published on a fraudulent Facebook account that Raka herself reported to the Uttara West police station for falsely imitating her on 1st October 2021. Facebook subsequently removed the account for violating its policies on "inauthentic behavior." The next day, the RAB filed an additional first information report against Raka under the Narcotics Control Act.
Raka has been denied bail and continues to be detained in an overcrowded cell with around 50 people in Kashimpur Central Jail, where she is currently recovering from COVID-19 and has been unable to assist in the care of her sons, one of whom suffers from serious medical issues, according to her family.
Ongoing persecution of photojournalist Shafiqul Islam Kajol
The High Court today cleared the way for the tribunal concerned to run trial proceedings against photojournalist Shafiqul Islam Kajol -- in three cases filed under the Digital Security Act#Bangladesh https://t.co/709rtZi76D

— The Daily Star (@dailystarnews) February 22, 2022
Photojournalist Shafiqul Islam Kajol is facing three separate offences under the Digital Security Act (DSA). On 8th November 2021, charges were brought against Kajol, who is accused of circulating defamatory material about various ministers, lawmakers and top Jubo Mahila League leaders on social media. The three cases were filed by Awami League lawmaker Saifuzzaman Shikho and Jubo Mahila League leaders Usmin Ara Bally and Sumaiya Chowdhury Bonya.
Kajol was previously targeted using the DSA when Saifuzzaman Shikho filed a case against Kajol on 9th March 2021 for publishing "false news and circulating it on social media". The same Jubo Mahila League leaders, Usmin Ara Bally and Sumaiya Chowdhury Bonya, also filed complaints in March 2021, accusing him of spreading indecent, defamatory, objectionable and fake information on social media.
As previously documented, Kajol, editor of fortnightly magazine 'Pakkhakal', disappeared on March 2020 for 53 days before reappearing in May 2020 charged under the Digital Security Act. On 25th December 2020, he was released on bail from Dhaka Central Jail.
In May 2020, UN experts expressed alarm at the ongoing persecution of Shafiqul Islam Kajol. They said: "[T]he targeting of investigative journalists like Shafiqul Islam Kajol raises serious questions about Bangladesh's commitment to a free and independent media. Such persecution has devastating consequences for the journalists and their families – and also for society as a whole."
Fair trial concerns raised in case against journalist Rozina Islam
#Bangladesh: #CFWIJ joins the call to demand a fair trial for senior journalist Rozina Islam. @IslamRozina faces up to 14 years in prison or even the death penalty after uncovering graft by govt officials. #JournalismIsNotACrime

➡️https://t.co/Qath4b9wcL pic.twitter.com/bziYJMBFnI

— #WomenInJournalism (@CFWIJ) February 15, 2022
On 11th February 2021, 15 civil society organisations raised concerns about the legal proceedings against Rozina Islam, a Bangladeshi investigative journalist.
As previously documented, Rozina Islam, who has reported and uncovered important public interest stories of government corruption and mismanagement of the pandemic in Bangladesh, was arrested on 17th May 2021 after a meeting at the Ministry of Health. After her arrest she spent six hours in confinement where she suffered physical and mental harassment.
Rozina is accused of violating the Official Secrets Act, a colonial era act dating back to 1923 aimed at preventing spying against the state which was never intended to be used against journalists. Certain sections of the act even directly contradict the 1972 constitutionally enshrined right to freedom of expression.
Following her arrest, Rozina spent seven days in prison without bail. There were no clear grounds as to why she was refused bail as she was not likely to abscond, destroy evidence or intimidate witnesses. It seems likely that the imprisonment was aimed at intimidating Rozina.
According to the groups, after her release, the persecution against her continued. Firstly, there has been no clarity regarding Rozina's court dates as these are continuously postponed or cancelled at the last minute. This has happened more than five times since 23rd May 2021. In one of the more recent cases on 12th December 2021, however, the opposite happened as the new court date was announced just days in advance, severely impeding her right to adequately prepare for a trial. At the same time there still has been no real substantial review of her court case, as all court hearings have either immediately dismissed evidence or been procedural in nature.
Rozina Islam has received the 2022 Free Press Award for courageous journalism. She won the award in the 'Most Resilient Journalist' category.
Raid on media outlet by ruling party supporters
"We will set fire to this office and shoot your editor dead". @RSF_inter asks #Bangladesh government to arrest the authors of these death threats, made during the raid of the daily Dainik Somoyer Narayanganj, in #Dhaka, on 12/02.🇧🇩https://t.co/jv58QBPx5O

— RSF (@RSF_inter) February 18, 2022
Reporters Without Borders (RSF) reported about a raid on the headquarters of a local newspaper in Bangladesh's capital, Dhaka, by around 100 ruling party supporters, who threatened to burn it down and shoot the editor.
According to RSF, over 100 people on motorcycles stormed into the office of Dainik Somoyer Narayanganj, a local daily newspaper based in the Dhaka suburb of Narayanganj, on 12th February 2022. After smashing surveillance cameras and destroying the recordings they contained, they threatened to kill the editor and said they would return if an apology was not published in the next day's issue.
This raid was prompted by an article in the previous day's issue about a police investigation into Ajmeri Osman for involvement in the murder of a teenager. He is the nephew of a local parliamentarian who is a member of Bangladesh's ruling Awami League. RSF has confirmed that the police arrested eight suspects on 13th February but released them the next day.
Peaceful Assembly
Restriction and attacks on protests by police and ruling party supporters
There have also been reports of restriction on protests and excessive force by the police and also supporters of the ruling party in recent months including on the opposition, students and workers.
On 22nd December 2021, the opposition Bangladesh Nationalist Party BNP alleged that police attacked its peaceful rally in Habiganj and fired bullets indiscriminately on its leaders and activists, leaving around 300 injured. The BNP had organised the rally to call for the party chairperson Khaleda Zia to receive treatment abroad.
On 11th January 2022, three staff of Dhaka Medical College and Hospital (DMCH) were injured in an attack by activists of the Bangladesh Chhatra League - which is linked to the ruling Awami League Party - during a sit-in at the college premises demanding the cancellation of outsourcing.
This is how Sheikh Hasina treat with the future generation of Bangladesh. These are the university student. Hasina doesn't care about their vote. Her power rely on Police League. #HumanRightsViolation #SUST #BdPoliceBrutality pic.twitter.com/E9l9L9ednV

— Yusuf Khan (@KhanYusuf98) January 16, 2022
On 16th January 2022, hundreds of students of Shahjalal University of Science and Technology participated in a demonstration around issues in their hostel. However, the police disrupted the protest and used force including batons and grenades to disperse the protesters, which left at least 40 students injured. Protesting students were also assaulted by leaders and activists of the Bangladesh Chhatra League (BCL).
On 25th January 2022, police dispersed the leaders and activists of Bangladesh Jatiyatabadi Chhatra Dal (JCD) that had gathered at the central Shaheed Minar to observe a hunger strike to express solidarity with demonstrating students of Shahjalal University of Science and Technology (SUST). Jatiyatabadi Chhatra Dal is the student wing of the opposition Bangladesh Nationalist Party (BNP).
On 15th February 2022, at least 20 workers were injured when the industrial police used batons and sound grenades to disperse about 500 garment workers who blocked Dhaka-Mymensingh highway at Cherag Ali point at Tongi in Gazipur. The workers from Gooryong Fashion Limited were protesting against the factory employers for show-cause notices to 28 of their colleagues and the firing of several others for what they said was without basis.