Despite progress on HRD bill, attacks against activists and media persist in the Philippines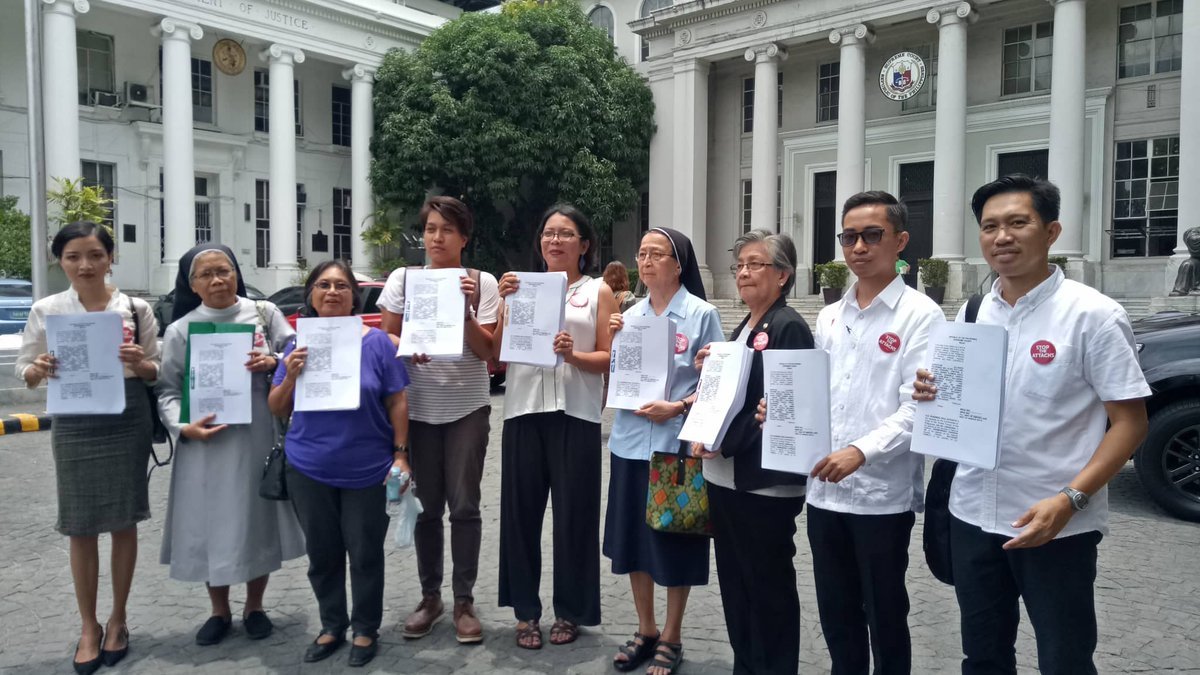 A Human Rights Defenders bill moved closer to becoming law in June 2019 after it was approved by the House of Representatives. Despite this, the UN says the situation of human rights continues to deteriorate in the Philippines. In March 2019, more charges were filed against critical news outlet Rappler while in April 2019, activist Bernardino Patigas was killed by an unknown gunman. In this context, NGOs have faced increasing scrutiny under the guise of fighting terrorism and money laundering but have sought protections from the Supreme Court.
Association
Human rights defender protection bill closer to becoming law
On 3rd June 2019, in ongoing effort to protect human rights defenders (HRDs) from continued attacks and harassment, the Philippines House of Representatives unanimously approved a Human Rights Defenders bill. Although the bill only becomes law once the Senate and President approves it, the recent decision by the House has brought the country one step closer towards its passage.
The bill includes the recognition of the rights for HRDs to form organisations, receive resources, disseminate information, communicate with international bodies and the right peaceful assemble, as well the country's obligation to respect and protect human rights defenders. Once signed into law, the Bill will create a Human Rights Defenders Protection Committee chaired by a Commissioner from the National Commission on Human Rights and six members who will be jointly nominated by concerned civil society organisations.
A counterpart bill is pending with the Senate Committee on Justice and Human Rights since it was presented by Senator De Lima in February 2018. A reconciliation of the Senate and House of Representatives Bills will ultimately constitute law in the Philippines.
According to human rights group Karapatan, at least 134 human rights activists have been killed under the Duterte administration since 2016 and at least 613 defenders that have been killed since 2001.
UN human rights experts call for independent probe 
UN experts seek probe into 'deteriorating' human rights situation in Philippines https://t.co/8y7t7CEMtt pic.twitter.com/DN5Cayt84m

— The Philippine Star (@PhilippineStar) June 7, 2019
On 7th June 2019, 11 UN human rights experts raised concerns about the "sharp deterioration in the situation of human rights across the country, including sustained attacks on people and institutions defending human rights". They called for an independent investigation into human rights violations in the Philippines.
The UN experts said had have recorded a staggering number of unlawful deaths and police killings, as well as killings of human rights defenders: They said that:
"Very few independent and effective investigations have taken place, independent media and journalists are threatened, the law has been weaponised to undermine press freedom, and the independence of the judiciary is undermined."
The experts also said they were "extremely concerned over the high number of killings which are being carried out across the country in an apparent climate of official, institutional impunity". They called on the Human Rights Council to take action against these sustained attacks on human rights defenders and independent watchdog institutions and stressed that in many incidents the alleged perpetrators of killings are members of the armed forces, paramilitary groups or individuals linked to them. The experts added that:
"Instead of sending a strong message that these killings and harassment are unacceptable, there is a rising rhetoric against independent voices in the country and ongoing intimidation and attacks against voices who are critical of the Government, including independent media, human rights defenders, lawyers and journalists."
Serious concerns were expressed by the experts that the President has himself publicly intimidated human rights defenders, United Nations Special Rapporteurs and even the Supreme Court judges.
Activist shot dead in Negros
Following the killing of #HRD Bernardino Patigas & death threats against @karapatan #WHRDs Cristina Palabay and Clarizza Singson we urge the authorities of #Philippines to stop attacks on all #humanrights defenders in the country! https://t.co/QWOabd1OkZ #DefendersNotCriminals pic.twitter.com/ALwiQwp0q5

— The Observatory (@OBS_defenders) May 10, 2019
Attacks against human rights defenders in the Philippines are ongoing despite domestic and international condemnation. On 22nd April 2019, the founder and Secretary General of the North Negros Alliance of Human Rights Advocates, Bernardino Patigas was shot and killed by an unknown gunman while driving in Escalante City, Negros Occidental province.
Bernardino Patigas was a well-known human rights defender who called for land reform and denounced the militarisation of communities and ongoing human rights violations in Negros. As a result of his human rights work, he repeatedly received threats and was subjected to harassment.
A few hours after Patigas was gunned down, a death threat via text message was sent to Cristina Palabay, Karapatan Secretary General, Clarizza Singson, Karapatan member from Negros Occidental and various other community leaders in Negros, insinuating that the names included in the message were targets to be killed within the year. Also on the list was human rights lawyer Benjamin Ramos who was killed in November 2018, as previously documented.
NGOs facing scrutiny under the guise of fighting terrorism and money laundering
In May 2019, FIDH reported that "the government is increasingly striving to annihilate the work of NGOs" through various means. One notable tactic has been the 2018 Securities and Exchange Commission (SEC) Memorandum Circular No. 15, published in November 2018, which clearly aims to restrict the work of NGOs. The Circular forces NGOs to disclose more information about their work and funding under the guise of fighting terrorism as well as countering corruption and money laundering. Incomplete submission of this information will be deemed a failure to comply and can result in the revocation of an NGO's registration.
NGOs may also be categorised as 'at risk' of money laundering or terrorist financing abuse on the basis on an undisclosed points system. If an organisation is deemed to be 'high-risk', it will be subjected to 'enhanced monitoring and supervision measures'. The Commission may also demand background checks of officers and trustees. Organisations deemed 'high risk' will be asked to submit more requirements. Many fear this will result in increasing administrative obstacles and harassment which will ultimately hinder the work of critical groups.
According to FIDH, the government has claimed that six prominent NGOs, including the Philippine Alliance of Human Rights Advocates (PAHRA) and Karapatan - the Alliance for the Advancement of People's Rights - were supporting the Communist Party of the Philippines (CPP) and were operating illegally as a result of the cancellation of their SEC registration. However, FIDH stated that both PAHRA and Karapatan secured new registration in 2010 and 2013, following previous revocations of their registration in 2003 and 2005 respectively.
Supreme Court decides in favour of human rights groups
Today, we commenced a legal action before the Supreme Court to put a stop to the numerous attacks to us, human rights workers.

Karapatan v. Duterte, as docketed, seeking the Supreme Court to issue a writ of Amparo and habeas data after herein respondents wittingly and repeatedly pic.twitter.com/XVnape28XP

— Jose Mari Callueng (@thejoncallueng) May 6, 2019
On 30th May 2019, the Supreme Court issued a 'writ of amparo' and 'habeas data' in favour of 3 CSOs tagged by the government as alleged fronts of the Communist Party of the Philippines (CPP) otherwise known as 'red-tagging'. The CSOs include human rights group Karapatan, religious group Rural Missionaries of the Philippines, and women's group Gabriela had petitioned the court on 6th May 2019. The High Court referred the petition to the presiding justice of the Court of Appeals. The decision has been viewed as a positive step by the judiciary in protecting harassed groups from state aggression.
A 'writ of amparo' is a legal remedy seeking protection of constitutional rights. It usually comes with a protection order which will restrain the respondents from going near the petitioners. A writ of 'habeas data' asks the Court to compel the respondent to delete or destroy damaging information. This includes copies of all the facts, information, statements, records, photographs, and other evidence, documentary or otherwise, pertaining to each of them in the respondents' files and records.
Among the respondents are President Rodrigo Duterte, National Security Adviser Hermogenes Esperon Jr, Defense Secretary Delfin Lorenzana, Presidential Spokesperson Salvador Panelo, military chief General Benjamin Madrigal Jr, and Armed Forces Deputy Chief of Staff Major General Antonio Parlade Jr.
Karapatan National Chairperson Elisa Tita Lubi welcomed the court decision. She said the petitioners were "aware that this is just the beginning of an arduous battle, but we take courage from all the human rights defenders who withstood the worst of this repressive government, and all those who have been killed in the cause for human rights".
The Supreme Court had earlier granted a similar petition filed by the National Union of Peoples' Lawyers (NUPL).
Expression
Media groups put at risk due by unsubstantiated allegations
Philippine news and human rights organizations accused of 'plot' against Duterte https://t.co/Z2HQajfuZd

— Committee to Protect Journalists (@pressfreedom) April 24, 2019
In April 2019, The Committee to Protect Journalists (CPJ) today expressed concern over Philippines President Roderigo Duterte providing information to The Manila Times, a local daily, alleging that media and legal groups orchestrated a "plot" to discredit and oust him.
On 22nd April 2019, The Manila Times published an article alleging a conspiracy to oust the president by news website Rappler, independent fact-checking organisation Verafiles, investigative reporting outlet the Philippine Center for Investigative Journalism, and human rights organisation the Philippines National Union of People's Lawyers. The article specifically mentioned Rappler CEO Maria Ressa, and Sheila Coronel, a board member of the Philippine Center for Investigative Journalism who is also a senior adviser and former board member of CPJ.
Steven Butler, CPJ's Asia program coordinator said:
"Unsubstantiated allegations of a plot against Philippines President Roderigo Duterte relayed by the president himself create an immediate danger for critical journalists. The Duterte government needs to recognise that critical journalism is a key component of a healthy democracy, not evidence of a subversive plot."
The article alleged that the organisations' "playbook" involved publishing fake news, arousing public anger, manipulating public opinion, working with leftist organisations, and ultimately staging a "coup" against the president.
Ongoing judicial harassment of Rappler
Philippine journalist Maria Ressa is arrested AGAIN today over another malicious charges. The Duterte government won't stop until they see an independent journalist like her in jail. But we won't stop too to #holdtheline & #defendpressfreedom! https://t.co/NQl5BLxDhu

— Cleve Arguelles (@CleveArguelles) March 29, 2019
On 28th March 2019, authorities in the Philippines issued arrest warrants against news website Rappler's editors and executives for violating laws barring foreign ownership of media in the country. Those charged include Maria Ressa, Manuel Ayala, Nico Jose Nolledo, Glenda Gloria, James Bitangca, Felicia Atienza, and James Velasquez for alleged violation of the Anti-Dummy Law, which requires all local media to be 100 percent Filipino owned.
Maria Ressa, the co-founder and executive editor of Rappler, online media outlet, was subsequently arrested on 29th March 2019, moments after stepping off a plane from San Francisco. Ressa, was granted bail after paying P90,000 (USD 1700). Several legal cases have been filed against Rappler since January 2018 including for 'cyber libel' and failure to file tax returns. Human rights groups have condemned the charges calling it politically motivated.
As previously documented, Rappler has been a vocal critic of the Duterte regime and especially its notorious 'war on drugs'. In response, the Duterte administration has specifically targeted individual media outlets that criticise key policies, thus creating an increasingly hostile atmosphere for the country's independent journalists and media outlets to operate.
In February 2019, Ressa, was arrested by the National Bureau of Investigation (NBI) officers in connection with "cyber libel" charges. She was formally charged in court on 14th May 2019 for one count of cyber libel. In November 2018, the authorities in the Philippines accused Rappler and its founder Maria Ressa of tax evasion and failure to file tax returns. Rappler has denied the accusation, saying in a statement that the legal threat was a "clear form of continuing intimidation and harassment against us, and an attempt to silence journalists".