Democracy in peril in the United States as rioters storm Capitol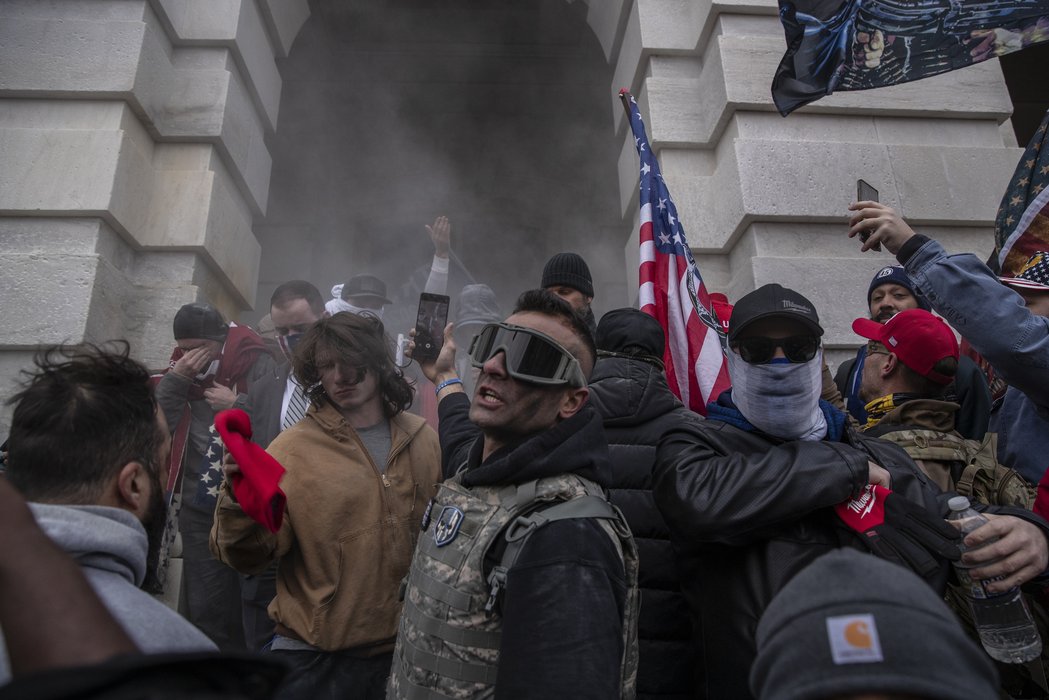 Peaceful Assembly
Rioting and violent protests against election results
At least five people died, including a police officer, and over 50 people were arrested after thousands of pro-Trump rioters stormed the U.S. Capitol on 6th January 2021 to disrupt a joint session of Congress and attempt to overturn the recent presidential election. The unrest followed a rally where President Trump told a crowd of supporters outside the White House that they should never accept defeat, encouraging them to march toward the Capitol. Vice President Mike Pence, members of Congress, staff and journalists inside the building were ordered to shelter in place as Trump supporters broke windows and looted items from the Senate and House chambers. An armed standoff took place at the House front door and police officers inside the building killed a woman trying to enter a secured area.
One man was arrested near the Capitol for allegedly carrying a semi-automatic assault weapon and 11 Molotov cocktails, according to media reports. Two pipe bombs at both the Republican and Democratic party offices were also recovered by police. Senate Majority Leader Mitch McConnell said Congress faced a "failed insurrection." U.S. law enforcement opened a criminal investigation into the attack on the U.S. Capitol and arrested several people who participated in the unrest.
In addition, demonstrations took place in state houses across the country, including in Arizona, Georgia, Minnesota, New Mexico, Ohio, Oregon and Utah. Most of them remained peaceful, according to news reports, but in some cases state houses were evacuated. In Los Angeles, six people were arrested after Trump supporters clashed with counter-protesters outside the city hall.
As previously reported on the Monitor, these incidents follow weeks of incendiary rhetoric from president Trump and allies, rousing supporters to decry the election results. On 12th December 2020, thousands of people supporting Trump's election claims demonstrated in Washington DC. Organised by groups like 'Stop The Steal', the protest ended with four people stabbed and five others injured after the far-right group Proud Boys reportedly turned violent. Over 30 people were arrested for assault, assault on a police officer, riotous acts and for possession of a prohibited weapon.
Protests were also held in Olympia, Washington, where one person was reportedly shot and three arrested after clashes between Trump supporters and counter-protestors. A week earlier, on 6th December 2020, a pro-Trump supporter was arrested at a rally in Olympia after firing a gun at counter-protesters. He was charged with first- and second-degree assault. On 7th December 2020, armed demonstrators rallied outside the home of Michigan's Secretary of State to protest against the certification of presidential elections results, and allegedly made threats demanding the results be overturned.
Activists and news outlets underscored the stark contrast between law enforcement's response to the crowd storming the U.S. Capitol and the treatment of Black Lives Matter protests, calling out racial disparities in policing. Civil liberty advocates also expressed concern about the potential use of domestic terrorism law in response to the attack on the Capitol: "While we condemn these crimes against democracy, such antics cannot be used to justify new repressive measures against actual protests, restrictions of the right of peaceful assembly, or curtailment of speech," said Defending Rights & Dissent and Justice for Muslims Collective in a statement.
Other developments
A car drove through a crowd at 3rd Ave. and E. 39th St., hitting four protesters marching in solidarity with ICE detainees on hunger strike at Bergen County Jail.

Police arrested two protesters who chased after the car, according to this livestream: https://t.co/XwWel7ArFg

— NYC Protest Updates (@protest_nyc) December 11, 2020
A woman who drove her car into a crowd of protesters in New York City on 11th December 2020 was arrested and charged with reckless endangerment. At least six protesters were injured and taken to hospital. The demonstrators were expressing solidarity with a hunger strike by people detained by the U.S. Immigration and Customs Enforcement at Bergen County Jail. On 13th December 2020, another protest near the penitentiary was disrupted by police.
On 21st December 2020, dozens of people opposing COVID-19 restrictions in Oregon disrupted a closed session of the state legislature. They allegedly attacked journalists, sprayed police officers with chemicals, and damaged the Capitol as they tried to forcefully enter the building. Police declared the protest an unlawful assembly and used pepper balls to disperse the crowd. At least four people were arrested, including members of the far-right Patriot Prayer group, for property damage and for spraying 'chemical agents' on officers. About ten days later, another protest to call for ending health measures gathered about 200 people at the Capitol in Salem, Oregon, and ended with police using flashbang grenades to separate protesters and counter-protesters.
Legislation proposed by Florida Governor Ron DeSantis would expand the legal definition of "riot" and limit the right to protest in the state. The "Combating Violence, Disorder and Looting and Law Enforcement Protection Act" would impose felony-level penalties on protesters who participate in disorderly assemblies. According to an analysis by the International Center for Not-For-Profit Law (ICNL), the new definition of "riot" would not require that the individuals' conduct be disorderly or violent, or that they commit any actual damage or injury – it could, for instance, include protests blocking roads. Indiana representatives are considering similar bills.
In a positive development, in January 2021 lawmakers approved legislation requiring federal military and civilian law enforcement personnel involved in federal response to 'civil disturbances' to wear visible identification of themselves and the name of the government entity employing them.
Association
We're Alphabet workers. We've been organizing for over a year, & we're finally ready to share why.

This morning, we're announcing #AWU, the first union open to *all* workers at any Alphabet company.

Every worker deserves a union—including tech workers.https://t.co/m2Qmjwz32V

— Alphabet Workers Union (@AlphabetWorkers) January 4, 2021
Over 200 Google employees in the U.S. formed a labour union to ensure that employees at the tech company work at a fair wage, without fear of abuse, retaliation or discrimination, according to the union's leaders. The Alphabet Workers Union, which will be available to engineers and salaried staff like food servers and janitors, will be part of the Communications Workers of America labour group. Google has been accused of unlawfully questioning and dismissing workers for protesting against company policies and trying to unionise.
Expression
Following the riots at the Capitol and other national protests around the certification of electoral ballots, @uspresstracker is documenting assaults, detainments, equipment damage and harassment of journalists. The majority of these incidents occurred in D.C.

— U.S. Press Freedom Tracker (@uspresstracker) January 8, 2021
Journalists covering the 6th January 2021 Trump rally on the National Mall were attacked and had their equipment destroyed by Trump supporters, according to news reports. Reporters for the Associated Press, CNN, local news outlets and foreign correspondents were forced to flee the area after barriers separating the media from the crowd were destroyed. AP photographer John Minchillo was dragged through the crowd and pulled down a flight of stairs. One man allegedly yelled, "We are the news now," as a mob tried to light press equipment on fire. Inside the Capitol, several journalists were forced to shelter in place with members of Congress as the chaos continued. "I had about ten seconds to decide whether to run out or get locked in myself. I stayed, deciding I should keep my eyes on the senators I was there to cover, no matter what came next," said Emily Cochrane, New York Times congressional reporter.
The U.S. Press Freedom Tracker said it was investigating violations of press freedom on 6th January 2021, including five arrests, nine assaults, multiple cases of journalists threatened and harassed, and equipment damage of multiple outlets.
In a separate development, in December 2020 the United States Olympic and Paralympic Committee announced that it would not sanction U.S. Olympic athletes who protest "peacefully and respectfully…in support of racial and social justice." This was a direct repudiation of the Olympics' Rule 50 that states, "No kind of demonstration or political, religious or racial propaganda is permitted in any Olympic sites, venues or other areas." The decision is expected to put pressure on the International Olympics Committee to reconsider its rule prohibiting political dissent in the upcoming Tokyo Summer Olympics.