Deadly year for journalists in Mexico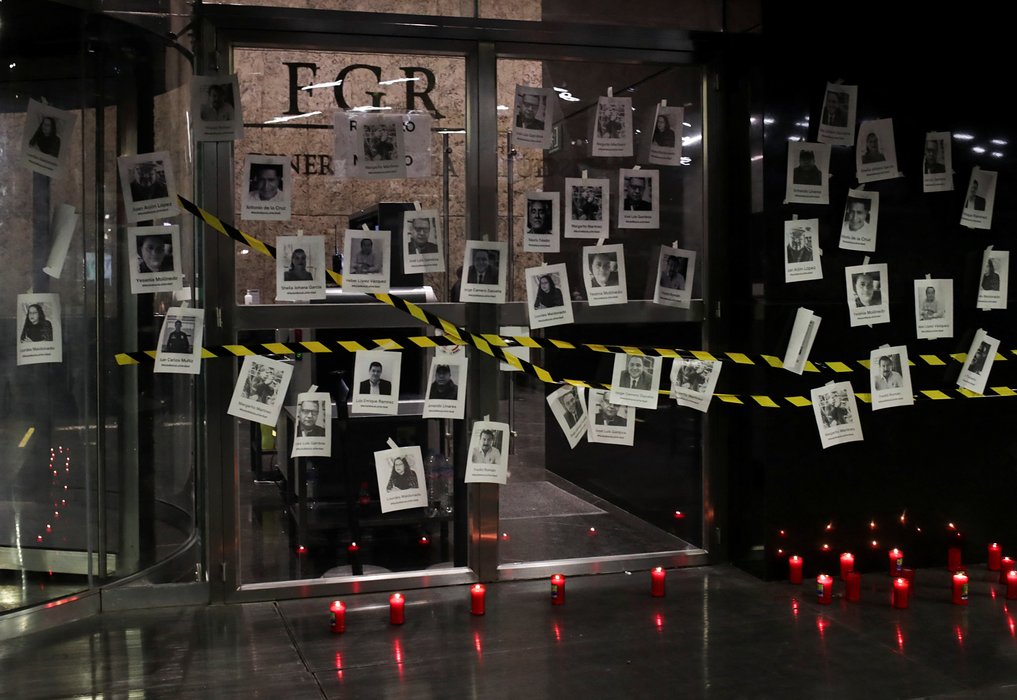 Expression
Journalists killed in August
IPI is alarmed by the spiral of violence against journalists in #Mexico. With #FredidRomán death, the tally rises to 15 journalists killed in 2022, one of the bloodiest years for the Mexican press in memory.

Read our full statement:https://t.co/LaB4JU2lkx

— IPI - The Global Network for Independent Media (@globalfreemedia) August 24, 2022
On 11th August 2022, four employees of Switch 105.9 FM, Alan González, Alejandro Arriaga, Armando Guerrero and Andrés Flores, were shot and killed amid a wave of violent crimes in Ciudad Juárez, Chihuahua. They were inside a parked car in which González was recording live for his programme "Persistente y Completo" when attackers opened fire on the car. The killings took place as an organised criminal group carried out a series of attacks on civilians and businesses in the city following a riot in a local state prison.
On 16th August 2022, the body of an independent journalist was found in San Luis Rio Colorado, in the northern state of Sonora. Juan Arjón López, founder and editor of Facebook-based "A Qué Le Temes", had gone missing a week earlier. He was killed by a blow to the head, according to the autopsy. A day after Arjón López was found, local authorities announced that a suspect had been detained in connection with the murder. Arjón reported on a wide range of subjects for A Qué Le Temes, including crime, local politics and the environment.
Separately, on 22nd August 2022 journalist Fredid Román was shot and killed outside his home in Chilpancingo by armed attackers on a motorcycle. The journalist, founder of the La Realidad newspaper and a columnist for the Vértice de Chilpancingo newspaper, was entering his car when he was attacked. In his most recent column, Román had criticised the Ayotzinapa Truth Commission, a body created to investigate the mass abduction of 43 students in Guerrero in 2014. The local Prosecutor's Office said it was investigating whether Román's killing was connected to the murder of his son a month earlier. A vigil was held for the slain journalists outside the Prosecutor's Office in Mexico City, where portraits of murdered journalists and signs demanding justice are displayed. Journalists in Guerrero also organised protest marches in Chilpancingo, Acapulco and Atoyac.
In another development, on 24th August 2022 authorities in Baja California announced the arrest of the suspected mastermind in the killing of photojournalist Margarito Martínez, which took place in Tijuana in January 2022. David López Jiménez, known as Cabo 20, is associated with the Arellano Félix cartel and has been accused of ordering Martínez's murder. The prosecutor said Jiménez had been annoyed when photographs of himself and his collaborators or family members were published in news outlets and shared on social networks. The photojournalist lived in the neighbourhood where Jiménez conducted most of his criminal activity, which allegedly made him vulnerable. The prosecutor also stated that a person connected to the same cartel was involved in both the murder of Martínez and that of journalist Lourdes Maldonado, but did not elaborate on whether the crimes were connected.
Other developments
In multiple incidents in July and August 2022, independent journalist Jaime Hernández Rivera was threatened and harassed by people allegedly connected to Gerardo Aldape Ballesteros, a magistrate of the Second Administrative Chamber of Tamaulipas. For example, on 21st July 2022, an unidentified person approached the journalist outside a medical facility and made threatening comments related to his work, mentioning the magistrate. Hernández covers issues related to state and local politics in the region.
On 31st July 2022, journalist Marco Antonio Vallejo Estrada, with "Media Video" and radio station Irradia Noticias 103.7 FM, said he was threatened by the State of Morelos' General Director of Public Transportation of the Secretary of Mobility and Transportation. The reporter had been covering the internal selection of candidates for governing party Morena. According to the reporter, he was leaving the event when the official – who was also a candidate – approached him and made threatening comments related to his coverage of the process.
On 3rd August 2022, the home of Juan Antonio Venegas, general director of the Oxnet Noticias outlet, was allegedly attacked by a former Oxkutzcab municipal official in Yucatán. According to Venegas, former official Roger Tun and a group of people arrived at his home, demanding that he come out to talk to them. When the reporter refused, they began throwing bottles and knocked down part of the exterior wall of the property. The day before, Venegas had published a story about a brewery owned by Tun's family, which had to be closed for operating after hours.
On 12th August 2022, Avelina Guevara and Miguel García, both of whom work for Informativo Ágora, were attacked and prevented from doing their work by police in Celaya. The journalists said they were photographing a vehicle fire on the Celaya-Comonfort highway when officers approached and began to physically assault them. In a shaky video from the incident, police officers are seen getting aggressive with the reporters to stop them from filming. Avelina Guevara was left with a shoulder injury, while Miguel García had an injured jaw.
Association
Indigenous defender released
📣Celebramos la liberación de Fredy Omar García Ramírez, defensor de la tierra, el territorio y los derechos de los pueblos indígenas.

Quien a más de 2 años en prisión arbitraria, hoy le es devuelta su libertad.@MaryLawlorhrds @GobiernoMX @lopezobrador_ @SEGOB_mx @A_Encinas_R pic.twitter.com/Nqgmvyg277

— Consorcio Oaxaca (@consorciooaxaca) June 24, 2022
On 23rd June 2022, Fredy García Ramírez, an Indigenous Zapotec and spokesperson for the Comité de Defensa de los pueblos Indígenas (Committee for the Defence of Indigenous Peoples - CODEDI), was acquitted by the Superior Court of Justice of the State of Oaxaca and released a day later after 963 days of arbitrary detention. García Ramírez had been violently arrested, without a warrant, along with another CODEDI member in November 2019. He was charged with alleged "assault", "robbery" and "injury" in what the human rights Observatory of the OMCT-FIDH said was part of a series of systematic attacks on CODEDI and its members.
Independent unions recognised
On 31st August 2022, auto parts workers in Piedras Negras, Coahuila voted to join an independent union which will represent 350 workers of VU Manufacturas who produce interior car parts for Nissan, Tesla and other carmakers. Days before the vote, independent union La Liga Sindical Obrera Mexicana had denounced harassment against the factory's workers, in what they claimed was an attempt to impose union CTM as the workers' representative. At the request of the Mexican government, officials from the International Labour Organisation and Mexico's National Electoral Institute served as election-day observers to ensure the union vote went smoothly.
In another case involving CTM, Teksid Hierro de México was accused of denying freedoms of association and collective bargaining to employees at the Teksid facility by blocking the election of an independent union to favour CTM. The Mexican government, following an investigation, helped facilitate an agreement between independent union The Miners and Teksid, which must rehire, with years of back pay, 36 workers who were allegedly fired in retaliation for supporting the independent labour group.
Peaceful Assembly
#México: La defensora de derechos humanos y sobreviviente de femicidio @_ElenaRios fue reprimida por exigir justicia por la violencia contra las mujeres

🟣Exigimos #JusticiaParaMalena y el fin del acoso contra quienes denuncian la violencia feminicida.

👉https://t.co/MhPdgzXsBe pic.twitter.com/Hfu7nBw4I7

— The Observatory (@OBS_defenders) August 8, 2022
On 25th July 2022, saxophonist and activist María Elena Ríos Ortíz interrupted Oaxaca's annual music and dance festival to unfurl a banner that read, "Oaxaca Femicinida" ("femicidal Oaxaca"). Ríos not only called out violence against women, of which she is a survivor, but the government's complicity in such violence. She was quickly and aggressively removed from the event but her protest was viewed by thousands of attendees and on social media, inspiring other street actions throughout downtown Oaxaca City.
In August 2022, residents of Mexico City decried a government decision to remove a feminist "anti-monument" installed in the capital last year and replace it with a replica of a 15th century statue, "The Young Woman of Amajac". The memorial was nicknamed the "Roundabout of the Women who Fight" after a statue of Christopher Columbus was toppled amid protests and was replaced with a purple sheet of metal showing a woman in blue silhouette with her arm raised, along with the word "JUSTICE."
On 15th August 2022, retired railroad workers protested a lack of pension payments by temporarily blocking the northbound lanes of the international Bridge of the Americas at the El Paso-Juárez border. U.S. Customs and Border Protection officers in riot gear with shields and rifles stood guard as the protest took place.
On 22nd August 2022, journalists and their supporters demonstrated in Acapulco, Guerrero to demand justice for their colleague, Fredid Roman, who was fatally shot in front of his home. "It is very difficult to do journalism in Mexico. Unfortunately, the conditions nowadays don't permit the exercise of the profession," said Ernesto Caballero, a local official of the Sindicato Nacional de Redactores de la Prensa (National Union of Press Writers). The journalists also called on authorities to provide guarantees for the exercise of journalism in the state.
On 26th August 2022, family members of 43 missing students of Ayotzinapa marched in Mexico City following major developments related to the case. A week earlier, the government had released a report finding that the disappearances were a "state crime," and that the country's military and police were to blame. Former Attorney General Jesús Murillo Karam, who led the initial investigation, was arrested the following day on charges of torture, forced disappearance and crimes against the administration of justice. Carrying posters with photos of their children and calling for justice, relatives of the students expressed hope that the report might finally result in criminal punishment for those responsible. A court recently ordered the arrest of 83 people allegedly involved in the 2014 disappearance of the students.
On 30th August 2022, relatives of some of Mexico's over 100,000 missing people marched through downtown Mexico City to demand action from authorities in finding their loved ones. The protesters carried photos of the disappeared hanging from their necks, and chanted "Where are they? Our Children, Where are they?" The protesters said the authorities are often negligent with regard to disappearances, re-victimising those who had gone missing.