"A dark day for democracy': Policing Bill becomes law; protesters at Sarah Everard vigil prosecuted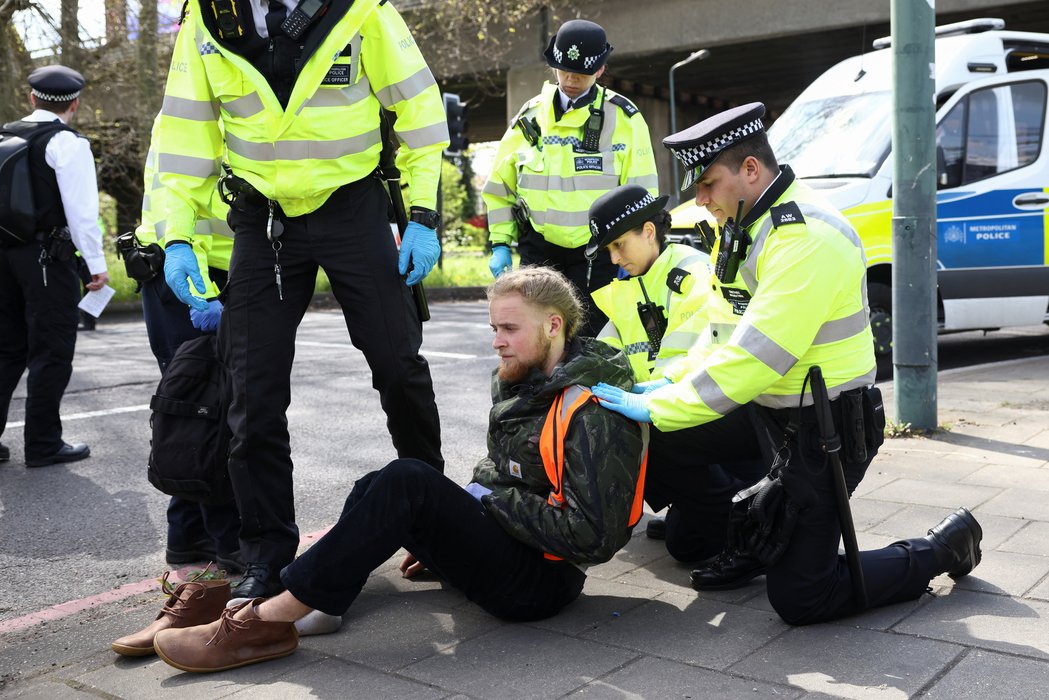 Association
New range of legislation threatening citizens' and CSOs' rights
On 10th May 2022, during her speech, the Queen announced that her Ministers "will restore the balance of power between the legislature and the courts by introducing a Bill of Rights" and added that "legislation will prevent public bodies engaging in boycotts that undermine community cohesion", the latter referring to the Boycott, Divestment and Sanctions Bill.
Since 14th December 2021 the Government has made its willingness to "overhaul" the Human Rights Act clear and the Queen's Speech further confirmed these plans to create a new law (the Bill of Rights) that will get rid of the Act.
As pointed out by the British Institute of Human Rights (BIHR), "there is a lot to be concerned about in the Government's proposals." According to the BIHR, with the new Bill of Rights, the UK Government would:
Weaken the requirement to interpret laws in a way that's compatible with human rights, wherever possible;

Have fewer organisations to be defined as public bodies (as public bodies must proactively look after citizens' rights) and more barriers to people challenging public body decisions;

Make Article 8 of the UK Constitution (on the right to private and family life) harder for people to access;

Set the rules about how judges make decisions on the government's fairness when restricting citizens' rights.
In fact, the UK Government is trying to weaken the 'positive obligations' that require public bodies to actively safeguard people's rights. As highlighted by Rosemary Forest, Policy and Advocacy Adviser of Bond,
"the Government's proposal will also make citizens' rights conditional on good behaviour – going against the whole point of universal human rights. The Government want to make it harder for anyone to bring a human rights claim to court. Their plans would introduce a 'permission stage', so that people can only bring claims if they can show they have suffered a 'significant disadvantage' or their case has 'overriding public importance''."
In addition, the recently announced Boycott, Divestment and Sanctions Bill is of great concern, given that it would 'stop public bodies from making any boycott, divestment or sanctions decisions that aren't in line with UK Government foreign or economic trade policies.' As a result, a collective of organisations has come together to fight for the 'Right to Boycott', denouncingthis 'anti-boycott bill' and stating that if passed it could dramatically affect civil society's ability to campaign for social and climate justice in the UK and around the world and would have a chilling effect on Palestinian activists in the UK.
🚨Breaking: Queen's Speech confirms that the UK Gov will pursue its 'anti-boycott bill' to prevent public bodies from deciding not to do business with companies abusing human rights and our planet. This must be opposed! Share the #RightToBoycott statement: https://t.co/0FyK2I0F7o pic.twitter.com/L7Mfkr66ZQ

— PSC (@PSCupdates) May 10, 2022
Related to this, the Public Service Pensions and Judicial Offices Act, which became law in March 2022, already contains some provisions which have severe implications for pension schemes of public bodies in terms of making ethical investment decisions. Prior to the vote, Amnesty International produced a briefing stating:
"This amendment would give the UK government the authority to direct investment decisions made by fiduciaries on behalf of and with the financial contributions of pension scheme members simply because they are or were public sector employees. It would limit the ability of public sector employees and pensioners to express ethical choice in the investment policy of their pension fund."
Furthermore, during the parliamentary session at the end of April and the beginning of May 2022, both the Elections Bill and the Judicial Review and Courts Bill passed into law. The former introduces voter ID for future elections, making it harder for hundreds of thousands of people to vote; the latter makes it harder to challenge Government decisions in court.
Attempts to delegitimise CSOs working on racism
In February 2022, an All-Party Parliamentary Group (APPG) was established to look into the conservation charity National Trust, without the charity's knowledge. As reported by The Guardian, while it is not unusual for APPGs to be dedicated to bodies such as the BBC, or have charities involved, the trust said it was "unusual" for an "organisation-specific" APPG to emerge without that organisation's knowledge or involvement.
Even more unusual is the fact that the APPG dedicated to the National Trust is chaired by a Tory MP, Andrew Murrison, who has been at the forefront of criticising the charity report which looked at connections of properties to colonialism and slavery. On his website, Murrison has repeatedly accused the National Trust of "tarnishing the reputation of Winston Churchill".
The establishment of the APPG in February 2022 was accompanied by comments and speeches by MPs and Ministers which de-legitimised civil society groups working on issues of racism. For example, in his speech to the Heritage Foundation in Washington DC, Oliver Dowden (Chairman of the UK Conservative Party) defined "social justice warriors" in the United Kingdom as threatening the "values of a free society". Earlier in September 2021, Dowden, then-Secretary of State for Digital, Culture, Media and Sport (DCMS), wrote an op-ed for The Telegraph criticising the engagement of charities in complex social and cultural issues which, in Dowden's opinion, would "distract them from their core missions." Dowden's speech was followed, in March 2022, by Conservative MP Steve Baker's op-ed in The Guardian on 'culture wars', saying that "the equality debate is too polarising." Between April and May 2022 various MPs criticised the Racial Equality Charter's racial equity scheme in The Telegraph and Daily Mail; anti-racism activist Liz Pemberton (whose company The Black Nursery Manager offers diversity training) has been highlighted in The Telegraph as a 'Maoist' diversity consultant trying to 'decolonise the mindsets of nursery staff working with toddlers'.
Growing concern over EHRC becoming transphobic
In February 2022, a VICE World News investigation revealed that leaders at the UK Equality and Human Rights Commission (EHRC) were actively involved in removing rights from transgender individuals in courts, as well as holding meetings with anti-trans groups.
Following this, VICE reported how several senior staff members had either left the EHRC or were working their notice period at the time due to the EHRC becoming transphobic, and denounced board members who were changing their documents to make it "transphobic and seriously inaccurate". As reported by VICE World News, when some employees complained, they were met with disciplinary action. The "anti-LGBT+" culture adopted by the organisation compelled some non-executive staff to quit, while others were considering strike action. 
Exclusive: Senior leaders at the Equality and Human Rights Commission (EHRC) have worked to erase trans rights via the courts and held private meetings with anti-trans groups, leaked emails and documents obtained by VICE World News reveal. https://t.co/N8Fiz2DVj1

— Ben Hunte (@BenInLDN) February 2, 2022
Peaceful Assembly
Policing Bill passed into law, marking 'a dark day for democracy'
At the end of April 2022, the so-called Policing Bill was signed into law, thus becoming 'a very damaging piece of legislation' for human rights defenders.
The Police, Crime, Sentencing and Courts Act now gives the police more powers to shut down 'noisy' protests and to monitor and criminalise people (which will impact marginalised and racialised communities hardest). The Act also makes provision for new 'trespass offences' that pose a serious threat to Gypsy and Traveller people's way of life.
The Police Bill Alliance defined the Bill passing the final stage in Parliament as 'a dark day for democracy'.
"Despite over a year of relentless opposition, the Government today passed measures in the Police, Crime, Sentencing and Courts Bill that will undermine everybody's right to protest and criminalise the way of life of Gypsy and Traveller communities."
"However, over the course of the campaign we have succeeded in removing some of the most draconian measures impacting protests …. Tens of thousands of people across the country took to the streets, nearly a million people signed petitions, hundreds of organisations rallied around the cause, and parliamentary champions in both Houses spoke out. We did not allow the Government to push this anti-democratic bill through quietly and will continue to defend and promote democracy."
After a year of resistance, the Government managed to push through the remaining anti-protest measures in its #PolicingBill late last night.

This discriminatory and authoritarian Bill will now become law.

It's a time to feel angry, but not defeated. https://t.co/ch0TOFnuLb

— Liberty (@libertyhq) April 27, 2022
Public Order Bill, a further threat on protests
On 23rd May 2022, the Public Order Bill went through the second reading in the House of Commons. The Bill, which was introduced during the Queen's Speech, contains a number of measures which were successfully excluded from the Policing Bill, including:
Serious Disruption Prevention Orders (SDPOs) that could ban individuals from participating in certain protests, requiring them to be subject to 24/7 GPS monitoring and bar their participation in public life;

Suspicion-less stop and search powers given to the police;

New offences against protesters for locking on or being equipped to lock on.
As Liberty pointed out in a recently released briefing, the Bill is "purportedly a response to the recent tactics of Insulate Britain and Just Stop Oil protesters", but "these measures had been consulted on as early as autumn 2020 by Her Majesty's Constabulary of Fire and Rescue Services (HMCFRS) and rejected by police officers as potentially violative of human rights, not to mention ineffective and difficult to implement."
Just Stop Oil Protests
Since 1st April 2022, environmental activists from the "Just Stop Oil" movement, supported by Extinction Rebellion UK, began blocking 10 oil terminals across the UK to campaign against the UK's use of fossil fuels. They called on the UK government to halt all future fossil fuel projects and have vowed to continue protests until this demand is met or until all protesters are jailed. The protesters used acts of civil disobedience by climbing onto oil tankers or glueing themselves onto roads. Protests continued despite a temporary high court injunction which banned groups from protesting outside oil terminals. In some locations, police prevented protests from going on. The group estimates that over 1,000 people have been arrested as a result of the actions thus far.
In response to the protests, Downing Street accused protesters of using "guerrilla tactics", while the Home Secretary Priti Patel said "people across the country [were] seeing their lives brought to a standstill."
Today #JustStopOil demand @10DowningStreet get a grip, stop lying, stop recklessly destroying our future.

Start by ending new oil & gas.

We will continue to disrupt until the govt makes a statement that it will end new oil & gas projects in the UK. https://t.co/5gawVEgJck

— JustStopOil (@JustStop_Oil) April 11, 2022
Protesters who took part in Sarah Everard vigil prosecuted
The Met police are prosecuting six people who took part in the Sara Everard vigil during March 2021 (see previous update) for alleged breach of COVID-19 regulations. According to the Met police, the charges come after nine fixed penalty notices were issued, with seven failing to pay. As a result, charges were brought against six of those people, with no action taken in only one case. One of the protesters charged, Dania Al-Obeid, told the Guardian:
"I think that's where the frustration was, that the bigger picture here was lost. We felt we were silenced and this could have been avoided if there was some understanding and compassion to the trauma that women feel every single day."
Why does the @metpoliceuk have a vendetta against women protesting a woman killed by a serving officer? Is this payback that we helped get Cressida Dick removed from office? How is wasting more public money prosecuting women that attended the vigil going to rebuild trust?

— Jamie Klingler (@jamieklingler) June 1, 2022
Earlier, on 11th March 2022, the high court ruled that the Met Police has breached the rights of the organisers of a vigil for Sarah Everard due to the manner in which they handled the event. The case was brought by the Reclaim the Streets movement which initially organised the vigil but cancelled it due to the threat of fines and prosecution by the police. Despite the Met police appealing the verdict on two occasions, the appeal was denied by the high court.
BREAKING: We have won our High Court case against the @metpoliceuk pic.twitter.com/1zMua3PQc2

— Reclaim These Streets (@ReclaimTS) March 11, 2022
Expression
Charity expelled from Government advisory board after critical tweets
As reported by Third Sector, the employment rights charity Maternity Action was dropped from a government advisory board in April 2022, apparently due to critical tweets.
NEW: Labour has accused the govt of "pursuing a vendetta" against a charity boss, after officials booted @MaternityAction off an advisory board in a row over tweets

Shadow minister @KeeleyMP told @ThirdSector government decision was "shameful"https://t.co/WB6sClupRz

— Russell Hargrave (@Hargraver) April 28, 2022
When public officials told Maternity Action about its removal from a group which is tasked with advising on workplace discrimination against pregnant women and new mothers, they referred to tweets sent by the charity's Chief Executive, Ros Bragg, which criticised the advisory board's narrow focus.
We have an advisory board looking at "non-legislative improvements" to reduce maternity discrimination which will meet quarterly until March 2023. No action plan. No recommendations for legislative change. /2

— rosbragg (@rosbragg) September 23, 2021
The Department for Business, Enterprise and Industrial Strategy did not deny that its decision was based on Bragg's tweets.