Daniel Ortega retains power in electoral process lacking legitimacy and human rights guarantees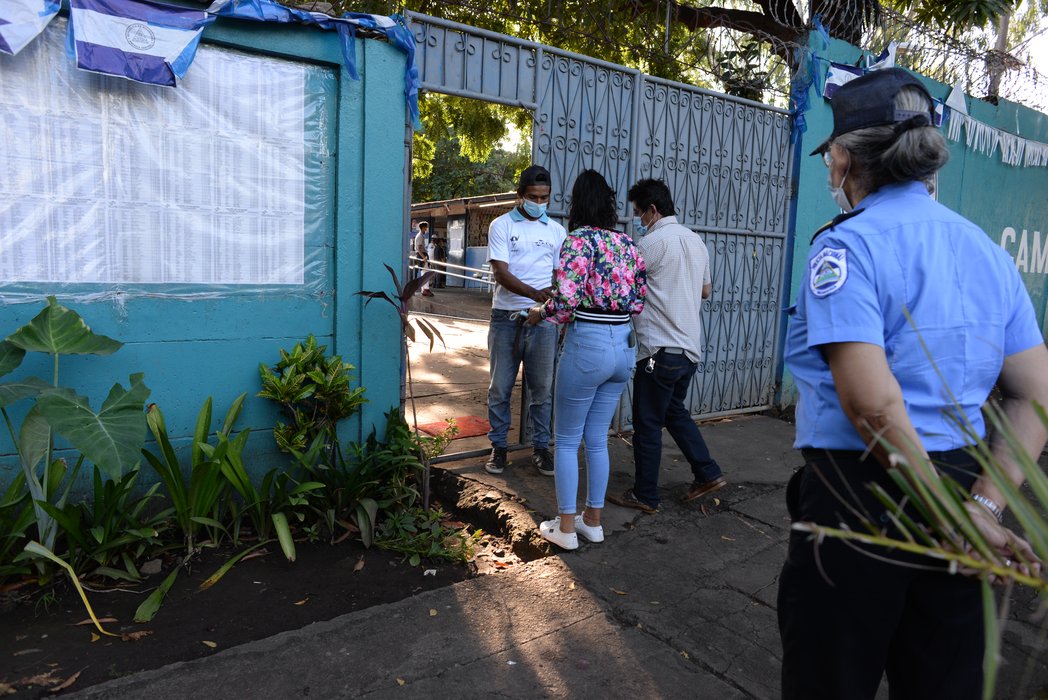 #CIDH publica el informe "Concentración de Poder y Debilitamiento del Estado de Derecho en Nicaragua" sobre la grave crisis política, social y de #DerechosHumanos en el país, de cara a las próximas elecciones del 7 de noviembre.

📍Leer informe: https://t.co/U1vYSliqJ7 pic.twitter.com/rezuiUC2Hx

— CIDH - IACHR (@CIDH) October 28, 2021
On 28th October 2021, the IACHR published a reported titled "Nicaragua: Concentration of power and the undermining of the Rule of Law". The document analyses the power concentration process by the Executive in Nicaragua and consequent weakening of the separation of powers and the rule of law in the country. According to the IACHR, the repression of protests in 2018 and the creation of a police state to quell dissidence was made possible by the subjugation to the government of the judiciary and the Office of the Attorney General.
On 3rd November 2021, the Observatory for the Protection of Human Rights Defenders and the Nicaraguan Centre for Human Rights (CENIDH) published a report on Nicaragua called "The New Laws of Repression". In the study, the organisations analyse the repressive laws approved in Nicaragua since 2020, which have been instrumentalised to target human rights defenders and political opponents. The report also recounts the development of a repressive regulatory framework in the country from 2008 onwards.
Expression
DECLARACIÓN DE SERGIO RAMÍREZ

La dictadura de la familia Ortega me ha acusado a través de su propia fiscalía, y ante sus propios jueces, de los mismos delitos de incitación al odio y la violencia, menoscabo de la integridad nacional. https://t.co/8tsA7t70WH pic.twitter.com/tENk1gIcsc

— Sergio Ramírez (@sergioramirezm) September 9, 2021
In September 2021, writer Sergio Ramírez told British news media BBC that copies of his latest book had been retained by Nicaragua's customs authorities. Ramírez's book, titled "Tongolele no sabía bailar" ("Tongolele Didn't Know How to Dance"), portrays repression in Nicaragua during the mass protests in 2018. In early September, the government also issued a warrant for the writer's arrest, accusing him, among other things, of "conspiracy", "money laundering", "inciting violence and hatred" and "undermining national integrity". The writer has been exiled in Costa Rica since June 2021.
At least 26 journalists were forced to flee Nicaragua in recent months, said a report at the Inter American Press Association's General Assembly. For instance, El País correspondent Wilfredo Miranda said that he had fled Nicaragua in June 2021 after being threatened by law enforcement authorities with charges under the Cybercrimes Law. He was cited as a witness in the case against a civil society organisation, questioned about several articles he had written and asked to disclose his sources. Miranda said he decided to flee the country after being told by an officer that he could be charged for cybercrimes. According to Articulo 66 director Álvaro Navarro, the Cybercrimes Law has been among the key instruments used to intimidate and silence journalists. Navarro said an "information blackout" had been imposed in the country, with widespread surveillance and self-censorship.
Several international correspondents were denied entry into Nicaragua in the weeks preceding the presidential election on 7th November 2021. Journalists who said they were not authorised to enter Nicaragua, despite having complied with sanitary and migration requirements, include Frédéric Saliba from French Le Monde, Mary Beth Sheridan with the United States' The Washington Post and a team with the Honduran daily El Heraldo. Carlos Girón with El Heraldo said an officer at the border with Honduras also tried to take a journalist's phone to ensure that they weren't recording.
🚫CINCO razones por las que las elecciones del próximo domingo (07/11) en #Nicaragua se realizarán en un contexto de graves restricciones de las libertades civiles y políticas: https://t.co/H8ZrASrNSN
🧵 pic.twitter.com/i6qIj7dVrD

— CIVICUS Español (@CIVICUSespanol) November 5, 2021
On 7th November 2021, Nicaragua held presidential elections without independent international observers or human rights guarantees. Hours after the ballots closed, official media announced Daniel Ortega as the winner with preliminary results showing he had received about 75% of the vote. The Electoral Council announced participation had been over 60%, but local press and civil society said voting centres were mostly empty throughout the day.
Days before the election was held, CIVICUS co-signed a statement with nine other regional and international human rights organisations outlining five reasons why the elections in Nicaragua would not guarantee human rights. The electoral process took place in a context of widespread violations which include: the arbitrary detention and enforced disappearance of perceived government opponents, the lack of judicial independence and violations of the right of access to justice, violations of freedom of expression and of the press, violations of political rights and the lack of guarantees for the exercise of peaceful assembly.
The Inter-American Commission on Human Rights (IACHR) and the Office of the UN High Commissioner for Human Rights also expressed their concern about the lack of guarantees during the electoral process, calling on the government to take steps to re-establish conditions conducive to free and fair elections. To this end, they said it would be imperative that the Government re-establish the rule of law, release all persons arbitrarily detained and cease attacks against individuals and organisations considered to be opponents of the government, the media and civil society.
On 8th November 2021, the European Union issued a press release saying "elections held in Nicaragua on 7 November have taken place without democratic guarantees and their results lack legitimacy." U.S. President Joe Biden also released a statement calling the process "a pantomime election that was neither free nor fair, and most certainly not democratic." Governments of Peru, Spain and Costa Rica also denounced the electoral process.
Association
On 21st October 2021, the president and the vice-president of business association Consejo Superior de la Empresa Privada (Superior Council of Private Companies - COSEP) were arrested in Managua. Michael Healy was detained as he left the Public Prosecutor's Office, where he had presented himself  in compliance with a summons. Minutes before his arrest, he had told news media that his appointment had been rescheduled and that he didn't know what the summons was about. In a statement, COSEP said Healy's house was raided following his arrest and that his driver was also detained. COSEP vice-president Alvaro Vargas was arrested at his home on the same day. According to news reports, the police informed that they are both under investigation for "money laundering" and for "acting to undermine national integrity." The IACHR condemned these arrests, underscoring that both Healy and Vargas had been granted precautionary measures due to risks to their safety.
Reports on Nicaragua
El Presidente del COSEP Michael Healy Lacayo fue detenido arbitrariamente por la Policía Nacional hoy a las 9:00 am. Estas acciones que violentan los derechos fundamentales establecidos en la Constitución Política de Nicaragua deben cesar a lo inmediato. pic.twitter.com/ICozi2PLde

— COSEP Nicaragua (@COSEPNicaragua) October 21, 2021