Hundreds detained during protests against pension reforms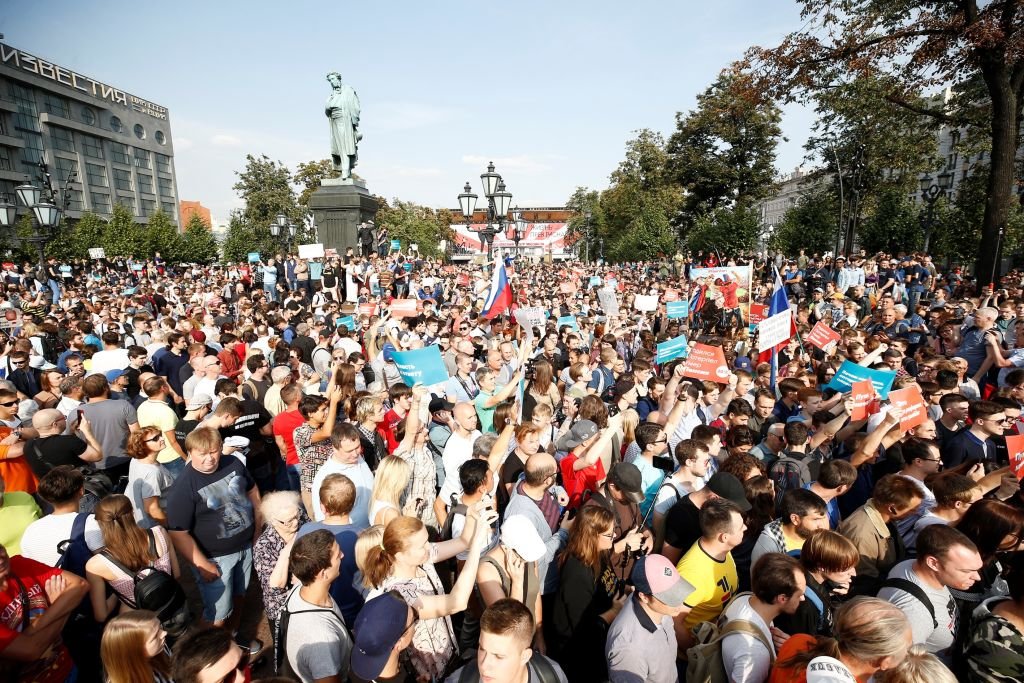 Peaceful Assembly
Since late September 2018, people in Russia's North Caucasus region of Ingushetia have been protesting over a controversial border delimitation deal with neighboring Chechnya signed by Ingush leader Yunus-Bek Yevkurov and Ramzan Kadyrov, his Chechen counterpart on 26th September 2018. That day, hundreds took to the streets in the capital Magas and reports indicate that police used batons to disperse protesters and detained several of them. 
On 4th October 2018, protests sparked again and continued for several days with thousands demanding the annulment of the deal. The same day, the authorities tried to appease the angry demonstrators. According to Free Europe, several lawmakers came out in front of protesters to let them know that the law was not voted by the authorities. Ingushetia's leader, Yunus-Bek Yevkurov, also attempted to meet with the protesters, but the crowd threw empty bottles at him. Since then, protesters have set up tents and camps in central square and have been gathering for weeks. 
Ingushetia and Chechnya were part of the same autonomous republic during the Soviet Union, with Chechnya declaring its independence after the collapse of the Soviet Union. Currently, both are independent constituent republics, but without an administrative border separating them.
Protests in the Russian republic of Ingushetia have not died down for two weeks, as many locals are furious about a border deal between Ingushetia and neighboring Chechnya. They say it gives away land with deep significance to the Ingush people. pic.twitter.com/npJy66NVJH

— Radio Free Europe/Radio Liberty (@RFERL) October 17, 2018
In a separate incident, on 2nd September 2018, massive protests took place across Russia against a pension reform introduced by the government, which plans to increase the pension age. Citizens disagree with the latest changes and several protests were organised in several major cities. Demonstrations have last several days with police using force to disperse the protests, beating and detaining thousands of protesters. OVD-Info reported that at least 839 people were detained on 9th September in 33 cities.
Hundreds were detained at pension reform protest across Russia today. Here are some scenes from Moscow, Saint Petersburg, Kazan and other cities pic.twitter.com/1PNQtKhkTd

— Glenn Kates (@gkates) September 9, 2018
Expression
On 3rd October 2018 a court in Russia-controlled Crimea issued a decision regarding the case of pro-Ukrainian activist Volodymyr Balukh, reducing his five year prison term by one month. Balukh was arrested in December 2016, for possession of arms and sentenced in October 2017 to 3 years and 11 months in prison. A new case was brought against him by a penitentiary employee who claims Balukh attacked him.  In July 2018 a court sentenced him to five years in prison for these charges. Volodymyr Balukh's detention followed the activist honoring those who died during the EuroMaidan protests by raising the Ukrainian flag in his yard along with a sign reading "Heroes of the Heavenly Hundred Street", which is why Ukrainian human rights organisations claim the accusations against Balukh are politically motivated. 
Activists in #Moscow have held a "Political Prisoner Day" demonstration, demanding the release of illegally sentenced Ukrainian prisoners Oleg #Sentov and Volodymyr #Balukh, @krymrealii report pic.twitter.com/bI35NLJP95

— Hromadske Int. (@Hromadske) October 1, 2018
Association
On 6th October 2018, Amnesty International researcher Oleg Kozlovsky was kidnapped, beaten and harassed in Magas by men claiming to be security officers. Kozlovsky was in the Ingushetian region to monitor the protests described above in the peaceful assembly section. Kozlovsky recalled the event:  
"They held a gun to my head and told me they were going to kill me. The men identified themselves as being officers of the local Center for Combating Extremism, a special police unit. They demanded to know the names of my contacts in Ingushetia and threatened to kill my wife and children if I reported what happened." 

He was released near the airport in North Ossetia after the men confiscated his phone and camera. 
This was the most bizarre thing in my 18 years as an activist. On 6 October, I was abducted by unknown armed men in Ingushetia where I was monitoring peaceful protests for Amnesty International. They called themselves officers of local Center for Prevention of Extremism (CPE).

— Oleg Kozlovsky (@kozlovsky_en) October 15, 2018