CSOs raise concerns over lack of consultations during parliamentary process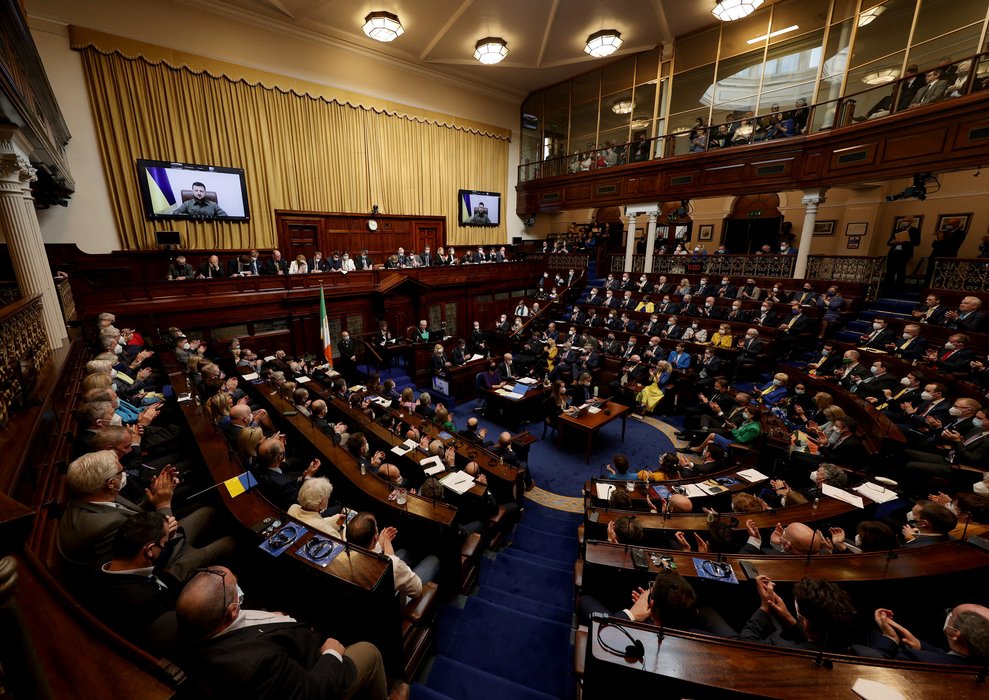 Introduction
On 4th and 5th July 2022, Ireland faced the 5th review of its implementation of the International Covenant on Civil and Political Rights (ICCPR) in Geneva. The Irish Council for Civil Liberties (ICCL) was represented at the hearings and its report to the Committee was endorsed by 37 Irish NGOs. Among many concerns, ICCL highlighted that:
"The State is not conducting meaningful consultations with civil society in the development of human rights related legislation. For example, on the implementation of the UNCRPD, the State has not responded to concerns raised by disabled peoples organisations regarding Codes of Practice and laws on assisted decision making that are coming into force".
Similarly, ICCL was concerned that affected communities were not properly consulted on the development of new hate crime laws. And civil society concerns were not responded to in recent legislative reforms on the electoral system, where donation restrictions for political parties are applied to civil society organisations, thus having a chilling effect. ICCL reminded that:
"The State must ensure that all those affected by the passing of new laws that concern rights are fully consulted and their concerns are responded to".
Association
CSOs open letter on abuse of parliamentary process
Irish civil society is becoming increasingly alarmed by the government's abuse of the legislative process in the Irish Parliament. Recent controversies have emerged regarding the adding of extensive last-minute amendments to important legislation, with no time for scrutiny, and the guillotining of debates. This occurs every year before the summer and Christmas recesses, a practice which has been highlighted as a serious concern in the 2022 Rule of Law Report for Ireland. ICCL tweeted on this, stating that:
"The number of bills passed by the Oireachtas increases significantly right before the summer & Christmas recesses. Progressing at breakneck speed means that oversight suffers & unexamined legislation is allowed pass without proper scrutiny. It's getting worse year on year".
The number of bills passed by the Oireachtas increases significantly right before the summer & Christmas recesses.
Progressing at breakneck speed means that oversight suffers & unexamined legislation is allowed pass without proper scrutiny.
It's getting worse year on year. https://t.co/paIHV4YLs5 pic.twitter.com/xftEmCuk59

— ICCLtweet 🏳️‍🌈 (@ICCLtweet) July 1, 2022
Irish Council for Civil Liberties (ICCL) Executive Director Liam Herrick wrote an op-ed in the Irish Examiner on 1st July 2022 regarding the lack of scrutiny of the Electoral Reform bill. The government has also recently passed the Electoral Reform Bill (2022) with a known drafting error which will have to be fixed with an amendment. This wasn't spotted because neither the Seanad or the Dáil (the two chambers of the Irish parliament) had an opportunity to examine the draft put forward by the Minister of Housing and Local Government Darragh O'Brien.
In response, ICCL has penned an open letter expressing dissatisfaction with the process and addressing it to the speakers of the parliament and the Senate, as well as the parliamentary committee responsible for allocating speaking times.. The letter has been signed by over 20 prominent Irish CSOs.
The issue has gotten even worse since then with the controversy surrounding the extensive amendments to the Planning and Development Bill (2022), which will impact people's ability to challenge on development projects.
Electoral Reform Bill still problematic for NGO sector
In late March 2022, the revised Electoral Reform Bill was published by the Irish parliament. The Irish Council for Civil Liberties (ICCL) was disappointed to note that the recommendations which the organisation fought to have included in the pre-legislative scrutiny report on civil society freedom haven't been included in the revised Bill.
ICCL Democratic Freedoms Policy Officer Ronan Kennedy spoke to Limerick FM on April 4th 2022 on this issue, stating that:
"They missed an opportunity to reform an issue that has been going on for about 20 years, relating to how fundraising is governed for small and large charities around the country. As it currently stands, charities that receive donations or fundraising for their day-to-day activities could be brought to court for breach of the Electoral Act, since the Act was badly worded. This law was originally designed to justify to political parties and candidates for fundraising, now it applies to CSOs like ICCL and others. And it's not just big or national organisations, it also can happen to small community and resident groups".
Kennedy and ICCL Executive Director Liam Herrick attended the Dáil (the lower house of the Irish parliament) in advance of the second stage debate on the Bill to brief TDs (Teachta Dála, the members of the Dáil) and Senators. Despite ICCL efforts, the government has refused to accept amendments and the Bill was passed by parliament on 13th July 2022, with the highly restrictive fundraising limitations on civil society intact.
"Even more alarmingly, the government have added new sections to allow for political parties to run fundraising activities and on political mis/disinformation. These sections were added as last-minute amendments with very little or no time allowed for parliamentary scrutiny. As a result the Bill was passed with a known drafting error, because it was too late to fix and it was not spotted as no time had been allocated", concluded Kennedy.
Amendment to Charities Bill - a positive move for CSOs
The Charities (Amendment) Bill published on 27th April 2022 represents a significant win for the work of CSOs, such as the Irish Council for Civil Liberties (ICCL). The draft bill (which makes amendments to the Charities Act 2009) includes a provision which will see human rights recognised as a valid charitable purpose, meaning that ICCL and others will be able to register as charities once the bill is enacted.
"Our focus now will be on securing and sustaining support for retaining the provision in the bill as it moves through the legislative process. We have concerns with regard to how this charitable status will be operationalized, but we will work with partner organisations to make the case that this can be addressed in the context of the Bill," reported Ronan Kennedy, Democratic Freedoms Policy Officer at ICCL.
One point of concern is due to the Charities Regulator's updated advice on political campaigning issued in December 2021. This updated advice further narrows the ability of charities to engage in campaigning and advocacy work and has the potential to impede the effectiveness of the charity's designation which CSOs are working to secure.
It would mean that organisations with a "significant" focus on political campaigning work cannot be considered as charities and it has implications for organisations which focus on advocacy, as opposed to service delivery, since it is unclear how newly-designated organisations involved in human rights promotion could achieve their objectives outside of campaign work.
ICCL and The Wheel have jointly written to the Charities Regulator to request a meeting to better understand this change in policy.
Letters on civic freedoms
Negative commentary surrounded the National Women's Council IWD event, after a government minister raised concerns over the failure to invite a female government TD or senator to speak at the event. In response, the Council said:
"This work involves bringing people together and working alongside Government, but sometimes it also includes protest and calling out Government inaction. We engage with Government politicians every day and have had numerous events every year where Government Ministers are opening the event and Government TDs and Senators were speaking on panels. This is one moment of protest".
Separately, An Taisce, the National Trust for Ireland, was condemned and had its funding questioned by former ministers and Senators for appealing a court decision. The decision relates to the granting of the planning permission for a €140m cheese plant on the Kilkenny/Waterford border, which An Taisce opposed, citing environmental concerns. The government representatives said that an Taisce's actions amounted to a "threat to future of Rural Ireland".
ICCL Democratic Freedoms Policy Officer Ronan Kennedy coordinated letters to the following Ministers: Justice, Helen McEntee; Foreign Affairs, Simon Coveney; Equality, Roderic O'Gorman; and Communities, Joe O'Brien. The letters (signed by 12 CSOs) set out the importance of an opencivic space and the negative impact that inappropriate political commentary on civil society funding and independence has on the sector. 
Peaceful Assembly
Use of facial recognition technology poses a threat to human rights
The Garda Digital Recordings Bill (currently in the Irish Parliament) proposes to authorise the Garda access to third party CCTV through a live feed. As pointed out by the Irish Council for Civil Liberties (ICCL), the explanatory note of the bill highlights that it has "considered that this may be necessary in relation to an increase in criminal activity in a particular area where 3rd party cameras may be located".
"This is already deeply problematic as it could lead to general monitoring and profiling of certain areas or people, and amount to extended covert surveillance if An Garda Síochána fail to flag this surveillance with affected members of the public. The risk to people's rights would multiply should these cameras include Facial Recognition Technology (FRT)", stated ICCL - which already called for a ban on the police use of FRT in submission to the Oireachtas on the bill.
ICCL states that FRT systems are unable to correctly identify faces that are not white and male as a result of "inherent biases". It strongly opposed the use of such technology, adding that over 170 CSOs and activists from 55 countries around the world have called for an outright ban on biometric surveillance in public spaces.
"Facial Recognition Technology (FRT) and other biometric surveillance tools enable mass surveillance and discriminatory targeted surveillance. They have the capacity to identify and track people everywhere they go, undermining the right to privacy and data protection, the right to free assembly and association, and the right to equality and non-discrimination".
"We would be particularly concerned about the move to authorise FRT for An Garda Síochana given their poor record on data protection. Additionally, neither An Garda Síochána or the Department of Justice have shown any demonstration that using FRT is either necessary or proportionate – a legal requirement under human rights law".
Expression
Irish National Broadcaster RTÉ sued by two MEPs
On 11th April 2022,two defamation proceedings were initiated against the national broadcaster Raidió Teilifís Éireann (RTÉ) by two Irish Members of the European Parliament (MEPs), Mick Wallace and Clare Daly.These lawsuits followed the RTÉ's broadcasting of an interview with MEP Nathalie Loiseau in which she accused Wallace and Daly of having spread false information during a session of the European Parliament's Subcommittee on Security and Defence. The interview has since been removed from RTÉ's online archive.