CSOs and journalists probed for links to money laundering and terrorism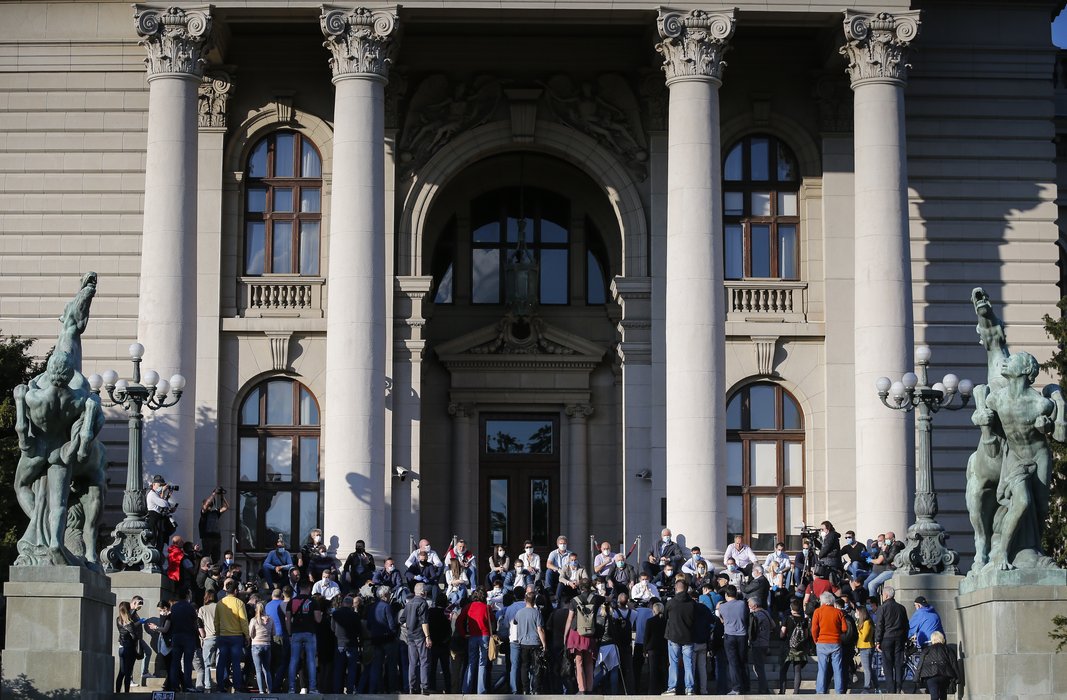 Association
The Directorate for the Prevention of Money Laundering at the Ministry of Finance has compiled a list of organisations and individuals and has asked banks to inspect all their transactions in the last year. In this way, the Administration activated the mechanism provided by law in order to investigate these organisations' possible participation in "money laundering" or terrorist financing. The list includes 20 individuals and 37 organisations or associations who are known for doing work which is critical of the current regime. The list includes, among others:
Independent Journalists' Association of Serbia (NUNS),

The Journalists' Association of Serbia (UNS),

Centre for Investigative Journalism Serbia (CINS),

Balkan Investigative Reporting Network (BIRN),

Crime and Corruption Reporting Network (KRIK),

Centre for Research Transparency and Accountability (CRTA),

The Association of Local and Independent Media,

The Novi Sad School of Journalism,

European Movement in Serbia,

Youth Initiative for Human Rights,

Bureau for Social Research (BIRODI),

Committee of Lawyers for Human Rights (Yukom),

Centre for Euro-Atlantic Studies (CEAS),

Centre for international cooperation and sustainable development,

The Centre for the Rule of Law, the Belgrade Centre for Security Policy,

The Belgrade Centre for Human Rights,

Centre for Applied Nonviolent Action and Strategies (CANVAS),

the National Coalition for Decentralisation,

the Helsinki Committee for Human Rights,

the Catalyst Foundation, and others.
Statement provided by @gradjanske after
the Administration for the Prevention of Money Laundering of Serbian Ministry of Finance announced a list of media and CSOs bank records should be checked to determine whether they are connected to #moneylaundering or #financingterrorism! https://t.co/RqEhptsnyU

— BCSDN (@BCSDN) July 28, 2020
Article 73 of the Law on Prevention of Money Laundering and Terrorist Financing stipulates that management may require the bank to submit data if it "assesses that in connection with certain transactions or persons there are grounds for suspicion of money laundering or terrorist financing." In this regard, more than 270 organisations and individuals in a joint statement demanded that the Ministry and the Administration without delay present to the public the grounds on which they have started such investigations, emphasising that such grounds are an attempt at political abuse and point to the further collapse of democracy in Serbia.
"Since the list includes numerous organisations and individuals dealing with investigative journalism, protection of human rights, transparency, film production, development of democracy, rule of law and philanthropy, the conclusion is that this is a political abuse of institutions and a dangerous attempt to further collapse the rule of law in Serbia."
"The abuse of legal mechanisms and institutions to unlawfully put pressure on the media and civil society organisations is a drastic attack on freedom of association and freedom of information. For years, the government in Serbia has been facing serious criticism from both international and domestic organisations regarding the threat to these two important freedoms. Such an attack on organisations that advocate for establishing Serbia as a state governed by the rule of law with respect for the law and a genuine fight against corruption, is an additional argument that these values are seriously endangered in Serbia."
The signatories to the statement point out that they will take appropriate legal action against persons involved in this abuse, including criminal prosecution, and that such pressure will not deter them from continuing the fight for a democratic, free and legally regulated Serbia.
Civic initiatives has, in cooperation with the Directorate for the Prevention of Money Laundering and the Office for Cooperation with Civil Society, participated in educating organisations on the risks of such abuse. The CSO has repeatedly warned international institutions, primarily the Council of Europe MONEYVAL Committee, to take measures to prevent such abuse from authorities in Serbia. As a result, Civic Initiatives announced that they will terminate all cooperation with institutions that implement the Law on Prevention of Money Laundering and Terrorist Financing and that they will inform the relevant international organisations about abuse of the anti-money laundering and anti-terrorism financing system.
On the occasion of the publication of this list, the European Commission issued a statement requesting the publication of detailed information by authorities and clarification of the criteria which were used when selecting organisations and individuals. Commission spokeswoman Ana Pisonero said that civil society organisations (CSOs) and human rights activists have a key role to play in raising awareness of civil and political rights and must be allowed to work freely. The head of the European Parliament's delegation for cooperation with Serbia, Tanja Fajon, stated that any unjustified investigation into the work of CSOs should be considered as political pressure on them. The US Embassy in Serbia also spoke out, emphasising that they are concerned about these developments which act as " a selective investigation of civil society organisations and media houses." The Embassy called on the Government of Serbia to fulfill its constitutional and international obligation to protect fundamental freedoms of expression, association and assembly and to avoid selective application of the law for the purposes of putting pressure on independent organisations.
CSOs have been the target of pressure from the authorities in the past, but this can be considered as the most comprehensive action taken by the government which aims to make their work more difficult. In addition to the practical problems that organisations may encounter from control procedures, it is worrying that in this way their reputation in public opinion will also be further endangered, bearing in mind that they have been subjected to a vigorous campaign for decades which marked them as foreign mercenaries and enemies of Serbia.
Officially, the Administration and its Acting Director in his media statements do not provide or clearly explain the legal basis and background of the request made to banks. In various statements to the media over several days, he said that there is no suspicion regarding these organisations. He offered statements conflating regular supervisory activities related to the implementation of the Financial Action Task Force (FATF) Recommendation no 8 (regarding CSOs) with activities conducted during investigations (at the request of both this Administration or other repressive bodies, such as police, security services, etc.). Inconsistencies in the explanation provided by officials indicate that there is abuse of the mechanism established for the implementation of the FATF recommendations in Serbia. Rather, it is used by authorities as a method of intimidating civil society and free media, which has already happened in other countries.
The risk assessment related to the non-profit sector in Serbia is kept confidential and the findings on risk and criteria are not made public. However, through informal communication with individuals from relevant institutions, Civic Initiatives has learned that actual criteria from the NPO Risk Assessment include geographical factors (focus on non-profit organisations operating in border areas), area of operation (working with direct beneficiaries), method of financing (donations from individuals from abroad, specifically from "risky" countries, etc.), which are in line with international standards. On this basis, a total of 41 inspections were performed during 2019 with direct contact being made with the organisations' premises and informing legal representatives in advance. Again, it is not clear nor explained by the Administration how the new request to the banks and the list of 57 organisations and individuals fulfill any of the risk-related criteria for supervision or investigation.
Serbian authorities attempt to intimidate HRDs, watchdogs & investigative media. We sadly know all too well how and when a gov't tries to silence dissent and critical voices. We stand with @bgcentar, @HelsinskiOdbor & all our Serbian colleagues & friends!https://t.co/7KvFOEEy39 pic.twitter.com/lU4ZvXcEOt

— HunHelsinkiCommittee (@hhc_helsinki) July 29, 2020
Reacting to these developments, Amnesty International stated that the list intended to silence those CSOs and journalists in Serbia who are critical of the government.
"The targeting of journalists and NGOs on absurd allegations of money laundering and financing terror is a blatant act of intimidation and the latest in an ongoing campaign by Serbian authorities to silence critics."- Amnesty International's Europe Director, Nils Muiznieks.
The Independent Journalists' Association of Serbia (NUNS) condemned this new form of pressure against journalists, stating that six journalists and ten media and journalists' organisations are on the list.
"We interpret this move of public authorities as a serious pressure on freedom of expression and another attempt to discredit professional journalists and journalists' organisations, media, and other CSOs,"- Zeljko Bodrozic, president of NUNS.
#Serbia Our affiliates @UNSinfo & @NUNS_1994 are among the 37 organisations targeted, together with other NGOs and 20 individuals. They are required to give access to their bank records from January 2019 to determine whether they are connected to money laundering or terrorism. https://t.co/eSfEKSXDZM

— EFJ (@EFJEUROPE) July 31, 2020
The European Federation of Journalists (EFJ) says it will monitor investigations very closely.
"We back our affiliates' demands to know as soon as possible how the Finance Ministry came to this list and on what grounds. If it is a case of intimidation, as it appears, the request should be dropped."