Crackdown on union strike in Cambodia while repression of opposition and critics continues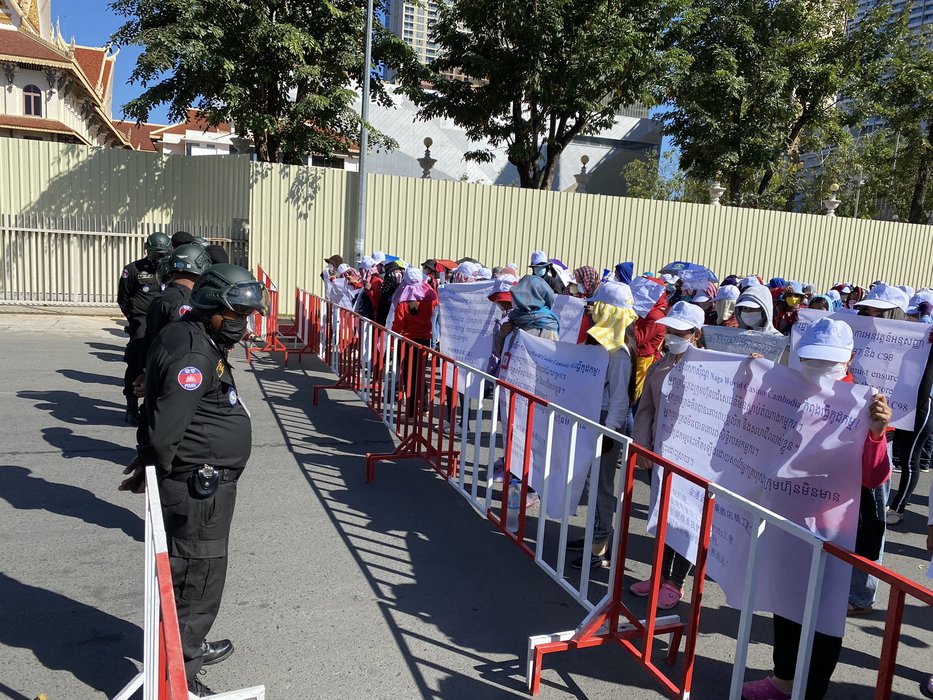 The state of civic space in Cambodia remains 'repressed' in ratings published by the CIVICUS Monitor in December 2021. Dozens of activists were arrested in 2021 by the ruling Cambodian People's Party (CPP) and accused of crimes such as 'conspiracy' and 'incitement'. Members of the banned opposition Cambodia National Rescue Party (CNRP) and their families continued to face judicial harassment, intimidation and physical attacks.
In September 2021, the US House of Representatives passed the Cambodia Democracy Act, which recommends the imposition of sanctions on senior Cambodian officials responsible for undermining the country's democracy. In December, the US government imposed an arms embargo on Cambodia, citing concerns about human rights and corruption as well as China's activities there.
Cambodia's rule of law index remained near the bottom in the 2021 World Justice Index, ranking at 138th out of 139 countries published in October 2021. The index measures indicators such as constraints in State powers, lack of corruption and fundamental rights.
In recent months, despite the release of activists, Hun Sen's government continued to target members of the banned Cambodia National Rescue Party (CNRP) and journalists. The extradition of two opposition activists and political refugees from Thailand to Cambodia has raised criticism on the collusion between the two ASEAN countries and the lack of protection provided to those who have fled repression in Cambodia. Protests have also been suppressed including during the 30th anniversary of the Paris Peace agreements and most recently around the strike by a casino workers' union.
Peaceful Assembly
Police crackdown on trade union strike
Day 7 of the NagaWorld employees on strike : Strikers still fighting for workers' reinstatement and Unions' rights @NagaWorld #NagaCorp #23December2021 pic.twitter.com/0KtX0N9Tj6

— LRSU is on strike (@LRSUnion) December 24, 2021
On 18th December 2021, hundreds of workers from the Labour Rights Supported Union of Khmer Employees of NagaWorld (LRSU), a casino workers' union, went on strike. The union was demanding, among other things, the reinstatement of 365 workers among the more than 1,300 workers laid off by the company in April 2021. They had refused to accept termination packages from the Hong Kong-listed casino group NagaCorp.
According to human rights group LICADHO, the layoffs unfairly targeted union members and leaders, and union leaders have filed complaints with the Ministry of Labour and Arbitration Council arguing the company violated Cambodian law and several ILO conventions. The layoffs were also often accompanied by improper compensation, according to LRSU leaders.
Soon after the strike began, representatives from the Phnom Penh municipal court read out a provisional disposition declaring the strike action to be illegal and ordering striking workers to resume work.
On the evening of 31st December 2021, police were stationed in front of the Cambodiana Hotel, 200m from the strike site and a drone was seen flying overhead despite it being a drone-prohibited area. Authorities also used a loudspeaker on their pickup trucks to ask the strikers to stop their protest. The police then detained at least eight NagaWorld union members from the union's office in Chamkarmon district. They include Chhim Sokhorn, Kleang Soben, Sun Sreypich, Hai Sopheap, Ry Sovandy, Rin Phalla, Eng Sreybo and Sun Sreymom. Police arrested a ninth worker, Touch Sereymeas while she was walking home after the strike. The police claimed that arrests were made because of the union's 'illegal strike' affecting public order and social security.
The police also attempted to arrest another LRSU member, Choup Channat, who was often on a megaphone at the strike site in front of NagaWorld. However, Channat managed to get away from the site.
On 3rd January 2022, three of the LRSU members arrested on 31st December 2021 were released on the morning after signing contracts with the police. The remaining six LRSU members were taken to Phnom Penh Municipal Court for questioning and have since been taken to CC2 prison.
On the same day, the Phnom Penh Municipal Court prosecutor issued a warrant naming nine union members as suspects on 'incitement' charges for their role in the strike, which include the six detained. The nine include Chim Sithar, Ry Sovanndy, Sun Sreypich, Hai Sopheap, Klang Soben, Touch Sereymeas, Chim Sokhon, Sok Narith and Sok Konkhea. The vaguely worded 'incitement' provisions under article 494 and 495 of the Criminal Code have been systematically used against human rights defenders and critics. 17 more protesters were arrested later that evening.
LRSU president Chhim Sithar was violently arrested by undercover cops, one with an arm around her neck, as she tried to attend her union's strike against NagaWorld casino. She was shoved into a car a minute after she reached the strike opp. the Aus Embassy@VOD_English @VODKhmer pic.twitter.com/0tj9xpHWHU

— Ananth Baliga (@antbaliga) January 4, 2022
On 4th January 2022, Chim Sithar, LRSU union president, arrived at the Naga World strike site and was immediately arrested by plainclothes police officers who used excessive force. Police put her in a headlock and forced her into a car. Sok Narith and Sok Kongkea - two other LRSU leaders - were also arrested on the same day.
119 unions, NGOs and community groups issued a joint statement condemning the arrests of LRSU leaders and called for their unconditional release. They stated: "We support the exercise of the fundamental rights and freedoms of LRSU union members and employees to conduct a peaceful strike. This right is guaranteed under the Constitution, Labour Law [and] Law on Trade Unions".
Police disperse protests around the Paris Peace Accords anniversary
Things getting quite ugly outside the French Embassy in Phnom Penh, one day ahead of the anniversary of the Paris Peace Agreements, ~20 protesters calling for release of political prisoners & #Cambodia to respect the principles of democracy. pic.twitter.com/LLifq9Gu7a

— Gerry Flynn (@geraldrflynn) October 22, 2021
Previously, on 22nd October 2021, the eve of the 30th anniversary of the Paris Peace accords, police used excessive force again the families of jailed opposition activists outside the French embassy in the country's capital, Phnom Penh.
The Paris agreement brought together the four factions fighting for control of Cambodia after Vietnam invaded in 1979 to remove the Khmer Rouge. The agreements laid the foundations for a democratic political system and elections.
Twenty women, who were part of the Friday Women protest movement who have been protesting the jailing of their husbands, brothers and other relatives who were affiliated with the Cambodia National Rescue Party (CNRP), had gathered to condemn Prime Minister Hun Sen's assault on democracy and called for the release of their husbands and sons. They demanded that Paris, as host of the peace talks, urge Hun Sen to comply with the agreement.
Police, who outnumbered the protesters, were filmed seizing banners and roughing up the protesters. Police pushed protesters to the floor in an attempt to confiscate a banner calling on Cambodia to respect the Paris Peace Agreements. A mixture of different police forces and plain-clothes officers from the Ministry of Interior were present, all using various levels of aggression when dealing with protesters and observers alike. No arrests were made but numerous protesters sustained injuries.
Reporters were also repeatedly told not to document violence against protesters, with police attempting to seize cameras and press passes from reporters.
Facing near-weekly confrontations with the police and often subject to heavy-handed tactics from authorities, the Friday Women have been beaten, kicked, dragged along the ground and, in many cases, arrested in the campaign to release their loved ones. Those who have avoided jail said they are often followed by police and surveilled by local authorities.
Association
Ten activists sentenced for peaceful protest calling for release of trade unionist
On 26th October 2021, ten activists who had called for the release of trade unionist Rong Chhun were sentenced to 20 months' imprisonment for 'incitement' – a vaguely worded provision - under Articles 494 and 495 of Cambodia's criminal code.
The ten, comprising seven members of youth group Khmer Thavrak and the Khmer Student Intelligent League Association - who campaign for human rights, environmental protection and social justice - and three supporters of the banned Cambodia National Rescue Party (CNRP), were also fined two million riel (approximately USD 500). They had been in pre-trial detention for a year, after having been arrested in August and September 2020. Their families said their sentences were suspended to 14 to 15 months.
Human rights group LICADHO said that the activists were asked during the trial if they had permission to gather and if they had been paid or influenced to protest by someone outside the country.
On 2nd November 2021, UN experts sharply criticised Cambodia for "weaponising" its court system to methodically reduce the scope for citizen action, and called on the country to protect freedom of expression.
Authorities release human rights defenders and activists
Activists Rong Chhun and Sar Kanika have been released from prison after having their sentences partially suspended by the appeal court this morning. They spent more than 15 months behind bars on charges of incitement. pic.twitter.com/KDt8SiHCni

— LICADHO | លីកាដូ (@licadho) November 12, 2021
In November 2021, authorities released 26 detained human rights defenders, activists and opposition members. Among those released were prominent trade union leader Rong Chhun, Mother Nature environmental activists and opposition activists imprisoned on charges of incitement.
As previously documented, Rong Chhun was found guilty of incitement in August 2021 over a statement he made in 2020 suggesting that farmers living along the Vietnam border had lost land during its demarcation. The Phnom Penh Court of Appeals ordered the release of Rong Chhun after it cut his two year sentence to 15 months and 11 days, including time served. Two other political activists - Sar Kanika and Ton Nimol – were also released. They had been sentenced to 20 months' jail in August 2021 for 'incitement' for peaceful demonstrations in August and October 2020 calling for Chhun's freedom.
However, the appeals court upheld the order for each of the three activists to pay two million riel (USD 500) in fines, and jointly pay 400 million riel (USD 100,000) in damages, both of which are unusually high amounts. They will remain under probation for three years following their release, and subject to a host of restrictive conditions such as not associating with each other.
Six activists from environmental group Mother Nature were also released on bail on 12th November 2021. Sun Ratha and Yim Leanghy were arrested on 16th June 2021 for documenting the draining of waste into Phnom Penh's Tonle Sap river and charged with 'plotting' and 'insulting the King'. Ly Chandaravuth was also arrested on the same day and charged with 'plotting'. Also released were activists Thun Ratha, Long Kunthea and Phuon Keoraksmey who had been serving prison sentences for 'incitement' for planning a protest to call attention to the filling in of a lake in Phnom Penh . All six were put under judicial supervision and are required to make monthly visits to the authorities.
Also released were five women belonging to the Friday Women protest movement, some of whom had been detained for over 12 months. Friday Women had been protesting every Friday for the release of their imprisoned relatives, all opposition activists.
Human Rights Watch said that around 60 political prisoners remain in jail in Cambodia, and reiterated calls for their release. A joint press statement by local civil society organisations welcomed the release of the detainees, but stated that these "are not substitutes for fundamental reforms to Cambodia's laws and institutions".
Fourteen CNRP activists denied bail
Following the release of activists, 14 members and activists of the banned Cambodia National Rescue Party (CNRP) were denied bail by a Cambodian court, reportedly because their trials were due to start in December 2021. Many of the accused had been in pre-trial detention for more than a year. The 14 face charges including 'treason' and 'incitement' over COVID-19 posts
Defence lawyer Sam Sokong has said that most of the defendants are accused of organising the planned return of CNRP founder and opposition leader Sam Rainsy in November 2019. The defendants had argued that they had been suffering health issues, while their families were struggling financially.
Mass trial against government critics resumes
On 7th December 2021, a mass trial of critics and opponents of Cambodia's government resumed. Most are supporters of the disbanded Cambodia National Rescue Party (CNRP) and have been charged for their political activism. Only six of 44 defendants summoned by the Phnom Penh Municipal Court turned up, said defence lawyer Sam Sokong. The trial had been suspended for more than a year due to coronavirus restrictions.
Almost all of the defendants have been charged with 'conspiracy to commit treason' and 'incitement to commit a felony', which together carry a maximum penalty of 12 years in prison, according to defence lawyers and rights activists. Most are accused of being involved with organising a failed trip home by Sam Rainsy - the party's self-exiled head and co-founder - that authorities blocked in November 2019.
Opposition targeted by China-linked hackers
An internal Facebook report in November 2021 revealed China-linked efforts to hack members of the banned opposition CNRP party. A group of hackers called the 'Speeding Wall', who are suspected to have ties with China, had reportedly tried to launch cyberattacks originating from Cambodian government servers. Alleged members of Speeding Wall were tracked using IP addresses from the Ministry of Posts and Telecommunications. A member was tracked to have links with the China-ASEAN Technology Transfer Center (CATTC), part of China's programme to promote research exchange between China and ASEAN. CATTC has been operating in Cambodia since 2014.
The report's author suggested collaboration between Hun Sen's government and China to counter the opposition party, or possibly hackers using employment within the China-ASEAN Technology Transfer Center as a cover to target Cambodia. The spokesperson of the CPP has denied any involvement. With China as a huge source of investments for the country, critics have raised its growing role in influencing Cambodia's domestic policies.
Expression
Continued targeting of journalists
An audio recording appears to show Defense Minister Tea Banh instructing Koh Kong officials to take action against journalist Youn Chhiv, who reported on a land dispute, and calls for local media outlets to counter and "attack" Chhiv.https://t.co/IG5eoXSNVJ

— VOD English (@VOD_English) September 28, 2021
Journalists continue to be targeted and face judicial harassment for their reporting. On 30th September 2021, digital journalist Yuon Chhiv of Koh Kong Hot News was sentenced to a year's imprisonment for 'incitement' over publishing alleged misinformation about a land dispute at Botum Sakor National Park. After two days of police questioning without a lawyer, Chhiv was sentenced. He was also fined two million Riel, (approximately USD 500).
Chhiv claimed on Facebook that deputy Governor Sothy had led a police force of roughly 100 officers to destroy villagers' crops in the Thmar Sar commune of Botum Sakor district. He also posted that the authorities were unlawfully evicting citizens from land they had both farmed and inhabited for years, in direct contravention of Prime Minister Hun Sen's call to grant land titles to those who had long-standing claims on state land.
Nop Vy, Executive Director of Cambodian Journalists Alliance criticised the swiftness of Chhiv's trial, which prevented Chhiv from seeking a lawyer or accessing proper legal information. He was reportedly sentenced less than 72 hours after his arrest.
The International Federation of Journalists (IFJ) said, "The Cambodian government's use of the Criminal Code in the case of Yuon Chhiv is yet another attempt to intimidate and persecute journalists for their reporting. Journalism is not a crime. The IFJ condemns intimidatory acts that work to undermine journalistic independence and press freedom."
On 11th November 2021, the International Day to End Impunity for Crimes Against Journalists, civil society organisations raised concerns over the Cambodian government's failure to hold accountable perpetrators of crimes against journalists and called on the government to take measures to protect them. The civil society organisations further said that attacks against journalists undermine freedom of expression, reinforce impunity and compromise the ability of the public to access information.
As previously documented, journalists in Cambodia continue to face harassment and attacks. The Cambodian Journalists Alliance Association (CamboJA) has documented 81 journalists who have been targeted from January to October 2021. From July to September that year, 21 journalists faced legal action, violence or threats, detention and imprisonment.
New report highlights intensified violations online
In December 2021, the International Commission of Jurists (ICJ) published a report 'Dictating the Internet: Curtailing Free Expression and Information Online in Cambodia', documenting a range of new and existing laws that do not comply with international human rights law and standards. According to ICJ these laws contain vague and overbroad provisions, wrongly criminalise free expression and/or prescribe disproportionately harsh penalties, and are applied without independent oversight mechanisms.
These new laws include the Law on the Management of the Nation in Emergencies, Sub-Decree on the Establishment of the National Internet Gateway, and Law on Preventive Measures Against the Spread of COVID-19 and other Severe and Dangerous Contagious Diseases.
The report also raises concerns over the extent to which social media platforms, in particular Facebook, have been complicit in enabling online censorship. The report underscores how Facebook has not been fully transparent about the demands it has received from the government to restrict content on its platforms, and the manner in which it has responded to these demands.