Crackdown on online critics persists in Vietnam as new decree controlling livestreaming proposed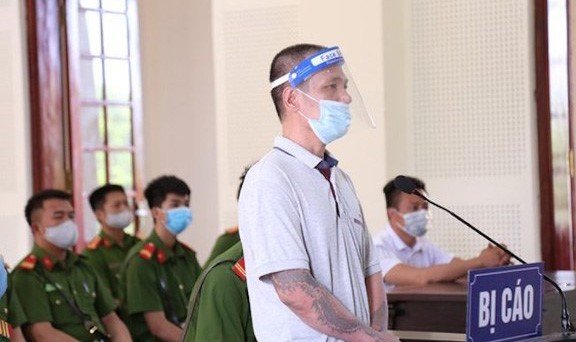 The state of civic space in Vietnam remains 'closed' in ratings by the CIVICUS Monitor as human rights groups continue to document the systematic harassment of activists and journalists as well as online critics by the one-party authoritarian state.
In August 2021, US Vice President Kamala Harris visited Vietnam. Ahead of the visit, civil society groups urged her to raise human rights concerns including asking the Vietnamese government to pursue significant human rights reform, to end the arbitrary detention of peaceful dissidents and to immediately release all prisoners of conscience and political prisoners. Groups also called for specific action to be taken regarding the situation of Tran Huynh Duy Thuc, a prominent Vietnamese democracy activist whose health is slowly deteriorating due to his prolonged hunger strike.
At a news conference held in Hanoi on 24th August, Vice President Harris said she brought up with Vietnam's leaders the issue of human rights and the release of political dissidents. She neither offered any specific details nor discussed the outcome of the talks. Vice President Harris also met with civil society groups in the LGBTQ community and those combating climate change. She emphasised women's rights and workers' rights but did not publicly criticise the government on its human rights record.
Vietnam is battling its deadliest outbreak of COVID-19 since the pandemic began. After initially proving a success story in its response to the pandemic by the end of 2020, cases have since skyrocketed. The majority of new cases and deaths have been reported in Ho Chi Minh City.In response, Vietnamese authorities have enacted strict lockdowns in the nation's hardest-hit regions. Amnesty International reported that police have fined and arrested people who criticise the state's handling of the crisis on social media.
In recent months, online critics have been arrested, charged under Article 117 of the 2015 Penal Code and convicted for posting articles critical of the state. Human rights defender and journalist Pham Doan Trang was formally indicted in September 2021 as well as five journalists from the Báo Sạch (Clean Newspaper). The government is looking to tighten control over social media livestreams with a new decree.
Expression
Judicial harassment for online criticism of the authorities
According to Radio Free Asia (RFA), in north-central Vietnam's Nghe An province, Nguyen Van Lam, 51, was sentenced to nine years in prison on 20th July 2021 for posting anti-state writings and sharing videos and other content, including broadcasts considered politically subversive. He was charged under Article 117 of Vietnam's 2015 Criminal Code for "creating, storing, disseminating information and materials against the Socialist Republic of Vietnam," a provision of Vietnamese law frequently used by authorities to stifle government critics and other peaceful voices of dissent. Persons convicted of crimes under the law can be sentenced to between five and 20 years in prison.
On the same day, the People's Court of Hanoi found Facebook user Tran Hoang Minh guilty of "abusing democratic freedom" under Article 331 of the Criminal Code. Minh, 31, was sentenced to five years in prison. According to state-controlled media, Minh was imprisoned for his Facebook posts objecting to the outcome of the Dong Tam land dispute case.
On 10th August 2021 authorities arrested a Facebook user and charged him with "anti-state propaganda" for posting criticism of the government's COVID-19 policies. According to RFA, Tran Hoang Huan, 33, a resident of My Tho city in the far southern province of Tien Giang, had used a Facebook account under the name Huan Tran to post content against the Vietnamese Communist Party and the state. Many of his recent posts opposed the use of Chinese-made COVID-19 vaccines, which many Vietnamese oppose because of their perceived low quality and because of longstanding animosity toward China over historical and territorial issues. Huan had earlier called on the government to provide relief to citizens by waiving electricity and water bills during the pandemic.
The Tien Giang People's Procuracy announced that it would prosecute Tran Hoang Huan on charges of making, storing and spreading or propagandising information or documents against the state under Article 117 of the Penal Code. 
Bui Van Thuan, a Facebooker got arrested today at his home in Thanh Hoa Provine during #thepandemic lockdown everywhere in #vietnam. This action just happened after V.P @KamalaHarris visited Vietnam fews day. pic.twitter.com/vX2NyNRkbG

— Quyet Ho (@Ho1Quyet) August 30, 2021
In another case, RFA reported on 30th August 2021 that authorities had arrested Bui Van Thuan, 40, a Facebook user in northern Vietnam's Thanh Hoa province, for criticising the government online. The police had posed as medical workers dealing with the COVID-19 pandemic in order to gain quick entry to his house, sources said. Thuan was then formally arrested under Article 117 of Vietnam's Criminal Code. Police then carried out a search of the house. Thuan has a large following on Facebook, where he posted biting commentaries against the government's handling of COVID-19 and other political issues.
On 2nd September 2021, Amnesty International reported that police in Ho Chi Minh City had fined Facebook user Nguyen Thuy Duong VND 5 million (approximately USD 210) after she shared a post online saying the authorities had neglected city residents and allowed them to go hungry during the COVID-19 lockdown.
On 14th September 2021, authorities in the Mekong Delta province of Ben Tre detained Nguyen Duy Linh, accusing him of using Facebook to disseminate anti-state propaganda. He is charged with "conducting anti-state propaganda" under Article 117 of the country's Criminal Code.
Human rights defender and journalist Pham Doan Trang formally indicted
RSF laureates support jailed Vietnamese journalist Pham Doan Trang https://t.co/vi9l4KdfWM

— Steve Edwards (@thegracebase) July 31, 2021
On 6th September 2021, the 88 Project reported that Luan Le, lawyer for human rights defender and journalist Pham Doan Trang had been notified that the investigation had concluded and Doan Trang would be formally indicted with "conducting propaganda against the Socialist Republic of Vietnam" under Article 88 of the 1999 Penal Code, which prohibits "conducting propaganda against the Socialist Republic of Vietnam."
This charge carries a possible 20-year prison sentence. The vaguely defined national security offence is often invoked against human rights defenders. According to reports, the reason Doan Trang is charged with the same crime under both the old and current penal codes is that the government has been "investigating" her activities both before and from January 2018.
As previously documented, Vietnamese authorities arrested Doan Trang - one of the nation's most prominent independent journalists - in October 2020. Trang was detained in Ho Chi Minh City, the same day that Vietnam and the US held the 24th annual US-Vietnam human rights dialogue, which included talks on issues such as the right to freedom of expression. She was last known to have been detained at Detention Centre No. 1 (also known as the new Hoa Lo Prison) in the Tu Liem district of Hanoi. In November 2020, UN experts also raised her case in a communication to the authorities. Her case is also currently before the United Nations Working Group on Arbitrary Detention (UNWGAD).
Five journalists from the Báo Sạch (Clean Newspaper) indicted
Vietnam Indicts Five Journalists From Facebook-Based Outlet https://t.co/ANUrCJIbvo pic.twitter.com/ng08N0GFLx

— TheEazyCadet (@EazyCadet) September 9, 2021
According to Radio Free Asia, authorities indicted five journalists from the Báo Sạch (Clean Newspaper) Facebook-based news outlet on 9th September 2021. According to the indictment, issued by the Procuracy of Thoi Lai district in the southern city of Can Tho, the Clean Newspaper staff posted "anti-state and reactionary information" and delved into information that was "inappropriate, distorting, against the country's interests, and slanderous of the people's administration" in violation of Article 331 of Vietnam's Criminal Code.
The five indicted journalists are: Truong Chau Huu Danh, Nguyen Thanh Nha, Doan Kien Giang, Nguyen Phuong Trung Bao and Le The Thang.
Truong Chau Huu Danh, the founder of the independent Bao Sach ("Clean Newspaper"), was arrested in Can Tho Province in December 2020. Nguyen Thanh Nha, Doan Kien Giang and Nguyen Phuong Trung Bao were detained in April 2021 while Le Thang was arrested in July 2021.
Thang has been released on bail and is barred from leaving his house, while the others have been arrested and detained. Danh, meanwhile, was also charged with posting stories that "generated bad interactions between internet users in the cyber environment" and "propagandised, distorted, defamed and seriously slandered Party organisations and local Party committees."
Government looking to tighten control over social media livestreams
Vietnam is looking to increase control over livestreaming on popular social media platforms such as Facebook and YouTube, according to a draft government decree.
Under the terms of the decree, any account that operates on a social media platform in Vietnam and has more than 10,000 followers must provide contact information to authorities. Only registered accounts will be allowed to livestream.
The proposed decree also says that social media providers must temporarily block or remove content within 24 hours if they receive a "justified" complaint from an individual or organisation affected by the content. The draft decree is set to take effect after public feedback and approval by Prime Minister Pham Minh Chinh.
Online freedom of expression is already severely restricted in law. The authorities also use an online censorship and content filtering system to silence government critics. Specific URLs are generally identified for censorship and placed on blacklists. Censorship targets high-profile blogs or websites with many followers, as well as content considered threatening to the Communist Party's rule, including content focusing on political dissent, human rights and democracy, as well as websites criticising the government's reaction to border and sea disputes with China.
The proposed decree comes two years after the introduction of a cybersecurity law. As previously documented, the law, which was passed in July 2018, gives sweeping powers to the Vietnamese authorities, allowing them to force technology companies to hand over potentially vast amounts of data, including personal information, and to censor users' posts.
Association
Members of a U.S.-based political opposition group arrested and sentenced
A court in central Vietnam's Nghe An province sentenced a member of a US-based political opposition group to three years in prison in August 2021 for activities aimed at overthrowing the country's one-party communist government, RFA reported.
Tran Huu Duc, a resident of Nghe An, was accused by prosecutors of using Facebook to connect with other members of the so-called Provisional Government of Vietnam, headquartered in California, from June 2020 to January 2021.
The Provisional Government of Vietnam was founded in 1991 by former soldiers and refugees loyal to the South Vietnamese government that existed before the country's takeover by North Vietnam in 1975. It was designated a 'terrorist' organisation by Vietnam authorities in January 2018.
Arrested in January 2021, Duc was charged under Article 109 of Vietnam's Penal Code with gathering information on Nghe An residents to contact for a referendum on naming a group member, Dao Minh Quan, as president of Vietnam.Duc was also accused of posting political content online opposed to government policies and of slandering leaders of Vietnam's ruling Communist Party, media reports said.
In September 2021, authorities arrested and charged a woman with "carrying out activities to overthrow the government". Le Thi Kim Phi, 62, used a Facebook profile under the name "Phi Kim" to connect with members of the Provisional Government of Vietnam.