Crackdown on critics and journalists as President Saïed cements his power grab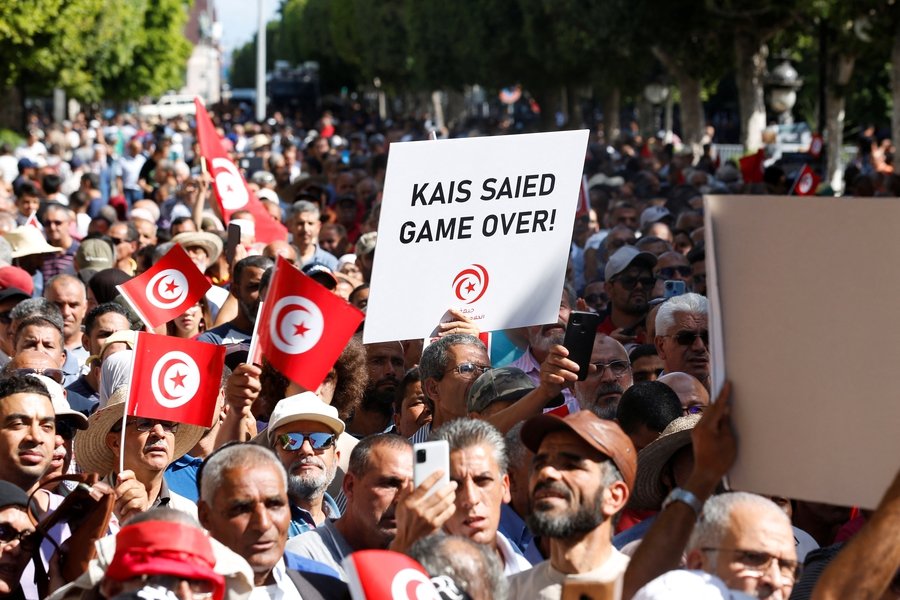 Introduction
As reported previously on the CIVICUS Monitor, President Kaïs Saïed froze the parliament, suspended the Constitution and dismissed the head of government on 25th July 2021. Saïed also decided to dissolve the Superior Council of the Judiciary and replace it with a provisional mechanism, which has been critically monitored by civil society activists and the international community. In June 2022, he passed a Presidential decree, granting himself absolute power to fire judges summarily and dismissed 57 judges.
The process for drafting the new Constitution largely took place behind closed doors. Only 7,5 per cent of the population (just over 500 000) participated in the online consultation which invited the public to respond to questions to identify major reforms. Several political parties, associations and national organisations boycotted the drafting process because of the flawed process. The head of the advisory commission for the drafting of the Constitution stated that the version submitted for the referendum was "dangerous" as it was vastly different from the draft and risked creating an "endless dictatorship for the benefit of the current president".
On 25th July 2022 a referendum to approve the new Constitution was held, which garnered a low turnout of just over 30 per cent, with the new Constitution coming into effect on 27th August 2022. Several concerns were raised over the new Constitution, which gives the President further powers without checks and balances by eliminating key institutions such as the Human Rights Commission and erodes judicial independence, which could result in violations of rights.
In addition it also has less protections for journalists and freedom of publication through vague language.
Ahead of the December 2022 parliamentary elections, on 15th September 2022 President Saïed introduced a new electoral law which removes gender parity provisions from a previous law which promoted equal representation between men and women in the Tunisian parliament. The first round of voting saw low voter turnout (8,8 %) and only 11, 2 percent of registered voters took part in the second round of elections, with 23 secured seats outright during the parliamentary elections. Most political parties boycotted the vote, with only 1,058 candidates running, of which only 120 were women.
In the meantime, the President has continued to crack down on several prominent critics. In February 2023, police raided the home of Noureddine Bhiri, a senior official in the largest opposition party Ennahdha, and arrested him. Activists, lawyers and journalists have also been targeted (see more below). UN High Commissioner for Human Rights, Volker Türk expressed concerns over the "crackdown against perceived political opponents and civil society" and reported that at least nine people have been reportedly arrested and some detained, on security and graft charges in February 2023.
At the end of February 2023, the President launched a hateful attack on migrants from Sub-Saharan Africa, in a speech where he said that the country needs to take "urgent measures" security measures to stop the flow of "hordes of irregular immigrants" from sub-Saharan Africa because it leads to "violence and crimes." He called on security forces to detain and deport migrants from Sub-Saharan Africa. This prompted anti-racism protests. Since then, black people have been subject to attacks and detentons, with many fearing for their lives. The World Bank stated that it is suspending future work with Tunisia after widespread reports of racist violence.
In March 2023, during the 52nd Session of the UN Human Rights Council, the Universal Periodic Review (UPR) report for Tunisia was adopted. From the 283 member state recommendations, the government of Tunisia supported 192 and noted 91.
In a joint statement made during the UPR review, the Arab NGO Network for Development and CIVICUS expressed concern over the deepening political and socioeconomic crisis as well as the tightening of civic space in Tunisia, which has led to a rating downgrade by the CIVICUS Monitor from obstructed to repressed.
Peaceful Assembly
Several protests were staged during the reporting period, including anti-government protests against President Saïed.
Anti-government protests
On 15th October 2022, one of the biggest protests was staged in the capital Tunis by two rival opposition parties, the Ennahda party and Free Constitutional Party, who planned parallel protests. They protested against the President's anti-democratic coup and against the economic crisis which has led to food and fuel shortages in the country.
On 14th January 2023, a protest staged in Tunis, on the 12th anniversary of the Arab Spring revolution, demanded that President Saïed step down, with chants of "people demand the fall of the regime." Protesters had made their way past a metal barricade to the central Avenue Habib Bourguiba – a key site for the revolution. There was a heavy police presence outside the Interior Ministry, and police stood by with a water cannon.
Association
HRDs remain under threat
On 17th September 2022, human rights defenders and lawyers Hayet Jazzar and Ayoub Ghedamsi were summoned to appear before an examining magistrate. This comes after a complaint was filed against them by a judge in April 2020 for "insulting a public official from the justice system" according to articles 125 and 126 of the Tunisian Penal Code. Both Jazzar and Ghedamsi are members of the Tunisian League for the Defence of Human Rights (LTDH). Additionally, Jazzar is also a member of the Tunisian Association of Democratic Women (ATFD).
On 19th October 2022, HRD Saif Ayedi was arrested by a group of plainclothes police officers while he was on his way to work with two colleagues, shortly after attending a press conference of the National Union of Tunisian Journalists (SNJT). Ayedi is a member of LTDH and Tunisian Association for Justice and Equality (DAMJ). Two days later, on 21stOctober 2022, he was acquitted of all charges and released after investigation. It is believed that Ayedi's arrest is connected to his work on a case of police brutality which resulted in the death of a young man in Ettadhamoun City, leading to mass protests (see more under peaceful assembly).
On 18th January 2023, journalist and woman human rights defender Arroi Baraket, who works for the Minority Rights Group (MRG) in Tunisia, was found guilty on the charges of assault and "extreme violence against a public official" and ordered to pay a fine of TND 200 (approximately EUR 60) and an indemnity fine to the police officer of TND 1300 (approximately EUR 394).The police officer was also found guilty of abuse of power while on duty and ordered to pay the same fine. Baraket's lawyer said they would appeal the outcome. The case relates to an incident which took place in September 2021 where Baraket was stopped by a police patrol car while she was on her way home. The officer proceeded to physically attack her and insulted her with sexist slurs.
On 31st January 2023, Anis Kaabi, a trade unionist, was arrested. In a statement, Tunisian General Labour Union denounced the arrest, stating that:
it is a violation of trade union rights and international conventions signed by Tunisia for the respect of trade union freedoms and the right to strike -
#Tunisia: supporters of Salvation Front rallied Saturday at Habib Bourguiba Avenue, calling on President Kais Saied to quit & shouting slogans denouncing his policies, amid heavy police presence near @interieurTn, to prevent protesters from crossing the barbed wire fence. #TAP_En pic.twitter.com/rdaF7ugQKV

— TAP news agency (@TapNewsAgency) January 14, 2023
Youth protests over police brutality repressed
Since 14th October 2022 protests were staged against police brutality in several working class districts after a man died on 14th October 2022 from injuries sustained during a police chase in August 2022. It is reported that protesters set rubber tyres on fire and blocked roads and that police used tear gas to disperse the crowd. The New Arab reports that about 30 protesters, many of them youth, were detained
#Tunisia🇹🇳: We are concerned about allegations of disproportionate use of police force to disperse recent protests. The right to protest peacefully should be protected -- not stifled.
We urge the authorities to respect freedoms of expression and peaceful assembly.

— UN Human Rights (@UNHumanRights) October 18, 2022
The Tunisian League for Human Rights condemned the "unjustified violence" by police in response to peaceful protests.
Expression
On 16th February 2022, journalist unions observed a "day of anger" to denounce violations of freedom of expression and attempts to "muzzle voices and subjugate the media." In response to this, President Saied stated that there are no restrictions on freedom of expression and the press in Tunisia. He said, "These are pure lies and slander that the people know (...) the truth will come out to enlighten Tunisians about those who deprive them of their livelihoods and those who try to harm social peace." He also criticised defamation campaigns waged against Tunisia from within: "Unfortunately, these campaigns find a receptive audience among those who are totally ignorant of the reality of the situation in Tunisia."
As described below, freedom of expression and the press are seriously under attack, following the arrests of several journalists and the passing of a new decree which seeks to muzzle free expression.
Cybercrime decree threatens further censorship
On 13th September 2022, President Saïed issuedDecree-law 2022-54 which criminalises the spread of false information such as "false rumours" and "fake news", "fake, falsified, or falsely attributed documents" on digital networks, with a punishment of up to five years in jail and a fine of 50,000 Dinars (around 15,500 USD / 14,900 Euros). It also empowers authorities to shut down entities such as media outlets and civil society groups for offences under these broadly defined provisions. It also encourages surveillance by granting authorities wide powers to monitor how people use the internet, collect personal data, and intercept private communications based on vaguely defined criteria about suspected crimes.
Reporters without Borders (RSF) urged the government to repeal the law.
Using censorship and bans on the provision of news and information to combat disinformation and fake news is the wrong choice. This draconian law is intended to dissuade journalists from doing their job. It aims to create a climate of fear and push professionals to censor themselves – an absurd choice that will just facilitate the fake news this decree is supposed to combat. It must be repealed without delay. - Khaled Drareni, RSF's North Africa representative
A new cybercrime decree in #Tunisia threatens the rights to freedom of expression and privacy and attacks human rights safeguards. Many rights activists were detained and charged with insulting the president on social media, as a consequence of this decree.#StandUp4HumanRights pic.twitter.com/WVDCtnoKW7

— المركز الدولي للعدالة وحقوق الانسان (@ICJHR_ORG) February 1, 2023
Several investigations have already been initiated under the new Decree. Cases include:
Several journalists detained
On 17th August 2022, a Tunisian military court sentenced journalist Salah Attia, founder and editor-in-chief of local independent news website Al-Ray al-Jadid to three months in prison for "accusing public officials of illegal actions" and "harming the army's morale and reputation". Attia was arrested shortly after he gave an interview on Al Jazeera TV during which he mentioned that the army had refused presidential orders to shutter the headquarters of the Tunisian General Labour Union.
On 6thSeptember 2022, Ben Khelifa, editor-in-chief of the local independent newspaper Inhiyez, was arrested on suspicion of terrorism-related activities shortly after the authorities raided his home and confiscated his equipment. Khelifa writes about local politics and had written an opinion piece about the July constitutional referendum. The journalist was released five days later, pending trial. On 9thSeptember several journalists staged a protest against Khelifa's arrest.
#Tunisia | Amnesty International expresses concern at the arrest, on 6 September, and ongoing detention of #Ghassen_Ben_khelifa, a prominent political activist and editor of news website Inhiyaz, and his interrogation under Tunisia's antiterrorism law for alleged Facebook posts. pic.twitter.com/BYfaNVr1Fg

— Amnesty MENA (@AmnestyMENA) September 8, 2022
On 13th February 2023, police raided the house of Mosaique FM head Noureddine Boutar and arrested him after searching his home. They questioned Boutar over the station's operations, including on who takes editorial decisions on the station's programming and choice of guests. The authorities failed to disclose the reason for the arrest.
🔈🇹🇳 The arrest of the director of @RadioMosaiqueFM, Noureddine Boutar, without an arrest warrant or official reason, his interrogation which focused on his editorial choices, is as unacceptable as it is sadly revealing of the crackdown on the press in #Tunisia. pic.twitter.com/8sR23OQ0Qs

— RSF in English (@RSF_en) February 14, 2023
Journalists obstructed during Parliamentary elections
The National Syndicate of Tunisian Journalists (SNJT) reported that between 15thand 30th January 2023, 29 journalists have faced attacks during the second round of elections. Of these attacks, 14 were directed at women journalists. The union stated that most of the attacks were related to the refusal of the Independent High Authority for Elections (ISIE) to provide journalists with information, particularly the heads of polling stations. It called on the ISIE to open an "investigationon the assaults perpetrated by the heads of the centres and the subordinate bodies, and to present the results of these investigations to the SNJT and public opinion during the announcement of the final results of the second round of the legislative elections."