Crackdown On Journalists' Reporting And Delayed Elections Amid Ongoing Conflict In Tigray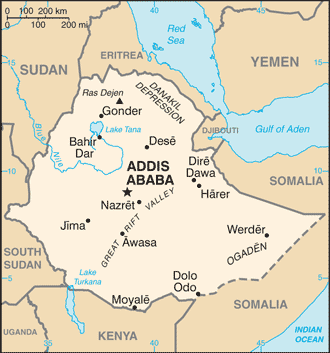 As the Tigray conflict is ongoing, reports claim Ethiopian authorities have detained thousands of Tigrayans for months without charge on allegations that they are "traitors." The government admits to arresting a few top-ranked military personnel; however, the AP has reported that the detainees vary from military officers to office workers and priests. Others have reported patterns of discrimination against ethnic Tigrayans, although Prime Minister Abiy Ahmed has stressed that the Federal Government's fight is with the Tigray People's Liberation Front (TPLF), not Tigrayans as a group. On 9th May 2021, security personnel violently dispersed and fired teargas at thousands of Muslim believers who converged on Meskel Square, a public square in Addis Ababa, for a Grand Iftar celebration planned by the Ethiopian-Muslim community of Addis Ababa. The Mayor issued an apology on behalf of the city after videos and images from the event depicting the chaotic scenes caused outrage. On 19th May 2021, security agents allegedly took away 13 people, including Oromo Liberation Front (OLF) leader Colonel Gemechu Ayana, after a court ordered their release. According to lawyer Tuli Bayisa, the Federal High Court's third anti-terrorism and constitutional bench acquitted 12 defendants who had been charged with terrorism. The 13 people seem to remain in security forces' custody.
General update
The ongoing conflict and humanitarian crisis in Tigray remain alarming. However, since the last Monitor update, access to Tigray has improved. On 8th February, international aid workers were cleared to deploy in Tigray. They continue to face insecurity. On 15th March, Médecins Sans Frontières reported vandalism and looting of approximately 70% of the medical equipment in Tigray. On 23rd March 2021, Prime Minister Abiy Ahmed acknowledged that Eritrean troops entered Tigray during the conflict. He recognised the human rights atrocities that have been committed in Tigray, including rape, and promised to act against the perpetrators. On 25th March 2021, the Office of the UN High Commissioner for Human Rights (OHCHR) and the Ethiopian Human Rights Commission (EHRC) announced a joint investigation into violations and abuses, which was described "as part of the much-needed accountability process for the victims.".
#Ethiopia

"Flawed elections store up popular resentment. ... If [Prime Minister] Abiy proceeds with elections that are also flawed, it will create similar anger and frustration, repeating the cycle."https://t.co/N2oUDnLZGJ @ZekuZelalem

— Jeffrey Smith (@Smith_JeffreyT) June 9, 2021
The Ethiopian electoral board postponed the national elections for the second time. The elections, which will choose national and regional parliamentarians, have been postponed to 21st June 2021, officially due to logistical issues related to training of electoral staff, printing, and distribution of ballot papers. The electoral board raised concerns relating to conflict-affected areas. Some opposition parties, particularly in Abiy's home regional state of Oromia, boycotted this year's election, claiming that their candidates had been jailed and their offices vandalised. Leading up to the elections, the international community has raised concerns of further conflict and censorship.
Breaking❗️Federal police has abducted Colonel Gemechu Ayana & 9 others as they stepped out from Prison. Their whereabouts is unknown. Yesterday court acquitted 12 of them. Once again Federal police showed us that they are above the law and that court order means nothing to them. https://t.co/dsLMyI02hw

— Samuel Bekele (@SamBekeleGerba) May 18, 2021
Expression
Ethnic, religious and military groups discriminated
Association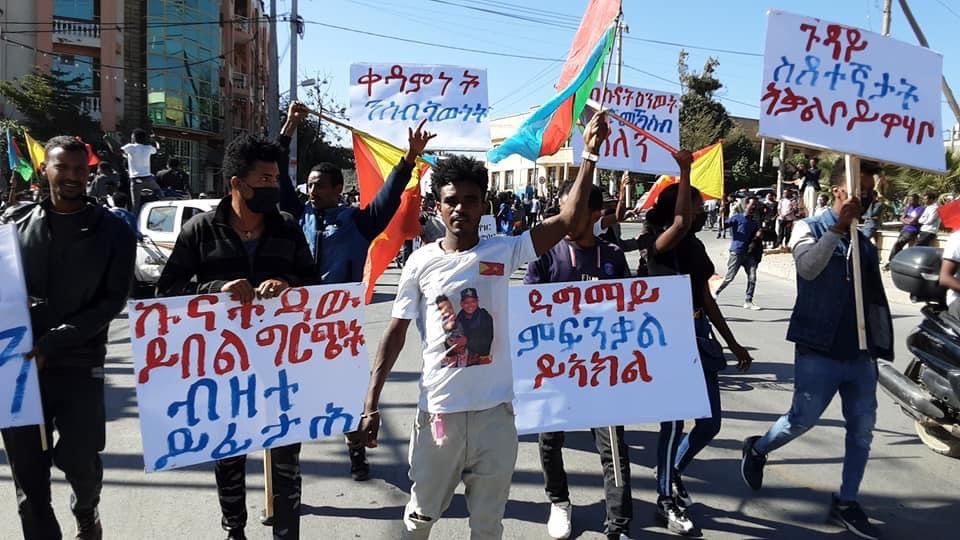 On 5th February 2021, protestors marched in different parts of Oromia regional state, including Ambo, to demonstrate for the release of Oromo opposition politicians Jawar Mohammed, Bekele Gerba and Hamza Borana. Police arrested and beat up several protesters. Between 9th and 12th February 2021, protests broke out in Mekelle town and spread to Wukro Adigrat, Axum, Shire, and Abiyi-Adi. Reports suggest an unknown number of people were injured or killed. On 27th January 2021, 20 political prisoners, including Bekele Gerba and Jawar Mohammed, started a 40-day hunger strike in prison to demand the release of political leaders. The political leaders ended the hunger strike on 8th March 2021, following concerns from community leaders, Olympian Derartu Tulu and religious leaders about the state of their health.
Protests against arrest of political opposition
Peaceful Assembly
On 9th May 2021, a reporter and coordinator for the Oromo Broadcasting Network, Sisay Fida, was shot dead by two unidentified gunmen on his way home from a wedding. The deputy director of peace and security suspects that the Aba Torbe, a hit squad linked to the Oromo Liberation Army (OLA) armed group, was responsible. Odaa Tarbii, a spokesperson for the OLA, stated that the group was not responsible. On 20th May 2021, Ethiopian authorities deported New York Times journalist Simon Marks. Marks was detained after he was summoned by officials to meet in Addis Ababa, and the authorities held him for eight hours before he was deported. The official reason for his deportation remains unknown, although authorities had previously claimed that Marks's reporting was "unbalanced." Marks reported frequently on the Tigray conflict. His credentials had been cancelled in March 2021. Authorities also claimed that Marks's coverage of the Tigray election (which took place in 2020) and the conflict had created mass "diplomatic pressure" and accused him of reporting "fake news.".  On 12th February 2021, Lucy Kassa, a freelance journalist, was questioned by three armed men in her home. This happened after Lucy published a piece on the alleged cases of rape by Eritrean forces in Tigray.
During the #Tigray conflict, #Ethiopia's government has restricted media access, arrested journalists – at least 7 were detained – and local reporters were threatened, beaten or questioned. @Salem_Solomon reports @VOANews @VOATigrignahttps://t.co/aUp7Z6zvKY

— VOA Director (@VOADirector) June 13, 2021
Journalists arrested and deported
Enjoyment of the right to freedom of opinion and expression has further declined in Ethiopia. Several journalists have been harassed, intimidated, arrested and deported by Ethiopian authorities. On 17th April 2021, Federal Defence Forces arrested two journalists in Mekelle. Fitsum Berhane, an AFP news agency reporter, and Tamirat Yemane, a local media reporter were arrested for spreading "false propaganda." The Defence Force issued a statement claiming that "medical drugs prepared to be sent to the Junta" had been confiscated, as well as the electronic items used to stream the "propaganda." Both journalists had previously been arrested in February.