Crackdown on dissent and independent journalism during COVID-19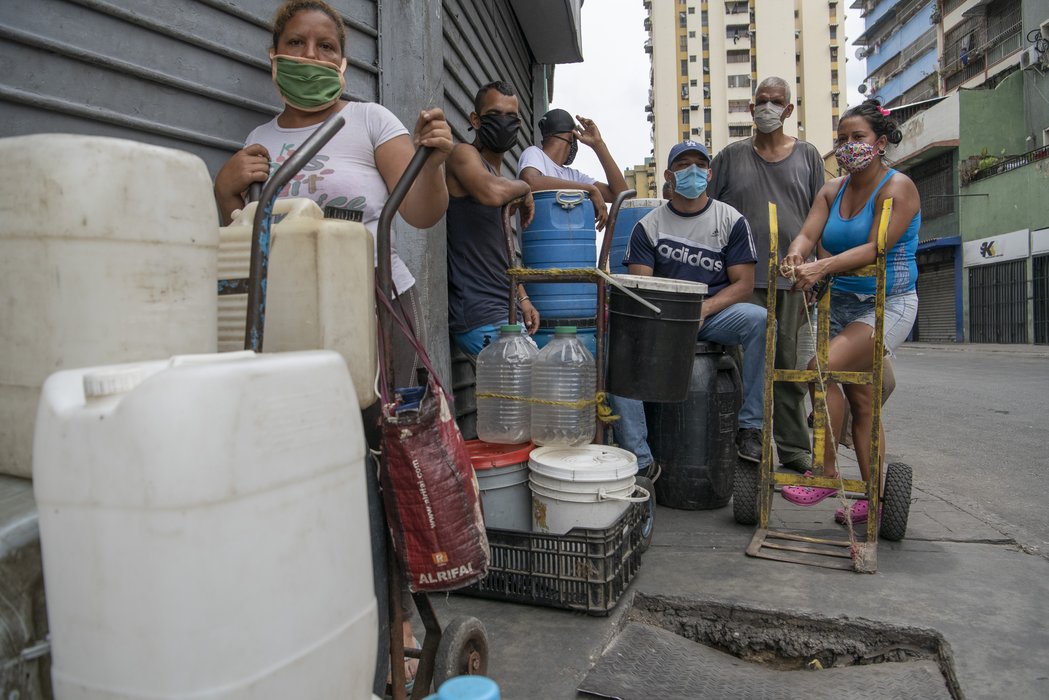 On 13th March 2020, a presidential decree declared a nationwide "state of alarm" in Venezuela due to the coronavirus (COVID-19) pandemic. Among other things, the decree prohibits public gatherings and authorises competent authorities to take "all necessary measures" to enforce orders related to quarantine and isolation.
Local organisations such as Centro de Justicia y Paz (Justice and Peace Centre - Cepaz) have reported that political persecution in the country has worsened during the pandemic. Emergency legislation has been used as an excuse to violate fundamental rights, said Cepaz, while the government has failed to appropriately respond to the crisis. Human rights advocates have also expressed concern about shortages of food and basic goods, which increase the Venezuelan population's vulnerability in this time of crisis.
Association
Venezuela: Miembros de la oposición de la Asamblea Nacional sufrieron ataques de agresión tras ser detenidos por funcionarios policiales de las FAES

Exigimos un alto inmediato a la política de represión contra la oposición

🆘 #Actúa https://t.co/D0ffZWMQxv pic.twitter.com/6rvivmOycl

— amnistia . org 🕯 (@amnistia) April 21, 2020
On 8th April 2020, Amnesty International published a letter reporting that Venezuela's de facto government had increased attacks on opposition-controlled National Assembly members. Four opposition lawmakers were arbitrarily detained between December 2019 and the end of March 2020, and at least ten other individuals connected to opposition representatives and their staff were detained under different circumstances. According to the human rights organisation, since the outbreak of the COVID-19 pandemic in Venezuela authorities have also targeted other critical voices like Darvinson Rojas, a Venezuelan journalist and prisoner of conscience who reported on COVID-19.
On 30th March 2020, Andrea Bianchi, partner to an assistant of opposition leader Juan Guaidó, was detained. According to local news outlet Efecto Cocuyo, Bianchi was released on the same day after being beaten and threatened with sexual violence. Fuerzas de Acciones Especiales (Special Armed Forces - Faes) officials also reportedly entered her family's house and severely beat others in the residence. This is part of a broader pattern in which security officials beat and detain women in order to get information on their partners, said opposition lawmaker Delsa Solórzano on Twitter.
On 7th April 2020, the human rights organisation Foro Penal reported that as of 31st March 2020 there were a total of 328 political prisoners in Venezuela, including one minor. The civil society organisation reported that 61 political prisoners suffer health conditions requiring treatment and that, in most cases, the authorities have failed to provide them with adequate medical attention. In the context of COVID-19, Foro Penal highlighted, these prisoners are in a particularly vulnerable situation because of the precarious conditions in Venezuela's penitentiary system.
Peaceful Assembly
#7May En cuarentena y con protestas 🛑

En abril fueron 716 manifestaciones.

▶️Por alimentos
▶️Por gasolina
▶️Exigiendo libertades.

Descarga, lee y comparte nuestro informe mensual: https://t.co/o2mKpvjvil #OVCS pic.twitter.com/bQzbKcKchl

— Observatorio de Conflictos (@OVCSocial) May 7, 2020
In several regions of Venezuela, people have staged demonstrations over the rising cost of living, food and fuel shortages, and the collapse of public services amid the COVID-19 pandemic. In April 2020 alone, NGO Observatorio Venezolano de Conflictividad Social (Venezuelan Social Conflict Observatory - OVCS) registered 716 protests. Hunger has also led to cases of unrest and looting. On 6th May 2020, a group of UN Special Rapporteurs expressed concern about "the spiralling economic crisis, and the effect this has had on people's ability to subsist from one day to the next," highlighting estimates from the World Food Programme that one third of Venezuela's population lacks food security.
Local organisations have denounced the excessive use of force by security agents to intervene in some of the peaceful protests. On 12th April 2020, Wayúu residents of Guajira demanding food, water and medicine were repressed by the Bolivarian National Guard. The security forces reportedly used tear gas, rubber bullets and firearms against the residents, resulting in at least one person being injured. On 15th April 2020, security forces used tear gas against protesters denouncing the lack of fuel, water and delayed food distribution in Churuguara, Falcon, and Anzoátegui, Cojedes. One man was shot and killed amid protests and social unrest in Upata on 23rd April 2020.
Expression
Information during COVID-19
Al menos 146 casos de limitaciones a la libertad de expresión y al derecho a la información se registraron en lo que va de 2020 #PeriodismoConTapaboca https://t.co/NXiNuaLuNm pic.twitter.com/YH09yTGq2b

— IPYS Venezuela (@ipysvenezuela) May 10, 2020
CSO Transparencia Venezuela highlighted that censorship, persecution and manipulation have prevented Venezuela's population from knowing the true extent of the COVID-19 pandemic. Instead of giving voice to scientists or health professionals, information sharing has been left to party spokespeople who mix reports with slogans and alleged conspiracies. Moreover, authorities have not held any press conferences where journalists can consult and ask questions. In this context, the CSO listed a set of questions to be answered by Venezuelan authorities, urging them to dispel doubts about the fight against the pandemic in the country and underscoring that the lack of information in such a crisis can cost human lives and cause an unprecedented tragedy.
On 18th April 2020, Edgar Cárdenas, the secretary-general of Colegio Nacional de Periodistas (National Journalists' Board - CNP), denounced that Venezuela's government has sought to criminalise the work of the press during the pandemic. As reported by CNP, there were 28 attacks against the press in the first 15 days of April 2020, including seven arbitrary arrests and seven cases of journalists and outlets being threatened. CNP registered a total of 62 attacks on the press from 13th March 2020, when quarantine measures were implemented, to the first half of April.
#AlertaSNTP 10:00 pm | La detención de Darvinson Rojas la ejecutaron unos 15 funcionarios encapuchados y armados que, además, detuvieron a Jesús Rojas y Mirian Sánchez, padres de Darvinson.
Se llevaron computadoras y celulares y golpearon al señor Rojas. #LiberenADarvinson #21Mar pic.twitter.com/r1VpjBuuLK

— SNTP (@sntpvenezuela) March 22, 2020
One such case took place on 21st March 2020, when freelance journalist Darvinson Rojas was detained and questioned after reporting on the spread of COVID-19 in Venezuela. Officers of FAES also reportedly raided his home and took his work equipment. As reported by NGO Espacio Público, the journalist was subjected to threats and psychological abuse during his detention. He was charged with "advocacy of hatred" and "instigation to commit crimes" and conditionally released on 2nd April 2020 pending a criminal investigation. Rojas was awarded with Deutsche Welle's Freedom of Speech Award on 3rd May 2020.
In another incident, on 15th April 2020, journalist Eduardo Galindo Peña, his wife and nephew were detained in San Fernando de Apure. As detailed by the Committee to Protect Journalists, the National Anti-extortion and Kidnapping Commission (Conas, from its Spanish acronym) detained him and later returned to raid his home looking for computers and mobile phones. Galindo's wife and nephew were also detained for four days for reportedly "resisting authority". Press workers' union SNTP said the arrest was linked to Galindo's reporting on fuel shortages for digital media Senderos de Apure. He was accused of "publishing false information" and remained in detention for several days despite an order for his release on 19th April 2020. He was placed under precautionary measures and released on 4th May 2020.
Reporters Without Borders (RSF) published their annual world press freedom index on 21st April 2020, ranking Venezuela 147th out of 180 countries. While this is one place higher than the previous year, RSF stated, there was no improvement in press freedom in the country in 2019. According to RSF, continuous repression of the independent press has expressed itself in multiple ways, including through arbitrary detentions, violence from security and intelligence forces, banishment of foreign journalists, internet blackouts and social media blockades, and exclusion of critical television and radio stations.