Authorities impose several travel bans as crackdown on HRDs continues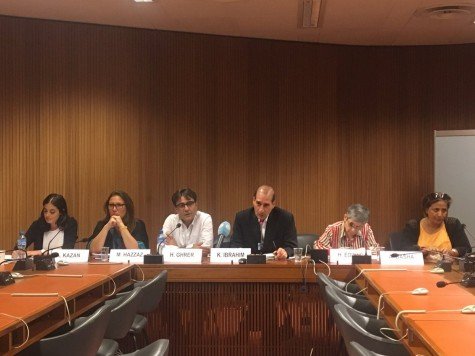 Association
Human rights defenders have again been prevented from travelling outside of Bahrain, including to attend the UN Human Rights Council (UNHRC) meeting in September. Those targetted include include Bahrain Center for Human Rights's Nedal Al-Salman, who had a travel ban imposed on her on 29th August as she prepared to travel to Geneva to attend the pre-session meetings of the 33rd UNHRC Session. BCHR's Hussain Radhi was also prevented from travelling on 23rd August. He had earlier been banned from attending the 32nd session of the UNHRC in June. Enas Oun - also of BCHR - was informed of a travel ban as she was travelling to a human rights workshop in Tunisia on 22nd August. Travel bans were also imposed on human rights defenders Ahmed Al-Saffar, Essa Al-Ghayeb and Ebtisam Al-Sayegh and lawyer Mohammed Al-Tajer. The imposition of travel bans is part of a systematic attempt by the authorities to sever links between the human rights movement in Bahrain and various international mechanisms.
In a separate development, on 22nd September a Bahraini court rejected an appeal against the decision to dissolve Al Wefaq, the largest political opposition group in the country.
At the UN Human Rights Council in September, the UN High Commissioner for Human Rights Zeid Ra'ad Al-Hussein expressed grave concerns about the current situation in Bahrain and the ongoing harassment and arrests of human rights defenders and political activists.
Expression
The government of Bahrain has continued its relentless crackdown on human rights defenders, political activists, journalists, the media and civil society since the Monitor's last update in July. On 17th July, award winning journalist Nazeeha Saeed was charged with unlawfully working with international media under article 88 of Law 47/2002. On 12th August, women's rights defender, writer and blogger Ghada Jamsheer was arrested and detained upon arrival from London in connection with sentences imposed on her for exercising her right to free expression on Twitter. She remains in detention and is in very poor health.
New charges have been brought against Bahrain's highest profile human rights defender Nabeel Rajab following the publication of an article in the New York Times. On 5th September, Rajab was charged with "deliberate dissemination of false news and spreading tendentious rumours that undermine the prestige of the state and its stature." Rajab, who is President of the Bahrain Center for Human Rights and Founding Director of the Gulf Centre for Human Rights (GCHR), has been imprisoned since 13th June in connection with charges from last year in which he spoke about human rights violations in Jaw prison in Bahrain, and in Yemen.
Peaceful Assembly
Bahraini authorities continued to crack down on peaceful protestors who had gathered in Duraz in front of Sheikh Isa Qasim's house. In August, BCHR documented 73 summons against protestors including 44 Shia clerics and religious singers. On 14th August, human rights defenders Dr. Taha Al-Derazi and Maytham Al-Salman were arrested and charged with illegally gathering in Duraz. Although Dr. Al-Derazi was subsequently released on 23rd August, charges remain against him. On 18th August, a court convicted Sheikh Ali Humaidan of "illegal gathering" and sentenced him to one year in prison for his involvement in peaceful gatherings.