Costa Rica: farmer convicted of Jehry Rivera's murder; network of fake accounts to attack journalists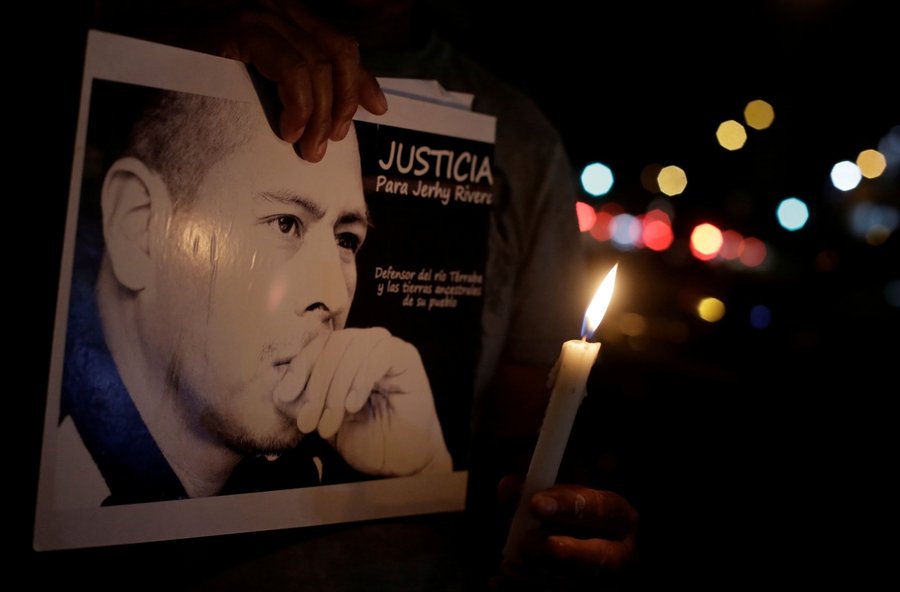 Association
🇨🇷 #CostaRica: Condenan a prisión al asesino de líder indígena Jehry Rivera → https://t.co/do4SUilLNr

A 22 años de prisión fue condenado Juan Eduardo Varela Rojas, acusado del asesinato del líder indígena brörán de Costa Rica, #JehryRivera, ocurrido el 24 de febrero de 2020. pic.twitter.com/EUT8HVBQcr

— Servindi (@Servindi) February 2, 2023
On 1st February 2023, farmer Juan Eduardo Varela was found guilty of the murder of Brörán leader Jehry Rivera of Térraba, which took place in February 2020. Varela had openly admitted to the crime during a public event in 2022. Almost three years after the killing he was sentenced to 22 years in prison for aggravated homicide, illegal possession of weapons and aggravated threats.
Days after the sentencing, individuals stoned the house of an Indigenous woman who testified in the trial as a witness. Civil society group Coordinadora de Lucha Sur Sur issued a statement about the attack, saying Melisa Garbanzo and her family were not injured but their house and vehicle were damaged. The group also said this attack took place despite early warnings to authorities of increased risk for the community's Indigenous people.
Indigenous spokespeople warn lawmakers of violations
Carpeta en mano y con cada uno de los casos documentados, los representantes de la Coordinadora de la Lucha Sur Sur, denunciaron ante los diputados que integran la Comisión Permanente Especial de Derechos Humanos, las violaciones de que han sido objeto,https://t.co/3ERlOtvab1 pic.twitter.com/6QIIdeGPDG

— CRprensa.com (@CRprensacom) January 27, 2023
On 29th January 2023, representatives of the Coordinadora de Lucha Sur Sur took part in a meeting on the situation of Indigenous peoples before the Legislative Assembly's Special Permanent Commission on Human Rights. Human rights defender Gustavo Oreamuno discussed Costa Rica's lack of progress on Indigenous land policy. Indigenous defenders of the Bribri people and of Cabecar territories also warned about repression against their communities, denouncing that rights violations against them are perpetrated not only by non-state actors but also by the State. The spokespersons also referred to public institutions' lack of knowledge about the culture, history and identity of Costa Rica's Indigenous peoples, which leads to discriminatory and racist treatment.
Costa Rica shelves ratification of Escazú Agreement
Several organizations have asked the Costa Rican congress not to dismiss the Escazu Agreement and revive its discussion. #costarica #environment #savetheplanet https://t.co/BxV7Nzp8b6

— The Tico Times (@TheTicoTimes) February 1, 2023
On 1st February 2023, Congress blocked Costa Rica's ratification of a U.N.-backed environmental treaty named after one of the country's municipalities. Known as the Escazú Agreement, the treaty is the first binding agreement in the world containing specific provisions on environmental human rights defenders. Before lawmakers' decision, several civil society groups had signed a letter to Congress asking legislators not to dismiss the agreement.
Under Carlos Alvarado's presidency, Costa Rica was a key promoter of the treaty. However, sitting President Rodrigo Chaves opposed the agreement, arguing Costa Rica already has sufficient regulations on environmental matters. Costa Rica's congress overwhelmingly rejected a motion to extend the ratification period, effectively shutting the door on joining the treaty, with 41 of the 57 deputies voting against it. For ratification to be considered again, it would have to be proposed by the government.
Expression
Joselyn Chacón: "Nunca pagué para lastimar diputados; a los medios sí".

La ministra de Salud, Joselyn Chacón Madrigal, reconoció, este lunes en la Asamblea Legislativa que, sí pagó para atacar a periodistas de 3 medios de comunicación.

📌 - https://t.co/KxS5x30D2t pic.twitter.com/NPhigeSZNW

— CRHoy.com (@crhoycom) January 30, 2023
At the end of 2022, high officials in the Rodrigo Chaves government were involved in a controversy over the alleged used of fake accounts to attack critics and opponents online. In December 2022, a man behind a 'troll' account disclosed he had received payment from Health Minister Joselyn Chacón and from a member of the presidential staff to coordinate such attacks on social media. Alberto Vargas, who operated under the username of Piero Calandrelli, also alleged that there was a network of at least six people running 'troll' accounts and pages to attack journalists and members of the opposition.
Chacón initially claimed she had paid for the promotion of a health campaign by Calandrelli, but later admitted to having paid to "put the hurt on" the media. She said "there are three media outlets that go beyond misrepresenting the truth." A few weeks before this admission, President Chaves made a series of vilifying comments toward journalists, saying some of those criticising Chacón were "political hitmen." He specifically cited news outlets La Nación, Canal 7 and CRHoy. On 7th February 2023, Chacón resigned as Health Minister citing "personal reasons."