Conviction of perpetrators in the killings of journalists Miroslava Breach and Javier Valdez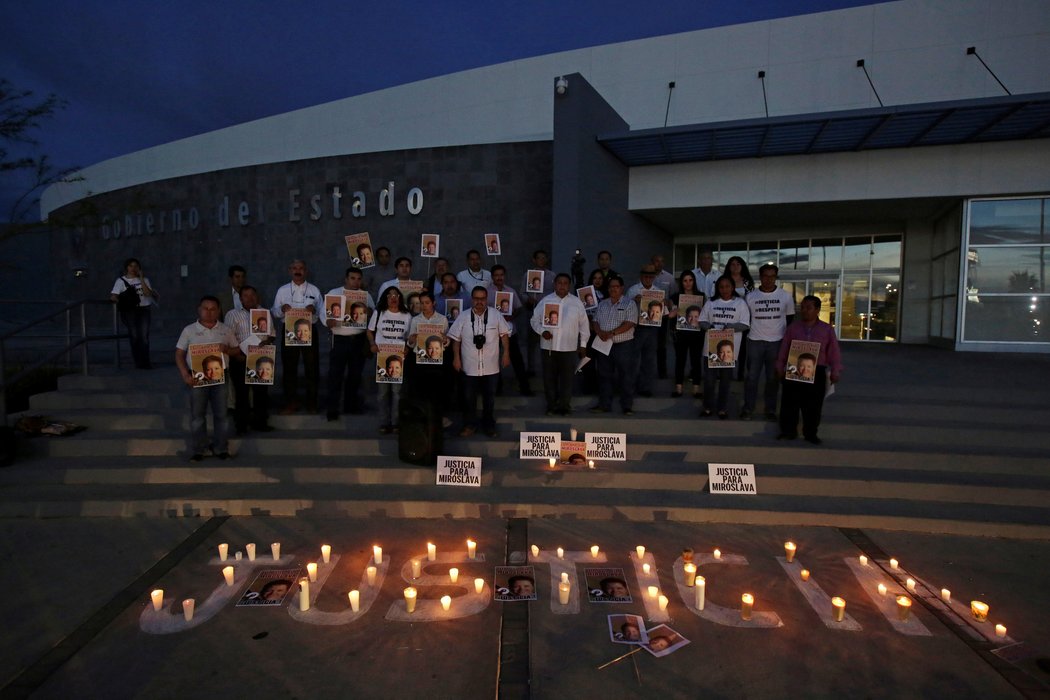 ⚠️ #ALERTA

ARTICLE 19 y el @CPJAmericas alertan sobre un segundo allanamiento en el domicilio de Mina Moreno (@MINAMORENOlex), jefa de información y abogada del portal Justicia para Todos.https://t.co/XZ9ZiypQSq pic.twitter.com/Nx1wmFSRDD

— ARTICLE 19 MX-CA (@article19mex) May 17, 2021
In May 2021, Mina Moreno, a lawyer and head of information with the Justice for All website said someone broke into her home in Milpa Alta and stole several electronic devices. According to Article 19, it was the second time Moreno's home was burglarised in 2021, and a laptop, cameras and a tablet were among the items stolen. She is under federal protection because of past threats and attacks for her work with the portal, which reports on crime and politics in Mexico.
On 16th May 2021, three reporters in Pueblo City were attacked and harassed by a candidate's supporters while covering two campaign events. MTP Noticias' Cirilo Calderón, Almanaque's Osvaldo Macuil and Diario Cambio's José Campos said they were surrounded by supporters of Claudia Rivera Vivanco, who tried to prevent them from photographing the candidate. Calderón was approached from behind by an assailant who hit him in the cheekbone, tried to snatch his phone and knocked his glasses to the floor. The candidate later released a statement accusing journalists in the area of being biased.
On 21st May 2021 a reporter with Notiredtlax said he was detained, assaulted and threatened by police officers while attempting to cover an arrest on a public street. Juan Vasquez said he was trying to take photographs of the scene when officers approached him, questioned who he was and threw him to the ground. He also claimed an officer assaulted and threatened him while he was being transported to the police station. He was released after being held for four hours and paying a fine. This was the second time the reporter had been assaulted in the past year.
In a separate incident on 21st May 2021, an unidentified man attacked reporter Luis Raúl Aguilera Pérez with a knife as he returned to his home in Pénjamo, Guanajuato. Aguilera, the founder of the news outlets Pénjamo.Biz and Pénjamo.Biz 2.0, told the Committee to Protect Journalists, "I believe he was hiding behind a tree. I didn't see him coming. I think he was trying to cut my throat." The journalist managed to get away from his attacker but had to undergo surgery for his injuries. Aguilera reports on local politics in Guanajuato and had recently received messages threatening legal action for a story involving a local mayoral candidate.
Association

⚠️ ATENCIÓN⚠️

Afuera de la fiscalía, están intimidando y gaseando a nuestras compañeras por pedir JUSTICIA PARA ZYANYA

⚠️Favor de compartir⚠️ pic.twitter.com/2WppfgKm2G

— Red La Morada (@redlamorada) May 21, 2021
Human rights defenders and family members of Zyanya Estefanía Figueroa Becerril were assaulted by members of the Puebla Prosecutor's Office outside the institution's building while advocating for the investigation into her death to continue. Videos of the incident show relatives of Figueroa Becerril and advocates from several women's rights groups being pushed and grabbed by security officers. At least one person was allegedly sprayed with a chemical irritant and several members of the press were pushed by guards during the incident. Figueroa Becerril was found dead in her apartment in 2018 with an alleged suicide letter, however her injuries were reportedly not consistent with a suicide. In 2021 an expert analysis indicated that the young woman had not written the letter. Her family denounced in a press conference that the Prosecutor's Office had refused to investigate the case as a femicide and feminist groups have joined their call for justice.
Peaceful Assembly
On 8th June 2021, a federal judge in Culiacán, Sinaloa, convicted Juan Francisco Picos Barrueta, known as "El Quillo," for his role in the murder of journalist Javier Valdez Cárdenas in 2017. The judge ruled that Picos Barrueta, a member of a local criminal gang, was among the three men directly involved in the killing of Valdez, the co-founder and editor of weekly news magazine Ríodoce and correspondent in Sinaloa for the Mexico City newspaper La Jornada. The Federal Special Prosecutor for Attention to Crimes Committed Against Freedom of Expression presented evidence at the trial showing that Valdez was killed on the orders of the former leader of a drug trafficking gang. Picos Barruata was sentenced to 32 years and 3 months in prison. This is the second conviction in the case; another member of the group was sentenced to 14 years and 8 months in prison in 2020 for his role in the attack.
In a separate ruling, a federal judge in the state of Chihuahua sentenced Hugo Amed Schultz Alcaraz, the former mayor of Chínipas, to eight years in prison for his role in the 2017 murder of reporter Miroslava Breach Velducea. Schultz was arrested in December 2020 after the Federal Special Prosecutor for Attention to Crimes Committed Against Freedom of Expression obtained evidence that he had provided information about the reporter to the criminal gang that allegedly planned and carried out the murder. According to witness testimony during Moreno Ochoa's trial, the killing was ordered by the leader of Los Salazar in retaliation for her reporting on his gang and local politicians. This was also the second conviction in the case; in 2020, Juan Carlos Moreno was sentenced to 50 years in prison for the journalist's killing.
Attacks on journalists

#ÚltimoMinuto 🚨
Hoy en audiencia el juez dictó una condena de 32 años y 3 meses de prisión para Juan Francisco Picos Barrueta por su participación en el asesinato del periodista #JavierValdez y una reparación del daño para la familia https://t.co/rp2MPeuCWe#MalayerbaNuncaMuere pic.twitter.com/iLxcz56Y8Q

— Propuesta Cívica AC (@PropuestaCivica) June 17, 2021
Expression
A través de la entrega de firmas y una manifestación frente a #PalacioNacional, antorchistas pidieron esta mañana al presidente @lopezobrador_ metro seguro y justicia para las víctimas de la tragedia de la #Linea12 del @MetroCDMX #30MilPidenMetroSeguro

📸: @AntorchaCDMX pic.twitter.com/yR8s7iZdVb

— Ana Maria Lomeli (@AnitaLomeli) May 26, 2021
On 7th May 2021, hundreds of people demonstrated in Mexico City to demand justice for the 25 people killed by the collapse of an elevated metro line. Gathering near the site of the incident, police initially restrained protesters before allowing them to leave flowers and signs in tribute to the victims. "I'm here in solidarity with all the people who died. They no longer have a voice. What happened is due to negligence, due to corruption," said a local resident. Similar protests continued during May 2020.
On 24th May 2021, three thousand students and teachers marched from Mexico City's Angel of Independence monument to the National Palace to protest the government's proposal that schools reopen nationwide in late June. Students, teachers and parents said there hasn't been enough time to vaccinate community members. One of the student groups leading the protest, the Rafael Ramírez National Federation of Student Revolutionaries (FNERRR), said on their website: "Returning to classes without collective immunity is murder."
On 9th June 2021, dozens of people staged a demonstration outside the U.S. Consulate in Tijuana to protest U.S. Vice-President Kamala Harris' visit to discuss border issues. Organised by a group called Angels Without Borders, demonstrators held signs and set fire to an Uncle Sam piñata. "We extend a welcome to Kamala Harris, but we don't want her to push for the National Guard to conduct vigils on the border," said one of the protest organisers. "We want her and President Andrés Manuel López Obrador to come to an agreement on how to allow migrants a clear path into the U.S. with rules and order, but never to prevent them from reaching the United States." Migrants at the border have also protested immigration policies which have resulted in overcrowded shelters and camps along the Mexican border with the United States.