Controversial global security law adopted, creating a state of generalised surveillance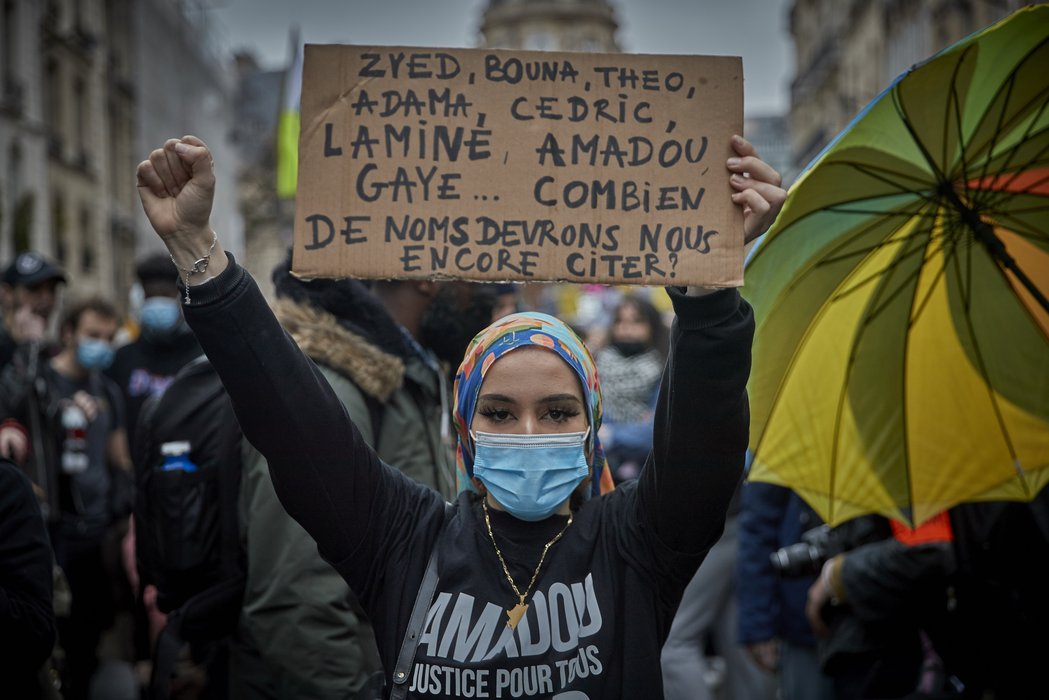 Association
Anti-Separatism bill approved by France's two parliamentary chambers
The draft legislation on 'Strengthening respect for Republican principles and against separatism' (commonly known as the Anti-Separatism bill) has been approved by France's two parliamentary chambers and will be subject to final approval in the coming months. The bill aims to address alleged indoctrination and the creation of an Islamic counter-society. On 30th March 2021, senators approved an amendment to the bill calling for the "prohibition in the public space of any conspicuous religious sign by minors and of any dress or clothing which would signify inferiority of women over men". Thus the bill would forbid religious signs in certain spaces and particularly targets the wearing of the hijab by Muslim women and girls. The proposed outlawing of the hijab (Muslim headscarf) by minors has led to a huge backlash, with the hashtag #HandsOffMyHijab trending on social media.
Age to consent to sex in France: 15
Age to consent to hijab: 18
Let that sink in. It isn't a law against the hijab. Its a law against Islam. #Handsoffmyhijab #FranceHijabBan

— Manar منار (@RockThrowA) April 4, 2021
On the eve of the Senate vote on the bill, over 25 CSOs voiced their concerns about the draft law.
"We would like to reaffirm to you our total opposition to this catch-all law, which proposes measures that are sometimes imprecise, sometimes disproportionate, but generally speaking, dangerous for freedoms, in particular with regard to a certain number of fundamental freedoms. In addition, this law casts a general suspicion on people of Muslim faith or those presumed to be of Muslim faith." (translated from French).
The legislation comes during a period in which CSOs defending the rights of Muslim people and fighting discrimination have been under attack, resulting in the dangerous conflation of counter-terrorism measures with the policing of Muslims and criminalisation of those that defend them. The stigmatisation of those defending rights has culminated in closures of CSOs, threats and attacks, as reported in our previous Monitor update.
The Parliamentary Assembly's General Rapporteur on combating racism and intolerance, Momodou Malcolm Jallow made the following statement regarding the Anti-Separatism bill:
"By targeting Muslims, it inherently stigmatises them, increasing suspicion and indirectly suggesting a link between this group and foreign or terrorist threats. It limits the space and potentially curtails the work of civil society organisations, with provisions allowing the dissolution of associations holding 'non-mixed' activities, such as creating safe space environments for members of racialised groups only."
Momodou Malcolm Jallow also highlighted concerns of the legislation seriously undermining constitutional values such as human dignity and gender equality by purporting to overly restrict religion, breaching Article 9 of the European Convention on Human Rights. He underlines how the law will ultimately serve to "further legitimise the marginalisation of Muslim women and will contribute to establishing a climate of hate, intolerance and ultimately violence against Muslims."
"In the current European context of growing intolerance, with pervasive Islamophobia, Afrophobia, antisemitism and antigypsyism at structural and institutional level, scapegoating a minority group through national legislation sets a dangerous precedent that should be avoided at all costs."
#France • Projet de loi confortant le respect des principes de la République. Nous condamnons un texte discriminatoire et demandons le retrait des dispositions contraires au droit international.

Communiqué ➡️https://t.co/Egfhk2HwbI

— Amnesty France (@amnestyfrance) April 13, 2021
'Republican Engagement Contract' threatens CSO funding
Of particular concern for CSO funding, the Anti-Separatism bill proposes to replace the current 'reciprocal engagement contract' with a 'Republican Engagement contract' (CER), which will be drafted by the executive power and signed by the association in order to receive public funding. In cases where the authorities deem that the CER contract has been breached, the grants could be withdrawn, incurring an obligation to repay all the funds received. In an open letter, CSOs expressed concerns that:
"In reality, this republican commitment contract turns out to be above all "a contract of mistrust" towards associations and, if it were adopted, this provision would seriously weaken the associative life which in our country is a pillar of citizenship."
CSOs have highlighted that no consultation took place with them during the process of drafting and voting on the law. 
Peaceful Assembly
National Assembly adopts controversial Global Security law
After months of controversy, mobilisations and renegotiations, and despite strong criticism from UN Special Rapporteurs and CSOs, the French parliament on 15th April 2021 voted to adopt the controversial Global Security bill, with 75 members of parliament voting for the law, and 33 voting against it.
Concerns by civil society organisations regarding the provisions in the Global Security law include:
the use of video surveillance captured on drones would not require judicial authorisation prior to filming during demonstrations, nor an obligation to keep the public "clearly and permanently" informed about being filmed (art. 22);
a vaguely defined "offence of provoking the identification of law enforcement agencies" that sanctions intentions and subjective elements without offering clear standards or definitions (art. 24). This is particularly concerning considering France's past misuse of vague legal provisions to target journalists, peaceful protesters, rescue workers or human rights observers;
an increased reliance on and integration of private security companies within the 'security continuum', as voiced by former police officers. This is likely to have an impact on accountability and legal responsibility in cases of police violence and malpractice.
#StopLoiSécuritéGLobale | Nous nous opposons à ce texte en déposant une contribution extérieure commune demandant la censure @Conseil_constit : il porte une vision sécuritaire de la société permettant une extension de la surveillance de la population. https://t.co/iL15dLj1Rm https://t.co/hCFvVoRB3p

— LDH France (@LDH_Fr) April 29, 2021
Organisations such as Amnesty International France have warned that the proposed law would undermine public freedoms, creating a state of generalised surveillance, threatening the freedom to inform, the right to privacy and the right to demonstrate. Cécile Coudriu, president of Amnesty International France, underlined that:
"(…) in the hands of an authoritarian government, such a law would become a dangerous weapon of surveillance and repression of the population."
The Ligue des droits de l'homme (LDH - Human Rights League) and organisations representing journalists in France and around the world highlighted that the bill aims to disproportionately restrict the rights of journalists and freedom of the press. According to LDH:
"It would allow for the arrest, placement in police custody and court referral of any journalist filming live a police operation. (...) This text also aims to prevent the revelation of cases of illegitimate police violence often covered up by the hierarchy of the officers involved".
On vous le disait la semaine dernière.

Le Conseil constitutionnel est le dernier rempart contre la #LoiSécuritéGlobale

Nous venons de lui envoyer nos observations. Nos libertés fondamentales sont en jeu ! Voici nos recommandations 👇

— Amnesty France (@amnestyfrance) April 28, 2021
In recent months, tens of thousands of people across France have taken to the streets to protest the security legislation. Police have been accused of illegal tactics, making hundreds of arbitrary arrests in an attempt to crack down on protests.
Sixty organisations have joined forces launching the #StopLoiSecuriteGlobale platform. The key message of the platform is that stepping up surveillance amid concerning reports on police behaviour is likely to contribute to a state of impunity, undermining freedom of the press, freedom of information and freedom of expression.
At this stage, civil society organisations are building coalitions against the law and mobilising to demand a citizen referral to the Constitutional Council. In the event that the law goes before the Council, some provisions of the Global Security law are likely to be singled out for undermining the separation of powers and violating fundamental rights protected by the Constitution, in line with preceding Constitutional Council case law. Resistance has also emerged from parliament, where MP Paula Forteza and 87 other MPs have filed an appeal to the Constitutional Council, particularly concerning articles 20, 22 and 24.
Expression
Regulation on digital space
The European Parliament is set to vote on a proposal for a regulation to prevent the dissemination of terrorist content online. In an effort to give governments more power to quickly react and eliminate content seen as inciting terrorism, the proposal would allow authorities to remove content from any online platform within an hour. However, in an open letter French civil society organisations have expressed concerns that these additional state powers are likely to weaken fundamental rights and freedoms and could be used to crack down on online activism from political opponents or social movements. CSOs state that giving governments the power to censor online content without judicial oversight and with the threat of significant sanctions is a disproportionate and illegitimate measure. They highlight that the Constitutional Council endorsed this position regarding a similar law proposed by Laetitia Avia (member of the NA), aimed at combating hate speech online. In a decision issued on 18th June 2020, the Constitutional Council judge concluded that the proposal constituted an infringement of freedom of expression, failing to comply with adequate standards of appropriateness, proportionality or necessity.
Journalist receives death threat containing sexist and anti-Muslim slurs
On 8th April 2021, journalist and founder of Speak Up Channel, Nadiya Lazzouni, received an anonymous handwritten letter at her home containing death threats and threats of a racist and sexist nature directed at her and the whole Muslim community: "We will deport you by bulldozer you bunch of Islamist b…s", "Keep your rag", "we will aim better, brazen girl. It will fill with your s….y brain", "some will call their mothers before being shot in the neck", " France will be clean of all Muslims and Islamists".
Lazzouni said that she had filed a complaint with the Paris prosecutor's office on 9th April 2021 and filed a request for police protection. The journalist became widely known in France two years ago following appearances on talk shows debating against a government measure which banned headscarves worn by mothers accompanying students on school trips.
The Committee to Protect Journalists (CPJ) called on authorities to swiftly investigate the threats.
"French authorities should thoroughly investigate the threat received by journalist Nadiya Lazzouni, and hold the perpetrators to account...Lazzouni was targeted because of her religion and her opinions, and authorities must ensure that she can continue her work without fear,"- Gulnoza Said, CPJ's Europe and Central Asia program coordinator.
Just over a week earlier, investigative journalist Morgan Large discovered that her car had been sabotaged, with two bolts removed from a wheel. This follows a previous intrusion at her radio station premises in November 2020, the poisoning of her dog last January 2020, and a series of anonymous calls and threatening messages. All incidents were reported to the police.
The European Federation of Journalists (EFJ) strongly condemned the threats to these two women journalists and called on the French Minister of the Interior "do everything to immediately protect the lives of these two journalists, two young women, attacked, threatened, abused because they only fulfilled their mission to inform."
Similarly, journalist Claire Koç, a reporter for France Télévisions, has faced hatred, harassment and death threats since the publication of her book in February 2021 entitled 'Claire, le prénom de la honte' ('the name of shame'). "Her book is used by pro-Erdogan extremists as a pretext for organised attacks online", said the French National Journalists' Union (SNJ).
Violent attacks against journalists
On 27th February 2021 a photographer for the regional daily L'Union, Christian Lantenois, was seriously injured while covering tensions in the Croix-Rouge district of Reims. The photographer required intensive care after the attack, the details of which are unknown. On 30th March 2021 Lantenois recovered consciousness, but he has however lost part of his memory. Two men were arrested in relation to the attack.

On 14th March 2021, an Azerbaijani blogger Mahammad Mirzali, was stabbed at least 16 times and hospitalised in a critical condition. Mirzali fled Azerbaijan in 2016 to escape persecution for his political activism. It is believed that the attack is an attempt to silence the blogger, whose YouTube channel has around 265,000 subscribers and has covered critical issues.
Communiqué de l'intersyndicale @UnionArdennais 👇🏽

« Notre collègue Christian Lantenois est entre la vie et la mort. Il a été lâchement agressé par un ou des individus alors qu'il était en reportage dans le quartier Croix-Rouge de Reims, samedi après-midi. C'est révoltant. 1/5 pic.twitter.com/ay1epx4DdT

— SNJ-CGT (rejoignez-nous ! ✊🏽) (@SnjCgt) February 28, 2021
On 27th March 2021, a journalist for France 3 TV was violently assaulted just as she was about to conduct an interview in a market in Vans (Ardèche), where a protest against the COVID-19 measures was to be held. The incident unfolded when a man came up and shouted, "aren't you ashamed to answer them?" And proceeded to hit the camera. The journalist sustained injuries on her nose and chin. The perpetrator was caught by the police.