Controversial presidential elections: at least 21 killed in post electoral protests and violence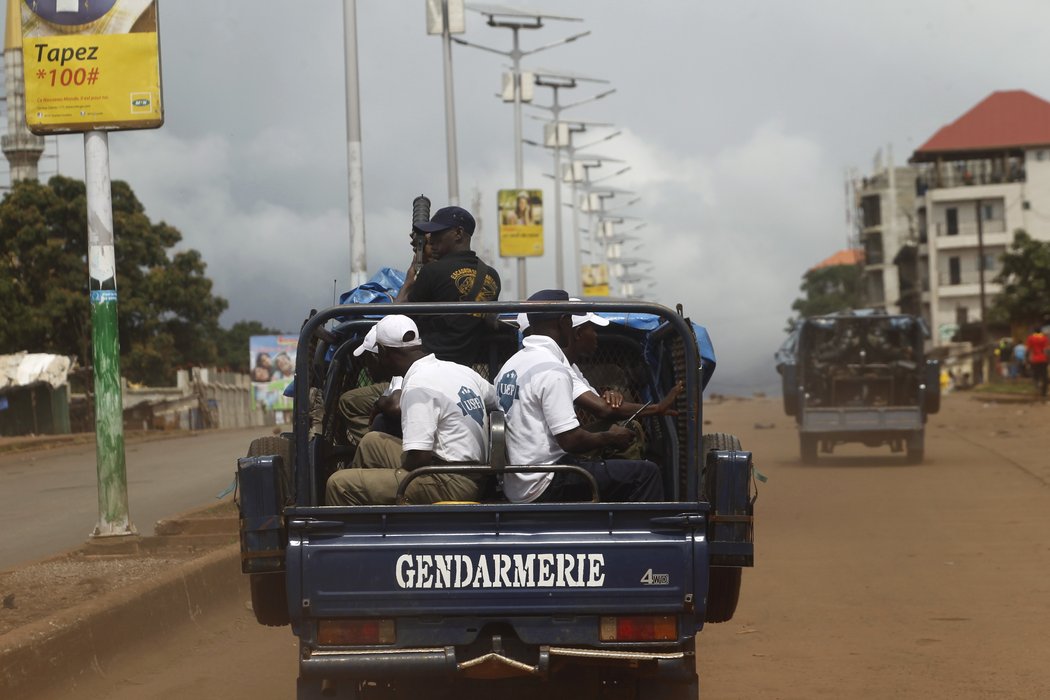 Controversial and disputed presidential elections took place in Guinea on 18th October 2020, following a constitutional referendum in March 2020 and a new Constitution, allowing incumbent president Alpha Condé to run for a third term. The electoral campaign was marred by divisive and hate speech, prompting the UN High Commissioner for Human Rights to issue a statement urging politicians to 'refrain from using provocative language that may lead to violence, discrimination and other human rights violations'. The vote on 18th October 2020 was followed by post-electoral protests and violence, killing several people. Other violations that took place in the context of the elections include the disruption of internet and telephone networks and the suspension of media outlets.
Guinea's electoral commission announced Alpha Condé as the winner of the poll on 24th October 2020 with 59.5 percent of the vote , confirmed by the Constitutional Court on 7th November 2020, but rejected by opposition. 
En #Guinée, contrairement au discours officiel qui bannit les armes à feu lors des manifestations, les forces de défense et de sécurité ont fait usage des armes à feu et déployé des militaires causant des morts par balle et des blessés.https://t.co/zsL29h5V9N pic.twitter.com/dji5UBKCuG

— Amnesty West & Central Africa (@AmnestyWARO) October 9, 2020
Human rights reports condemn crackdown on protests
In the report 'Marching to their deaths: urgent need of justice for victims of Guinea's crackdown on demonstrations', published on 1st October 2020, human rights group Amnesty International (AI) said that at least 50 people were killed, and nearly 200 injured, in demonstrations in Guinea between October 2019 and July 2020. Demonstrations included the protests against constitutional changes, protests against a lack of electricity and against the way the cordon sanitaire was managed during the COVID-19 pandemic. In addition, at least 70 people were subjected to arrests or arbitrary or incommunicado detentions for expressing dissenting views or exercising their right to peaceful assembly. Amongst those, 15 members of the Front national pour la défense de la Constitution (National Front for Defence of the Constitution, FNDC) were targeted. AI says that the report, drawing on more than 100 interviews and hundreds of speeches, statements, videos, photographs and media articles, provides credible evidence that members of the Guinean security and defence forces - were responsible of the death and injury to protesters and bystanders as a result of excessive use of force, including by live ammunition. In addition, these human rights abuses have gone unpunished: none of the announced criminal investigations have been pursued.
Following the publication of their report 'République de Guinée, un troisième mandat d'Alpha CONDÉ à quel prix?' ('Republic of Guinea, a third mandate of Alpha Condé at what price?') on 5th October 2020, the movement Tournons la Page submitted a complaint against the Republic of Guinea to the International Criminal Court (ICC), saying the systematic repression of protesters and activists in the context of the constititutional changes and referendum amounts to crimes against humanity. The report outlines that at least 52 people were killed by defence and security forces between April 2019 and March 2020 in the context of the protests against plans by president Alpha Condé to change the Constitution
In their report '"They Let People Kill Each Other". Violence in Nzérékoré During Guinea's Constitutional Referendum and Legislative Elections', Human Rights Watch said that security forces, deployed to provide security for the legislative poll and referendum on 22nd March 2020, failed to protect citizens and committed human rights abuses in Nzérékoré. At least 32 people were killed in Nzérékoré in clashes between pro-government and opposition supporters and inter-communal violence.
#Guinea: Post-election violence, coming on the back of a particularly tense electoral campaign, has since claimed several dozen lives, reports @DiawoLabboyah @MLSoumare https://t.co/QbnoqMG2Tf

— The Africa Report (@TheAfricaReport) November 11, 2020
Peaceful Assembly
Controversial presidential vote: at least 21 killed in protests and post-electoral protests and violence
In the aftermath of presidential elections, protests and violent clashes between security forces and protesters broke out in Conakry, killing several people and destroying property and buildings. Clashes were also reported in Coyah and Dubreka. On 22nd October 2020, the army was called in by authorities to 'maintain order'. 
According to authorities, as announced on state television channel RTG, 21 people have died in post-electoral violence since 19th October 2020, including six security officers. Minister of Security and Civilian Protection Albert Damatang Camara denied, in a call with Human Rights Watch, that anyone was killed by security forces. Opposition party UFDG however claims that at least 46 people have died. 
Human Rights Watch accused security forces of having used excessive force to disperse opposition-led protests in several neighbourhoods in Conakry following the elections. The group said that police and gendarmes used tear gas and in some cases live ammunition, killing at least 12 people. Amnesty International, using witness testimonies, satellite images and authenticated videos, said that Guinea's security and defence forces used 'weapons of war' in several cities and towns, including in Conakry and Labé. According to the FNDC, two of their local coordinators were killed - Boubacar Baldé in Sonfonia Gare 2 (Conakry) and Daouda Kanté in Pita - through live ammunition shot by security forces. A total of 325 people have been arrested in relation to the post-electoral violence, according to the Appeal Court of Conary. 
Main opposition leader Cellou Dalein Diallo was held under de facto house arrest from 20th to 28th October 2020 as his residence was surrounded by security forces. Previously on 19th October, Diallo declared himself the winner of the ballot, made allegations of massive fraud and called his supporters to mobilise. 
A delegation of representatives of the United Nations, the African Union and ECOWAS arrived in Conakry on 25th October 2020 in efforts to mediate.
Ban on public protests
On 22nd October 2020, authorities 'reminded' political formations of a ban on mass political protests due to the COVID-19 pandemic. The opposition accused the government of instrumentalising and politicising the pandemic. The announcement followed a call to protest by opposition party Union des forces démocratiques de Guinée (UFDG) to protest against what they call an electoral 'hold-up' and the arrest of several opposition members following the elections. 
Guinée – Déjà deux mois de détention arbitraire pour Oumar Sylla : « nous demandons sa libération immédiate » https://t.co/tOslU02Etb via @Guineematin

— Tournons la Page (@TournonsLaPage) November 30, 2020
Association
FNDC activist and deputy coordinator of Tournons la Page Guinée Oumar Sylla, also known as Foniké Menguè, was arrested by plain clothes officers on 29th September 2020 in the Conakry neighbourhood of Matoto while he was preparing to participate in a FNDC protest. According to the International Federation for Human Rights (FIDH), the arrest was violent and Sylla was transferred to the National Directorate of the Judicial Police (DPJ) where he was interrogated. He is accused of 'illegal gathering', 'disturbance of order', 'undermining state security' and 'destruction of public goods'.  At the time of writing, Oumar Sylla remained in prison. The CSO Agir ensemble pour les droits humains (Act Together for Human Rights) commented in a joint statement:
"If the rule of law is operating in Guinea, it is under attack by the political power that abuses its ability to arrest civil society activists. This harassment must stop. The place of human rights defenders is not in prison." 
As previously reported on the Monitor, Oumar Sylla was previously arrested on 17th April 2020 following a radio interview he gave and was charged with 'communication and dissemination of false news' and 'violence and death threats'. He was released from prison on 27th August 2020 after the Court of First Instance of Dixinn acquitted the activist. 
Confirmed: Nation-scale internet disruption registered in #Guinea ahead of presidential election results; real-time network data show connectivity on leading operator Orange at just 9% of ordinary levels; incident ongoing #GuineeVote #Guinée 📵

📰 https://t.co/qewhk37TJh pic.twitter.com/iaLghqrowQ

— NetBlocks.org (@netblocks) October 23, 2020
Expression
Disruption of telephone and internet networks
Between 23rd and 27th October 2020, internet and telephone networks were severely disrupted in Guinea. Network data from NetBlock's internet observatory confirmed that national connectivity of leading operator Orange was severely disrupted, with connectivity at a nine percent of normal levels. Partial restrictions - restricting access to social media and platforms - were experienced on the networks of MTN and Cellcom. The internet and telephone restrictions started on the morning of 23rd October, as the country was expecting the announcement of official electoral results. 
Four radio stations, one online news outlet suspended
On 18th October 2020, the governor of Kankan Sadou Camara ordered the suspension of four local radio stations - Futur Media, Baobab Media, Horizon FM, Milo FM and Nabaya FM while they were broadcasting live feeds on electoral results from the Conakry-based Sabari FM. According to the Media Foundation for West Africa (MFWA), it took the intervention of the Union of Independent Radio and Television of Guinea (URTELGUI) before the governor revoked his decision. 
Meanwhile on the same day, Guinea's national media regulator Haute Autorité de la Communications (HAC) suspended the online news outlet Guineematin.com for one month for having broadcast live, on its Facebook page, vote counting operations in a polling station. On 2nd November 2020, the HAC lifted its suspension. 
Journalists attacked
According to MFWA, journalists of Guineematin.com, who were covering the campaign of opposition leader Cellou Dalein Diallo, were attacked by political party thugs on 13th October 2020 in Kankan. Projectiles were thrown at their car and they escaped when one perpetrator took out a petrol bomb.