Colombia: surveillance of civil society and detention of protest leaders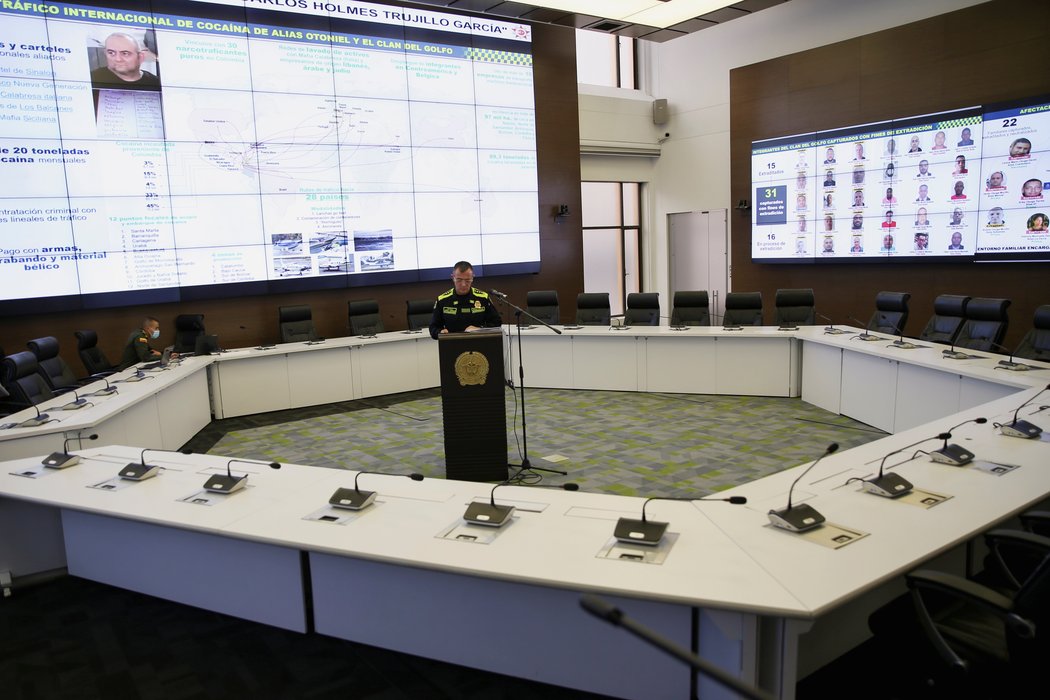 2022 began with astounding violence in the north-eastern department of Arauca along the Colombia-Venezuela border. Over 60 homicides were recorded in the region in January 2022, attributed to the escalating dispute over narcotrafficking routes between armed groups ELN (Ejército de Liberación Nacional) and dissidents of the FARC (Fuerzas Armadas Revolucionarias de Colombia).
On 24th January 2022, the Washington Office on Latin America (WOLA) and 26 other international civil society organisations issued an SOS statement alerting to the serious humanitarian situation. They said Arauca's civilian population was at risk as they are victims of the constant crossfire in the confrontation between these armed groups and the absence of the Colombian state. The violence in Arauca has affected journalists and social leaders and led people in the region to protest, as detailed in the below update.
Association
Human rights defenders and social leaders continue to be murdered
Breiner David Cucuñame, 14-year-old indigenous defender, was killed in southwestern Colombia on January 14. Colombia is one of the deadliest countries to be an environmental defender. #DefendTheDefenders #JusticiaParaBreiner pic.twitter.com/e9BkFIDHxw

— Fridays For Future MAPA (@FFFMAPA) January 20, 2022
Human rights organisation Instituto de Estudios para el Desarrollo y la Paz (Institute for Development and Peace Studies - INDEPAZ) recorded 33 killings of social leaders in Colombia in January and February 2022. There were also 19 massacres across the country.
According to the organisation's 2021 report, 171 social leaders and human rights defenders were killed in 2021; 27 of these were women. Also assassinated were 48 former FARC combatants who had signed the 2016 Peace Agreement. In addition, there were 96 massacres with 335 victims. Colombia's human rights ombudsperson, Carlos Camargo, said his office had recorded that 145 civil society leaders were killed by criminals in the country in 2021.
Many of those killed in early 2022 were Indigenous defenders and local community leaders. Some of the cases reported include:
The killing of 14-year old Indigenous activist Breiner David Cucuñame, shot dead while on patrol with the Nasa Indigenous Guard in the north of Cauca on 14th January 2022. He was part of the Guard's school for young people. In the same attack, an Indigenous Guard member, Guillermo Chicame, was killed and another was injured. The former coordinator of the Indigenous Guard, Albeiro Camayo Güeito, was killed in another attack some days later – Protection International said it is suspected that the same perpetrators were responsible. According to analysis by the International Crisis Group, the Indigenous Guard has become a target of dissident FARC groups in Cauca for resisting criminal activity such as coca cultivation and illegal mining in their territories.
In Orocué, Casanare, the body of land rights defender Luz Marina Arteaga was recovered from the Meta River on 18th January 2022, six days after she had disappeared. She had previously received death threats and requested protection measures from Colombia's National Protection Unit.
In Arauca, the killing of social leader Álvaro Peña on 25th January 2022 was followed by the murder of his wife Rosalba Tarazona hours later, during Peña's wake. He was a community leader who reportedly helped homeless families in rural areas to find plots of land they could use to shelter them from the streets.
In Cauca, unionist José Euclides Gonzáles Marín was shot and killed on 31st January 2022. He was a well-known human rights defender and a member of the Caloto-based ASTRAZONACA rural workers union, which is affiliated to the FENSUAGRO agricultural union.
Civil society organisations face surveillance and threats
🔊 #ATENCIÓN 🗣️Exigimos medidas concretas para garantizar la labor de defensa de los derechos humanos que realiza la CCEEU, su Observatorio de DDHH y garantías para la labor de su Coordinador.

📄 Lea el comunicado completo en nuestra página web 👉 https://t.co/ty6TBtLis2 pic.twitter.com/dkL3Mr4F90

— Coordinación Colombia Europa Estados Unidos CCEEU (@coeuropa) December 2, 2021
Several civil society organisations that documented police violence and represented the victims of abuses during the national strike in 2021 have reported being subjected to threats and attacks.
On 2nd December 2021, Juan David Rivera, a member of the Comité de Solidaridad con los Presos Políticos (Committee for Solidarity with Political Prisoners - CSPP), was threatened by an individual with a gun. Rivera said he noticed he was being followed as he went out to walk his dog, and that the assailant made reference to the work of the CSPP during the incident. Six other members of the CSPP have been threatened since September 2021.
Also in December 2021, news outlets reported that two people working with Temblores ONG decided to flee the country after receiving credible information that they were under surveillance.
The human rights coalition Colombia-Europe-United States Coordination (CCEEUU) reported that Alberto Yepes, a leading advocate for families of victims of extra-judicial executions, has also been subjected to illegal surveillance. Disturbing incidents include a drone flying around CCEEUU's office in Bogotá on 30th November 2021 and Yepes' bodyguards discovering an unauthorised phone in the car assigned to him by the National Protection Unit.
Since April 2021, the Asociación para la Investigación y la Acción Social (Association for Research and Social Action - Nomadesc) and its president Berenice Celeita have faced surveillance, threats and attacks. As reported by WOLA in December 2021, the organisation has documented evidence that the national police used electronic surveillance against them. Nomadesc said there have been incidents of harassment against rights defenders working with them.
National strike demonstrators detained
#LibertadParaLxs7DeBoyaca 🗣️📢 Celebramos la decisión del Juez dónde se revocaron las medidas privativas de la libertad.

Las 7 personas fueron liberadas porque no hubo suficiente material probatorio para atribuirles la autoría de los hechos imputados.#NoMásMontajesJudiciales pic.twitter.com/AXCAuwXJnf

— Campaña Defender la libertad (@DefenderLiberta) March 1, 2022
On 22nd November 2021, several leaders and demonstrators from Boyacá were detained under accusations of being members of a radical group and taking part in violent incidents during the 2021 national strike. Seven young people were detained, including Sergio Forero, candidate for the youth council of Paipa; Iván Ayala, youth leader; Julián Barón, member of Colombia Humana, environmental leader and candidate for the youth council of Paipa; and human rights defender Juliana Andrea Higuera Quintero.
Juliana Higuera is a member of a group working to support victims of extra-judicial executions and forced disappearances in Boyacá and Guaviare. Days before her detention, she had participated in a national meeting for victims of police violence. On 28th February 2022, Higuera said on social media that a court had revoked preventive measures against the social leaders, which had included house arrest.
Earlier in November, ten young people in Bogotá were placed in pre-trial detention as they face a series of protest-related charges. They were accused of being members of the "First Line" ("Primera Línea") of protesters, with offences such as incitement, attempted murder and violence against public servants, among others.
Peaceful Assembly
#ATENCIÓN Los habitantes de Botalon, se desplaza a las calles solicitando que paren el conflicto armado.

Niños piden paz para su territorio.#botalon #arauca #tame #saravena #arauquita #fortul #puertorondón #cravonorte pic.twitter.com/hkWVRk9Rq4

— Arauca online (@Arauca_Online) January 3, 2022
In early January 2022, communities in the Arauca department organised peaceful protests against violence from the continuing armed conflict in the region. According to the Ombudsperson's Office, about 1,200 people took to the streets in Puerto Jordán and 500 people joined a protest in Botalón on 5th January 2022. The demonstrations followed clashes between dissident FARC members and ELN guerrillas that left 23 people dead in the first days of the year.
Positive developments on police reform
Les agradecemos a todas las candidaturas y a todas las personas que asistieron al debate sobre #ReformaPolicial. Si no alcanzaron a llegar, o si se perdieron la transmisión, acá pueden ver el debate: https://t.co/YTCp4Tdtvo pic.twitter.com/3WVI1VP3Bi

— Temblores ONG 🐘 (@TembloresOng) November 22, 2021
In a positive development, debates in the run-up to Colombia's 2022 general elections have included discussions on police reform. On 22nd November 2021, nine presidential pre-candidates participated in a debate focused on the police, with all of them agreeing on the need to tackle the institutional violence shown by security forces in recent years. The debate was organised by civil society organisations Temblores, International Media Support and Friedrich Ebert Stiftung Colombia, along with media outlet El Espectador.
Separately, on 25th January 2022 President Iván Duque sanctioned two laws affecting the police forces, one of which modifies procedures and sanctions for officers with the aim of protecting people from human rights violations.
The "Police Disciplinary Statute" (Law 2.196) prohibits officers from hiding identity information and allows the recording of police operations. It also includes mechanisms to enable monitoring and scrutiny over disciplinary proceedings against officers accused of rights violations, and establishes the use of excessive force as 'very serious misconduct' that can lead to unpaid suspension or removal from office and general disqualification in some cases. Separate legislation (2.179) promotes police professionalisation.
Expression
Threats to journalists continue
Journalist Jullieth Cano, a correspondent in Cúcuta for Notícias Caracol and Blu Radio, said in January 2022 that she has been threatened twice for her work reporting on the Colombian border with Venezuela in the Norte Santander department. The journalist also said that, when reporting on a terrorist attack at an airport on 14th December 2021, her news crew faced intimidation from authorities and had to stop filming.
On 20th January 2022, journalist Vicky Dávila, director of Semana magazine, said on Twitter that she had received threatening anonymous messages via WhatsApp. Dávila had previously been threatened by FARC-EP dissident Jesús Santrich in 2021.
Attacks on journalism in Arauca
#AlertaFLIP | La prensa en el departamento de Arauca está siendo presionada por grupos armados para publicar información. Esto pone en riesgo la seguridad e integridad de las y los periodistas.

🧵 Abrimos hilo. 👇🏽 pic.twitter.com/b5pFq23NkZ

— FLIP (@FLIP_org) January 8, 2022
In the first weeks of January 2022, at least seven journalists in Arauca were threatened and pressured to publish information they were given over text messages by members of ELN and FARC dissidents. One journalist was told that there would be consequences if they did not comply with the orders. The Fundación para la Libertad de Prensa (Foundation for Press Freedom - FLIP) said that forcing communicators to disseminate information from a party in the conflict exposes them to reprisals and leads to self-censorship.
On 19th January 2022, a car bomb exploded in front of a building in Saravena where civil society organisations and news media are headquartered. The explosion affected the operations of digital and print media Trochando Sin Fronteras and of community radio Sarare Stereo, whose offices are also located nearby. The outlets' offices, equipment and antennae were damaged.
On 25th January 2022, Emiro Goyeneche, director of community radio Sarare FM Stereo in Arauca, was threatened in a pamphlet signed by a FARC dissident group. The journalist was accused of supporting the ELN, allegations that local press groups condemned. They said this type of allegation puts the integrity and security of journalists at risk amid armed conflicts.
FLIP documented 30 violations against 29 members of the press in Arauca between January and mid-March 2022, including attacks, threats, damage to infrastructure, displacement and intimidation.
Bill amended to remove article threatening press freedom
On 6th December 2022, the Colombian Chamber of Representatives passed Bill 369 against corruption which included an article posing a threat to press freedom, according to local and international groups. Article 221A of the bill would have amended Criminal Code provisions on defamation, empowering judges to suspend or cancel the legal status of any organisation whose members defamed or slandered any active or former government official. Following pressure from civil society and media, the article was removed from the text on 14th December 2022.
The anti-corruption law (No. 2195, "Ley de Transparencia, Prevención y Lucha contra la Corrupción") was sanctioned on 18th January 2022.
Civic Space Developments
Tags
attack on HRD,
intimidation,
harassment,
HRD detained,
HRD killing,
criminal defamation,
surveillance,
non state actors,
women,
indigenous groups,
release of HRDs,
positive CS development,
attack on journalist,
labour rights,
protest,
enabling law,
protestor(s) detained,
HRD threatened,
land rights,
self censorship,
youth,
Back to civic space developments