Colombia: four journalists killed in the second half of 2022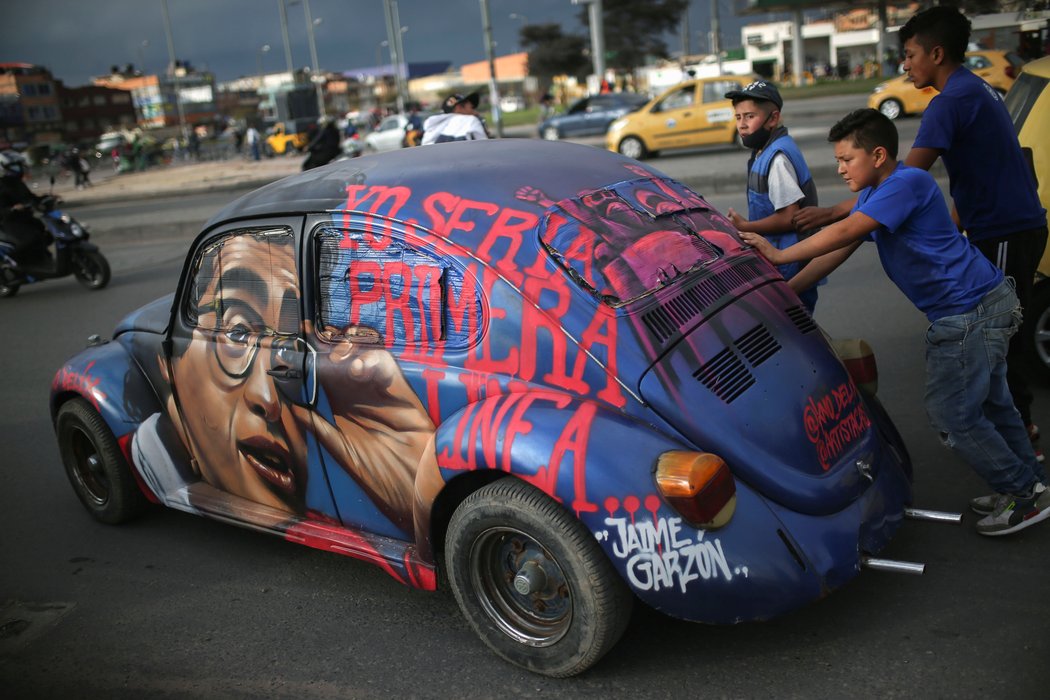 Association
In December 2022, Colombia's human rights ombudsperson said killings of human rights defenders (HRDs) and social leaders had reached a record high, with 199 killings recorded in the first 11 months of the year. "It's an alarming and unprecedented figure, the highest since 2016, when we started keeping records," stated ombudsperson Carlos Camargo. He said the violence correlates with operations by illegal armed groups that dispute territorial control of drug trafficking routes.
Monitoring by the Instituto de Estudios para el Desarrollo y la Paz (Institute for Development and Peace Studies) showed slightly different figures, but also underscored the tremendous violence against HRDs and social leaders. The group recorded 189 killings in 2022, with at least 71 people killed between August and December. Most cases took place in the Cauca and Nariño departments. Community leaders were most often targeted, followed by Indigenous leaders.
Cases which took place in the second half of the year include:
Indigenous social leader Álvaro Bailarín Sapia, a member of the Embera Eyábida and governor of community Resguardo Valle de Pérdidas in Antioquia, was shot and killed by an armed attacker on 14th October 2022. Days later, on 28th October 2022, the treasurer of the Indigenous Council of Chimborazo, Yeimi Chocué, was followed by armed attackers and murdered in her home. At least two members of the Indigenous guards were also killed in the period, Carlos Alberto García of the Pilvicito community, Nariño, and Juvencio Cerquera of Paletará, Cauca. According to Indepaz, Cerquera's killing took place amid tensions between Indigenous peoples in the region and a multinational company in the packaging industry.
There were also several community leaders and members of communal action juntas targeted. On 21st September 2022, assailants killed campesino leader Frai Torres, treasurer of the Junta de Acción Comunal of Nueva América in Palmor de la Sierra, Magdalena. Dinael González Criado, member of the Junta de Acción Comunal de Campo Seis, in the municipality of Tibú, Norte de Santander, was killed on 28th September 2022. Gildardo Alonso Ríos, vice-president of the Junta de Acción Comunal of La Primavera, in the rural area of the municipality of Fortul, Arauca, was killed on 21st October 2022.
On 30th October 2022, Johnny Agudelo, who served as a mediator in a land dispute in Las Cayenas, Barranquilla, was killed by an individual who entered a meeting of local leaders, asked after Agudelo and shot him. In a separate incident on the same day, armed assailants killed two Afro-Colombian leaders south of Nariño, brothers Jonás Carabalí and Faustino Carabalí. They were advocates of Afro-Colombian collective land rights and had co-founded the Association of Afro-Amazonian Community Councils of the San Miguel Rivers in Nariño.
On the 26th November 2022, trade unionist Nicodemus Luna Mosquera and his nephew were killed in La Guajira. He was a former leader of the Unión Sindical Obrera in Tibú, Norte de Santander and current member of the National Association of Oil Pensioners of Colombia.
On 21st December 2022, activist José Ricaurte Quintero Marín was shot and killed in Armenia, Quindío. He was a leader in the Survivors of Maná Foundation, a human rights group that represents families of victims of forced disappearance.
Indigenous leaders threatened and attacked
On 8th September 2022, the Organización Nacional Indígena de Colombia (National Indigenous Organisation of Colombia - ONIC) published a statement condemning threats against the life and integrity of Indigenous leaders in Valle del Cauca. The national organisation said leaders of local Indigenous government organisation ORIVAC faced constant threats, and called on the National Protection Unit to adopt emergency procedures due to imminent and exceptional risk, in order to implement effective and efficient measures for the protection of the threatened leaders. ONIC also rejected the presence of armed groups in ancestral territories, the use of explosive devices such as anti-personnel mines in their lands, and the human rights violations against Indigenous peoples.
In a separate but similar development, on 29th October 2022 ONIC expressed solidarity with Aida Marina Quilcué Vivas, who is an Indigenous leader, former human rights advisor at ONIC and currently a senator. Quilcué was attacked while travelling through Tierradentro, Cauca, after attending a meeting with Indigenous authorities in the Caldono municipality. Her vehicle was shot at multiple times by armed individuals on motorbikes. ONIC denounced the attempt on Quilcué's life, and called on government institutions to take all measures to ensure her life and integrity.
Human rights defenders under attack

Civil society group Programa Somos Defensores (We are defenders programme) said in December 2022 that they had recorded rights violations against 621 human rights defenders in Colombia between January and September 2022. Threats were the most frequent type of violation recorded, followed by killings and physical attacks. There were also cases of forced displacement, enforced disappearances, criminalisation and arbitrary detention.
Stigmatisation of human rights defenders
In November 2022, a pamphlet signed by a dissident group of the Revolutionary Armed Forces of Colombia (FARC-EP) accused human rights defender Sonia López of being a member of rival armed group ELN. The pamphlet also accused the Josef Sierra Human Rights Foundation, of which López is a leader, of acting as a "legal arm" of ELN. The Foundation rejected these accusations, condemned the stigmatisation and threats against López, and called on the government to dismantle these armed groups. Other organisations such as the MINGA Association also condemned the stigmatisation of Arauca social leaders.
On 21st November 2022, magazine Semana published an interview with far-right senator María Fernanda Cabal of political party Centro Democrático, in which she made stigmatising statements against civil society group Inter-Church Justice and Peace Commission and its members. The senator called the organisation a "lying NGO" and stigmatised its leaders. She also made false claims against Gloria Flórez, former director of the MINGA Association and currently also a senator. The organisations issued a joint statement rejecting Cabal's "reckless and unfounded" accusations. In early December, the senator made further stigmatising statements on Twitter, attacking Jesuit priest Javier Giraldo, who founded the Inter-Church Justice and Peace Commission.
Expression
Four Colombian journalists murdered
📢 Con este nuevo crimen, ya se contabilizan cuatro asesinatos de periodistas en Colombia durante 2022.

Comunicado completo ⬇️https://t.co/2TVFbDrm39

— FIP - América Latina y El Caribe (@FIP_AL) November 30, 2022
The second half of 2022 was particularly violent for the press in Colombia, with four journalists murdered between August and December.
On 28th August 2022, journalists Dilia Contreras Cantillo and Leiner Montero Ortega were shot dead near the town of Fundación, in the Magdalena department. Contreras and Montero were in a car, returning from work covering an event in the Santa Rosa de Lima municipality, when two individuals on a motorbike shot at the vehicle, killing both journalists and injuring a third person. Leiner Montero ran the "Leiner Montero Historias" Facebook page and was director of radio broadcaster Sol Digital Stereo. Contreras was a contributor to several media outlets such as the RCN Radio, El Informador, Hoy Diario and Voces.
According to Reporters Without Borders (RSF), on arriving in Santa Rosa de Lima, Montero and Contreras had a discussion with a local paramilitary leader's brother who then threatened them. The Press Freedom Foundation (FLIP) also reported that Montero had received threats during the past two years, and especially in the last six months. A suspect was arrested days after the killings, but the police did not release further information on the investigation into the motive for the attack.
In another case, two assailants on a motorcycle shot and killed journalist Rafael Emiro Moreno while he was at a restaurant in Montelíbano, Córdoba, on 16th October 2022. He was the director of online media platform Voces de Cordóba. According to the International Press Institute, he had been receiving threats since 2019 for his work documenting political corruption and the activities of illegal armed groups. Moreno had been enrolled in the protection scheme of the National Protection Unit (UNP) since 2019, but the unit had decreased his protection in 2020. In 2022, the journalist had requested reinforced protection measures following death threats, but the UNP had not yet responded by the time of his killing.
FLIP vowed to continue Moreno's work, saying his "journalistic leadership inspired more colleagues, challenged the powerful and the violent, and made him one of the leading voices in his region." In November, the foundation warned about ongoing threats against journalists who worked with Moreno in Córdoba. FLIP highlighted the situation of Walter Álvarez, a journalist with Sur de Córdoba who received death threats and whose daughter was also threatened.
Separately, on 28th November 2022 journalist Wilder Córdoba was shot and killed while he was on a reporting trip in the village of El Salado, in the Nariño department. Córdoba was the director of the local outlet La Unión TV in the town of La Unión, where he often reported on local political corruption and crime. According to the Committee to Protect Journalists (CPJ), police ruled out robbery as a motive because none of the journalist's belongings were taken in the attack.
Gender-based violence against women journalists
En mi trayectoria periodística he vivido diferentes tipos de agresiones: físicas, económicas, censura, persecuciones e irrupción violenta a mi casa. Hoy se suma la ejercida por el profesor GilbertoTobón. Sin embargo nada hará q pierda ni mi sonrisa ni mi esencia. @Margaritarosadf pic.twitter.com/4PK5Pzj5vU

— mapiaguilars (@mapias15) November 9, 2022
In November 2022, a university professor harassed a journalist who had interviewed him, sending her inappropriate messages after the recording. Gilberto Tobón, who is a former candidate to the Senate with Fuerza Ciudadana, was interviewed by journalist María del Pilar Aguilar and a colleague for the programme 'Palabras Mayores.' On 9th November 2022, Aguilar published screen captures of messages Tobón sent her afterwards, in which he accused her and the other journalist of teaming up against him, using sexist and insulting language to insult her such as calling her an "obese flirt."
FLIP condemned Tobón's statements, saying he should apologise and commit to respecting journalistic work. The group also called on Fuerza Ciudadana to publicly reject his statements. FLIP said it had documented 17 cases of attacks against women journalists in 2022 alone. On a related note, the foundation reported that there were at least 44 cases of gender-based violence against journalists in Colombia between 2020 and 2022.
Controversy over working draft of criminal policy bill
In November 2022, a leaked section of a draft criminal policy bill sparked controversy. The bill under development by the Ministry of Justice contained an article establishing a strategy to create awareness of criminal policy through the press. Radio stations and television broadcasters would be obliged to carry out campaigns to "humanise" criminal policy and create awareness about the potential of restorative justice. As reported by La FM, the text stated that such contents could be developed directly by media outlets, but would be submitted to the Higher Council for Criminal Policy for approval.
Minister of Justice Néstor Osuna confirmed that the article was part of a working draft of a bill to be officially presented in March 2023, but said the language had been modified following criticism by experts. Press organisations and news outlets had argued that the proposal created a prior censorship mechanism, limiting freedom of expression. Osuna said the modified text would enable the Higher Council to give their opinion, rather than approval, on any content.
Despite the changes, FLIP said prior censorship would continue to be a risk, and that the scope of the concepts used in the bill is still unclear. The group said: "there is a fine line between raising awareness of criminal policy; and forcing the media to publish specific content about it. The media are under no obligation to be 'allies' of the government."
Lack of compliance with Inter-American Court ruling
In a joint statement issued on 18th October 2022, civil society groups denounced that little had been done by authorities to advance investigations on the case of journalist Jineth Bedoya, one year after the Inter-American Court of Human Rights issued a ruling in her favour. Bedoya's case is related to kidnapping, torture and sexual violence she endured in May 2000 when visiting a prison in Bogota to conduct an interview.
The Court declared in 2021 that the Colombian State was responsible for the violation of Bedoya's right to personal integrity, personal liberty, honour and dignity, and freedom of thought and expression. Among other things, the Court ordered the Colombian State to promote the pending investigations and sanctions on the case, implement effective measures for the protection of women journalists, and pay compensation to Jineth Bedoya and her mother, Nelly Lima. While some steps have been taken by various state institutions to implement some of these measures, the Attorney General's Office has reportedly failed to investigate the case or the threats Bedoya and her mother have received in recent years.
Peaceful Assembly
Anti-government demonstrations
Miles de personas salen a las calles de las principales ciudades de Colombia para protestar contra las reformas económicas y políticas del presidente Gustavo Petro, la primera manifestación contra su Gobierno desde que asumió el cargo.

📸 @MauricioDuenas pic.twitter.com/2LYQtU6a4N

— EFE Noticias (@EFEnoticias) September 26, 2022
On 26th September 2022, 50 days after President Gustavo Pero took office, thousands gathered to protest against his proposed economic and social reforms. Many opposed Petro's proposed tax reform, which would eliminate exemptions and raise taxes for those earning more than ten times the minimum wage. Other issues highlighted by protesters included the reestablishment of diplomatic relations with Venezuela, a rise in fuel prices and proposed changes to the country's Electoral Code. Protests took place in Bogotá, Cali, Medellín, Cartagena, Bucaramanga and Barranquilla.
This was the first of a series of protests that continued for the next few months, organised by the opposition campaign 'No Más Petro.' On 15th November 2022, government supporters also organised events to express their approval of Petro's measures in his first months in office.
Protest by displaced Indigenous people ends in violence
An Indigenous-led protest in Bogotá ended in violence on 19th October 2022, leaving 27 people injured. The demonstrators, members of displaced Indigenous communities, were protesting against local authorities in the city, saying they had not complied with previous agreements. The Autoridades Indígenas en Bakatá (Indigenous Authorities in Bakatá – AIB) had spent months warning about unsanitary and unsafe conditions in the lodgings provided to Indigenous families, as well as the government's alleged negligence in regard to food provision and other commitments.
According to media reports, protesters blocked passage and attempted to invade a building in a busy area of Bogotá. The protesters clashed with police officers, using sticks and stones against them. Videos shared on social media showed police officers being violently attacked. Police responded with tear gas. Of the 27 injured, 14 were police officers, eight were civil servants and five were civilians. A member of the AIB later said the violence was triggered by an attempt by police to disperse the demonstration, and recognised that the violent incidents were regrettable.
Gender-based violence against protesters
We received hundreds of reports of gender-based violence during the 2021 National Strike in #Colombia. We have documented 28 of these incidents in depth: https://t.co/yIBuCR9vVN 📢 #ProtectTheProtest ✊ pic.twitter.com/KyGmXSKKTq

— Amnesty International (@amnesty) December 1, 2022
On 1st December 2022, Amnesty International published a report revealing repeated and generalised practices of violence against women, children and LGBTIQ+ people in the context of the 2021 National Strike in Colombia. The organisation's investigation documented 28 cases of gender-based violence in the protests, which were among hundreds of similar complaints they received. Amnesty said their investigation demonstrated that gender-based violence, including sexual violence, was used to repress the demonstration. This particularly affected women, girls and LGBTQIA+ people. The report states:
"The common factor in all cases is the intention behind this use of violence: the perpetrators sought to punish the victims for contravening social gender norms and going out onto the streets to claim their rights."
Entre enero y noviembre fueron asesinados 199 líderes, lideresas sociales y personas defensoras de derechos humanos en Colombia, cifra muy superior a los 136 casos reportados en el mismo periodo de 2021.

Lee aquí toda la información: https://t.co/A8OeLZNBUx pic.twitter.com/FS7rt4xvCR

— Defensoría del Pueblo (@DefensoriaCol) December 7, 2022