Colombia on alert with increasing massacres, social leaders killed and repression of protests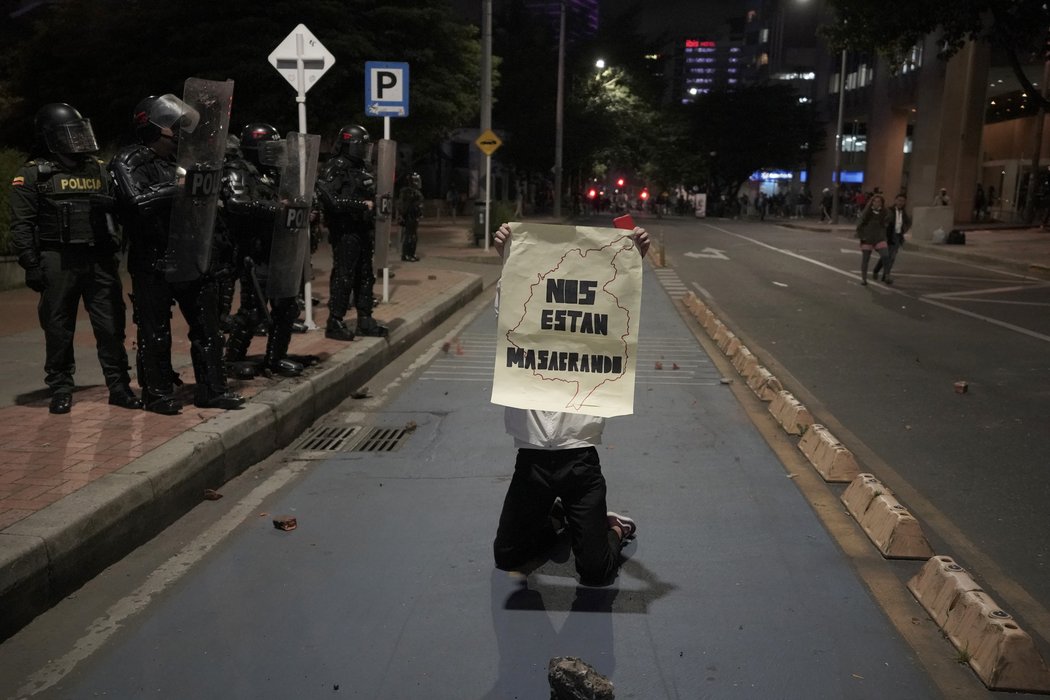 In the span of two weeks in August 2020, there were at least seven massacres in Colombia. The violence left at least 39 people dead, among them many young people and children. In Nariño, three young men were found dead in the Awá Indigenous reserve Pialapí Publo Viejo. This surge in mass killings has occurred as rival criminal groups escalated disputes for territories formerly controlled by the Revolutionary Armed Forces of Colombia (FARC), particularly in rural areas.
Civil society organisation CODHES documented 42 massacres between 1st January and 24th August 2020, which resulted in 182 deaths. In August 2020, the number of registered incidents increased threefold compared to the previous month.
Furthermore, in June 2020 Human Rights Watch (HRW) reported that armed groups in Colombia had committed killings and other abuses to enforce their own rules to prevent the spread of COVID-19. In their research, HRW found that armed groups had imposed measures to prevent the spread of the coronavirus in at least 11 of Colombia's 32 departments. These measures were communicated by pamphlets and WhatsApp messages; they included curfews, lockdowns, limits on commerce, movement restrictions for people, cars and boats as well as banning access to communities for foreigners and people from other communities.
In at least five regions, the groups used violence when they perceived people were failing to comply; in four other regions, groups threatened violence. HRW documented nine killings in three departments connected to these incidents. Eight civilians appear to have been killed because they did not comply with the measures and one for opposing the measures. More than ten other people were injured.
Association
Human rights defenders and community leaders killed
#ColombiaEstaEnAlertaRoja pic.twitter.com/RmCnbE1A6T

— Indepaz (@Indepaz) August 31, 2020
In the context detailed above, the killing of human rights defenders and community leaders has continued unabated. The number of victims differs according to the methodology of the monitoring organisation. According to civil society organisation Pacifista!, from 1st June to 1st September 2020, 24 social or community leaders were killed. According to the organisation Indepaz, 74 social leaders were killed in this period.
The following is a summary of some of the cases reported recently:
International organisations call upon Colombian government to end illegal surveillance
A group of 12 national and international organisations signed a joint letter to the government expressing concern about recent allegations that the Colombian National Army had conducted mass surveillance of human right defenders and journalists. As previously reported in the CIVICUS Monitor, Colombian military intelligence officials allegedly carried out an extensive monitoring operation targeting more than 130 individuals, including more than 30 national and international journalists between February and December 2019.
The signatories to the letter argued that Colombia has a history of State-enacted illegal intelligence activities against lawyers and human rights defenders, and that these illegitimate practices have led to crimes such as assassination attempts and murders. The organisations called upon the Colombian government to immediately end all acts of intimidation and surveillance of defenders in Colombia, ensuring that any surveillance carried out on individuals complies with human rights standards and that decisions to undertake surveillance are made independently and are necessary, proportionate, legitimate, transparent and subject to appropriate oversight and regulation.
Peaceful Assembly
Protests repressed by law enforcement
Black Lives Matter protest in Bogota. Anderson Arboleda young black man in Cauca, #Colombia was killed recently by police for being out during COVID curfew. He was hit with clubs on his head and died following day from the trauma. pic.twitter.com/tZBi72f7vm

— manuel rueda (@ruedareport) June 16, 2020
On 15th June 2020, hundreds mobilised across the country in protests against state negligence, forced evictions and the precarious conditions that communities have endured during the COVID-19 pandemic. According to news reports, the national police and the Mobile Anti-Disturbance Squadron (ESMAD) heavily repressed protests in Bogotá and Medellín. Some protesters vandalised and threw rocks at store windows, metro stations and buildings. The ESMAD blocked roads and stopped protesters from advancing and arrested several human rights defenders and members of the press. More than 100 people were detained and 20 injured, according to civil society reports.
On the same day, protesters gathered to denounce racism and the killings of Black people in Colombia and in the United States. In Bogotá, protesters took to the streets carrying Black Lives Matter banners and calling for justice for Anderson Arboleda, a 24-year-old African-Colombian man who died on 19th May 2020 after police officers hit him repeatedly on the head while detaining him for breaking quarantine. A major Black Lives Matter protest also took place on 3rd June 2020, when various groups gathered in front of the U.S. Embassy to protest police brutality and killings of Black people in both countries.
Civil society organisation Proceso de Comunidades Negras de Colombia (Black Communities Process) has highlighted that the Afro-descendant community in Colombia is subjected to multiple forms of state violence, including police brutality, political persecution and assassinations and systemic and institutional racism, with state negligence of health, education and basic conditions of life for Black communities. In coordination with other grassroots organisations and community councils, they established different mechanisms to monitor the impact of the COVID-19 pandemic in their communities and territories.
Indignation and protests against police brutality
#Colombia: "Hemos verificado evidencia videográfica de cómo la @PoliciaColombia torturó al abogado #JavierOrdoñez, utilizando una pistola eléctrica Taser y haciendo uso excesivo e innecesario de la fuerza en su contra," @ErikaGuevaraR https://t.co/503Cg4OuAM

— Amnistía Internacional Américas (@AmnistiaOnline) September 11, 2020
In September 2020, the violent detention and police killing of Javier Ordóñez in Bogotá led thousands to the streets to protest police brutality in Colombia. Ordóñez was a 45-year-old lawyer who was detained on 9th September 2020 for drinking in public and died after receiving a blow to the head in police custody. Eyewitnesses filmed police officers pinning the unarmed Ordóñez down and tasering him multiple times, even as he pleaded with them to stop. "You're going to kill him," bystanders can be heard saying in a video that was widely shared on social media, eliciting indignation across the country.
On 9th and 10th September 2020, protests against police brutality were met with repression and excessive force, in particular in Bogotá. Police fired teargas, flashbang grenades and used less lethal weapons against protesters. According to Amnesty International, law enforcement fired indiscriminately at demonstrators in at least two separate instances. Officers on motorcycles also ran over the crowd in one of the recorded incidents. News outlets also reported that, during the unrest, several police kiosks, buses and vehicles were vandalised and torched, and that some demonstrators threw rocks at officers and buildings.
Bogotá mayor Claudia López said that on the second night of protests, eight people had been injured with firearms. She also claimed law enforcement forces had disobeyed orders from the Mayor's Office while policing the protests. "No one gave an order to use firearms, much less indiscriminately. But we have evidence from several places where this happened," Lopez was reported as saying. The Ministry of Defence later stated that 10 people were killed and 403 injured during the protests, 209 civilians and 194 law enforcement officers. Some 140 people were also detained for alleged vandalism.
Similar protests against police brutality also took place in Medellín, Cali and many other cities across Colombia.
Expression
Indigenous journalist killed in the Cauca region
#HoyEnLaFLIP queremos contarles quién era #AbelardoLiz, el comunicador indígena asesinado la semana pasada, qué hacía en medio de las confrontaciones entre las Fuerzas Armadas y comunidades indígenas y para qué medio de comunicación trabajaba.https://t.co/WhGcFHlu5h pic.twitter.com/UsEGbtGtt2

— FLIP (@FLIP_org) August 18, 2020
On 13th August 2020, Indigenous radio journalist Abelardo Liz was shot and killed during a two-day military campaign to forcibly remove Nasa Indigenous peoples from land near the western town of Corinto. According to the military, the land claimed by the Indigenous community as their ancestral territory is owned by a private sugar company.
Liz hosted a daily news and culture programme on Nación Nasa, a community radio station in Corinto. He was recording sound and video of the eviction when he was killed. In a video shared on social media, General Mayorga Niño, commander of the division involved in the campaign, blamed the Nasa people and left-wing guerrillas for the two killings that took place and denied that the army had targeted civilians. In another video posted on social media, gunfire can be heard as Nasa civilians scramble for cover.
The Foundation for Press Freedom (FLIP) issued a public statement condemning the journalist's killing and calling for an investigation on the circumstances of his death. The organisation also stated that other journalists had said they saw gunfire coming from the army's location on the day of these incidents.
Attacks, intimidation and detention of journalists covering news stories
#Colombia: On June 15, police assaulted, arrested, and detained overnight photographers Harrison Agudelo, Juan Carlos Londoño, and Juan Pablo Herrera as the three were covering an anti-government protest in the western city of Medellín.https://t.co/AJ8DRuQPej

— Committee to Protect Journalists (@pressfreedom) July 7, 2020
On 15th June 2020, police allegedly assaulted, arrested, and detained photographers Harrison Agudelo, Juan Carlos Londoño, and Juan Pablo Herrera while they were covering anti-government protests in the city of Medellín. The three journalists are members of the journalism collectives Periferia Prensa, AquiNoticias, and Ab_zurdo.
As reported by the Foundation for Press Freedom (FLIP) and the Committee to Protect Journalists (CPJ), the photographers were allegedly subjected to physical and psychological ill-treatment by law enforcement officers. Despite having shown their credentials, they were taken to a branch of the federal Attorney General's office where they were held overnight. They were released the next day without charge. However, they had to pay a fine for violating Medellín's coronavirus lockdown even though journalists are exempt from the regulations, according to a government decree.
In a separate development, on 8th August 2020 soldiers chased and shot at journalists Fernando Osorio and Edilson Álvarez while they were covering a protest by coca farmers near the southern town of Vista Hermosa. Osorio is a photojournalist and Álvarez is a reporter for local news cooperative Voces del Guayabero. The Committee to Protect Journalists (CPJ) reported that both found refuge in a farmer's house, but that soldiers found them and insulted and detained them there for about six hours before releasing them without charge.
Osorio also told CPJ that on 13th August 2020, while he was covering another protest by coca farmers, soldiers insulted him, pointed their rifles at him and made him briefly lie face-down on the side of a road.
Further incidents
In addition, the Federación Colombiana de Periodistas (Colombian Federation of Journalists - FECOLPER), has denounced multiple cases of intimidation and threats between June and August 2020, some of which are summarised here:
On 19th June 2020, FELCOPER denounced that six communicators had received death threats through pamphlets from alleged armed groups. The first case was registered in the Putumayo department, where five journalists were declared military objectives, threatened with death and accused of collaborating with the departmental government. Four of the journalists threatened were from the same city, Mocoa. The presumed authors of the threats are FARC dissidents.
The second incident took place in the rural area of Montañitas, department of Caquetá. Journalist César Augusto Useche Losada was threatened through a pamphlet, apparently signed by members of the armed group "Aguilas Negras". In the pamphlet, the reporter was insulted and given 48 hours to leave the region or be killed.
Also in June 2020, journalist Gerson Gil Ortiz received threats through social networks following a publication on alleged overspending in the purchase of uniforms by the municipal administration. Ortiz was director of the digital media Sahagún 180 Degrees but decided to shut it down following these threats. According to FECOLPER, seven people working with the portal were let go in these circumstances.
In August 2020, three journalists received death threats in Ipiales, department of Nariño, through calls and WhatsApp messages. The threatened reporters said that intimidating messages had begun after they began investigations related to illegal immigration and the irregular transport of migrants at the border with Ecuador during the pandemic.
On 7th August 2020, eight journalists from Santa Marta, in Magdalena Province, received pamphlets with death threats. Although the leadership of the National Liberation Army (ELN) has denied sending the intimidating pamphlets, their circulation is still a concern. FELCOPER requested that authorities and state security agencies carry out the necessary exhaustive investigations on their authorship.
On 15th August 2020, journalist Carlos Alfonso Pérez Cedeño received death threats from a person who identified himself as a member of the FARC dissident group. He is the director of regional outlet La Lupa Araucana and correspondent for Caracol Televisión in the department of Arauca. The threat was allegedly linked to notes the journalist published in Lupa Araucana regarding alleged corruption by a former public official of sanitation company Aseo Arauca.
Civic Space Developments
Tags
self censorship,
youth,
intimidation,
torture/ill-treatment,
HRD killing,
protest,
excessive force,
indigenous groups,
non state actors,
killing of journalist,
attack on journalist,
labour rights,
killing of protestors,
extractive industries,
women,
minority groups,
violent protest,
journalist detained,
protestor(s) detained,
environmental rights,
land rights,
Back to civic space developments