Climate protests and actions amid COVID-19, attacks on journalists continue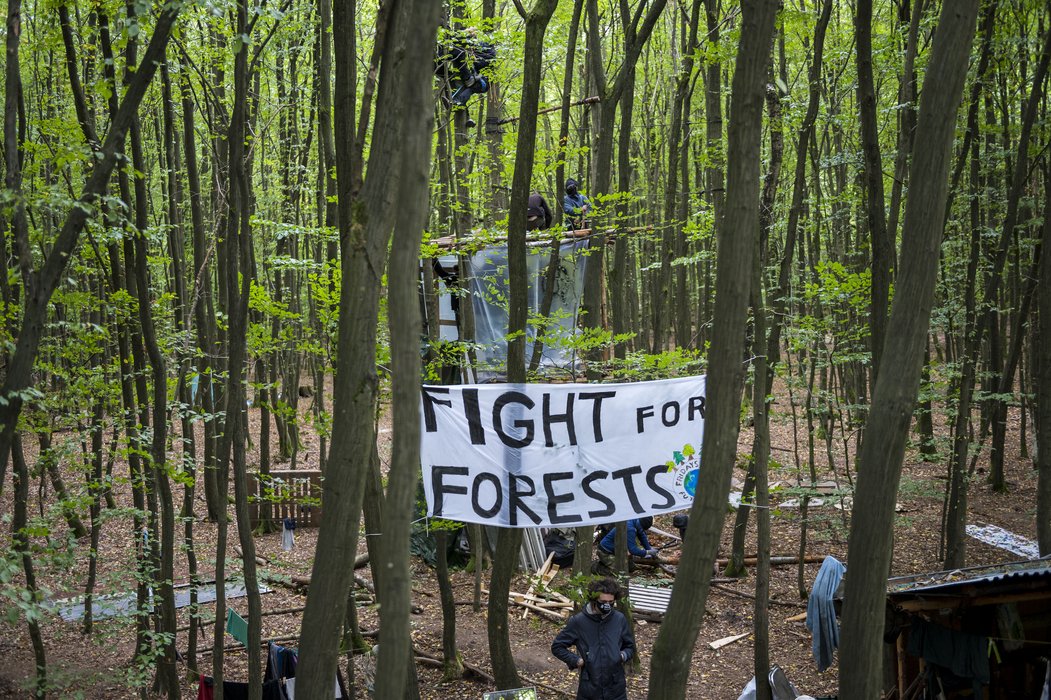 Association
A newly published report by Greenpeace and the Civil Liberties Union for Europe raises concerns over the shrinkage of civic space in Germany since the onset of the COVID-19 pandemic. The report analyses how governments' responses to the COVID-19 pandemic have affected civic freedoms in five European countries. It finds that civic space in Germany has suffered from quasi-bans on peaceful demonstrations including hefty sanctions on those who do make use of their right to protest. It furthermore points out that the possibilities for citizens and civil society organisations (CSOs) to have their say on government policies have been limited and that CSOs who carry out political activities have had their charitable tax status revoked.
Peaceful Assembly
Protests for environmental & climate change
On 26th September 2020, anti-coal protesters staged demonstrations against the use of fossil fuels at mines in Western Germany. Protesters dressed in overalls managed to gain access into the coal storage facilities. Some protesters were detained by officers. The protests were organised by environmental campaign group Ende Gelaende.
Wir sind nicht alle, es fehlen die Gefangen. Der orangene Finger ist seit über 8 Stunden im kalten Regen grundlos gekesselt. Lasst sie endlich frei! #EndeGelaende pic.twitter.com/CgHUSN8uKo

— Ende Gelände (@Ende__Gelaende) September 26, 2020
In early October 2020, thousands of climate activists gathered in the Dannenröder forest in Hessen to protest the felling of 27 hectares of forest to make way for an extension of the Autobahn. In another part of the forest, police destroyed barricades and treehouses of activists who have been occupying parts of the forest for the last year. Police said that 16 people had been arrested so far. Some of the activists were pulled down from treetops via hoisting platforms. The activists settled in trees and are expected to stay, with the intention to resist eviction for a long time.
Erfahrungsbericht von zwei Aktivist:innen über die Blockaden von vor 2 Tagen und dem Kampf mit @keinea49 für die Klimagerechtigkeit im Herrenloswald! 📢🌳🐰
- #Dannibleibt #dannenröderforst pic.twitter.com/3rDFOehqZL

— Dannenröder Wald Besetzung (@keinea49) October 3, 2020
In a separate but related action, on 5th October 2020, Extinction Rebellion activists commenced a week of actions by staging a blockade at the offices of the Transport Ministry in an attempt to halt all airport, motorway and federal highway projects. They also called for an end to the felling of part of the Dannenroeder forest. Police intervened, carrying away some protesters who glued themselves to the street with adhesive tape. The action was also followed by a "march of dead trees' in Berlin.
At our blockade outside the Federal Ministry of Transport, @XRBerlin demands Germany stop the expansion and new construction of all airport, motorway and federal highway projects!

The destruction of ecosystems must stop! #StopptDieZerstörung pic.twitter.com/kSwEqv949o

— Extinction Rebellion Berlin 🌍 (@XRBerlin) October 5, 2020
In addition, Fridays for Future socially distanced protests have kicked off around the world, including in Germany, where protests were staged in various cities including Berlin, the northern city of Bremen, Cologne and Hamburg
"We are in the middle of a pandemic and we cannot forget that, but we also need to know that the climate crisis isn't taking a break. The climate crisis is still here, so we need to take action and demand climate action,"- Quang Anh Paasch of Fridays for Future Germany told DW.
Der #FridaysForFuture-Klimastreik geht los. Mit Abstand und Masken versammeln sich gerade Tausende im ganzen Land wie hier in Bonn. Tweetet eure Bilder & Videos mit dem Hashtag #KeinGradWeiter!pic.twitter.com/6nCkI4m1QI

— Fridays For Future Germany (@FridayForFuture) September 25, 2020
BREAKING: Today, 200k people have been on the streets with us in 450 locations in Germany wearing masks & keeping the distance. This global strike in the midst of a pandemic must move our leaders to act on the #climatecrisis. Now is the time to #FightClimateInjustice! pic.twitter.com/CfcCwrWmie

— Fridays For Future Germany (@FridayForFuture) September 25, 2020
Protests over Liebig 34 eviction
On 9th October 2020 police evicted residents of Liebig 34 house, described as "anarcha-queer-feminist" housing project, which has been a place of refuge for women, trans and intersex people since 1999. People gathered outside the house to protest the eviction. It was reported that fights broke out between black-clad demonstrators and the police in front of the building.
7.41 Uhr. Lage an Rigaer / #Liebig34 eskaliert. Polizisten schlagen sich mit Demonstranten. Auslöser für mich unklar, war hier direkt neben mir. @welt pic.twitter.com/JQLZP9L3Tj

— Ibrahim Naber (@IbraNaber) October 9, 2020
Thanks to everyone who took to the streets today to show their solidarity. #Liebig34 will stay in our hearts while we keep resisting capitalism and patriarchy. #b0910 #LiebigLebt pic.twitter.com/1CuQRETHkd

— Liebig Thirty-Four (@liebig34bleibt) October 9, 2020
Anti-COVID-19 protests continue
Protests against COVID-19 regulations continue in Germany. In the city of Konstanz thousands attended a protest against government imposed COVID-19 measures on 4th October 2020. Police, who were sent to ensure that protesters adhere to COVID-19 measures, said that a total of 12 rallies took place with about 11,000 people.
A protester wears a face mask with holes cut out over his eyes during a rally against the government's coronavirus measures at Lake Constance in Konstanz, Germany. 📷 epa-efe / Ronald Wittek#germany #protest #restrictions #coronavirus #2019nCoV #covid19 #pandemic #epaphotos pic.twitter.com/xWFnc7nahG

— european pressphoto agency (@epaphotos) October 5, 2020
Expression
Media Freedom Rapid Response (MFRR) has noted several attacks against journalists in Germany. The following incidents were reported:
Two female radio reporters from the MDR regional public service broadcaster face verbal threats from a protester at a PEGIDA (anti-Islamic right-wing movement) protest in Dresden. He ordered them to show their press cards and then stated that "he had got all their details".

Journalists were prevented from doing their jobs during anti-coal protests staged by "Ende Gelände". Several journalists, photographers and a camera team accompanied the activists who attempted to occupy the site near the Garzweiler opencast mine in Rhineland. However, the group was stopped by police and RWE security guards. Security guards tried to impede the journalists from doing their jobs by preventing them from taking pictures or filming. The report stated: "One photographer was held in a headlock. One filmmaker was physically attacked. The guards tried to take one journalist's phone away."
#Germany: Security guards physically blocked journalists from reporting during protests against coal mining & prohibited the reporters from filming, claiming they were on private property. One photographer was held in a headlock.
More: https://t.co/mUeAnyB91w#MFRR
Photo: @Ti_Wag pic.twitter.com/WfnWYRsrfd

— Media Freedom Rapid Response (MFRR) (@MediaFreedomEU) October 8, 2020
Journalists were prevented from doing their jobs and physically attacked by police during an eviction of the squatted house "Liebig 34", in Berlin.
#Germany: During the eviction of the squatted house #Liebig34 and the protests against it in Berlin, the police impeded journalistic work several times:https://t.co/8dF0n6qr3f @ECPMF @MediaFreedomEU https://t.co/fPsIX5R2eV

— EFJ (@EFJEUROPE) October 9, 2020