Climate activist detained for civil disobedience; rise of assaults against journalists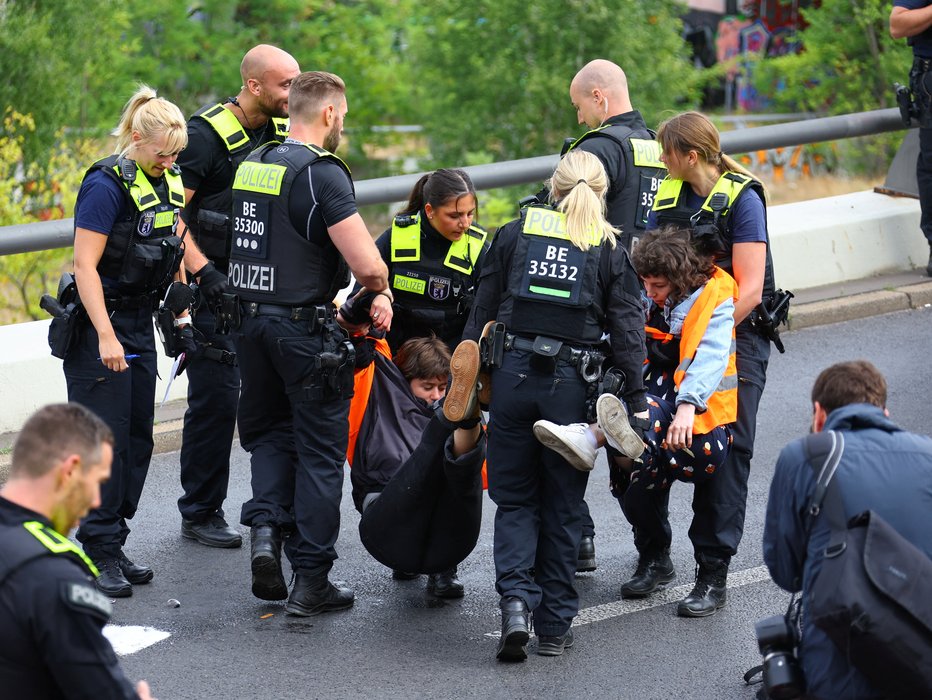 Peaceful Assembly
Climate activist arrested for gluing herself to road in Berlin
Lina Schinkoethe, a 19-year-old from Germany, was arrested for causing a disruption by partaking in direct action which involved sticking herself to the pavement with glue to block a road. This act is part of a global resistance movement called 'Uprising of the Last Generation'. Their movement is inspired by Greta Thunberg's school strike, which mobilised many young people to take action for the climate. The group's actions have grown from 30 to 200 in six months. Schinkoethe considered direct action necessary to ensure the government starts to listen to their demands to take climate change seriously and reduce fossil fuels. She said that being arrested did not deter her from further activism, adding that she is "going to keep going until the government locks me and the other activists up for their peaceful protests or gives in to our demands". Youth engagement in climate activism is part of a growing trend which is spreading across Germany, with young people becoming more prominently involved in the environmental movement. 
Expression
Petition calls for intervention as German-Iranian man faces death sentence
US resident and German citizen Jamshid Sharmahd has been arbitrarily detained and held in solitary confinement since July 2020.The political scientist's arrest was based on terror charges, in which the Iranian government claim he played a role in a 2008 attack on a mosque in Shiraz that left 14 dead and more than 100 wounded and has been directing many more overseas terrorist attacks. Sharmahd maintains he is innocent and denies involvement in any terrorist activity. He is currently facing the death sentence, and his arrest falls in line with a greater rise in the arrest and detention of both Iranian and foreign nationals, especially those like Sharmahd who actively speak out against the Islamic Republic of Iran. The German embassy of Iran asked to attend the final day of Jamshid Sharmahd's six day trial but was denied access. The German foreign minister, Annalena Baerbock, was asked to intervene through an online petition that gathered more than 75,000 signatures. According to the United Nations Human Rights Council, the trail constitutes an act which is against the International Law of a fair trial and it presented in a press release all of the international treaties that this arrest and detention violates. 
Rise in assaults on journalists
There have been rising attacks and assaults on journalists over the summer. This has been a country-wide trend and has resulted in many cases of censoring, violence and unrest.
On 11th July 2022, freelance journalist Kili Weber, who specialises in the Querdenken (the German anti-COVID movement) and far-right movements, was insulted and threatened while covering a Querdenken demonstration in Eilenburg, Saxony. The demonstrators did not want to be filmed, and after some time police asked the journalist to leave the protest for security reasons, which resulted in protesters cheering.
20:02 Aus Sicherheitsgründen müssen wir die Berichterstattung abbrechen. Die aggressive Menge jubelt.#le1107 #Eilenburg #Querdenken #Quergida #NoNazis pic.twitter.com/FML3INXYNi

— Kili Weber (@WeberKili) July 11, 2022
On 9th August 2022, the German Journalists' Association (DJV) denounced abuse against reporters working for RBB regional public broadcaster following the resignation of RBB director Patricia Schlesinger over mismanagement charges. The scandal has led to challenges in journalists doing their work, particularly a loss of public trust.

On 7th July 2022, the Freie Presse journalist Tobias Wolf was denied access to the regional congress of the Alternative für Deutschland (AfD) political party. The reason for the denial was that the accreditation was requested too late, however this was not the case. Chairwoman of DJV Sachsen (The German Federation of Journalists), said:
"This is also a determined attack on the freedom of reporting - and shows once again that the AfD does not know how to start with basic democratic principles."
On 6th July 2022, climate reporter Danni Pilger was insulted and his phone hit by a man in Berlin. The journalist was following global warming activists and while interviewing them he was insulted by a motorist who called him an "asshole". Prior to this, on 22nd June 2022, he was detained for two hours by the police during a climate protest in Berlin and his camera was confiscated.

On 2nd July 2022, several journalists were attacked while covering a peace demonstration in the Mitte district of Berlin. Photojournalists Moritz Dorn and Steffi Reichert were hit with a flagpole by a demonstrator. Several press officers also reported attacks on journalists in front of the Russian embassy on the boulevard Unter den Linden, where a registered counter-demonstration by pro-Ukrainian activists was taking place at the same time.