Civil society in the Philippines decry restrictive laws, smear campaigns and judicial harassment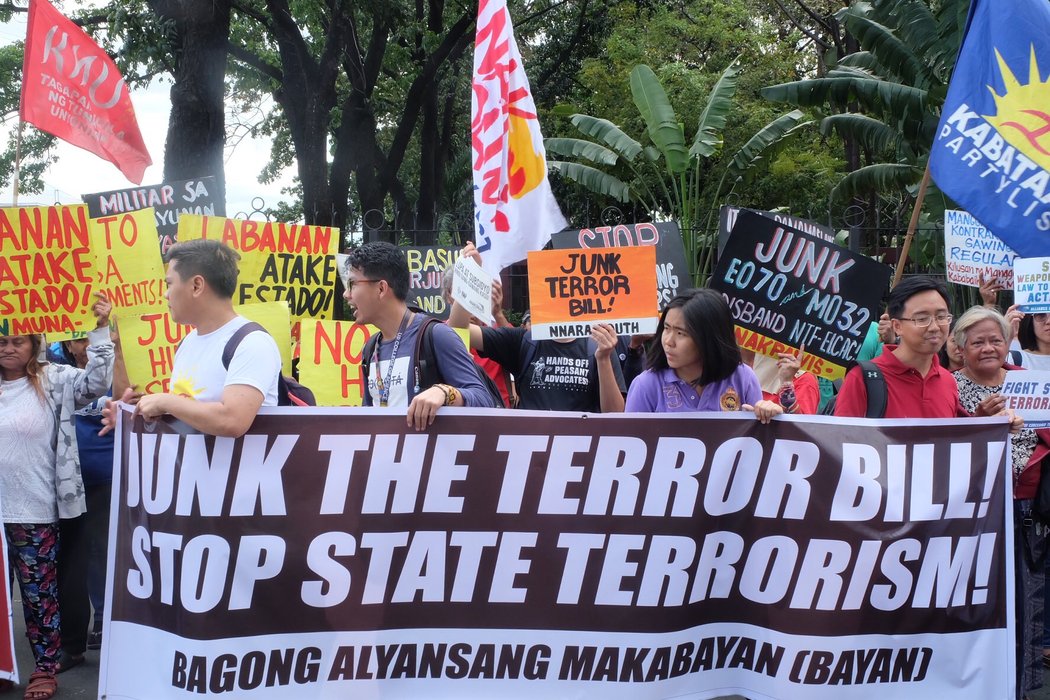 Over the last few months, harassment and attacks against journalists and activists have persisted in the Philippines. Attempts were made to shut down ABS-CBN, the largest media network, while cyber-troll armies were mobilised against government critics. Legislation against terrorism is being pushed through that undermines civic freedoms while civil society groups are facing judicial harassment, raids and smear campaigns. Government critic Senator de Lima has spent three years in detention. With the COVID-19 pandemic President Duterte has pushed through legislation that further threatens free speech and abuses against curfew violators have been documented.
Expression
Anti-fake news provisions in new emergency law threatens free speech
Philippines: Duterte's special powers bill punishes fake news by jail time, up to P1-M finehttps://t.co/S0Fe536PRx

— Ed Legaspi (@soiclyst) March 25, 2020
In response to COVID-19, the government declared a state of emergency on 25th March 2020 and granted President Duterte special powers by passing the "Bayanihan to Heal as One Act". Among the provisions in the law is one penalising spreading "false information" on social media and other platforms, a proposal that had been in deliberation since before the pandemic was declared.
Section 6(f) of Republic Act 11468, or the "Bayanihan to Heal as One Act" punishes the following:
Individuals or groups creating, perpetrating or spreading false information regarding the COVID-19 crisis on social media and other platforms, such information having no valid or beneficial effect on the population and is clearly geared to promote chaos, panic, anarchy, fear or confusion.

Those participating in cyber incidents that make use or take advantage of the current crisis situation to prey on the public through scams, phishing, fraudulent emails or other similar acts.
Those found violating this provision may face two months' imprisonment or a fine of not less than P10,000 (USD 196). Courts may also impose a fine of up to P1 million (USD 19,642).
The President of the National Union of Peoples' Lawyers, Edre Olalia said the provision is "constitutionally challengeable as undermining or curtailing freedom of speech, expression." He added that criminalisation of fake news is not the solution and noted the crime ascribed in the law "is not sufficiently and clearly defined as to prevent differing subjective interpretations and, worse, would be abused by prejudiced public officials."
Journalist groups have also raised concerns about the provision. The National Union of Journalists of the Philippines (NUJP) said that "This is very dangerous since we do not even have a legal definition of 'fake news'. This alone invalidates the law."
Media organisations, advocates of freedom of the press and of expression, journalists and academics also raised the alarm over the insertion of measures to control free expression in a joint statement. They stated:
"In effect, the law will leave it up to the government to be the arbiter of what is true or false, a prospect that cannot invite confidence given the fact that many administration officials, including the chief executive, have been sources of disinformation and misinformation."
Democracy.Net.PH, an internet and information and communications technology advocacy group, said politicians could weaponise the Bayanihan law due to the provision penalising fake news peddlers.
Media groups oppose government accreditation in Luzon
Media groups have opposed a government directive to secure media accreditation from the Presidential Communications Operations Office and to be exempted from the enhanced community quarantine enforced in Luzon in response to the COVID-19 pandemic.
The Inter-Agency Task Force on Emerging Infectious Diseases released guidelines which include that a special media pass for journalists covering different beats in the Manila metro will be issued.
The groups said that "while we recognise the gravity of the situation, we assert that this imposition is unnecessary, unreasonable and unconstitutional." They noted that the Constitution provides that no law will be passed that will abridge the freedom of speech, expression or of the press. The groups said that even if the accreditation was ordered with good intentions, it remains untenable to the notion of press freedom and democracy.
President seeks to shut down media network
SolGen move vs ABS-CBN a 'direct attack' on press freedom: watchdog https://t.co/d4fYJmY8kM

— ABS-CBN News Channel (@ANCALERTS) February 10, 2020
On 10th February 2020, the Office of the Solicitor General filed a petition before the Supreme Court seeking to nullify the franchise of ABS-CBN, which has long faced President Duterte's ire for criticising his "war on drugs" and other policies.
Duterte has publicly attacked ABS-CBN, accusing it of "swindling" him by not airing his advertisements during the 2016 presidential campaign, a charge the network has denied. He has also urged the media company to "just sell" its assets, vowing that he would make sure its franchise would not be renewed. Duterte and his allies have accused the network of being sympathetic to the political opposition.
The suit filed by Solicitor General Jose Calida, the government's chief lawyer, called a quo warranto petition, seeks to nullify ABS-CBN's original franchise, contending that the network has engaged in "abusive practices" that violate its franchise. Calida also alleged that ABS-CBN allowed foreigners to invest in the company, in violation of the Philippine Constitution.
ABS-CBN Corporation's 25-year franchise was approved through Republic Act 7966 on 30th March 1995 and became effective 15 days after its publication. This means that ABS-CBN's franchise will expire on 4th May 2020.
Carlos Conde, Philippines researcher for Human Rights Watch said:
"The administration's attempt to cancel ABS-CBN's franchise or deny its extension is not just an attack on a single network, but an all-out assault on media freedom."
On 10th March 2020, the National Telecommunications Commission agreed to issue a provisional authority to allow broadcast giant ABS-CBN to operate pending the renewal of its franchise.
Journalist arrested for interviewing protesters
On 21st January 2020, Glenn Jester Hitgano, a reporter based in Davao working at the Radio ni Juan Network was arrested and detained for interviewing protesters who were harassed by police.
According to reports, Hitgano was interviewing protesting workers of the banana company Philippine Dream Farm in Carmen city, covering a story on the farmworkers'. During the interview, three police officers arrested him for "insulting" them by interviewing the protesters.
At the police station, the police officers confiscated his phone and demanded he erase all the recordings of his interviews with the protesters. After being held for an hour, he was released after promising that he would abandon the coverage of the protest.
Alternative media group Altermidya also called this attack against Hitgano a "blatant violation of the media's task of exposing the truth to the public" and a "pure assault not just on press freedom but on the public's right to know".
Cyber-troll armies linked to President flagged as 'digital predators' 
Cyber-troll armies linked to supporters of President Duterte have been cited as among the 20 "Worst Digital Predators of Press Freedom" in the world in 2020, according to international media watchdog Reporters Without Borders (RSF).
To mark "World Day Against Cyber-Censorship" on 12th March 2020, RSF unveiled its list of press freedom digital predators that include private companies and government agencies that use digital technology to spy on and harass journalists and thereby jeopardise the ability of the media to gather information.
RSF said that along with 19 other groups around the world, the Philippine "call centre hubs" are disseminating fake or maliciously edited content and fake memes and conducting targeted harassment campaigns. The Philippine "call centre hubs" are being used by Duterte supporters to smear and boycott the ABS-CBN network with the aim of blocking the renewal of its congressional franchise.
Association
Senate approves proposed anti-terror law, putting rights at risk
Karapatan denounces the Senate's approval of the anti-terrorism bill, a monster legislation that will provide a pretext for de facto martial law in the Philippines. #ActivistsNotTerrorists pic.twitter.com/xknxyR1Pmm

— Karapatan (@karapatan) February 26, 2020
On 28th February 2020, the Senate approved, on the third and final reading, Senate Bill 1093 or the proposed Anti-Terror Act of 2020, which would effectively repeal the Human Security Act of 2007. The bill seeks to penalise individuals who propose, incite, conspire and participate in the planning, training and facilitation of a terrorist act and covers Filipino nationals who commit terrorist offences. The bill is now before the House of Representatives.
National Union of Peoples' Lawyers chair Neri Colmenares said the controversial anti-terrorism bill was essentially designed to target dissenters, not terrorists. As previously documented, the government has accused progressive activist groups of 'supporting terrorists' and alleged fronts of the Communist Party of the Philippines (CPP), otherwise known as 'red-tagging'.
Amnesty International Philippines said most counter-terrorism measures introduced in other countries have disproportionately limited people's freedoms of expression and association, liberty and movement as well as the right to privacy.
Butch Olano, AI Philippines section director said:
"The Anti-Terrorism Bill provides few safeguards against abuse and gives law enforcers exhaustive powers, including electronic surveillance that could lead to discriminatory and arbitrary arrest and may result in prolonged detention without charge."
Under the proposed legislation, a suspected terrorist can be detained without a warrant of arrest for 14 days, which is extendable by another 10 days. The proposed new law introduces court-ordered "preliminary orders of proscription" that allow authorities to jail charged suspects for up to six months, while their assets are frozen and investigated and their accomplices and associates are surveilled. The judge would then have to rule whether to "permanently proscribe" the suspect as a terrorist, and any associated groups as terrorist organisations.
Local rights watchdog Karapatan said that "these proposals are severely inconsistent with international human rights standards, including the right to due process against unlimited detention of suspects, rights to free speech and expression and the right to assemble peaceably".
Oxfam labelled as terrorist front
Safety fears after Philippines names Oxfam a front for communist terror https://t.co/7JY49R523c

— SCMP News (@SCMPNews) November 10, 2019
In November 2019, international organisation Oxfam was listed as a supposed front for local "communist terrorist groups" while its International and UK arm were branded as "foreign funding agencies wittingly or unwittingly providing funds" by the Department of National Defence.
Oxfam, which denied the allegation, stressed that it has been legally registered and has been working in the Philippines for more than 30 years. It added that it works "in accordance with humanitarian principles, international law and the laws of donor governments and has stringent systems in place to ensure our aid gets to the people who need it most."
Oxfam said:
"These allegations affect not only us, but also put the communities and partners we work with at risk. In a country where poverty remains, and poor communities are continually struck by disasters, we strongly believe that organisations like ours should be encouraged, rather than hindered, from undertaking our programmes."
In the Philippines, Oxfam provides food, water and sanitation facilities, emergency shelter and protection to areas affected by natural disasters and to those affected by armed conflict in Mindanao.
Raids on NGO offices, arbitrary arrests of activists and freezing of accounts
#FreeLeyte5 are:
1) Alexander 'Chakoy' Abinguna & their1 yr old baby, Katungod SB Coordinator
2) Frenchie Mae Cumpio, Eastern Vista Journalist
3) Marissa Cabaljao, People Surge Spokesperson
4) Mira Legion, BAYAN Eastern Visayas
5) Marielle Domequil, Rural Missionaries of Phils pic.twitter.com/Pat2jYsVet

— Gabriela BC (@_gabrielabc_) February 9, 2020
In two simultaneous raids in Tacloban City on 7th February 2020 by police and the army, five activists were arbitrarily arrested including Marielle Domequil, a staff member of the Rural Missionaries Philippines-Eastern Visayas; Mira Legion, a staff member of Bayan Muna; Alexander Abinguna, secretary general of Katungod-Sinirangan Bisayas and Karapatan national council member for Eastern Visayas; Marissa Cabaljao of People's Surge Network; and Frenchie Mae Cumpio, a journalist and executive director of independent news outfit Eastern Vista and Altermidya Network correspondent. Cabaljao was arrested together with her one-year-old baby.
Police claimed they found firearms and ammunition during the raids. They also claimed that they had raided "identified Communist Terrorist Group safe houses". Human rights group Karapatan said that the search warrants were shown to the activists only after they were arrested and claimed that the weapons had been planted by the authorities.
Days before the simultaneous arrests, Cumpio was reportedly tailed by men riding motorcycles, whom she believes were military personnel. Unidentified men were also seen patrolling Eastern Vista's office in Tacloban. On 31st January 2020, an unidentified person visited Eastern Vista's office and was reportedly carrying a photo of Cumpio.
Prior to these raids, Jennefer Aguhob, a member of Karapatan, was arrested on 5th February 2020 at her home in Oroquieta City, Misamis Occidental by the police and military on trumped upcharges of murder. She has been accused of having links to the New People's Army (NPA), the armed wing of the Communist Party of the Philippines.
On 7th February 2020, the government froze several bank accounts of the Rural Missionaries of the Philippines (RMP), a Catholic church group, on suspicion of "terrorism financing." The RMP, who work with the rural poor, has been previously tagged as a "communist front" because of their activism and their criticism of the Duterte government.
Activist gets death and rape threats on Human Rights Day 
#Philippines: on 10 Dec, just after attending an event for #HumanRightsDay, WHRD @TinayPalabay (@karapatan) received death and rape threats. We strongly condemn the threats against Tinay and we stand in solidarity with her. Our Urgent Appeal:https://t.co/AsXlLirZ2p pic.twitter.com/WZFcDV9osU

— Front Line Defenders (@FrontLineHRD) December 12, 2019
On 10th December 2019, Cristina Palabay, the Secretary General of Karapatan, a human rights group, reported that she received a series of death and rape threats after an event celebrating International Human Rights Day. The text messages and calls she received from an unknown number included messages defending the administration of President Rodrigo Duterte and threatening to rape and kill her.
Karapatan stated that the caller could be a member of the military or the police because her organisation has long been criticising the human rights violations and abuses by the military and police forces under the Duterte administration. It was not the first time Cristina Palabay had received death threats; in 2017, she received threatening calls from an anonymous number, ordering her to stop her human rights work in the southern Mindanao region. The number was later traced back to a member of the Armed Forces of the Philippines Safety Battalion.
Front Line Defenders released a statement of urgent appeal condemning the increasingly hostile environment for human rights defenders in the Philippines and calling for the protection of those working in the country.
Perjury charges against activists revived
Ten activists from Karapatan, Rural Missionaries of the Philippines (RMP) and Gabriela, who were earlier cleared of perjury, have been dragged back to court. The perjury charge pending before the Quezon City Metropolitan Trial Court Branch 37 is rooted in a complaint filed by National Security Adviser Hermogenes Esperon Jr.
Esperon alleged that the respondents committed perjury in stating that the RMP was a registered non-governmental organisation at the Securities and Exchange Commission in the petition for the writs of amparo and habeas data filed by the officers of the three organisations before the Supreme Court to seek protection from red-tagging, military harassment and human rights violations directed against the organisations and their members.
Those charged include Jose Mari Callueng, Edita Burgos, Roneo "Jigs" Clamor, Elisa Tita Lubi, Gertrudes Lanjo Libang, Joan May Salvador, Wilfredo Ruazol, Gabriela Krista Dalena, Cristina Palabay and Sister Emma Cupin. They joined nun Sister Elenita Belardo, the original defendant in the case. Perjury, a bailable offence, is punishable under Philippine law by imprisonment from six months to two years and two months.
The ten said that they did not commit the said offence, citing Esperon's case as "a clear reprisal on the human rights defenders' efforts to seek legal protection for the threats, harassment and other human rights violations committed against them by President Duterte, Esperon and several other government officials".
Activist and politician de Lima detained for three years
It's been three years that Philippine Pres Duterte has imprisoned Senator Leila de Lima for criticizing the epidemic of summary executions under his "drug war." https://t.co/jXDQHlx49M pic.twitter.com/usxwhsxorz

— Kenneth Roth (@KenRoth) February 20, 2020
Senator Leila de Lima has been in detention for three years on politically motivated charges. De Lima, who has been detained at the headquarters of the Philippine National Police since her arrest in February 2017, has been one of the staunchest critics of the government's abusive "war on drugs." The authorities arrested her after she sought to investigate extrajudicial executions committed in the context of the anti-drug campaign.
Since her detention, the authorities have made no substantial progress in court proceedings for the three drug-related cases eventually brought against her. These cases have been marked by undue delays after at least six judges decided to recuse themselves from hearing the cases or opted for early retirement.
Nicholas Bequelin, regional director for East and Southeast Asia and the Pacific at Amnesty International said:
"Every day that Senator de Lima remains detained is another day of injustice, not only against her but against all Filipinos whose rights – to life, liberty, health and due process – have been trampled on by a violent and repressive government."
Human rights violations in the Philippines have come under increasing international scrutiny. At the United Nations Human Rights Council session in June 2020, the High Commissioner for Human Rights is expected to present her report on the country's human rights situation. The International Criminal Court confirmed in December 2019 that it would soon decide whether to open an investigation into crimes under international law committed in the context of the "war on drugs."
In January 2020, the United States Senate approved Senate Resolution 142, which calls for sanctions such as asset freezes and travel bans against government officials responsible for de Lima's arrest and prolonged detention, as well as for the extrajudicial executions of alleged drug offenders. Shortly afterward, the US government imposed visa restrictions on Duterte administration figures who have been implicated in serious rights violations.
Curfew violators abused by officials
According to Human Rights Watch (HRW), police and local officials have confined those arrested for violating the government's COVID-19 regulations to dog cages and forced them to sit in the midday sun as punishment, among other abuses.
Local officials in Santa Cruz town, in Laguna province just south of Manila, admitted locking up five youths inside a dog cage on 20th March. The officials sought to justify their action by saying the youths had violated the curfew and been verbally abusive, and that they had also been rounding up stray dogs that night. Officials forced curfew violators in Parañaque, a city within Metro Manila, to sit in the intense midday sun after their arrest. The officials claimed they only put them there temporarily because they had no place to hold them. In Bulacan province just north of Manila, police killed a man after he allegedly avoided a checkpoint. The police claim that the man had shot at pursuing police officers.
Activists swept up in crackdown
57 activists arrested in Negros https://t.co/5P5RfjEMGj via @inquirerdotnet

— Nestor Burgos Jr. (@nestorburgosINQ) November 2, 2019
In November 2019, it was reported that environment and land rights leaders were among the activists rounded up in a new wave of arrests in the Philippines as part of the government's extensive counter-insurgency campaign to flush out sympathisers of the outlawed New People's Army (NPA).
A total of 57 activists were arrested on 31st October 2019 in Negros while another six were arrested in Manila on 5th November 2019. Among the arrested were farmers and peasant group leaders fighting for their land rights in Negros Island and activists opposing the ongoing Manila Bay reclamation project.
Environmental groups denounced the arrests, which they say involved "planting evidence" in the form of explosives and guns in the homes of activists.
Peaceful assembly
Filipino activists denounce persecution by Duterte's regime - https://t.co/M8jbDrsxvo
On Tuesday, December 10, thousands of Filipino trade unionists and activists mobilized in Manila, on the Internati...

— Peoples Dispatch (@peoplesdispatch) December 14, 2019
Protest against attacks on working class and people's movements
Thousands of trade unionists and activists gathered in Manila on 10th December 2019, calling for an end to continued attacks against the working class and people's movements in the Philippines.
The protest was organised by several trade union and human rights organisations at Liwasang Bonifacio, a central plaza in the capital, in commemoration of International Human Rights Day. Protesters called on President Duterte to immediately stop the state-led suppression of trade unions and labour rights defenders in the Philippines.
According to reports from human rights organisations, 43 labour leaders have been killed by the police and security forces in the Philippines. UNI Global Union, a global alliance of unions and labour movements, released a statement demanding the government respect the rule of law and the rights of workers to freedom of association.
Protests against shutting down of media network
Over 2,000 employees and artists of ABS-CBN Broadcasting Corporation took to the streets on 21st February 2020 with other groups to call for the renewal of the network's expiring franchise (see above). Police estimated the crowd at 2,500, dressed in white, some carrying candles and placards saying "#YestoABSCBNFranchiseRenewal" around the company compound in Quezon City.
Among them were media personalities. Groups such as the National Union of Journalists in the Philippines and Altermidya, political parties Bayan Muna and Gabriela and the University of the Philippines College of Mass Communication were also in the rally.
This was the second gathering in two weeks to support the network after Solicitor General Jose Calida filed a quo warranto petition to nullify its franchise. He also sought a gag order to prevent the network from discussing the case in public, something which he considered an attempt to draw sympathy from viewers.