Civil society outlawed in practice by Nicaragua's authorities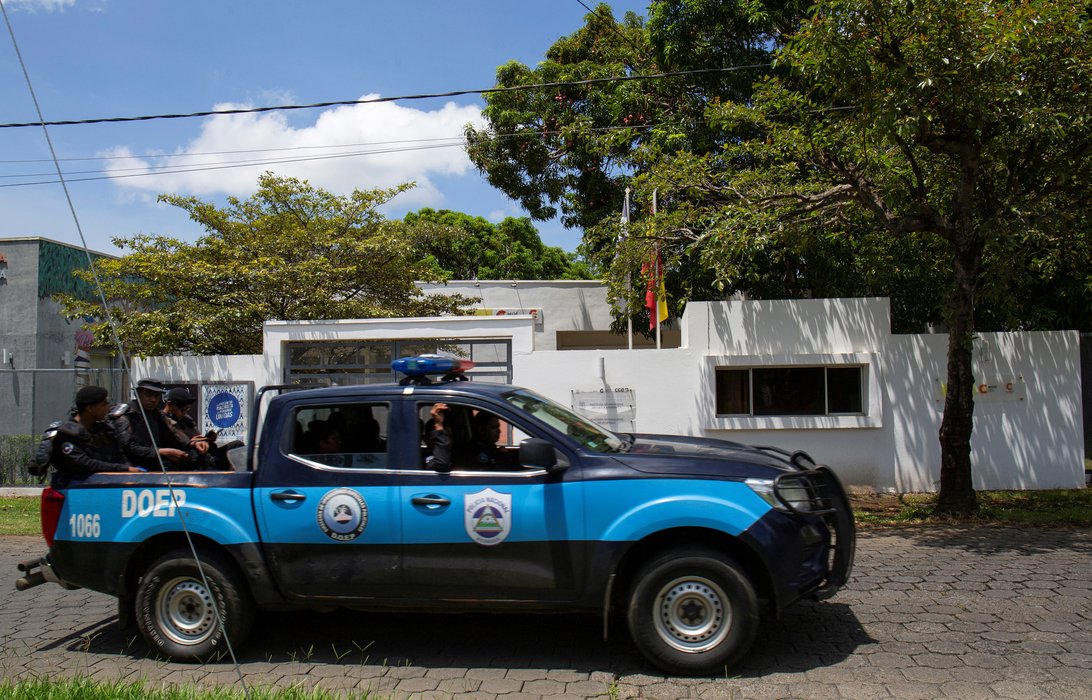 Association
#Nicaragua🇳🇮 #CIDH y @DESCA_CIDH condenan la reciente cancelación arbitraria de la personería jurídica de 179 ONG mediante nuevos decretos aprobados por la @AsambleaNi, entre ellas, la Academia Nicaragüense de la Lengua y Red de Desarrollo Sostenible-Nicaragua. pic.twitter.com/oUMJw7WT0V

— CIDH - IACHR (@CIDH) June 6, 2022
Nicaragua's authorities continue to use money laundering legislation, the Foreign Agents law and other restrictive laws to crack down on civil society, in an effort to dismantle civic participation spaces that are not controlled by the government.
To add to the repressive legal framework, on 6th May 2022 a new "General Law on the Regulation and Control of Non-profit Organisations" was enacted, increasing the barriers to civil society activity. The legislation makes it more difficult for NGOs to register, requires them to seek government approval for their activities, and imposes new reporting constraints. For example, every project must be approved by government and organisations must disclose beneficiaries, among other things.
Between April and June 2022, legislators cancelled the legal status of nearly 200 civil society organisations (CSOs). These included cultural organisations such as the Nicaraguan Academy of Letters, aid organisations like Operation Smile Association, women's rights organisations, environmental groups, professional associations and many others.
These cancellations have taken place through legislative decrees which target dozens of organisations at a time, without giving them notice or a right of defence. In most cases, legislators claim the CSOs have failed to comply with reporting requirements. However, local civil society groups have reported that these compliance failures are fabricated by authorities, who place arbitrary administrative hurdles by refusing to accept or invalidating documents submitted by CSOs. In addition to losing their legal status, organisations have seen their offices dismantled and assets confiscated. In some cases, members of these CSOs are vilified, harassed and attacked.
On 6th June 2022, the Inter-American Commission on Human Rights (IACHR) and their Special Rapporteur on Economic, Social, Cultural and Environmental Rights condemned this wave of CSO closures, which they called arbitrary.
Censorship and persecution of religious organisations and leaders
El Gobierno de Nicaragua ordena sacar de la programación a otro canal católico https://t.co/SlCfY3If3b a través de @EFEnoticias

— EFE Centroamérica (@EFE_ACENTRAL) June 29, 2022
On 27th May 2022, the IACHR and their Special Rapporteur on Freedom of Expression condemned the continued persecution, police harassment and stigmatising statements by the highest State authorities and police officers against members of the Catholic Church in Nicaragua. The IACHR said social organisations and educational institutes linked to the Catholic Church were among those targeted by the legal status cancellations.
In May 2022, Nicaragua's communications regulator TELCOR took the Catholic channel Canal Católico de Nicaragua (Canal 51) off the air, removing it from the cable television grid. According to the IACHR, this censorship order was issued a day after the bishop of the Diocese of Matagalpa and apostolic administrator of the Diocese of Estelí denounced on his social networks the increase in harassment by National Police officers.
The international organisation underscored that catholic leaders in the country have denounced surveillance and persecution. Earlier this year, Nicaragua's government ordered the Apostolic Nuncio Waldemar Stanislaw Sommertag, who was a mediator at the 2019 dialogue between government and the opposition, to leave the country. In their statement, the IACHR said that religious discourse enjoys a special level of protection under the American Convention on Human Rights because it expresses constituent elements of personal identity and dignity.
Continued persecution and ill-treatment of political prisoners
📢⚠️🚨#AlertaUrgente NICARAGUA / La presa política Nidia Barbosa fue llevada a UCI en estado crítico de salud sin informar a su familia ni permitir que la vieran.
📌 Más información ➡️ https://t.co/6ZfXLp2fls pic.twitter.com/H9gbN6Xm2l

— IM-Defensoras (@IM_Defensoras) May 20, 2022
On 18th May 2022, Yubrank Suazo, opposition leader and member of the Civic Alliance for Justice and Democracy (ACJD) was detained in Masaya. The Centro Nicaragüense de Derechos Humanos (Nicaraguan Human Rights Centre – CENIDH) reported that police officers violently raided Suazo's home during his detention. He was taken to El Chipote and later charged with "conspiracy to undermine national integrity." Suazo is a former political prisoner who was first arrested amid mass protests in 2018.
In May 2022, at least 12 political prisoners who were convicted in express trials earlier this year had their requests for appeal rejected.
In addition, relatives of political prisoners have reported their loved ones being held in inhumane conditions, with particular concern for those in need of urgent, permanent or specialised medical care, which authorities reportedly refuse to provide. Regional network IM-Defensoras warned on 18th May 2022 that human rights defenders Evelyn Pinto and María Esperanza Sánchez are in serious health conditions that could put their lives at risk if the authorities continue to fail to provide appropriate medical care. On 20th May 2022, activist and political prisoner Nidia Barbosa was reportedly transferred to an ICU in critical condition; she is over 60 years old and has a chronic heart condition.
Women political prisoners have also denounced facing sexual harassment and assault by prison officers. Similar complaints are made by female relatives of political prisoners, who are subjected to harassment and assault when visiting their loved ones.
Expression
Nicaragua: La Prensa publisher Juan Lorenzo Holmann convicted on money laundering charges via @CPJAmericas https://t.co/vAEOuec690 #journalism #journalist #Nicaragua #pressfreedom

— LatAm Journalism Review (@LatAmJournalism) March 28, 2022
In recent months, international groups have expressed their concern about the suppression of freedom of expression and the press in Nicaragua. At its mid-year meeting in April 2022, the Inter American Press Association (IAPA) stated that they had recorded more than 661 attacks against media and journalists in Nicaragua over the previous six months. Most of these were perpetrated by state officials and institutions. They said at least 75 journalists and independent media owners were forced into exile in this period. IAPA highlighted the conviction and sentencing of several journalists and media workers in trials "laden with arbitrariness."
Among those convicted was Juan Lorenzo Holmann – general manager of the newspaper La Prensa and regional vice-president for Nicaragua of the IAPA's Committee on Press Freedom and Information. Holmann was convicted for alleged money laundering after a closed-door trial on 23rd March 2022. He was sentenced to nine years in prison on 31st March 2021. In addition, IAPA said, Holmann was banned from exercising his profession, trade or position for the same period. The court also ordered the continued confiscation of La Prensa's offices, which were raided and seized in August 2021.
In May 2022, the International Broadcasting Association (AIB) also expressed concern about the country's situation under Daniel Ortega. According to the group, which represents over 17,000 radio and television broadcasters, persecution and harassment of journalists and independent media has intensified since 2021. In addition, AIB said the justice system has been instrumentalised to prevent and punish the exercise of freedom of expression. They condemned the "systematic censorship" and "constant violations of human rights and democratic principles" by Ortega's regime.
Similarly, Nicaraguan journalists spoke out about the repression faced by journalists in their country during the 9th Summit of the Americas, which took place in Los Angeles in early June 2022. Lucía Pineda and Luis Galeano reported that their colleagues in Nicaragua have been forced to carry out "catacomb journalism," meaning carrying out their jobs almost secretly. Others, like Pineda's 100% Noticias, have been forced to move their operations entirely abroad. Luis Galeano, who directs the programme Café con Voz on Nicaragua from Miami, said:
"We are breaking the wall of censorship, and it is an everyday victory."