Civic freedoms restricted ahead of 24th August general elections
VOA: A Polícia Nacional de Angola impediu a manifestação convocada para esta quarta-feira, 17, por cerca de 20 organizações da sociedade civil que pretendia pedir a correcção das irregularidades... no processo eleitoral e apoiar à acção entregue ao TC.https://t.co/9Y7UOvBYCG

— Friends of Angola (@FoAAngola) August 17, 2022
Peaceful Assembly
Police attempt to prevent civil society protest; disperse, arrest protesters
On 17th August 2022, police officers attempted to prevent a civil society protest from taking place in Luanda. The protest, organised by dozens of CSOs, drew attention to irregularities in the electoral process ahead of the upcoming general elections on 24th August 2022, which will elect lawmakers, and indirectly, the President. Groups of protesters were dispersed by police. Dozens of protesters, including VOA correspondent Coque Mukuta, were reportedly arrested. The demonstrators pointed to several violations of the electoral law and irregularities in the electoral process in a manifesto protesters delivered to the National Electoral Commission (CNE). Issues include the subcontracting of the management of the electoral process by the Spanish company Indra; the composition of the CNE, which is dominated by people from the ruling party; the misuse of public media and security forces by the ruling party; and the inclusion of deceased people on the electoral roll. The Provincial Government of Luanda said that the protest was illegal, citing the General Law on Elections. Prior to the planned protest, a group of civil society actors approached the Constitutional Court to cancel the upcoming elections due to the above-mentioned irregularities. 
Opposition protest against electoral irregularities banned
An opposition protest against electoral irregularities and a demand for equal treatment of all political parties in the electoral process, planned for 30th July 2022, was banned by the Provincial Government of Luanda. The latter issued a statement stating that the protest was banned on grounds of "risk of compromising security and public order" due to the fact that another protest was planned on the same day with the same itinerary. Additionally, the Provincial Government of Luanda stated that some of the organising parties are "political projects not approved by the Constitutional Court" that will not run in the general elections, and "therefore have no legitimacy to demand equal treatment in the electoral process". Opposition parties that organised the protest include União Nacional para a Independência Total de Angola (UNITA), Convergência Ampla de Salvação de Angola -- Coligação Eleitoral (CASA-CE), Partido de Renovação Social (PRS), Bloco Democrático (BD) and the political project PRA-JA Servir Angola, which was denied registration as a political party by the Constitutional Court.
Angola: Police Arrest, Charge 22 Peaceful Protesters https://t.co/cv3Y0lyxOG

— Human Rights Watch (@hrw) April 12, 2022
Protesters arrested at peaceful demonstrations to demand release of political prisoners
On 9th April 2022, police arrested 22 protesters during a peaceful demonstration in Luanda, where they were demanding the release of political prisoners in Angola as well as for free and fair elections on 24th August 2022. Among those arrested was well-known activist Laurinda Gouveia and her six month old baby, who were kept in an overcrowded cell without access to food or water for over 48 hours, along with a pregnant woman. Two days later, on 11th April 2022, the Provincial Court of Luanda charged the 22 protesters with rioting and disobeying a police order to disperse.
According to Human Rights Watch (HRW), civil society organisations that organised the protests notified the local authorities in the provinces of Benguela, Luanda, Moxico, and Uige of the planned protests, as article 47 of the Angolan Constitution only requires advance notification of protests to authorities. In Benguela and Moxico, the protests went ahead without major incidents, although a heavy presence of security forces was noted. In Uige, police reportedly arrested at least two protesters, who were later released. On 14th April 2022, the Provincial Court of Luanda sentenced two of the 22 accused to a justice tax of 60,000 kwanzas (138 USD) and "40 days in fines", meaning the activists have a period of 20 days to pay the fines, if they do not, the fine will be converted into prison time. The remaining 20 were acquitted due to lack of proof. According to Deutsche Welle, the press was barred from covering the trial. 
According to news reports, dozens of protesters who gathered at the Santa Ana cemetery in Luanda on 30th July 2022 to demonstrate to demand the release of political prisoners were dispersed by police officers, who reportedly used batons and clubs. Laurinda Gouveia told RFI that several people were arrested but then released later that day. 
Labour protests: two people killed
At least two people were killed in the province of Kwanza Norte during a strike to demand better labour conditions on 26th June 2022. Authorities claim that the protesters, who worked for a Chinese company working on the Caculo Cabaça hydroelectric project, started the strike on 25th June 2022, and vandalised facilities and attacked the "physical integrity of Chinese citizens". They further said that police were forced to use live ammunition when confronted with protesters carrying "sharp-edged objects", resulting in eight people being shot at , two of whom later died. An investigation was reportedly opened into the incident. 
Protesters arrested in front of Portuguese Embassy
On 2nd February 2022, four protesters - Liumbu Liambu, Nilton Cubenda, Manuel Lina and Makosu Sita - were arrested while protesting in front of the Embassy of Portugal in Luanda. The protest was organised on the occasion of the 137th anniversary of the signing of the Simbulambuco Treaty between Portugal and the traditional authorities in Cabinda, making Cabinda a protectorate of Portugal. Supporters for the independence of Cabinda claim that the Treaty is proof that the enclave of Cabinda is not part of Angola and that Portugal still holds responsibility for Cabinda. Spokesperson for the provincial command of the National Police, Nestor Goubel, told VOA that the activists were preventively detained as they did not fulfil the requirements for holding a protest. 
"The Angolan authorities are tightening their grip on the rights to freedom of peaceful assembly and association by preventing civil society meetings from taking place ahead of the general election in August", Amnesty International said today.#Angola #HumanRights #CivilRights pic.twitter.com/1MHlhjGf4H

— AJhumanrights (@AJHumanRightsEN) May 24, 2022
Association
Police officers prevent civil society meeting on peacebuilding
Ahead of the general elections on 24th August 2022, authorities prevented civil society meetings from taking place. On 21st May 2022, police prevented two CSOs - OMUNGA and Associação para Desenvolvimento da Cultura e Direitos Humanos (ADCDH) - from holding a conference on peacebuilding in Cabinda. They blocked the entrance of the hotel where the event was to take place. According to Amnesty International, police officers said they were following orders from their superiors. Cabinda province, an oil-rich enclave separated from Angola by the Democratic Republic of Congo, is highly militarised with an armed conflict between the rebel group Front for the Liberation of the Enclave of Cabinda (FLEC) and government security forces. Civic space is tightly restricted in Cabinda. Debrose Muchena of Amnesty International commented on the incident, stating that: 
"The muzzling of this civil society conference is reminiscent of previous election years, when human rights came under repeated attack. The Angolan authorities must stop targeting activists and civil society groups and instead respect, protect and promote their human rights and provide a conducive environment for them to operate."
Director of human rights organisation threatened
Executive Director of the US-based CSO Friends of Angola, Florindo Chivucute, said in June 2022 that he had received threatening phone calls and threats via social media. Friends of Angola works on human rights issues in Angola. 
Angolan journalists harassed while covering election rallieshttps://t.co/pS3twE01zq

— Committee to Protect Journalists (@pressfreedom) July 21, 2022
Expression
Press freedom violations ahead of August general elections
On 17th August 2022, police officers detained journalist and correspondent with VOA (Voice of America) Coque Mukuta while he was covering a planned civil society protest over irregularities in the electoral process and violations of the electoral law (see also under Peaceful Assembly). Mukuta told press agency Lusa he was filming near the Santa Ana cemetery when he was approached by police officers, who forced him into a police van, even though he identified himself as a journalist. He was released after three hours. 
At least three journalists have been subjected to harassment or threats while covering electoral campaign events between 1st and 16th July 2022, according to the Committee to Protect Journalists (CPJ). On 1st July 2022, supporters of the ruling party People's Movement for the Liberation of Angola (MPLA) yelled at journalist Isabel Makitoko, who works for TV Maiombe, saying that she was not allowed to film at the scene - a rally by the opposition party National Patriotic Alliance in the suburb of Viana - before attacking her. Another journalist, António Sapalo of the online news site Correio da Kianda, stepped in when the MPLA supporter attempted to slap Makitoko in the face - and was punched and shoved. On 16th July 2022, Radio Ecclesia journalist Wilson Capemba was roughly held - at the neck, arms, waist and legs - by security personnel of Adalberto Costa Júnior, leader of opposition party National Union for the Total Independence of Angola (UNITA) - until Costa Júnior yelled at his security to let the journalist go. The latter apologised and granted the journalist an interview but Capemba was too shaken to interview the opposition leader properly. 
Use of criminal defamation and insult laws to prosecute journalists
Authorities continue to use criminal defamation legal provisions in Angola's Penal Code, which carry prison sentences up to 1,5 years, against journalists. CPJ has documented several cases of journalists being investigated over defamation and insult complaints: 
On 13th June 2022, officers of the criminal investigation unit of Luanda's police questioned Escrivão José, the editor of newspaper Hora H, over defamation and insult complaints from Bento Bento, the first secretary of Angola's ruling party MPLA in Luanda. The complaint relates to a report published on Hora H's affiliate video outlet, alleging corruption in a land deal by Bento. José told CPJ that he had sought comments from Bento prior to publishing, but to no avail. José was released but remains an "arguido", a formal suspect in criminal investigations. He further said that this was the 24th time he has been involved in a criminal defamation suit. 

On 20th June 2022, journalist for Radio Ecclésia, Óscar Constantino, was part of a court hearing in the province of Kwanza Sul following criminal defamation and insult complaints filed by Morais António, the former president of the electoral commission in the province of Kwanza Sul. The complaints stem from a report by the journalist in 2020 on the resignation of António amid an alleged sex scandal. The public prosecutor reportedly asked the charges to be dropped in June 2022.

José Kalembe and Diamantino Sangueve, journalists for Radio Ecclésia in Huambo, and the broadcaster's director, Father Alberto Java, were questioned in January 2022 over a report broadcast in December 2021 on alleged arm trafficking by a local police commander. The latter filed a criminal defamation complaint against Radio Ecclésia and its journalists.On 4th December 2021, the police commander, together with three other men in plain clothes, reportedly visited the broadcaster and demanded to see Kalembe. 
Angela Quintal of CPJ commented on the cases, stating that: 
"The spate of spurious criminal defamation cases against journalists in Angola shows that politicians and powerful figures are allergic to public scrutiny and are taking advantage of colonial-era laws to criminalise journalism. Prosecutors must stop pandering to elites who want to keep citizens in the dark and should refuse to entertain such cases in line with a 2010 resolution by the African Commission on Human and Peoples' Rights urging African Union members states to abolish criminal defamation and insult laws."
Journalists assaulted 
On 5th February 2022, a journalist for Rádio Ecclésia, Alfredo Manuel Kuito, was covering a civil society anti-government protest in Ondjiva, Cunene province, when he was attacked by a dog and required hospital treatment. Police unleashed dogs to disperse the protesters, according to Reporters Without Borders (RSF). The provincial police commander told RSF that the dog only "scratched" Kuito. 
On 13th April 2022, journalists Daniel Fernandes and Romão De Jesus were attempting to collect testimonies from those affected by the demolition of houses, to make way for a new airport in Luanda, when military and police officers started to insult and shove both the journalists in an attempt to prevent them from reporting. De Jesus, who works for Radio MFM, was beaten with batons, while Radio Despertar journalist Fernandes was grabbed by his collar and pushed. The incident forced the two journalists to leave the area.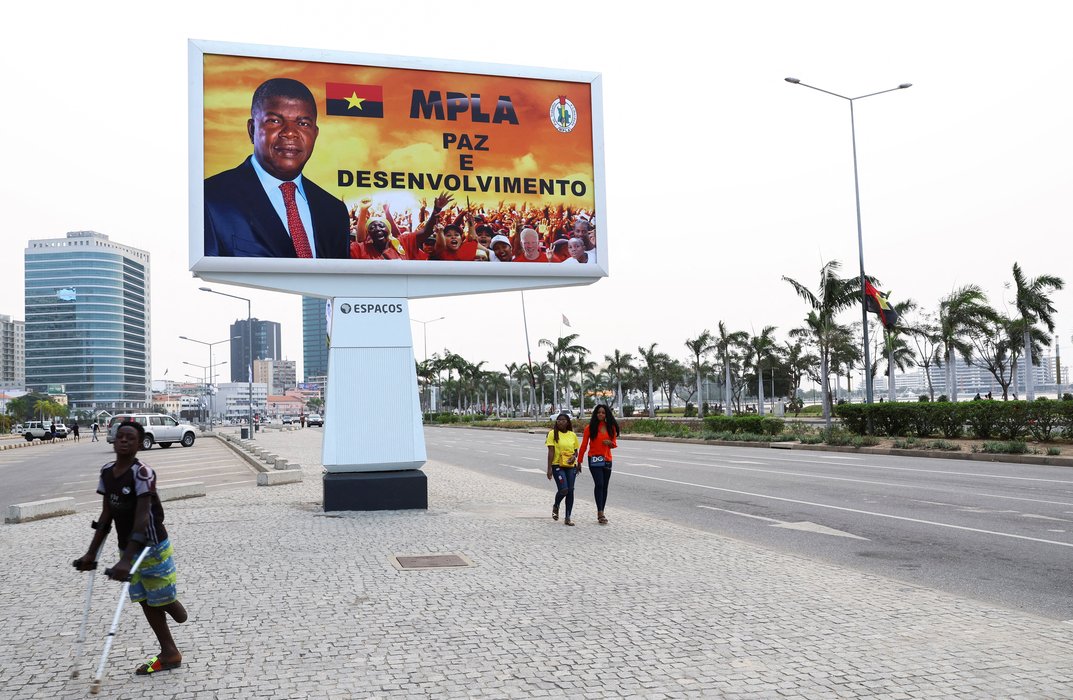 Civic Space Developments
Tags
release of HRDs,
HRD threatened,
attack on journalist,
labour rights,
HRD prosecuted,
youth,
protest,
protest disruption,
intimidation,
HRD detained,
excessive force,
violent protest,
criminal defamation,
prevention of protest,
HRD acquitted,
killing of protestors,
time,place restrictions,
protestor(s) detained,
Back to civic space developments