Chilean police forces repress protests with COVID-19 regulations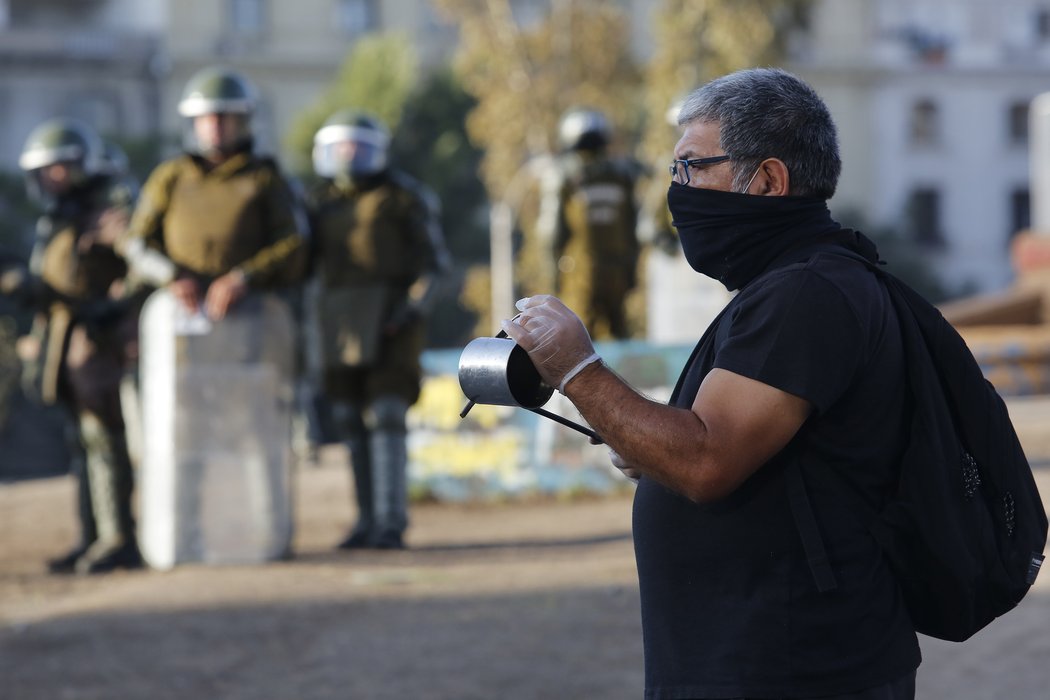 On 18th March 2020, the Chilean government issued a decree that established an exceptional "state of catastrophe" for three months due to the coronavirus (COVID-19). The legislation also allowed the president to take further measures such as restrictions on gatherings in public spaces and individuals' movement, quarantines or curfews.
The pandemic has forced the postponement of the referendum which was meant to be the starting point to creating a new constitution for Chile, a key demand of the mass protests that started in October 2019. The referendum was rescheduled from April 2020 to 25th October 2020.
Association
¿Quien era Alejandro Treuquil del lof we newen? El Peñi fue uno de Los Precursores del levantamiento mapuche y de su la ciudadanía de #Collipulli en contra de la construcción del Vertedero que se quería cosnstruir en Territorio #Mapuche en la zona de #Malleco fotos Camilo Tapia pic.twitter.com/rhWH20zjDW

— MARIÑAMKU (@caldillodetripa) June 6, 2020
On 4th June 2020, Mapuche leader Alejandro Treuquil was shot and killed in We Newén, a commune in the La Araucanía region. Days before, he had denounced police violence and harassment against his community to the national human rights institute INDH. Alejandro and three others were ambushed by an armed group; he and his family had received death threats before this attack and his partner had suffered a spontaneous miscarriage after an alleged attack by police officers on the We Newén community.
On 9th June 2020, Dr Leonor Olate was ambushed by a group of three men who threatened, harassed and sexually assaulted her while saying that she should stop supporting the Mapuche. Dr Olate was treating an incarcerated Mapuche leader who had been on a hunger strike. Chile's Medical Board and Amnesty International have urged authorities to investigate this attack.
Peaceful Assembly
Although the sanitary emergency halted the wave of mass protests in Chile, sporadic protests have continued through roadblocks and cacerolazos (pot-banging protests) on balconies. On 26th April 2020, about 50 people protested in Santiago against the postponement of the constitutional referendum previously scheduled for that day. Although the demonstration was peaceful, five people were detained by the carabineros police for violating public health measures that prohibited gatherings of over 50 people. According to news reports, protesters were wearing masks and attempting to maintain social distancing.
On 27th April 2020, another protest in Santiago was violently repressed by the police. Dozens of Chileans, wearing face masks and maintaining social distance, gathered to denounce police brutality on the 93rd anniversary of the militarised police force Carabineros. Protesters also recalled the postponed referendum and condemned president Piñera's government. The police used tear gas and water cannon against demonstrators, with over 60 people detained for infringing public health measures.
AHORA | En una brutal represión policial del gobierno de Piñera en el #1deMayo se llevan detenido al secretario general @NolbertoDiaz y al vicepresidente de comunicaciones @EriccamposB pic.twitter.com/kZHNUn7Eek

— CUT Chile (@Cutchile) May 1, 2020
On 1st May 2020, during the celebration of International Workers' Day, unionised workers joined activities in Antofagasta, Concepción, Valparaíso, Santiago and other cities in Chile. In some cities, such as Valparaíso and Santiago, protests were disrupted by police. At least 57 people, among them leaders of major workers' unions and journalists, were detained in the centre of Santiago. Bárbara Figueroa, president of the Central Unitaria de Trabajadores (Central Union of Workers - CUT) was one of the leaders arrested and said the actions of the police were inexplicable. "We weren't doing anything irregular, we weren't generating any provocation," Figueroa said, noting that the demonstration was to be held in accordance with coronavirus restrictions implemented by the government. In Valparaíso, police also used tear gas and water cannon to disperse demonstrators.
After reports that among the Workers' Day protesters was an individual infected with COVID-19, on 5th May 2020 the Chilean Chamber of Deputies approved a bill increasing penalties for individuals or organisations who "endanger public health" with sanctions including up to three years in prison, fines and/or community work. The legislation was approved in the Senate and enacted on 18th June 2020.
Las protestas han vuelto a Chile. En el municipio de El Bosque, al sur de Santiago, vecinos salieron a protestar por la falta de alimentos y trabajo causada por el confinamiento para prevenir el coronavirus

▶ https://t.co/iBIxlPxqI4 pic.twitter.com/FdtQvkMkWn

— EL PAÍS América (@elpais_america) May 19, 2020
The health crisis has aggravated the situation of unemployment and poverty in Chile, leaving many marginalised communities facing hunger and leading people to protest in their homes and on the streets. On 18th May 2020, many joined cacerolazos in Santiago and other cities, while hundreds took to the streets to protest food shortages during the lockdown. About a hundred people gathered in El Bosque, a neighbourhood in the outskirts of Santiago. "This is not against the quarantine, it is against hunger," one protester told news agency EFE. Groups of protesters threw stones, blocked streets and set fires to barricades and the demonstration was disrupted by anti-riot forces using tear gas and water cannon. Three protesters were detained according to news reports.
Expression
🛑🎥INDH rechaza la detención de miembros de la prensa que cumplen una labor informativa hacia la comunidad, y reitera llamado a respetar las medidas sanitarias dispuestas para enfrentar la pandemia. Funcionarios del instituto están presente en inmediaciones del sector Baquedano pic.twitter.com/GRS0vUdP5N

— INDH Chile (@inddhh) May 1, 2020
On 1st May 2020, on International Workers' Day, Chilean anti-riot police arrested 15 journalists covering a demonstration in Santiago's city centre. Among those detained were journalists with local media and photojournalists with international agencies AFP, Reuters and Associated Press. Chile's International Press Correspondents' Association published a statement saying the reporters wore press credentials and carried the required safeguards. Eyewitness videos show some journalists told officers they were media.
On the same day in Valparaíso, the president of the local chapter of Chile's Journalists' Association, Colegio de Periodistas, was detained during another workers' demonstration disrupted by police. The International Federation of Journalists (IFJ) published a statement supporting the formal complaints made by Chilean professional organisations and their demands justice for the detained journalists.
Amenazan a artistas que proyectaron palabra hambre en edificio Telefónica: "Pareciera que no se puede hacer arte en cuarentena"
➡️https://t.co/VCPz8OWUlm pic.twitter.com/OUQjIxOxti

— El Desconcierto (@eldesconcierto) May 21, 2020
At the end of May 2020, visual artists collective Delight Lab said its members had been threatened after they projected the word "hunger" on one of Santiago's main buildings on 18th May 2020. Pictures of the projection went viral on social media in the context of protests against hunger repressed in El Bosque. According to the artists, Chilean police used light spots to hide a second projection the following day. The artistic collective also denounced that harassers had published their photos and private information, including addresses. In addition, legislator Diego Schalper (Renovación Nacional) said in a radio interview that the artists should be investigated for the projection.