Uncertainty in Chile as draft constitution rejected in plebiscite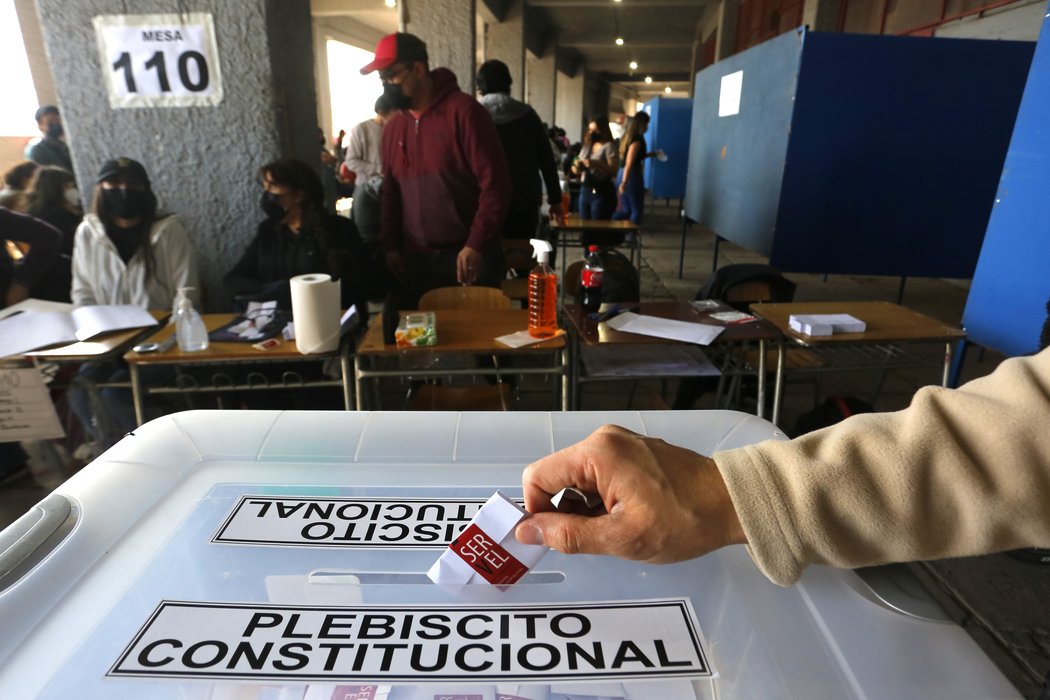 On 4th September 2022, Chile held a compulsory plebiscite to decide whether to adopt the draft constitution designed to replace the country's current Magna Carta, in place since the Pinochet dictatorship. Soon after polls closed, it was clear that the majority of people in Chile had voted to reject the progressive constitutional text, which was the work of a Constitutional Convention convened on the heels of the 2019 social uprising.
Official data showed nearly 62% of Chileans voted to reject the proposed text while just 38% voted to accept it. This was a wider margin than predicted by polls in the months preceding the plebiscite, which had already shown a steady advantage of the "rejection" vote.
The rejection of the draft was viewed as a significant defeat for President Gabriel Boric, who had supported the new constitution. On 5th September, Boric said the results made it evident the Chilean people "were not satisfied with the constitutional proposal." However, he committed to seek a path forward and vowed that the process to amend Chile's constitution would not end there. Heads of Congress also said they intended to move quickly toward a new constitution that "will unite all Chileans".
Association
Copper industry workers strike
🔴 ¡AHORA!
Sindicatos de todas las divisiones de @codelco se manifiestan en el Congreso, a la espera de definiciones de la Comisión de Minería y Energía del @Senado_Chile en sesión que se está realizando en estos instantes y en la que participan los Sindicatos de Ventanas. pic.twitter.com/fVdx03Cd2B

— FTC (@FTCobre) June 15, 2022
Trade union Federación de Trabajadores del Cobre (Federation of Copper Workers - FTC) launched a strike on 22nd June 2022. Days earlier, the Board of the world's largest copper producer, Codelco, had announced the approval of the gradual closure of the Ventana foundry, in operation since 1964. The company's decision was made after a series of sulphur dioxide poisonings in June 2022, which affected school children and provoked the closure of schools in the area. The FTC expressed solidarity with affected communities but said government should make investments to raise its environmental standards, rather than endorse the facility's closure to curb pollution.
On the first day of the strike, protesters blocked entry to six mining facilities around the country, waving Chilean flags and setting tyres on fire. Police said they arrested 18 protesters. The union lifted the strike the following day after agreeing to join a working group with Codelco about the facility's future and its workers.
Peaceful Assembly
Reparation plan for victims of the 2019 social uprising
Desde Amnistía Internacional valoramos la instancia de hoy en el Palacio de La Moneda junto al presidente @gabrielboric y algunas víctimas de violaciones a los #DerechosHumanos ocurridas durante el #EstallidoSocial

Abrimos hilo...#OjosSobreChile pic.twitter.com/kpKqjpycxL

— Amnistía Internacional Chile (@amnistiachile) August 3, 2022
On 3rd August 2022, President Gabriel Boric presented a Plan of Accompaniment and Care for Eye Trauma Survivors (PACTO) for people who suffered such trauma during the 2019 social uprising. There are at least 427 people who experienced eye trauma in that context. The project's stated objective is to "provide immediate measures of comprehensive care" and make "reparation in the area of health" in public policy. Among other things, the plan includes actions to provide physical and mental health assistance to victims, offer human rights training for healthcare workers, and promote the rehabilitation of survivors and their reintegration into the labour market.
The project is part of the government's agenda to promote truth, justice and reparation for victims of repression by security forces in the 2019 protests. The event launching the plan also marked the beginning of the participatory process for the Integral Reparation Roundtable led by the Ministry of Justice and Human Rights.
Expression
Attack on the press
CChDH presentó querella querella contra carabineros por apremios ilegítimos en contra de la periodista María Soledad Osorio #DDHH #Carabineros https://t.co/W7H46knu2t

— El Ciudadano (@El_Ciudadano) May 25, 2022
Journalists covering recurrent student protests in front of secondary school Liceo de Aplicación in Santiago reported facing harassment and assault. On 23rd May 2022, independent press organisation Muros y Resistencia published a video on Twitter showing police officers pushing independent journalists who attempted to film police allegedly using force against students. On 24th June 2022, a TVN press team covering another demonstration was harassed and assaulted by a group of young protesters. Journalist Rodrigo Pérez of the Canal 13 programme "Tu Día" said a young woman approached their press team and attempted to take their microphone and camera as they filmed clashes between protesters and police.
In another incident, jounalist María Soledad Osorio made a public complaint against Carabineros police officers at the Linderos police station in Buin, Maipo province, who she said brutally assaulted her on 15th May 2022. Osorio was at the station filing a complaint for harassment. The journalist said two officers assaulted her after she asked for changes in the account recorded by police and refused to sign an incomplete account that did not accurately reflect her case. "They grabbed me by the arms, slammed me against a wall, and I fell down" the journalist told news outlets. Osorio said the officers beat her up, leaving bruises on her face, head, ribcage and limbs.
The Colegio de Periodistas de Chile (Chilean Association of Journalists) issued a public statement, denouncing the attack against Osorio and expressing "indignation and extreme concern" about the case. They called on the authorities to investigate this incident and prevent impunity in allegations of power abuses by authorities. The Chilean Human Rights Commission (CChDH) filed a complaint for "unlawful coercion with simple grievous bodily harm" against all police officers involved in the aggression.