Chile: Feminist anthem goes viral and sustained protests lead to referendum on a new constitution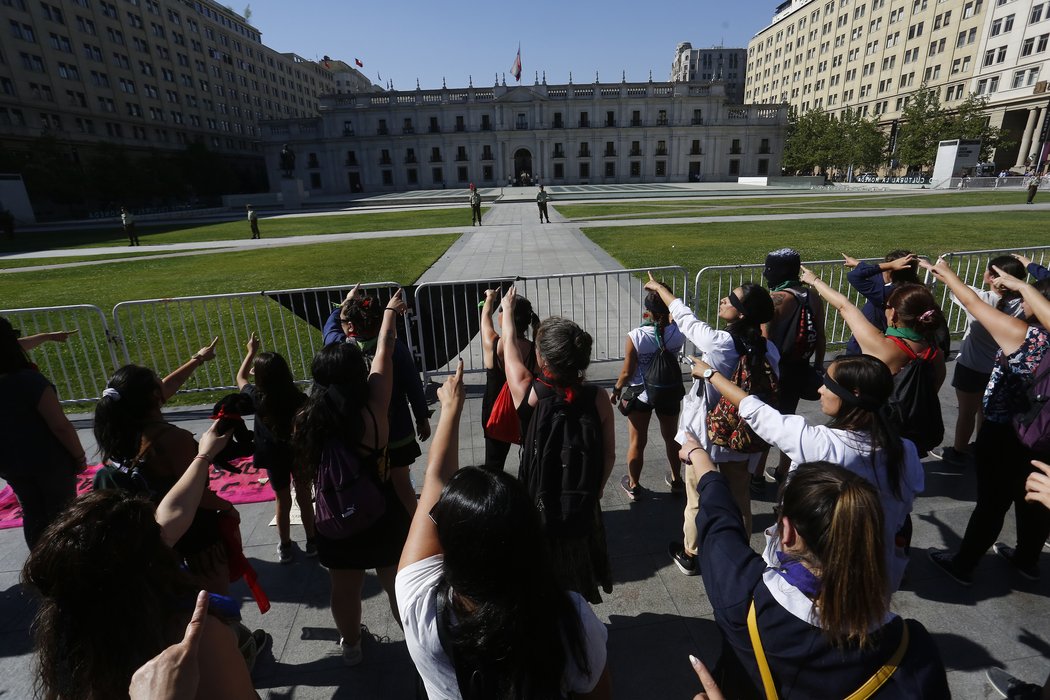 According to research published by Amnesty International on 21st November 2019, Chilean security forces used excessive force, seeking to injure and punish protesters in mass demonstrations as a deliberate strategy to discourage others from taking to the streets. Most of these violations were carried out by the army and the Carabineros, the country's national police. Amnesty verified the use of lethal force against demonstrators and several cases of torture and ill-treatment. Erika Guevara-Rosas, Americas director at Amnesty International, commented on the organisation's findings:
"They are not isolated or sporadic events. It's not a few rotten apples within law enforcement. They are sustained attacks in different parts of the country."
The National Institute of Human Rights (INDH) reported that between 17th October 2019 and 15th January 2020, in the context of protest repression, over 27 people were killed, 10,253 arrested, 3,649 severely injured, 412 reported torture and threats and 191 reported sexual harassment.
On 23rd December 2019, dozens of people who suffered eye trauma during the demonstrations marched in Santiago to demand reparations from the State. By 15th January 2020, INDH had documented 405 people who sustained such injuries during protests.
Un Violador en Tu Camino
Peaceful Assembly
Referendum on new constitution for Chile
Chileans have continued to mobilise since the protests against higher transportation tariffs in October 2019 grew into nationwide demonstrations, as reported previously by the Monitor. As protests extended into November 2019, calls built up for the creation of a constituent assembly to write a new constitution for Chile.
¡Somos millones en las calles y estamos exigiendo un cambio! #ParoNacional #HuelgaGeneral #RenunciaPiñera pic.twitter.com/h6yaiuRoc9

— Unidad Social (@UnidadSocialCh) November 12, 2019
[🔴 A tres meses del inicio de la crisis social en Chile] INDH entrega reporte de cifras recopiladas directamente por sus funcionarios en observaciones a manifestaciones, comisarías y centros hospitalarios, desde el jueves 17 de octubre hasta el miércoles 15 de enero de 2020. pic.twitter.com/rMIXTuZRHq

— INDH Chile (@inddhh) January 17, 2020
On 12th November 2019, over 70 organisations in the Mesa de Unidad Socialcoalition called for a general strike. In a press conference the same day, President Sebastian Piñera recognised the need for a democratic process to draft a new constitution for Chile. On 15th November 2019, Chilean political parties agreed to hold a referendum to launch and define the eventual drafting process. On 19th December 2019, the Senate approved the proposal.
The referendum has been scheduled to take place on 26th April 2020. It will raise two questions: whether or not a new constitution is needed and, if so, what type of body should write it; an assembly fully composed of people elected for this purpose, or a "mixed" assembly composed of 50% elected members and 50% parliamentary representatives. Popular movements and social sectors have continued their resistance and mobilisation, as the agreement does not guarantee the creation of a Constituent Assembly or the participation mechanisms that movements had been demanding.
On 18th January 2020, thousands of people joined a silent march to denounce human rights abuses and brutal state repression during these months of protests. Many called for Piñera's resignation. During the Marcha por la represión ("March against repression") in Santiago, protesters walked from a public square where protests often took place to the Executive's seat, Palacio de la Moneda. Demonstrators covered one eye to recall the hundreds of people who have suffered serious eye injuries and vision loss during the repression of protests. "We march for the human rights violations that we have suffered. We'll be here as long as it is needed, this is Chile now," a protester told newspaper DW.
Excessive use of force during protests
At the end of 2019, a protest song about rape culture and victim shaming written by Chilean feminist collective Las Tesis became a global anthem. Un Violador en Tu Camino (A Rapist in Your Path), written by the Las Tesis theatre group based in the city of Valparaíso, was first performed in late November 2019 as protests in Chile pushed into their second month. The song resonated with women around the world, describing how institutions – the police, the judiciary and political power structures – uphold systematic violations of women's rights: "The rapist is you/ It's the cops/ The judges/ The state/ The president."
A video of the performance quickly went viral, with groups across Latin America and the world replicating the direct action. The song has been translated into several languages, with performances taking place in Mexico, Colombia, France, Spain and the UK. In the beginning of December 2019, thousands of women in Chile joined a performance in front of the country's National Stadium in Santiago.
Anti-looting law approved
On 14th January 2020, Chile's Senate approved an "Anti-looting Law" which imposes harsher penalties on protesters who create barricades, loot businesses and engage in forms of vandalism. The controversial legislation was proposed by Piñera's government. Sectors in favour, mostly from right-wing political parties, consider that the new laws will discourage looting and vandalism. Critics argue that Chile already has several laws against looting and public disorder and that these additional sanctions would infringe on freedoms of expression and assembly, seeking to criminalise social protests. The text was submitted to the House of Deputies for a review of changes made by the Senate, and was approved on 16th January 2020.
Protests continue
On 6th January 2020, national university entrance exams were suspended in 64 testing centres due to protests over inequality in the educational system. Some of the demonstrations blocked access to test sites and burned exam papers. Student union groups calling for a boycott of the exam argue that those with access to better schools and resources are privileged. As reported by Reuters, 81 protesters were detained for damage and public disorder.
On 30th January 2020, protests erupted after a police truck ran over and killed Jorge Mora, a football fan who was leaving a match in Santiago. According to news reports, the police claimed that the officers were acting to contain some unrest taking place outside the Monumental stadium and the truck was trying to escape attacks when it hit Mora. The incident led hundreds of people onto the streets to protest police violence. Over 20 police stations were reportedly attacked overnight, leaving at least 46 officers injured and 124 people detained.
Association
Pacoleaks show surveillance of social movements
At the end of October 2019, cyberattacks on Chile's national police exposed over 10,000 files, which included intelligence documents, information on detained persons and other sensitive files. According to CSO Centro de Investigación Periodística (Journalistic Investigation Centre - CIPER), some documents revealed the monitoring of protests and collection of data on social leaders as "targets of interest". Digital news outlet Interferencia published detailed information on some of the leaked documents, showing that the police monitored regular activities of civil society actors, including labour unions, environmental and Indigenous movements and student organisations. As reported by Interferencia, some files also contained information on individuals who have taken part in protests. On 10th November 2019, several leaders who have been monitored filed a complaint against the Ministry of Interior and the general director of the Carabineros.
Expression
Young photographer found dead
La tarde de este lunes, un grupo de encapuchados ingresó a las oficinas de El Mercurio de Antofagasta, realizando diversos daños y un principio de incendio

Al momento del ataque, en el lugar se encontraban periodistas y personal administativo, quienes tuvieron que resguardarse pic.twitter.com/PWeu9Wl1Nv

— 𝑱𝒐𝒓𝒈𝒆 𝑹𝒂𝒗𝒂𝒏𝒂𝒍𝒆𝒔 𝑨. (@jravanales) January 14, 2020
On 13th January 2020, a group of masked people raided the offices of the El Mercurio newspaper in the city of Antofagasta, damaging and stealing equipment, and setting fires. Around 20 people were working when the attacked happened. This was the third attack in less than three months against the El Mercurio media conglomerate. In October 2019, a group entered the El Mercurio de Valparaíso headquarters during a protest, looting and burning the building. The attack also affected the La Estrella de Valparaíso newspaper located in the same offices and owned by the group. On 26th November 2019, daily paper El Líder de San Antonio, yet another publication owned by the El Mercurio group, was attacked. Their offices were almost entirely destroyed during a protest.
According to the Committee to Protect Journalists (CPJ), Constanza Caldera, a journalist with El Mercurio Valparaíso, said that since protests began demonstrators have attacked the outlet, throwing stones, breaking windows, equipment and cameras, and setting fire to the entrance door. They also reportedly received messages sent from anonymous accounts on social media threatening to set the paper on fire.
Chile's Asociación Nacional de la Prensa (National Press Association - ANP) issued a public statement, saying that attacks on the press such as the one on El Mercurio de Antofagasta have been "clearly organised" and "seek to silence the press". The Inter-American Press Association (IAPA) also condemned the arson attack against El Líder in November 2019 and asked the authorities to investigate and identify those responsible as an "effective way to stop the violence".
Albertina Martinez, fotógrafa d 38 años fue encontrada muerta en extrañas circunstancias en su depto en Santiago Centro, ni su computador y cámara estaban en dpto al ser encontrada. No olvidemos su nombre, no olvidemos su rostro.
vía: Granada Colectivo#JUSTICIAPARAALBERTINA pic.twitter.com/lt3xbXj5zf

— Frente Fotográfico (@frente_foto) November 22, 2019
On 21st November 2019, photographer Albertina Martínez was found dead in her apartment in Santiago. She had been attacked, and her bag containing her camera, laptop and phone stolen. Two days earlier, she had been seen heading to a protest which led to speculation that she may have been targeted because of pictures taken during violent clashes between riot police and anti-government demonstrators. Martínez worked as a lighting assistant at the TV channel Mega and as a freelance photographer. She had been covering the wave of protests in the weeks before her death.
Press freedom organisation Reporters Without Borders (RSF) called on investigating police to prioritise the hypothesis that the murder was linked to Martínez's work as a journalist. For weeks, local reporters have denounced escalating hostility against members of the press covering protests.
Several attacks against El Mercurio outlets