"Black Thursday": at least 50 killed in protests against extension of military transitional period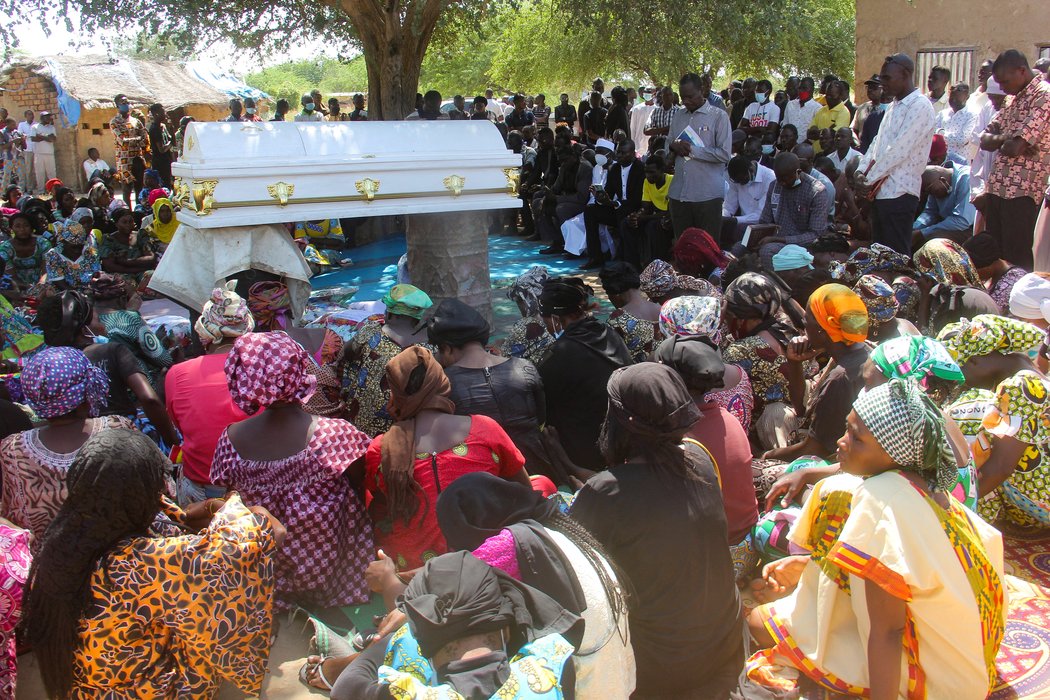 An "inclusive and sovereign national dialogue" - announced at the start of the 18-month long transitional period with the aim of setting up the constitutional framework for the new civilian government after the transition, finally started in August 2022. The dialogue was boycotted by parts of civil society and the opposition, including by the protest collective Wakit Tama and opposition party Les Transformateurs.
At the end of the dialogue in early October, several resolutions were adopted "by consensus", including the extension of the transitional period by another two years and the dissolution of the Military Transitional Council (CMT), which is to be replaced by a transitional government. Additionally, Mahamat Idriss Déby Itno, who until then had been the president of the CMT, was given the eligibility to run as a candidate in the upcoming presidential elections, contrary to promises made to the African Union early on in the transition.
A transitional unity government was formed, with former opposition leader Saleh Kebzabo of the National Union for Democracy and Renewal (UNDR) appointed as Prime Minister and on 10th October 2022, Mahamat Idriss Déby Itno was officially inaugurated as president during the transition.
Violences au Tchad : retour sur un « jeudi noir »

➡️ Les manifestations organisées dans plusieurs villes contre le maintien au pouvoir du fils Déby ont été brutalement réprimées, faisant une cinquantaine de victimes et des centaines de blessés. https://t.co/ypoo1BRb87 pic.twitter.com/yP6DqP9WCA

— La Croix (@LaCroix) October 21, 2022
Peaceful Assembly
At least 50 killed in protests to demand a swift return to democracy
On 20th October 2022, dozens of people were killed in protests across the country against the decision of the military junta to extend the transitional period by another two years. Civil society actors and opposition, including the platform Wakit Tama and opposition party Les Transformateurs, had called for the protests on 20th October 2022 - the day that would mark the end of the initially agreed 18-month transition to civilian rule. On 19th October 2022, authorities banned the protests saying organisers had not complied with legal provisions related to protests, adding that the protest "aims to create a popular and armed insurrection with the support of external forces in order to destabilise the country".
According to media reports, security forces - involving police, gendarmerie and military officers - used tear gas and rubber bullets, while some protesters barricaded roads, threw stones and burned tyres. Amnesty International further said that initial testimonies collected indicate that security forces used live ammunition against protesters.
Later that day, Prime Minister Saleh Kebzabo said during a press conference that 50 people, including members of the security forces, had been killed and more than 300 had been injured during the protests, mainly in Chad's capital N'Djamena and the cities of Moundou and Koumra. Civil society organisations said that the toll is likely much higher than that announced by authorities. Human rights organisation World Organisation Against Torture (OMCT) and its Chadian member organisations Ligue tchadienne des droits de l'Homme (LTDH) and Association tchadienne pour la promotion et la défense des droits de l'Homme (ATPDH) said in a statement on 24th October 2022 that it had identified 80 people who were killed in N'Djamena, Moundou, Doba, Koumra and Bebedjia. Additionally, according to the human rights organisations, hundreds of people have been arrested and at times tortured, some of whom were deported to the high security prison of Koro Toro, located in the middle of the desert in the north of the country.
#Tchad | Le gouvernement interdit les activités de la Coalition des Actions Citoyennes #WAKITTAMMA sur toute l'étendue du territoire national. 7 partis politiques sont également interdits d'exercer leurs activités et les locaux fermés pour une durée de 3 mois. pic.twitter.com/ocuSlpyBT6

— Facely Konaté (@FacelyKonate1) October 20, 2022
Furthermore, Kebzabo announced the suspension of "all public activities of political parties and civil society organisations". The Minister of Territorial Administration, Decentralisation and Good Governance later issued an order banning all activities of Wakit Tama, a platform uniting civil society actors and opposition parties, and another order suspending the activities of seven opposition parties for a period of three months for "disturbance of public order security of a nature to jeopardise state security and the good functioning of republican institutions and the non-observance of the order (...) banning a protest".
Authorities claim that security forces only responded in "self-defence" against armed protesters seeking to "seize power by force". Prime Minister Kebzabo was quoted as having said "what happened today is an armed popular uprising to seize power by force and those responsible for this violence will face justice. The demonstrators had firearms and they are considered rebels." Four days after the protests, on 24th October 2022, interim President Mahamat Idriss Deby Itno blamed the deaths and violence on the protest organisers in a broadcast on national radio and television, while calling the protests "a real insurrection meticulously planned to create chaos in the country".
A curfew was pronounced from 6 PM to 6 AM, lasting until "the total restoration of order" in N'Djamena, Moundou, Doba and Koumra. In some locations in N'Djamena, a disruption of or slow access to the internet was felt by users.
The repression of the protests has been condemned by international actors, such as the UN High Commissioner for Human Rights Volker Türk, the African Union (AU) and the European Union. Likewise national, regional and international civil society groups have denounced the use of excessive and lethal force against protesters in Chad. In a statement, 39 CSOs, including pro-democracy group Tournons la Page, have strongly condemned the violent repression of the protests, while calling for targeted sanctions against the Chadian government and those responsible for the repression.
Chad: Security Force Abuse Amid National Dialogue https://t.co/aEmNku5HQU

— Human Rights Watch (@hrw) September 23, 2022
Repression of protests against military junta: bans, arrests, excessive force
A protest organised by Wakit Tama, planned for 19th August 2022 to protest the national inclusive dialogue, was banned by the Minister of Public Security, who stated that the request for the authorisation of the protest was not submitted within the legal deadline, which was disputed by the organisers.
During the first ten days of September 2022, security forces injured scores of opposition protesters in N'Djamena, including through the use of tear gas, while arresting at least 220 people, according to leaders of opposition party Les Transformateurs, who spoke with Human Rights Watch.
On 1st September 2022, police arrested 84 members and supporters of Les Transformateurs in N'Djamena while they were informing the public of a meeting taking place a few days later. They were reportedly arrested for disturbing public order and for unauthorised assembly and were released without charge on 5th September.

On 2nd September 2022, security forces used tear gas to disperse protesters at the headquarters of Les Transformateurs in N'Djamena's neighbourhood of Abena. The protesters – members and supporters of the political party – gathered to protest the arrests of the previous day. Security forces additionally cordoned off the headquarters, preventing anyone from leaving or entering the premises. Authorities claimed that the protesters were violent and attacked security forces.

On 3rd September 2022, security forces again used tear gas against members and supporters of Les Transformateurs, who gathered at the party's headquarters to listen to a speech by the party's leader, Succès Masra. A journalist was beaten by security forces and three other journalists were briefly arrested (see under Expression).

On 9th September 2022, tear gas and live ammunition were fired against a crowd of hundreds of members and supporters of Les Transformateurs while they were accompanying Succès Masra to the Prosecutor of N'Djamena's Court of First Instance, who had summoned Masra.
Protests organised by Wakit Tama to demand respect for fundamental freedoms and to protest against arbitrary detentions, scheduled for 21st and 24th September 2022, were banned by the Minister of Public Security, who stated that no request for public assemblies was received. During a press conference on 24th September 2022, Wakit Tama said that security forces surrounded the Place de la Nation, where the gathering was supposed to take place, and arrested 16 people. Eleven people were in the meantime reportedly released.
#Chadian journalist Orédjé Narcisse was gunned down outside his home following recent deadly protests. In Feb this year, journalist Evariste Djailoramdji was killed in community clashes reports @pressfreedom: https://t.co/ruUcIa99vv @article19org @hrw @zoetitus

— IFEX (@IFEX) October 24, 2022
Expression
Journalists detained, beaten, killed during protests
On 20th October 2022, Radio Cefod journalist Orédjé Narcisse was fatally shot at his residence in N'Djamena's neighbourhood of Chagoua, which is located close to the US embassy where protests took place against the extension of the transitional period (see under Peaceful Assembly). According to the Committee to Protect Journalists (CPJ), who spoke with the president of the Network of Chadian Journalists and Reporters (RJRT), Orédjé was on his way to work when he was shot by individuals wearing military uniforms. It is unclear whether the journalist was covering the protests when he was shot.
Orédjé Narcisse is the second Chadian journalist killed in 2022. Evariste Djaï-Loramadji, correspondent for Christian radio station Radio Lotiko, was killed on 9th February amid community violence in the village of Sandana, province of Moyen-Chari, which killed at least 13 people.
In a separate incident, journalist for online media outlet Alwihda Info, Aristide Djimaldé, was beaten with whips by police while she was covering protests organised by opposition party Les Transformateurs (see under Peaceful Assembly), on 3rd September 2022 in N'Djamena. Police also confiscated the journalist's press card and phone.
News reports also indicate that several journalists were briefly detained while they were covering the opposition protests on 3rd September 2022, including Michaël Nodjinan of newspaper L'Observateur, Eric Mbaïwabé of radio station Vision FM and Moussa Ahmat of Radio 235. They were released later that day.
Journalists detained in southern Chad
In August 2022, two journalists were arrested in southern Chad, according to the Union of Chadian Journalists (UJT). On 8th August 2022, gendarmes arrested Janvier Mouatangar, who works for radio station La Voix du Paysan, in Doba, over a radio broadcast on the alleged destruction of crops and over-grazing by cattle belonging to nomad herders in the village of Ndoroman. According to CPJ, in his broadcast the reporter had quoted herders who alleged that they had received permission to graze by the owner of the fields, the commander of the gendarmerie. Janvier was first summoned by the investigation unit of the gendarmerie When he refused, officers of the unit reportedly took Mouatangar to the gendarmerie office in Doba under false pretences. He was held overnight, until the local prosecutor ordered his release the next day, on 9th August 2022. He was informed on 10th August that the case against him had been dropped.
Editor for radio station Radio Gaya Tcholwa, Anner Sabartan, was arrested by gendarmes on 10th August 2022. According to Reporters without Borders (RSF), Sabartan was arrested on the orders of the local prefect after he posted a report on WhatsApp about local discontent sparked by the appointment of a local chief to an official position. The journalist was reportedly handcuffed and subjected to long interrogations before he was released after two days in custody. Additionally, his phone was searched and confiscated.
Tchad: les six leaders de l'opposition de Wakit Tama condamnés à un an de prison avec sursis https://t.co/tlijqCeagy pic.twitter.com/D8BKaFHHXE

— RFI (@RFI) June 6, 2022
Association
Six Wakit Tama members and supporters sentenced to suspended prison terms
On 6th June 2022, the six members and supporters of Wakit Tama, who were arrested between 14th and 16th May 2022 in relation to protests on 14th May 2022 against the French military presence in Chad, were sentenced to suspended prison terms of one year. Additionally, the activists were ordered to pay 50,000 CFA francs (approximately 76 USD) in fines and jointly 10 million CFA francs (approximately 15,200 USD) in damages. The accused include human rights defenders Gounoung Vaima Gan Fare, Youssouf Korom Ahmat, Koude Mbainaissem and Max Loalngar. As reported previously on the Monitor, the six were charged with gathering to cause public disturbance, harm to property, and physical assault.