Calls for political accountability after Beirut explosion: protesters, journalists face violence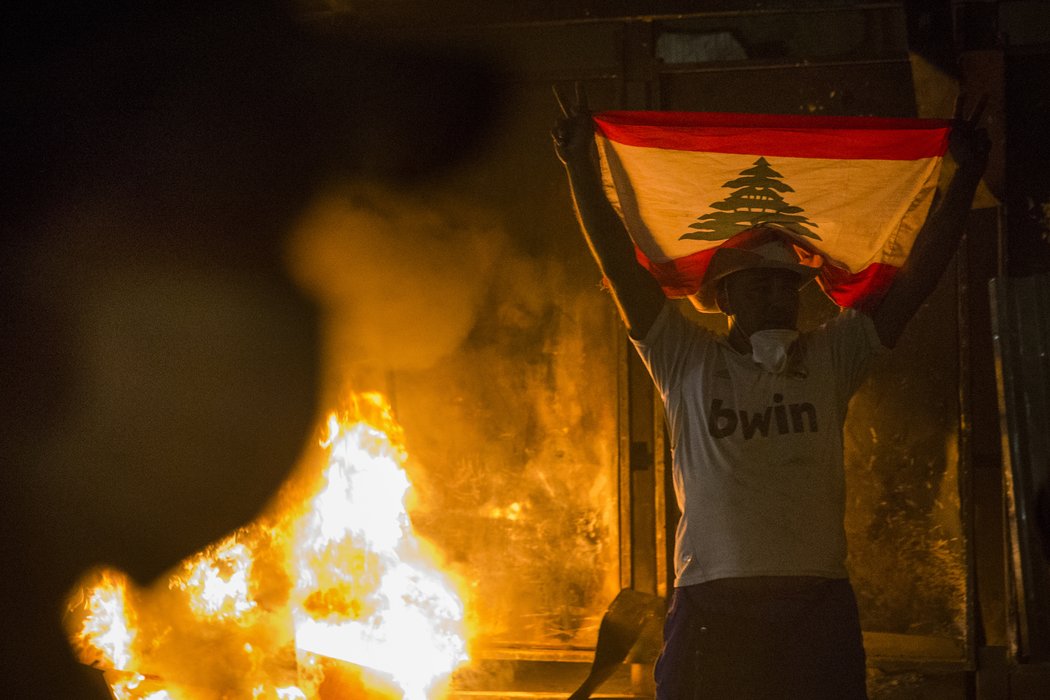 Association
On 4th August 2020, a huge explosion took place in Lebanon's capital, Beirut, causing more than 220 deaths. Reports indicate that 7,000 people were injured, dozens are missing, at least 300,000 people have been left homeless and these numbers continue to rise. The explosion was felt as far as ten kilometres away. The Jordan Seismological Observatory registered the Beirut port explosion as equivalent to a 4.5-magnitude earthquake on the Richter scale. The echo of the blast reached the Cyprus capital of Nicosia, which is 241 km away from Beirut. This explosion is the third strongest in the history of humanity, just behind Hiroshima and Nagasaki.
The massive explosion was caused by ammonium nitrate which had been stored since 2014 despite warnings that it was dangerous. It destroyed Beirut's harbour (in a country whose economy relies heavily on imports) and its neighbouring areas. The explosion has, once again, demonstrated the persistent negligence of Lebanese authorities and the inability of the ruling elite to respect, protect and fulfill the human rights of the people living under their jurisdiction.
It is important to note that Lebanon is a state party to the International Covenant on Civil and Political Rights (ICCPR). Under Article 6 of the ICCPR "Every human being has the inherent right to life. This right shall be protected by law. No one shall be arbitrarily deprived of his life."The Human Rights Committee (HRC), in its General Comment 36 of 2018, characterises the right to life as 'the supreme right from which no derogation is permitted'. The HRC highlights that the right to life:
'concerns the entitlement of individuals to be free from acts and omissions that are intended or may be expected to cause their unnatural or premature death, as well as to enjoy a life with dignity.'
Thus, state parties have the legal obligation 'to respect and to ensure the right to life, to give effect to it through legislative and other measures, and to provide effective remedies and reparation to all victims of violations of the right to life.'
The explosion has clearly demonstrated here that the Lebanese government has failed in its duty to protect the 'right to life' of its people.
Lebanese civil society organisations (CSOs), supported by CSOs from the Arab region and international groups, issued a letter to several special mandate holders calling on them to request an urgent country visit to Lebanon in order to assess the human rights situation under their respective mandates; to make recommendations for Lebanon in line with its obligations under international human rights law and to meaningfully engage with civil society during the visits. The letter also called on them to issue a joint public statement firmly condemning the Lebanese government for its failure to respect, protect and fulfill the rights to, inter alia, life, health and to live in a safe and sustainable environment for the people living under its jurisdiction.
Statement prepared by Lebanese CSOs after Beirut's Explosion, the statement is addressed to International Organizations, the United Nations Agencies and International Partners #BeirutBlast #BeirutExplosion #Solidarity2020
https://t.co/Xp8CjUt4Zl pic.twitter.com/Jv6YFo1vrj

— Arab NGO Network (@ArabNGONetwork) August 13, 2020
On 13th August 2020, a joint statement was issued by Special Rapporteurs supporting a prompt, impartial, credible and independent investigation based on human rights principles, to examine all claims, concerns and needs in relation to the explosion and the underlying human rights failures.
"We also call on the national authorities to allow peaceful protests and to protect demonstrators and journalists. All Lebanese, civil society and affected communities must be able to freely influence government decision-making during this critical moment, including in relation to the coordination, oversight and delivery of any foreign aid."
"Everyone in Lebanon has the right to information about the health and environmental risks posed by stockpiles of dangerous substances. Such information must be available, accessible and functional, in a manner consistent with the principle of non-discrimination."
These latest developments in Lebanon take place against the backdrop of an already fragile political and economic environment. Since October 2019, when the Lebanese revolution began, sparking months of anti-government protests, the two successive governments and security forces have adopted a violent response against dissent and increased crackdowns on civilian protesters and activists (see expression and peaceful assembly below).
For instance, in July 2020, prominent activist and lawyer Wassef El Harakeh was attacked and beaten by unknown men after finishing an interview at a radio station.
In a separate case, political activist Kinda El-Khatib was arrested in June 2020 and charged with visiting Israel and "dealing with spies of the Israeli enemy." El-Khatib has critcised militant group Hezbollah and President Michel Aoun on social media.
Peaceful Assembly
Accountability and justice are two of the main calls that the Lebanese Revolution has demanded during protests in 2019 and 2020. But these protests were largely met with the use of excessive force by security forces, and the arbitrary arrests of protesters.
Following the explosion, thousands took to the streets to demand political accountability and to protest against the worsening economic situation that the country is now facing. Security forces continued with similar restrictive measures, as videos documented tear gas being fired at the protestors (including a researcher from Human Rights Watch) who gathered in front of the Parliament on 6th August 2020, days after the explosion.
On 8th and 9th August 2020 riot police fired tear gas at peaceful protesters and shot them with rubber bullets and live ammunition, in contravention of the state's obligation to respect everyone's right to peaceful protest. Security forces have reportedly used excessive force, failed to adequately protect peaceful protestors from violent attacks by others and failed to arrest perpetrators of violence. Security forces have also reportedly attempted to stop protesters and journalists (see expression) from filming their actions, including by forced arrest or confiscating equipment.
A surgeon at a #Lebanon hospital shows evidence of shotgun fire against protesters yesterday that caused injuries requiring emergency surgery. https://t.co/jjckBkVfAJ

— Timour Azhari (@timourazhari) August 9, 2020
All of a sudden, Army started beating protesters viscously near ring. As I was filming, army beat me and threw my phone away. Army still beating other protesters. #LebanonProtests pic.twitter.com/COQbWRGzC8

— Aya Majzoub (@Aya_Majzoub) August 8, 2020
Amnesty International conducted an investigation into the violence during protests which revealed that an unidentified man in civilian clothing shot at unarmed citizens during the protests. The organisation interviewed six protesters who were in downtown Beirut on 8th August 2020 when the crackdown escalated. They all reported seeing security and military forces shooting rubber bullets and tear gas canisters directly into the crowd at chest level and from close range, indicating that security forces were shooting to harm. Protesters also reported suffering injuries from small rubber pellets fired from an unidentified source.
Intervention Report: Beirut Demonstrations#LebanonRedCross #SupportLRC pic.twitter.com/uepmM58aIo

— Lebanese Red Cross (@RedCrossLebanon) August 9, 2020
"With their lives in ruins, and still reeling from the physical and emotional trauma of the explosion, thousands of people took to the streets in Lebanon to call for justice. Instead, state forces shot at and tear-gassed them.... Instead of meeting its basic responsibilities towards the thousands of people left homeless and impacted by the blasts, the state seems to be on the attack against its population,"- Lynn Maalouf, Amnesty International's Middle East Research Director.
In addition, Amnesty's International's investigation also revealed that doctors who were assisting protesters were targeted with tear gas and faced violence from security forces.
According to a Human Rights Watch report, 728 protesters were injured, based on information compiled by the Lebanese Red Cross and the Islamic Emergency and Relief Corps.
The Committee for the Defence of Protesters reports that security forces arrested twenty protesters.
On 10th August 2020 Prime Minister Hassan Diab announced the resignation of the Lebanese cabinet. Diab will remain on in a caretaker role until President Michel Aoun, in consultation with parliament, appoints a new prime minister. Diab took office in January 2020 following the resignation of Prime Minister Hariri on 29th October 2019 amid anti-government protests. Despite the Prime Minister's announcement, protesters said there is little to celebrate. Further clashes took place between security forces and protesters. The Lebanese Red Cross reported treating 38 injured protesters and seven were hospitalised.
مظاهرة #بيروت : ٧ جرحى تم نقلهم الى مستشفيات المنطقة و٣٨ مصاب يتم اسعافهم في المكان

— Lebanese Red Cross (@RedCrossLebanon) August 10, 2020
In a concerning development, on 13th August 2020, Lebanon's parliament approved a two-week state of emergency which granted power to the army to:
Expand jurisdiction of the military court over civilians for crimes related to breach of security

Set curfews at particular times

Prohibit gatherings deemed to threaten security

Censor publications, radio, television and theatre productions

Impose house arrest on anyone engaging in activities considered as security threats
In addition, on 17th August 2020 the health minister announced a two-week national lockdown following a surge in COVID-19 cases after the explosion.
Expression
In response to the deterioration of the right to freedom of expression in Lebanon, on 13th July 2020, 14 Lebanese and international organisations announced the formation of a national coalition to defend free speech in the country. These organisations have documented a severe rise in attacks against freedom of expression since the 2015 protests, and more recently since 17th October 2019, with massive arrests, summonses and interrogation of activists for social media posts. Between 2015 when anti-government protests took place and May 2019, a total of 3,599 people were interrogated on charges of defamation.
"Lebanon's politicians have failed to provide for citizens' most basic needs, and their corrupt practices have squandered away billions of dollars of public funds...Yet, instead of heeding protesters' calls for accountability, the authorities are waging a campaign of repression against people who expose corruption and rightfully criticise the government's significant failings," the coalition said.
Journalists face attack during protests
On August 8, soldiers, police, and protesters in #Lebanon injured at least 13 journalists covering the demonstrations over authorities' handling of the #Beirut blast.

Soldiers assaulted @AlJazeera's @timourazhari, freelancer @TatouK & @BBC's @nafisehkBBC.https://t.co/HO4o9XGrZD

— Committee to Protect Journalists (@pressfreedom) August 11, 2020
Reporters without Borders (RSF) and the Committee to Protest Journalists (CPJ) condemned violence against journalists by Lebanese security forces during protests on 8th August 2020. It is reported that 14 journalists were injured from various local and international outlets. In some cases, journalists needed hospitalisation. In addition, the use of tear gas by security forces made it difficult for journalists to do their jobs. It is also reported that there were instances where journalists had their equipment seized.
"Now more than ever, Lebanon's citizens need accurate and dependable information on what is happening in their country; attacks on journalists will only result in more confusion and unrest...Lebanese authorities should conduct thorough investigations into attacks on journalists by demonstrators and security forces and ensure those responsible face consequences,"- CPJ Middle East and North Africa Representative Ignacio Miguel Delgado

"The attacks against journalists are growing in Lebanon. It is very disturbing to see the security forces target journalists who are reporting from within the ranks of the demonstrators. Attacks of this kind, which are increasing in frequency, must be stopped as a matter of the utmost urgency,"- Sabrina Bennoui, the head of RSF's Middle East desk.
The 4th August 2020 explosion also caused damage to media organisations. According to Skeyes and the Maharat Foundation, a Beirut-based press freedom group, at least 25 newsrooms were damaged and at least 31 journalists were injured.
In response to the new law which gives the army sweeping powers and further threatens free speech, the International Press Institute, a global network of editors, media executives and leading journalists, has urged Parliament to retract this decision.
"At a time when the country is going through a political and economic turmoil compounded by the disaster, the Lebanese public needs authentic, unbiased information...The powers granted to the army threaten press freedom in Lebanon and with it the public's access to independent news,"- IPI Director of Advocacy Ravi R. Prasad