Calls for more PPE and testing amid coronavirus outbreak in Mexico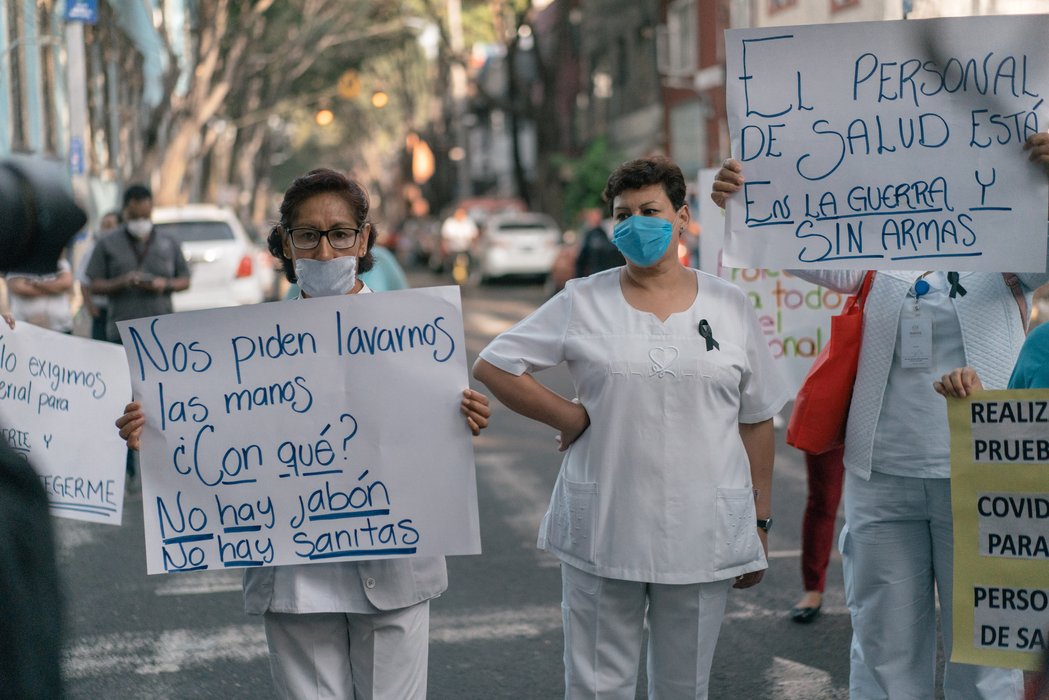 In the context of the coronavirus (COVID-19) pandemic, Mexico's Ministry of Health published on 24th March 2020 regulations suspending mass events, meetings and congregations of more than 100 people until further notice.
Peaceful Assembly
VIDEO: Doctors, nurses and cleaning staff at Mexico City's Tacuba Hospital protest to demand better personal protective equipment in the battle against COVID-19 pic.twitter.com/tTWwRzU6R8

— AFP news agency (@AFP) April 22, 2020
Health workers across Mexico protested in March and April 2020 over shortages of personal protection equipment (PPE) needed to treat patients during the coronavirus outbreak. In Mexico City on 27th April 2020, dozens of nurses, doctors and other staff demanded more protective gear, like face masks, gowns and gloves. Similar protests in other cities also asked for emergency pay and more staffing to deal with the outbreak. "All we're asking for is that they give us the necessary supplies, N95 masks and gowns," said one nurse. More than 150 health workers have already been infected in the country, and at least six have died, according to media reports. There are also reports of people attacking and threatening healthcare workers.
In April 2020, workers at several factories in Ciudad Juarez protested orders to reopen factories, demanding safer working conditions after several workers reportedly died of COVID-19. On 16th April 2020, for instance, dozens of workers protested to demand temporary closure of a smoke alarm factory where at least one employee had died. Mexico has reclassified manufacturers as "essential", reportedly ceding to pressure to keep factories with close links to the U.S. open, but employees say this is creating unnecessary risk and jeopardising their health. "The manager said that we are essential workers. I don't think an alarm is essential," an employee said.
On 25th March 2020, protesters blocked southbound traffic lanes in Nogales, Sonora, on the Mexico side of the border with the U.S. to call on government to implement stronger measures to screen people for coronavirus as they enter Mexico. During the demonstration organised by a group called Sonorenses Por la Salud y la Vida (Sonorans for Health and Life), a small group of people stood in the street holding signs with messages like: #QuedateEnCasa (#StayHome) and "We demand control of the border".
Expression
Alerta #México- @RSF_esp condena el atentado en contra de la periodista Maria Elena Ferral del @DIARIODE_XALAPA, ocurrido en la localidad de #Papantla, quien se encuentra grave https://t.co/glculDoMJq

— RSF en español (@RSF_esp) March 30, 2020
On 30th March 2020, award-winning journalist María Elena Ferral was shot and killed by two unknown assailants in Papantla, Veracruz. The veteran journalist worked as a correspondent for Diario de Xalapa and was the director of digital news outlet Quinto Poder. Two unidentified men on a motorcycle shot the reporter at least three times while she was leaving the office of a local notary. María Elena had been threatened multiple times by local officials, according to her family and colleagues. She reported the threats to the Office of the Special Prosecutor for Crimes against Freedom of Expression (FEADLE) but was removed from the federal protection mechanism in 2018. According to the Committee to Protect Journalists, five suspects were arrested at the end of April 2020 in connection with the murder.
#Mexico @RSF_inter calls on the Mexican authorities to conduct an exhaustive and transparent investigation in the murder of Víctor Fernando Álvarez Chávez https://t.co/bkYRnSxASp

— RSF (@RSF_inter) April 15, 2020
Víctor Fernando Álvarez Chávez, a news editor for news website Punto x Punto Noticias in Acapulco, disappeared on 1st April 2020 and was confirmed dead by authorities ten days later after parts of his body were found. According to Article 19, he had received threats by organised crime before his disappearance. Colleagues and other journalists organised a protest in Acapulco on 13th April 2020 to demand that authorities properly investigate his murder.
On 15th April 2020, Tetla police officers allegedly threatened and harassed Alberto Amaro Jordán, director of La Prensa de Tlaxcala, who is enrolled in the federal programme to protect journalists. The journalist was reporting on a farmers' protest in Tetla de la Solidaridad and after he concluded a live transmission, a commanding officer allegedly approached him and said, "We are going to kill you…" Officers then continued to harass the journalist. The commanding officer who threatened him, however, was detained after Alberto Amaro talked to high-ranking officers of the local police. Article 19 also reported that the journalist had been attacked previously and that the electronic device he is supposed to use to contact police when he feels threatened has failed to work on multiple occasions.
Article 19 reported that on 14th April 2020 two photojournalists were attacked and detained by security forces as they attempted to cover a traffic accident in Mexico City. Hugo García Cambrón, photojournalist for El Gráfico, said he was taking pictures of the accident when an officer started yelling and threatening him. He tried to back off but other officers reportedly approached him, grabbed him by his neck and started to choke him. Ernesto Álvarez Avendaño, an independent photojournalist, witnessed the attack and tried to intervene but was unable to stop the officers from attacking Garcia. After being taken to the police station, they claim to have been asked to lie about what the police had done to them. On the same day, the Secretariat of Citizen Security issued a statement condemning the assault and saying incident would be investigated. Officers involved were preventively suspended.
On 13th April 2020, militia in the state of Guerrero issued a press release online threatening a reporter from investigative weekly Proceso, Ezequiel Flores. Their statement said Flores is spreading "false information" about drug trafficking in the area and accused him of secretly working for a cartel. The journalist is allegedly being targeted by the Frente Unido de Policías Comunitarias de Guerrero, a coalition of armed groups who claim to be fighting against drug trafficking in the region but are not recognised by the government. The group said they have ordered that Flores be detained to undergo "re-education in the customs and habits" of the region. Flores told the Committee to Protect Journalists that he fears for his life because of the rising violence in Guerrero. "The state authorities cannot guarantee the safety of anyone," he said. Flores has applied to be enrolled in the federal programme to protect journalists.